Grand Canyon Mule Ride

A Grand Canyon adventure - Grand Canyon Mule Ride

My adventure Grand Canyon mule ride adventure was planned for early afternoon. I arrived with plenty of time for lunch at the gorgeous Grand Canyon Lodge North Rim.
I checked in for my ride right in the lobby of the Lodge and waited for a shuttle. It couldn't have been any simpler or convenient. Canyon Trail Rides did a fantastic job from start to finish. Their online reservation system was simple and straightforward.

The confirmation email included all the vital details I'd need to enjoy this adventure. What to wear, what to bring and what to expect was covered completely.

Grand Canyon Mule Ride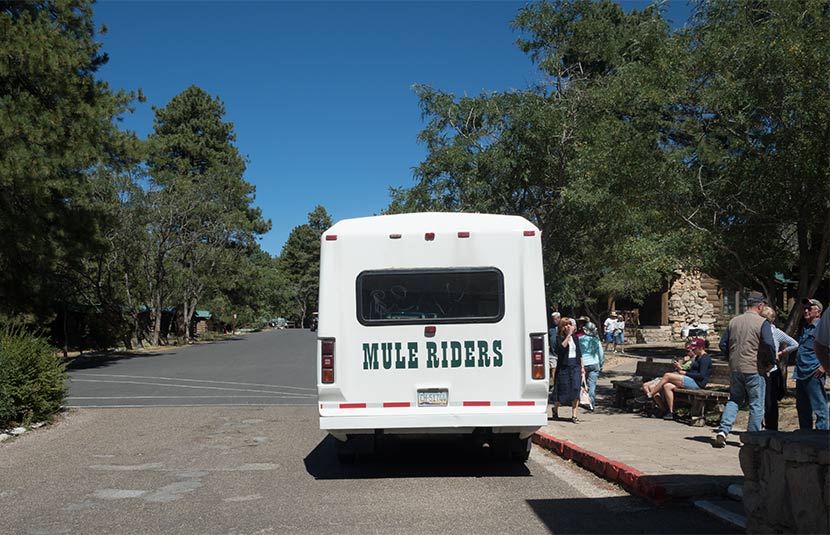 When the shuttle appeared, so did the butterflies in my stomach.
As soon as the shuttle pulled up to the corral any worry I had about the care and condition of the mules evaporated. Shiny coats, bright eyes, great feet and hefty well-muscled mules looked at us with slightly bored expressions. "Been there done that" was the confident energy they projected.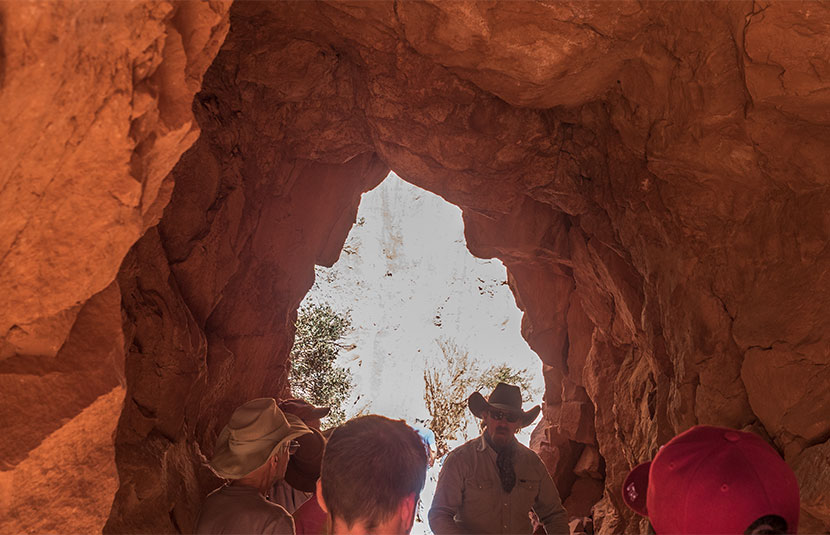 Grand Canyon Mule Ride
Our guide that day was their farrier (the person who cares for their feet), Swannie, who knows the mules by name.
"Woodrow is a good mule" he said. "His mom is a Belgian draft horse."
I was delighted that he knew each animal so well, and his genuine affection was evident. 

Riders were matched to an appropriate mount. Skill and size seemed to be the important factors. I was paired with the esteemed Woodrow and was excited to mount up and get going.
I've ridden on and off most of my adult life. But it's been a few years so I 'm rusty. But I was confident. Until I actually got next to Woodrow and the stirrup was at my eye level.
Instead of worrying about the trail ahead and the very obvious long way down to the canyon floor, I was stopped dead in my tracks by an obstacle that was a long way up. I was pretty sure my adventure was over before it could start.
There was no way I could get my foot up that high! But the trail guide was quickly at my side, and before I knew what had happened, his shoulder boosted me right up into the saddle.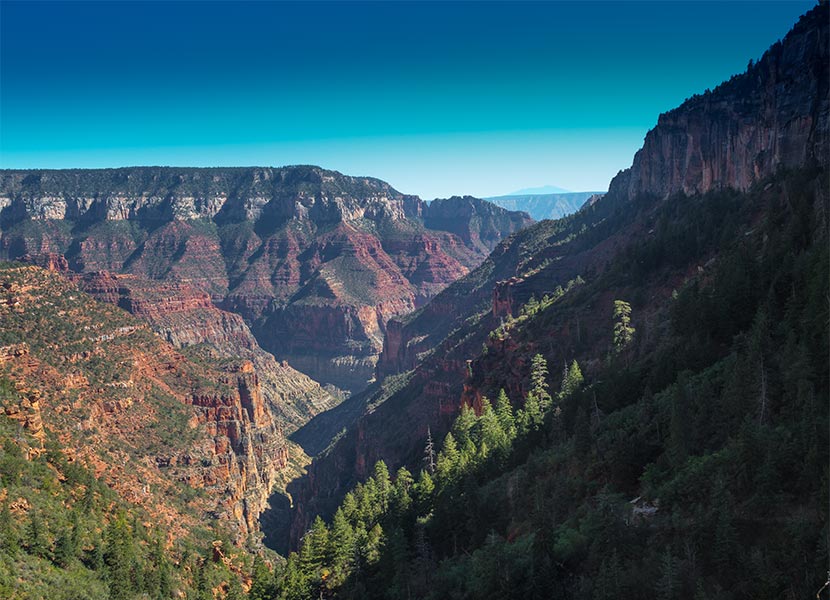 We would descend 1400 feet in 1.7 miles.
The trail down begins at the North Kaibab trailhead. We shared the narrow trail with dozens of hikers. Everyone was smiling. Our mules weren't worried by the hikers, and the hikers didn't seem to mind yielding the right of way to our long-eared friends.
As we made our way down I was immediately in awe of the scenery. Staggering vistas and stunning stomach clenching cliffs. The light in the canyon is magical. 
Being on a mule was a little magical too.
Somehow I now had a link to the past, and couldn't help but feel deep respect for the explorers and pioneers who traveled this amazing landscape before me.
Our guide described the changes in landscape and sand color we were seeing. Different geological formations and ecosystems marked our elevation and also periods of history.
That we were traveling in time became obvious when he pointed out dinosaur tracks, frozen in stone alongside our trail.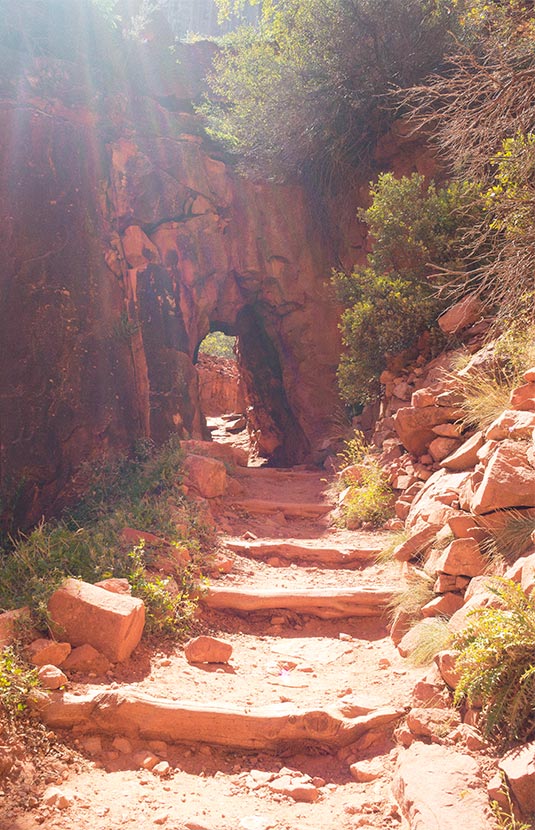 We reached Supai tunnel, dismounted and our mules got a much-deserved rest. Continuing on foot through the tunnel gave us an amazing view of the valley below.
While the hikers trudged on, the tunnel marked the end of our ride.
After our rest and a drink of water, we all got back on our mules and headed up the trail. We took many breaks along the climb.
I couldn't tell if our rest stops were designed around beautiful vantage points, or if simply every step of the way was gorgeous. Despite it being the same exact trail, every view seemed somehow new and unique.
Before anyone was ready, we were back at the trailhead with the corral in view. We dismounted and said goodbye to our trusty new mule friends. We were all a little dusty, a little tired but still smiling and more than a little humbled by the beauty of the day.
How I chose this mule adventure:

To my chagrin, I've added more 'bucket list' entries to my list than I've checked off. But that changed when I ventured 'under the rim', the North Rim to be exact.
A trusty sure-footed mule will carried me along the North Kaibab trail… 2300 feet down to the Supai tunnel. I'm a little afraid of heights (OK maybe more than a little). I'm not fit enough to enjoy a canyon hike.
Getting sweaty and winded sucks all the joy out of a beautiful view for me. But I love to ride. A ride on a sure-footed mule was the best way for me to explore the seldom seen sights below the rim of the Grand Canyon.
I'm a bit particular about how animals are cared for. Not every animal is a pet, but working animals should be cared for with compassion and respect.
Their needs matter and their quality of life is very important. I was prepared to walk away from this adventure if I didn't believe these beasts of burden were being well cared for.
It's a beautiful 1.5-hour drive from Kanab to the North Rim of the Grand Canyon. Time of year is important if you are planning to visit. The North Rim is only accessible May through October.
Though exact dates are subject to the whim of mother nature. At over 8000 feet in elevation, weather changes can be sudden and dramatic. Once snow covers highway 67, the season is effectively over for tourists.
On the drive back to Kanab, I thought about how awesome this day had been.
The Canyon Trail ride was worth every cent, and I'll recommend them without hesitation. There was nothing our group of riders could throw at the staff that they were not able to handle.
From teens to retirees, athletes to couch potatoes. Their expertise (and graciousness) made up for our lack of skill or fitness, making the mule ride safe and fun.
I shouldn't have waited so long to do it, and I'll probably do it again. I have a feeling that stirrup will not feel so out of reach with a little practice.  
-- story & photos by Wendy Gallant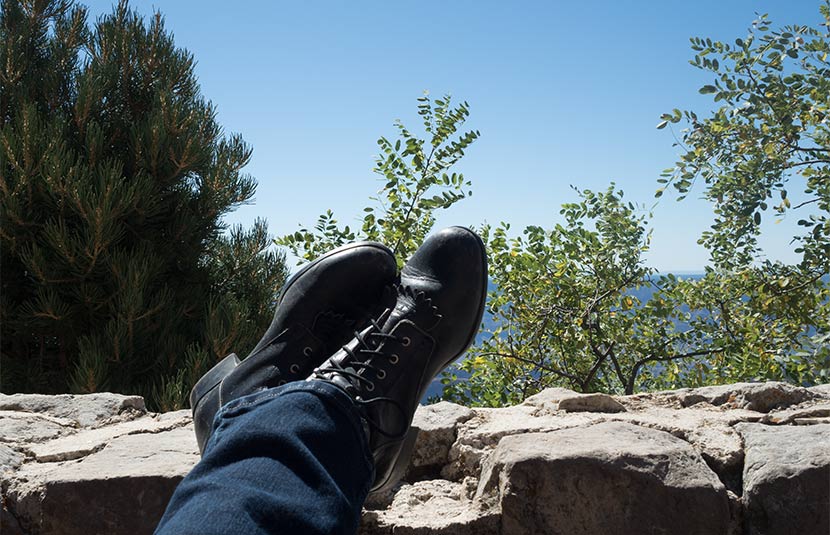 For the last four years, Wendy Gallant has made her home in the little town of Kanab, Utah. Kanab is a comfortable drive to Zion, Bryce and the Grand Canyon National Park.
This makes Kanab a natural home base for many adventures. Wendy is a Digital Storyteller at the Best Friends Animal Society, and says she is, "Always looking for unique and rewarding opportunities."
---
---