H for Hostal

Hostal nights in Quito, Ecuador - H for Hostal

When I was backpacking through Europe in 1972, "hostal" meant a dormitory. Men's and women's dormitories with bunkbeds and a common bathroom.
Hostals today, at least in Quito, Ecuador, feature private rooms with basic amenities.
I found this out when I had to go to Quito to file and pay for a visa extension. I needed to be there for a week, and I was on a budget. Since I was alone, I thought why not try a hostal?
This particular one had been recommended to me by a former (senior) Peace Corps volunteer I'd met in Cuenca. From my own PC experience, I knew PCVs know where all the cheap, clean sleeps are.
I easily found her recommended Quito hostal, within walking distance of the artistic Mariscal Sucre neighborhood. The front door, always locked, was buzz-keyed for guests to enter.
H for Hostal
What do you want for $6 a night?
My room choices were third floor with window/bath down the hall, or first floor with bath/no window. I choose the latter.
A huge spider plant and broken bicycle sit in the hall outside my door.
The double bed takes up two thirds of the postage-stamp-size room. The bed sheets are multi-colored and don't go all the way to the foot of the bed. The blankets are heavy wool, reminding me of the thick, gray blankets they hand out at the DESC homeless shelter in Seattle (no, I wasn't homeless; I was the agency's grantwriter).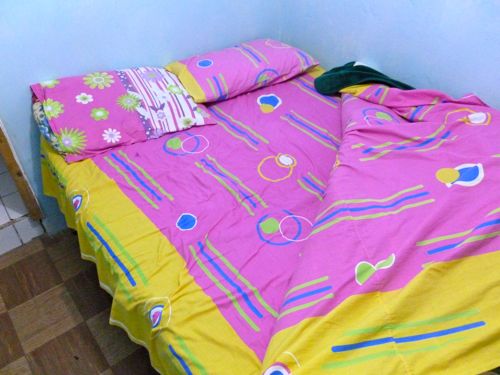 Fake wood linoleum squares cover the floor, walls are pale blue, and a single light bulb hangs from the center of the ceiling. A white brocade curtain covers a frosted window facing into the hallway.
I'm given a tiny bar of soap, a big scratchy green towel and a roll of toilet paper.
The outlets are only 2-pronged, so I can't plug in my surge protector strip, and I'm nervous about using my laptop plugged directly into the wall (Ecuador is on 110 voltage, like the U.S.). The management is friendly and helpful but they don't speak English.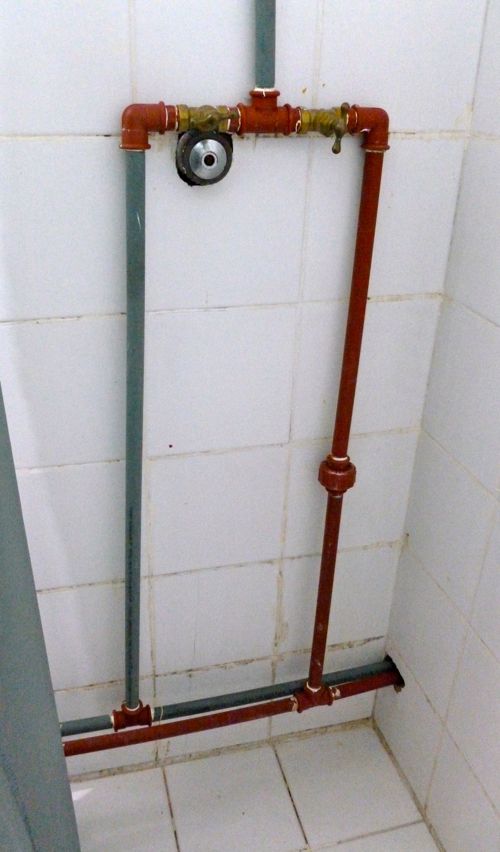 My first night, the shower is tepid. The next night, it's hot.
In the tiled bathroom there is a drain in the center of the floor. The green sink is half the size you would expect. The pipes in the shower are exposed, as if they were an afterthought in the conversion of this old, probably colonial, house to a hostal.
But it's all very clean, not a flick of dirt or a bug in sight.
H for Hostal
The Israelis
The next evening, there's music coming from the salon, a high-ceilinged room with an arched window and long, L-shaped cream leather couch. Two young men are playing acoustic guitars. Three young women are their audience. The boys are handsome, the girls gorgeous, each with hair to her waist.
They tell me that they are Israeli and they have been here a week. They met while traveling and together later tonight they plan to take the midnight bus across the border into Columbia.
They sing Bob Dylan's "Knockin' on Heaven's Door."
One of the boys grins and says, "This is the Israeli version."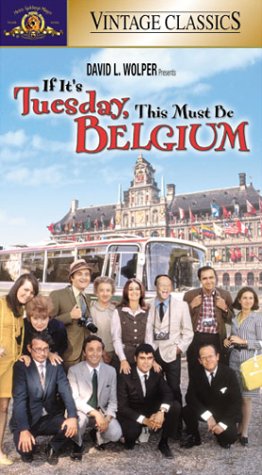 While they're not exactly Donovan in the movie "If It's Tuesday This Must Be Belgium",  another of my all-time favorite films, their voices are strong and they clearly enjoy jamming.
I feel like I'm back in 1972 in Amsterdam.
As a woman "of a certain age", I'm surprised that they welcome me.
"Would you like some tea?" one of the girls asks.
When I say, "please" she goes to the coffee/tea station, prepares it, and sets the cup on the coffee table in front of me.
One girl wraps herself on the couch in a red blanket, feet tucked up. Their backpacks and Marlboros (the boxed kind) sit besides them. They are all packed and just killing time till they have to leave for the bus station at 11 p.m.
After 4 nights I decide to upgrade to a $12/night hostal in the heart of Mariscal Sucre, with its international restaurants, travel agencies, outdoor cybercafés, bars and small hotels, where the room has both a private bath and a window.
Sadly, though, no young singers to entertain and make me feel nostalgic.
—Carolyn V. Hamilton
---
---