Havana Art Journal
Janice Opie's Havana art journal from Cuba

We are soooo thrilled to be able to share with you Janice Opie's art journal watercolor pages from her travels to HAVANA, Cuba!
Be sure to read her feature story about her solo trip HERE.
Janice shows us that just a simple pen sketch with a touch of contrasting colors can be impressive.
This column rendered in monochromatic blue emphasizes the drama of light versus dark areas in the painting.
Hotel Seville Havana
This is a great example that scenes that might otherwise look complicated can be rendered simply and memorably.
Havana Art Journal
Leaves
These leaves are a whimsical reminder that Havana is more than cha cha girls, vintage cars, and cigars.
---
To get your discount travel card for Cuba, click HERE to go to EasyTouristCard!
---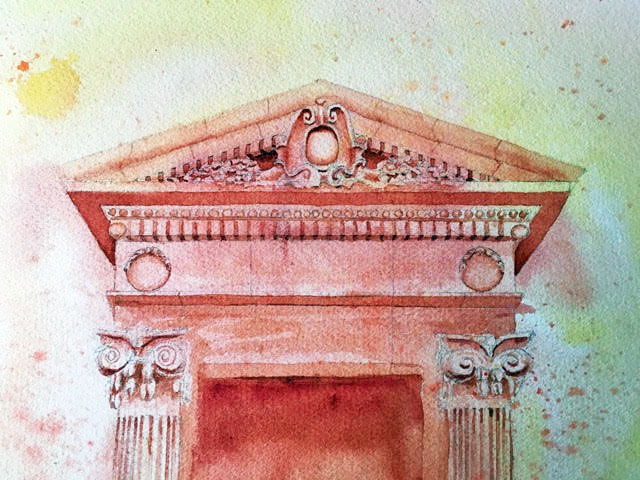 Here's another example of architectural detail drawn symmetrically, and made asymmetrical by a blended wash of a warm and cool color.
There was probably more to this architectural building front than what we see here, but Janice has chosen to focus on just a few details to show us the studio gallery entrance.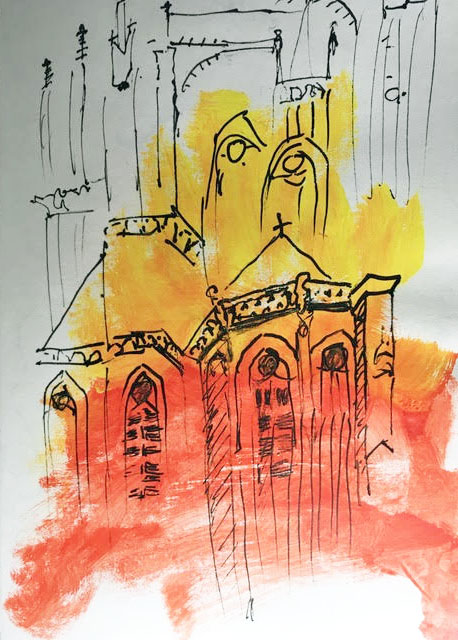 Here her architectural rendition is fast and with few details--just enough to give us the idea of a cathedral and then quickly painted with just two colors, a blend of bright yellow and orange to bring it alive.
Be sure to read Janice Opie's feature story about her solo trip to Havana HERE.
--Carolyn V. Hamilton, Former Editor

---
---