Hawaii On A Budget
Joeann's cost-friendly guide to Big Island Hawaii on a budget

Soaking up the sun on a beach lounge near the towel stand on the pristine sands of Kona Village, I heard a voice asking the beach boy where he sees himself in five years.
I thought, "What an odd question." I opened my eyes and saw none other than Steve Jobs.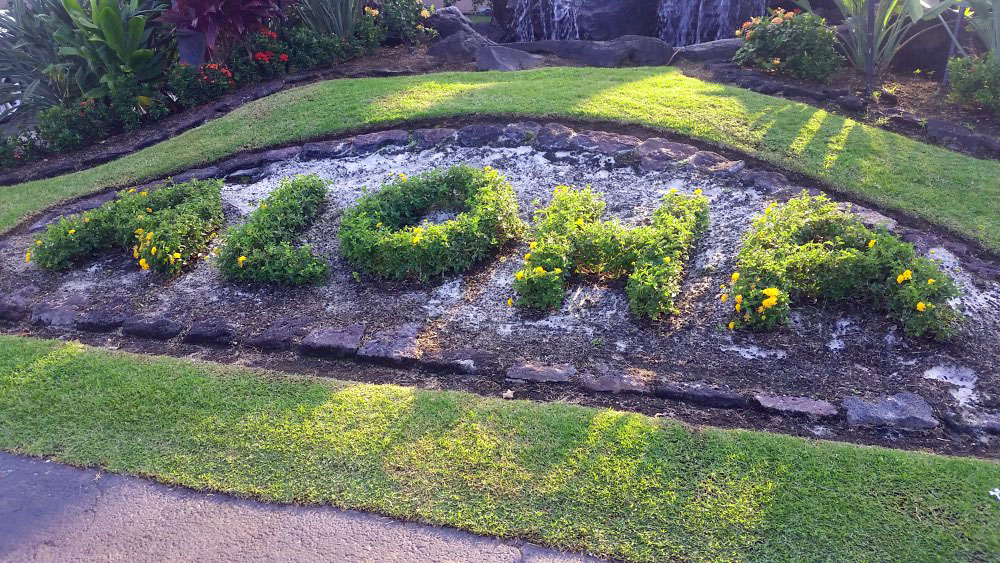 Hawaii on a budget
This is one of my favorite Hawaii memories. You never know who else is hanging out in Paradise!

Sadly, the classic resort of Kona Village got devastated in the 2011 tsunami. It's separate thatched huts, called hales, had no clocks, phones or TV's. It had been a perfect place to chill and get away from it all for celebrities and me.
Hawaii has been identified as the happiest state in the US and the most-mentioned destination for those with bucket lists of places to visit.
So, if you'd love to go but think you can't afford Hawaii, get over it! It is possible to have a fabulous vacation without breaking the bank.
Since Hawaii is part of the good old USA, if you are from the United States, you can feel like you are traveling internationally but without the need for a passport or messing with converting currency.
Hawaii on a budget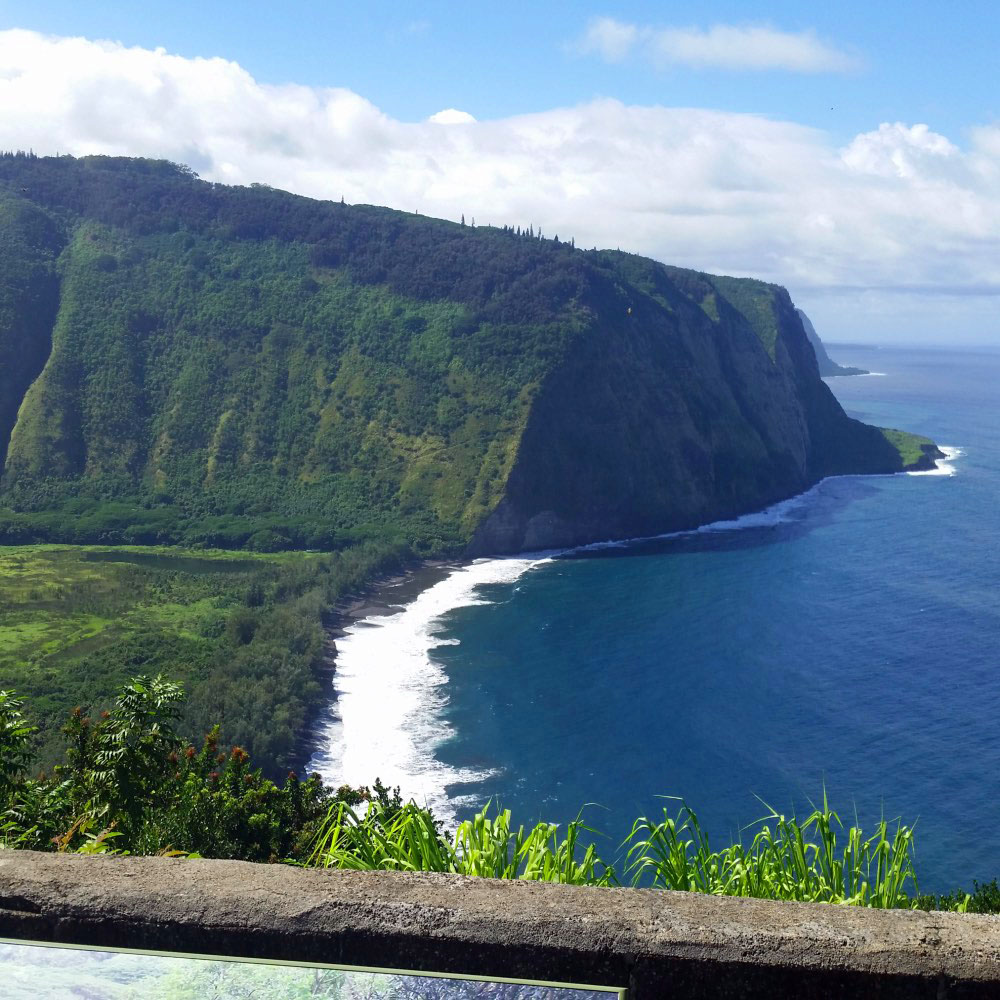 The Big Island of Hawaii is my ultimate happy place. Away from the bustle of Oahu, the Big Island offers a more laid-back experience. Just you and the sun, the sea and volcanos and air that smells like flowers. 
Since 1992, I've gone once, and sometimes twice a year. Most trips are usually just me and my husband. However, I've pulled off several fun family trips with ten or more and even a three-day, small business retreat.

Over the decades, I've learned how to do it without it being crazy expensive. And, liking luxury, I have found careful planning results in having money left over to splurge on the really unique experiences.
My goal is to create memories with my children and grandchildren. Hawaii has created some great experiences and fun for all of us.
Hawaii on a budget
One year I insisted any device with a screen get left in their rooms and on a drive around the island we had a contest to count how many different animals they saw. The four older kids counted 23, 27, 28, 39.
The youngest counted 256, counting EVERY cow or horse in the field, instead of it being just one kind of animal! We laughed and, over the protests of the others, I declared him the winner!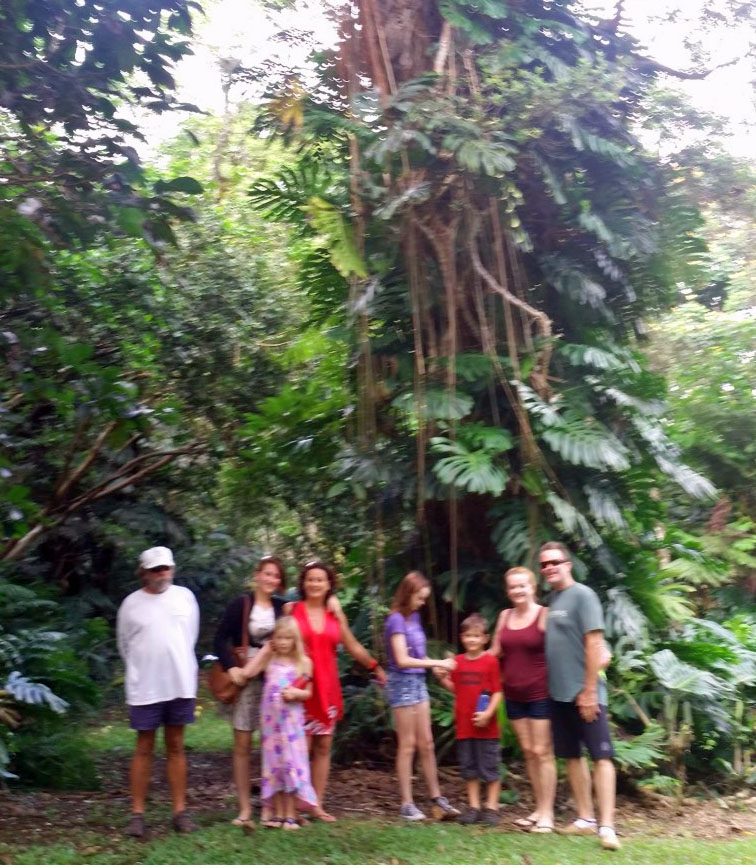 After the trips, I've used Shutterfly to create photo books to capture those memories so we can look back years later and remember the fun we had.

Here are my tips so you, too, can travel affordably to the Big Island

Hawaii on a budget
Getting There 

The cost to fly to Hawaii from Mainland US can vary dramatically. Searching two to three months out will yield the current pricing and give you time to take advantage of sales. There are direct flights into Kona and Hilo from the major departure cities in the US.

Sometimes, flights with several legs, will be cheaper. For instance, from Tucson, where we live, flying to Phoenix, Los Angeles, and even Seattle and then onto the Big Island can save a couple hundred dollars. 
Southwest Airlines plans to start flying to Hawaii. The impact of this is bringing prices down. Fares over the last few months have been the lowest in years.
Kayak.com is a good place to start with searches from the major travel sites.  Set up travel alerts and you will be notified when the price drops or increases. A budget tip: if you travel often and/or want to be kept up to date on great sales to locations all over the world, check out Scott's Cheap Flights or Dollar Flight Club. 
Both offer a free and a premium version depending on what your travel needs are. 
And, of course you can use frequent flyer miles, if you have them.
When I do that, I'll book my flight at the regular price since I have Million Mile status on American and will get access to the upgraded seats. Then I use frequent flier miles for my husband.
A phone call to customer service will get my husband upgraded at no charge since he is traveling with me. I reserve a window and an aisle seat and most of the time, no one sits between us. Don't waste your frequent flyer miles when the airfare is really low!

Hawaii on a budget
Finding Your Lodging 

A hotel room, a bed and breakfast, an AirBnb (or other vacation rental), or a timeshare unit? What fits your needs best?

The first years I visited, I would search hotel rooms for bargains. I've stayed on the west coast, everywhere from Kona to Hawi. Once I got spoiled with kitchen, laundry and size of a condo/timeshare unit, anything else paled in comparison.
Rarely is a hotel room going to be good for the budget-minded, and most travel sites limit their offerings to only that. Take your search beyond the basic sites. 
Having a kitchen is definitely the way to go!
There are lots of bed and breakfast and AirBnb choices with a wide range of prices. What you often are giving up on the cheapest is proximity to the beach.
Check Google Maps for exact locations so you don't end up thirty minutes or more from the beach. I'm guessing you'd love time on the beach or snorkeling.
Hawaii on a budget
Timeshares - the good, the bad and the opportunity! 

Three times we have received a free week at a timeshare property and had a beautiful unit! These are one, two and three bedroom units with kitchens, washer and dryers, and lanais (porches).

If you get invited, this is a great deal if you can keep saying "NO" for ninety minutes. And….you MUST do that.
There are many timeshare communities on the Big Island, both in Kona and Waikoloa Beach (twenty miles north of Kona). Hilton, Marriott, Wyndam and Aston all have properties on the west (Kona) side of the island.
Most of these are within a few minutes or on the beach. When they are not full, their inventory is available to rent at inexpensive, fixed rates call Open Season.
Hawaii on a budget
Tennis, anyone?

Proximity and access to tennis courts are important to Ume and my husband. We have played on most of the courts near Kona and the Kolaha Coast.

My budget tip is to play when the Pro shop has closed or not yet opened. We got up and on the courts by 6:45 a.m. this year to save the $50 an hour charge at The Mauna Kea. We've also played on the Hilton Waikoloa courts after 4:30 in the afternoon when their Pro Shop closes.
Neither of those courts are able to be locked up, so it is easy to show up at the right time and play for free!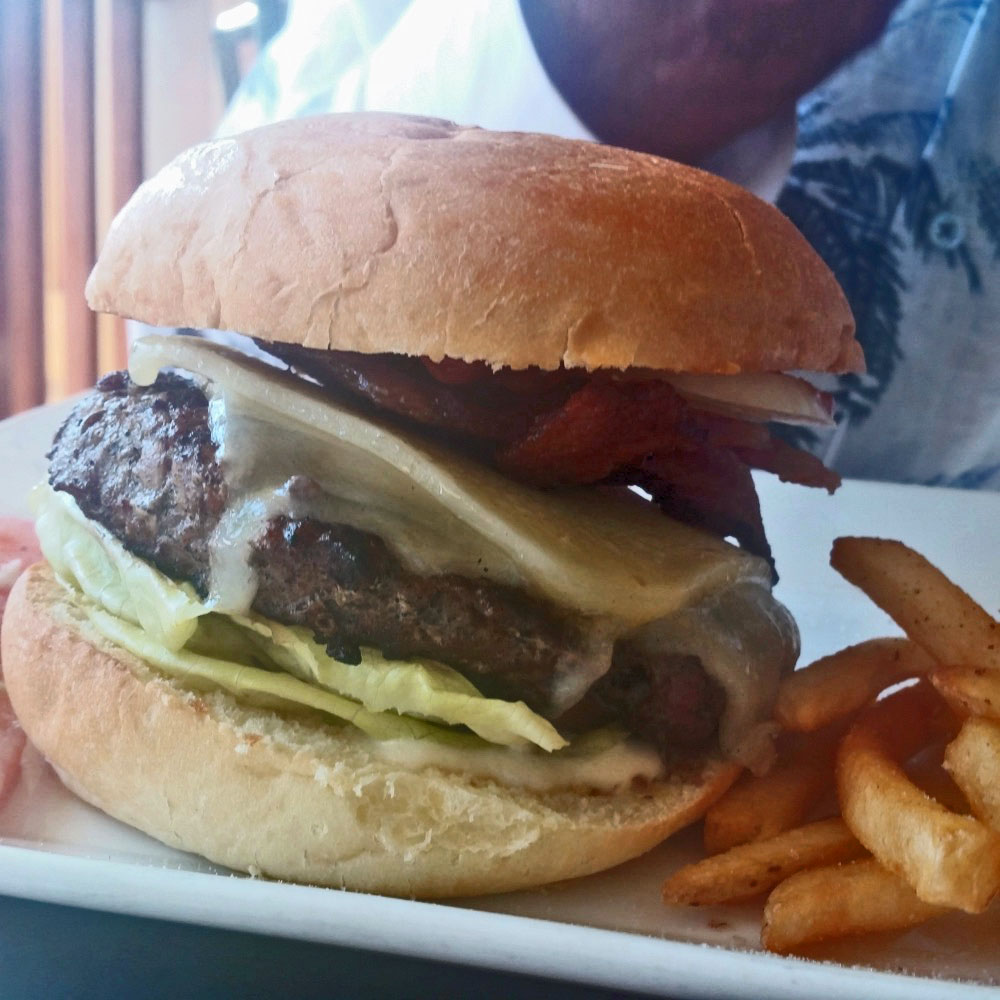 You Gotta Eat! But maybe not this much . . .
Food is expensive on the Big Island, especially in restaurants. While you'll probably want to splurge several times to check out local eats, if you do that three times a day, you can easily spend over $100 per person.

Having that kitchen makes this all much, much more affordable. The budget tip is to make your first stop the Costco a couple miles south of the airport. They carry fresh caught fish, poke, and all the chocolate covered macadamias you might need.
Just be careful in assessing how much food you will eat during your stay. The first few times we did this, we bought way too much food. This must be common because one of the informational flyers in our unit indicated that unopened jars or packages would be donated to the local food bank.
On a typical day, I'll cook a breakfast of fish and eggs and fresh pineapple and we'll enjoy it on the lanai listening to the birds chirp. Then, a late lunch of a sandwich or salad from our stores and go to a Happy Hour for dinner. Or we'll make the lunch our meal out for the day. 
We always drive up to Waimea to get the best burger on the island at The Village Burger.
If you've never experienced a LUAU, realize it will be expensive (over $100 per person). You are paying for the show and the experience as well as the food. You might decide this is a worthwhile splurge.
My budget tip: The Waikoloa Marriott's Sunset Luau is held outside in the courtyard of the hotel. It's happy hour time at the bar. Get a drink and some appetizers. Then go upstairs to the comfy couches in lobby balcony to watch the show.
The sun turns the sky orange and pink as the sunset show begins. You might even see the green flash when the sun drops below the horizon.
You can also walk over and sit on the lawn close by. Then go back to your condo and put some fresh fish or Big Island steaks on the outside BBQ grill.
Happy Hours abound.
 Two of my favorites are Seafood Bar and Grill and Tommy Bahamas Restaurant.
Down in Kona, there are lots of choices. You'll get your Mai Tais for $5-$7 each and have a good selection of small dishes, called pupu, at happy hour prices. Oyster Shooters, Coconut Shrimp, and sliders will all give you a taste of the Island.

Getting Around 

You'll find a wide range of prices for rental cars. A couple of months out is the best way to go. My budget tip is to use AutoSlash. Not just for Hawaii, but anywhere you might need a car, they will find you the best rate.

Then they will monitor it, so if the prices goes down between the time you've made the reservation and when you get there, you can rebook the lower rate. You pay when you pick up the car and can cancel if you need to. Their prices are often $20-$30 a day cheaper on the Big Island. 
There are jeeps for off road or convertibles if you want to be cool but renting an economy car is just fine for me. Often we are upgraded to a standard car because all their economy cars are out. Unless you plan to spend a lot of time driving around, go economy and splurge on other things.
As we were driving into Kona one day, my husband said, "Look at that." He pointed to an old, long-haired hippie peddling a bike loaded with stuff and even a trailer behind with more stuff. 
Next thing I knew, the car in front of me had stopped the traffic and I had rear-ended it.
There's nothing worse on vacation to have to deal with replacing a car and being on the phone with claims, except to find out your credit card didn't have the coverage you thought it did.
The important budget tip is to review your credit card perks before you go and make sure you are using one that covers the deductible in any accidents. That situation cost me $1000 out of pocket because I THOUGHT my American Express covered me!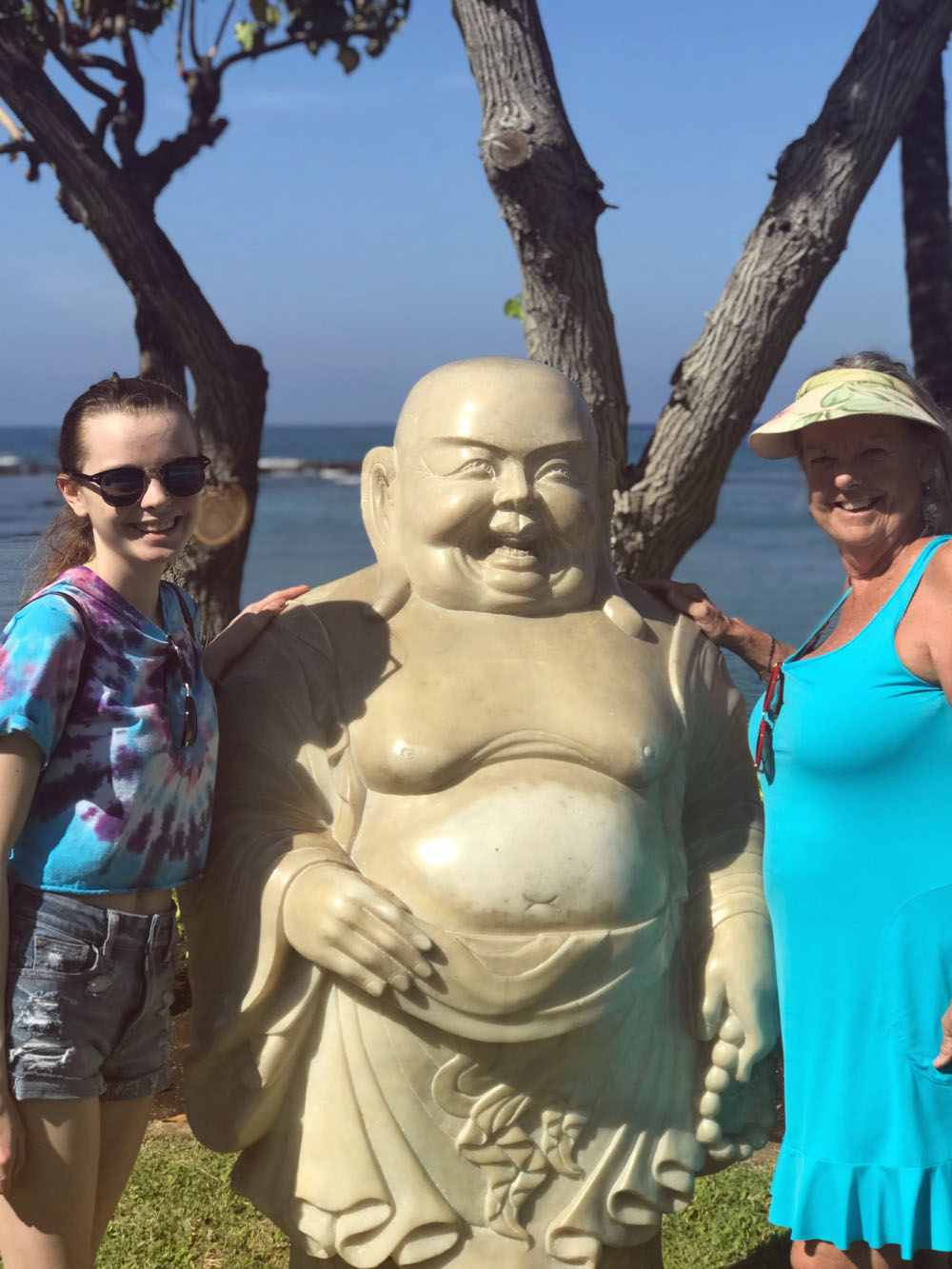 Ah, The Many Things To Do
The Big Island has so much to see. Many adventures and sites are free. For me, just being there is all I need to unwind and relax. There are interesting experiences on the Big Island that you'll want to choose from to get the most out of a trip.
Don't think you have to sign up for tours to enjoy all the Big Island has to offer.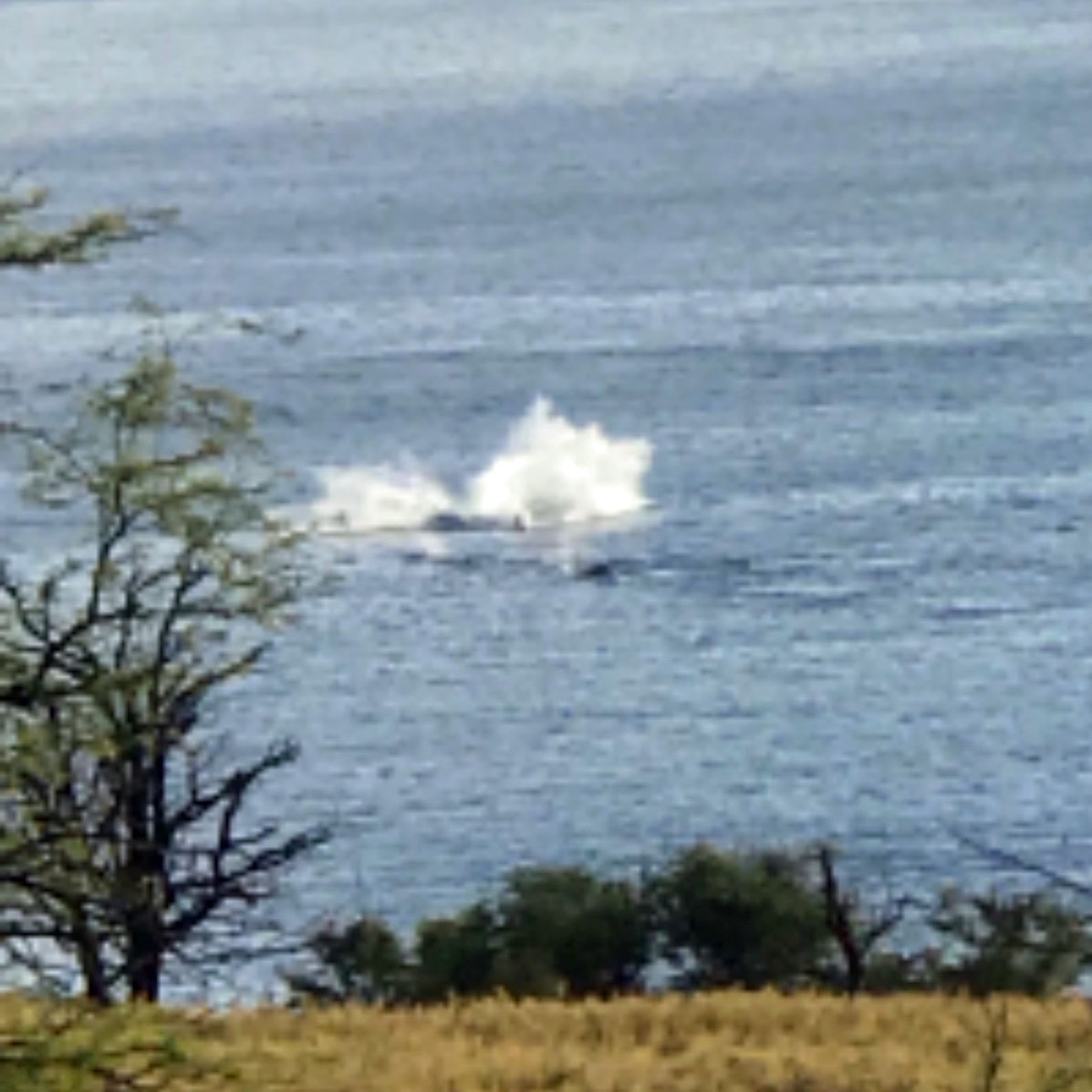 My favorite winter activity is watching the humpback whales jump and breech.
From November until April, about 11,000 of these beautiful animals populate the waters between Maui and the Big Island to birth their babies in the warm waters.
A leisurely drive up the Kohala Coast from Waikoloa to Hawi with one eye out for spouts and splashes will usually result in one or more sitings from the shore.

Alternatively, this is one activity that is worth the splurge at least once in your life to see these majestic animals up close.
Avoid the party boats, unless that interests you. Whale watching boats will take you out near the whales for about $100 per person. Kohala Divers out of Kawaihae has a good reputation.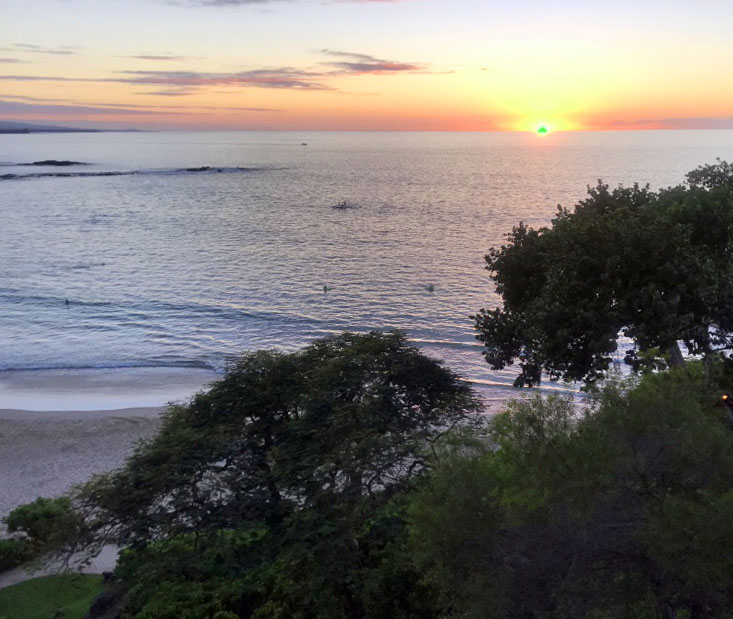 The green flash
As the sun dips below the horizon, the famous green flash can be seen on a day with the right conditions. I was staying at the Waikoloa Marriott with my daughter and granddaughter, Lily.
Lily was about 12 and I had told her about the green flash. The day had been exceptionally free of clouds. We sat on our balcony and watched the sun dip down until WOW! There it was!

So, I spoiled her into thinking it was a common occurrence. The truth is, I've talked to lots of people who live on Hawaii that have never seen it. In our 20+ trips, I've only seen it twice.
The other time was on a boat for a sunset cruise. The practice of stopping at sunset and enjoying the moment is worth the challenge, green flash or not.
A few miles beyond Hawi is Kapaʻau. there is a 9-foot-tall statue and museum commemorating the birthplace of King Kamehameha the Great. A few more blocks of fun shops with locally made jewelry, clothes and paintings.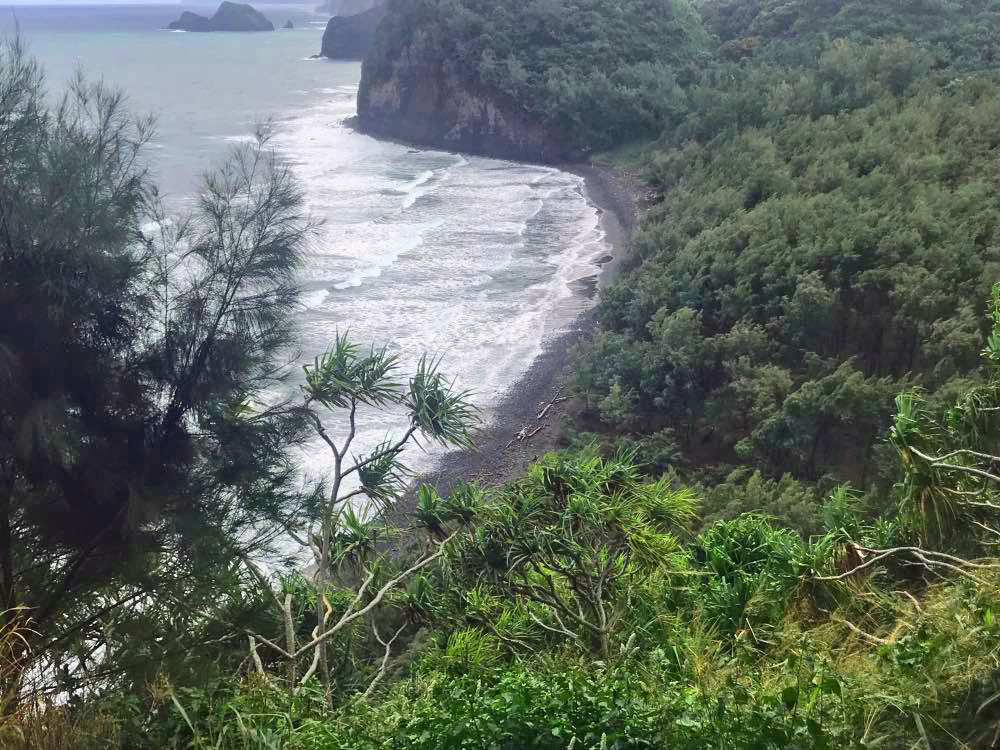 And then there are beaches! 

You'll find, white, green and black sand beaches on the Big Island.

WHITE: Hapuna Beach is big and beautiful with lots of white sand. Right off the highway, you don't have to hike to it. A $5 parking fee is all you need.
There is a restaurant right there with great fish tacos. We usually take a picnic from our Costco run. Bring (or rent) a beach chair and spend the day sunning and enjoying the surf.
BLACK: Up the Kohala Coast past Hawi is a two and half mile hike down to a black sand beach called the Pololu Valley hike.
GREEN: Papakōlea Green Sand Beach is right past South Point, the most southern point in the US.  This is a green sand beach populated with giant turtles that is a 2.5 mile of a hike and then a climb down cliffs.

Farmer's markets
There are farmer's markets almost every day. They are good place to get fruit for your stay. Most offer local crafts, honey, and coffee.
A very large one is in Hilo on Saturdays and Wednesdays with over 100 vendors. Not limited to food and coffee, this market has lots of crafts, jewelry, and local clothes at the best prices.

Long strands of pearls can be had for $20. Earrings to match for $5. Island printed wraps for $10 or $12.
My budget tip is to get your souvenirs here instead of at the pricier tourist shops.

Plan Your trip Now!

If Hawaii is on your bucket list, you can afford it! Plan it and do it. Maybe we will meet on the beach some afternoon waiting to see the Green Flash!
—— STORY & PHOTOS by Joeann Fossland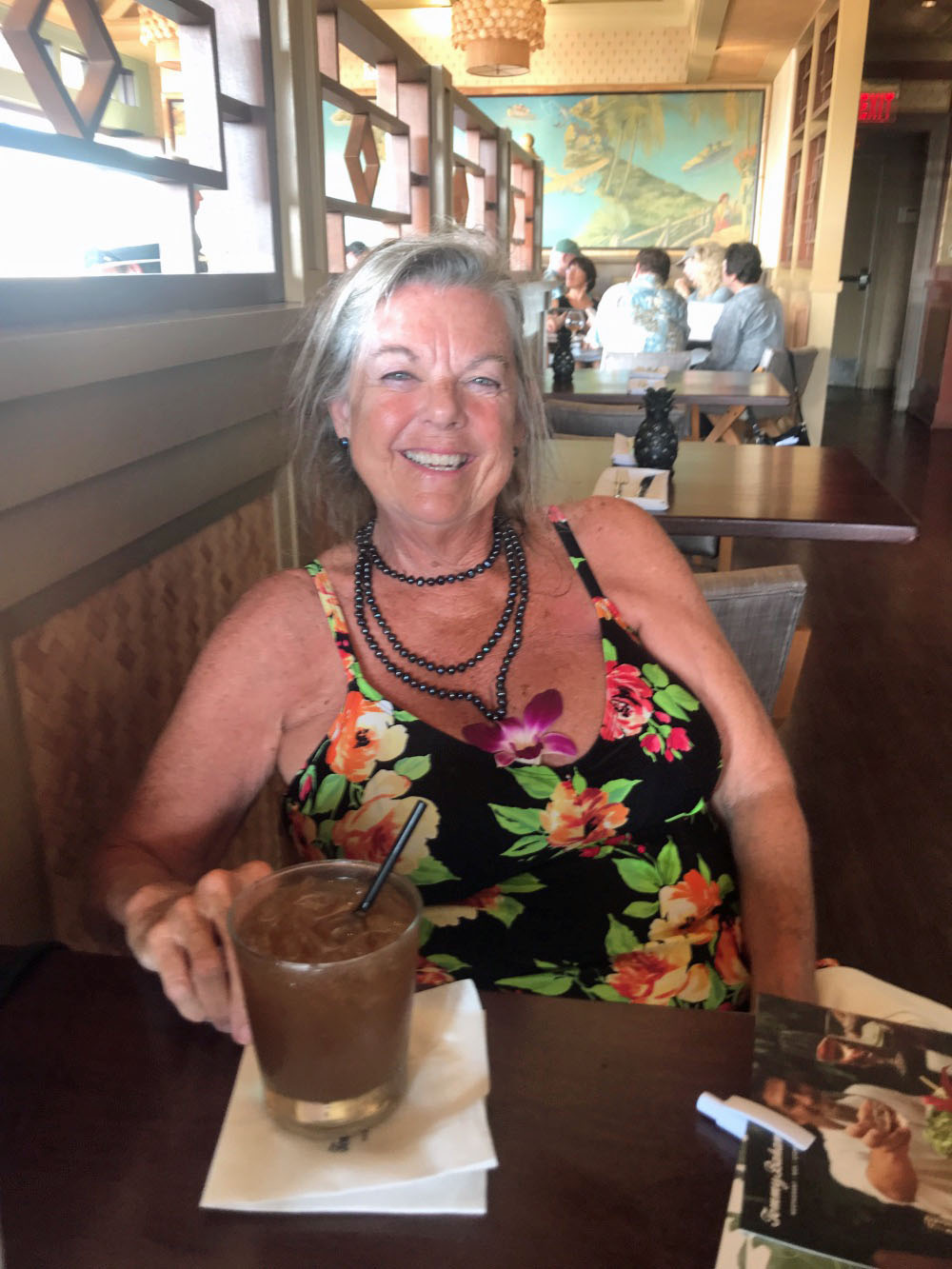 "If you're not enjoying yourself, you're doing it wrong" is Joeann Fossland's motto. She was bitten by the travel bug in the 70s and spent a year traveling the country with two small children in a blue and purple converted school bus with peace symbols on the front!
Since then, she has lived in a tipi at 8500 feet with no running water or electricity for 18 months, explored 4 continents, 26 countries and dozens of beaches and islands.
In her first career, she was an award-winning writer and speaker in the real estate industry for 35 years. These days, seduced by her love of travel, she has re-invented herself. Joeann loves to share travel insights and adventures to inspire like-minded baby boomers to make their dreams come true.
---
---