Home Brew Wine Tasting
Home brew wine-tasting in  Northern Ohio?
I have been wine tasting at Napa Valley and other locations and I was pleasantly surprised to find a delightful day of wine-tasting right in Northeastern Ohio - only a one - or two-hour drive from Cleveland or Erie.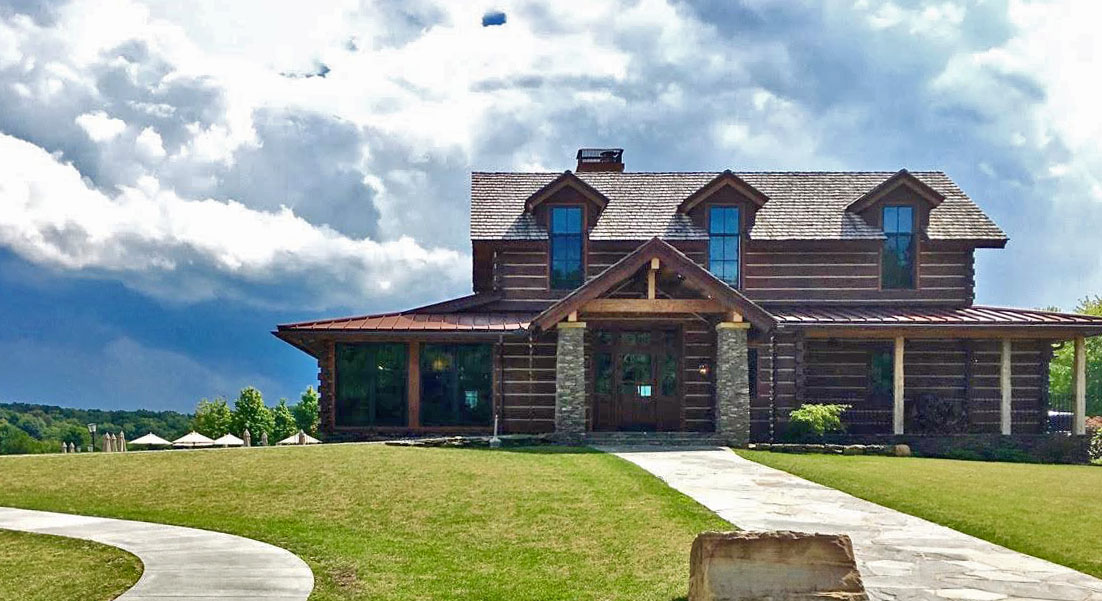 If you find yourself hesitant to try wines in Ohio thinking they may resemble you uncle's home brew, you're not alone. You may be saying to yourself, "Yeah right, certainly they can't be that good." Well, they are!
On a warm, humid afternoon, with thunderstorms threatening, my sister and I began our adventure.

The first stop along my tour was the offices of the Ohio Wine Producers Association (OWPA) in Geneva, Ohio. They have a great deal of information about the wineries in the area and I wanted to stop and see what's new.
It's not necessary to stop here before you begin your tour, but meeting Donniella Winchell, the executive director of the OWPA, a fireball of enthusiasm with a wealth of knowledge about wineries in Ohio, is a real treat. Donniella has worked with the association since 1978 and is still as passionate about wines in Ohio today. 
Home Brew Wine Tasting
Donniella explained that the association sponsors many state "Trail" events throughout the year. 
One of those trails is the Tannebaum Trail, a self-driving tour along the Vines & Wines Trail in Northeast Ohio. It begins December 2 and runs for 3 weekends from noon to 6 pm each day. At each participating winery, you receive samples of wines, complimentary appetizers and an ornament!
The Chocolate and Cheese Trail, Fall Frolic, Night on the Vine and Taste of Legacy are just a few of the events on the different trails. Check out the www.ohiowines.org web site for more events and dates.
After talking with Donniella we choose four wineries to visit on that day along the Vines and Wines Trail: Harpersfield Winery, Hundley Cellers, St. Joseph's Vineyards and Laurentia Vineyard and Winery.  

Home Brew Wine Tasting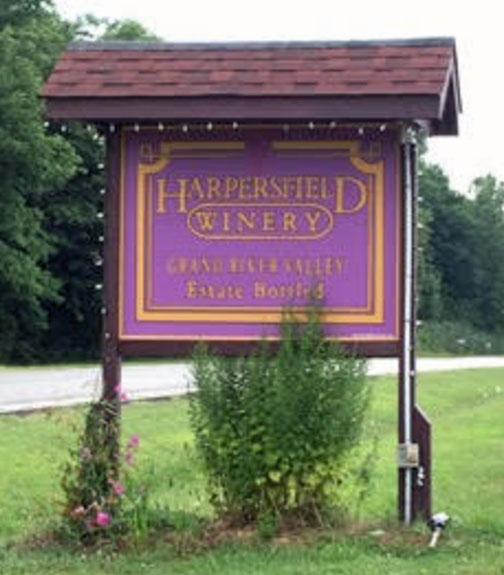 First stop is Harpersfield Winery.
Harpersfield Winery is one of the oldest wineries in the area, first opening in 1979. It is a family-owned farm and winery. Owner Patty Ribic says with a smile, "Everybody likes what they like for the reason they like it."
Harpersfield has a small list of wines because they only bottle what they grow…a true estate winery. The winery offers "light fare" for food that pairs well with the wines. Patty explains they aren't a restaurant with wines, they are a "winery with food." 
Their Chardonnays are excellent. I recommend the "Fut de Chene" and "Cuvee sans Chene." The "Fut" is aged in American oak and has a creamier taste. The "Cuvee" is unsoaked so it has a brighter, fruitier and vivacious flavor.
The winery offers a patio for the summer months and a wonderful fireplace for the cooler months. They have live music on Friday and Saturday all year and on Sundays during the summer months.
Storm clouds begin to build in the distance as we work our way to our next stop.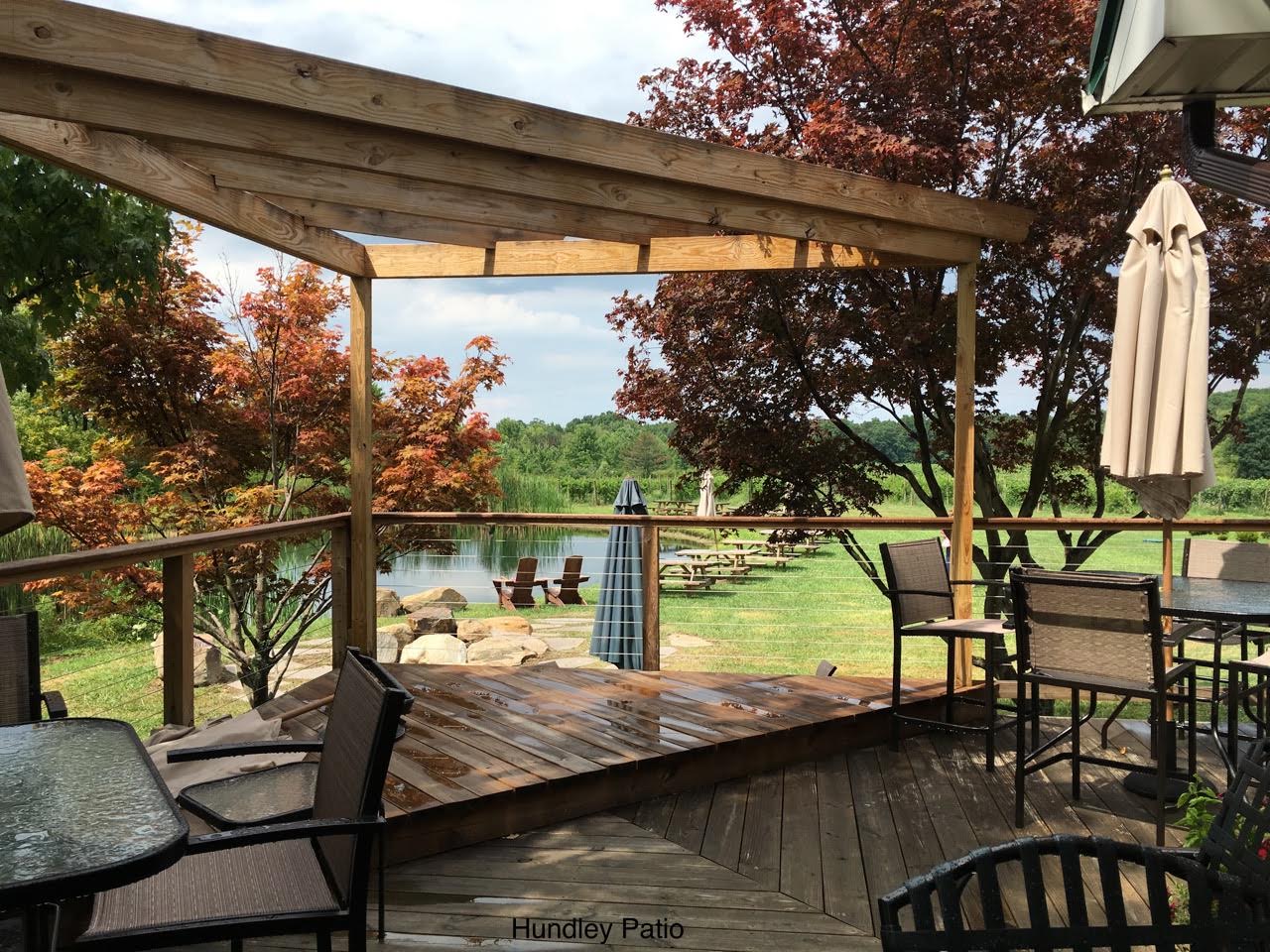 Hundley Cellers, owned by the Hundley family. 
Hundley Cellers opened in September 2014. Their vines are 5 years old so they buy many of their white grape juices from other growers in the area.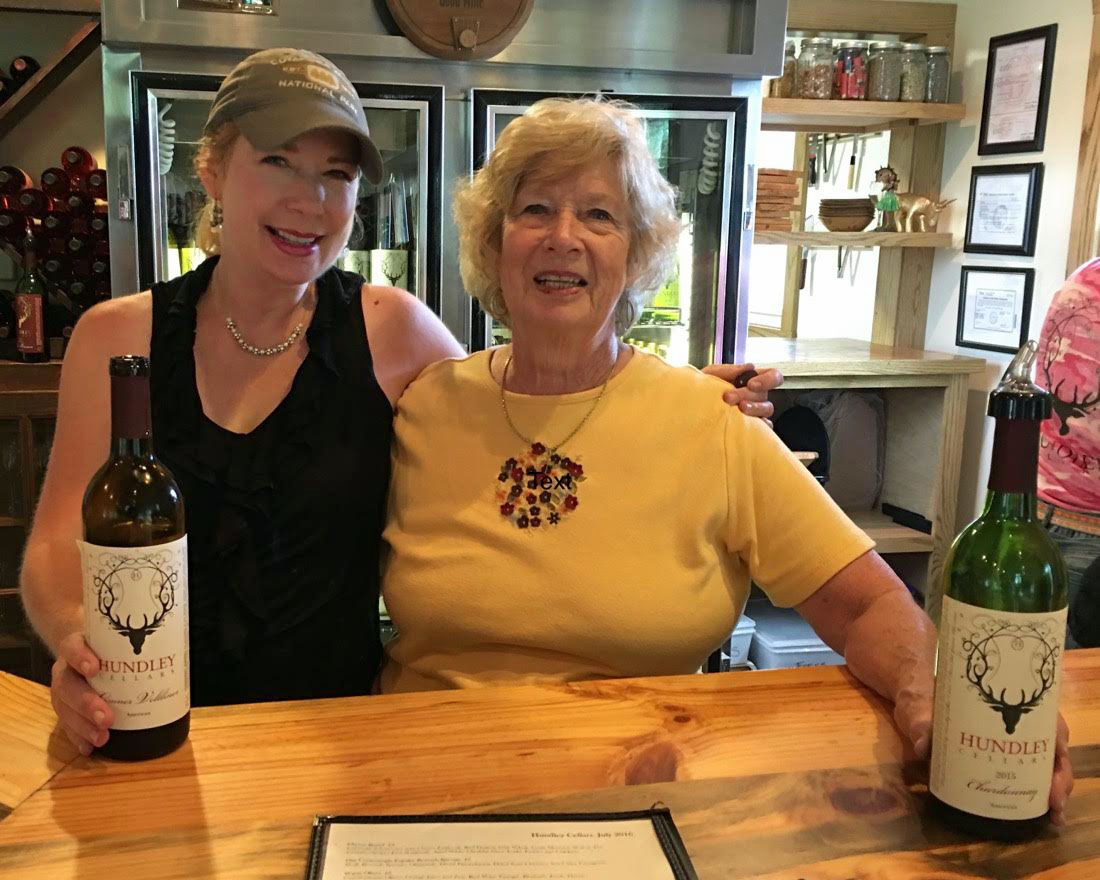 Meeting Gerri Hundley, one of the owners, was a pleasure. She made us feel right at home, happily sharing all the details about the wines. She proudly introduced us to her daughter, Tracy, the wine maker.

We sampled the whites, the chardonnay which is dry, slightly oaked and delicious. Since it was a warm summer afternoon, the Gruner Veltiner was especially delightful as a light summer, sipping wine. Hundley produces a fun white wine called "Pink Camo" — a semi-sweet blush. A dollar for each bottle sold goes to ZONTA, an organization to help victims of domestic abuse.


Pink camo
The winery is an L-shaped home that has been converted to a winery. In the back yard are a lovely garden and pond and inside there's a welcoming stone fireplace for the colder months. On Saturdays and Sunday from 2 to 5 pm. they have live music.


A short drive down highway 307 we arrive at St. Joseph Vineyard.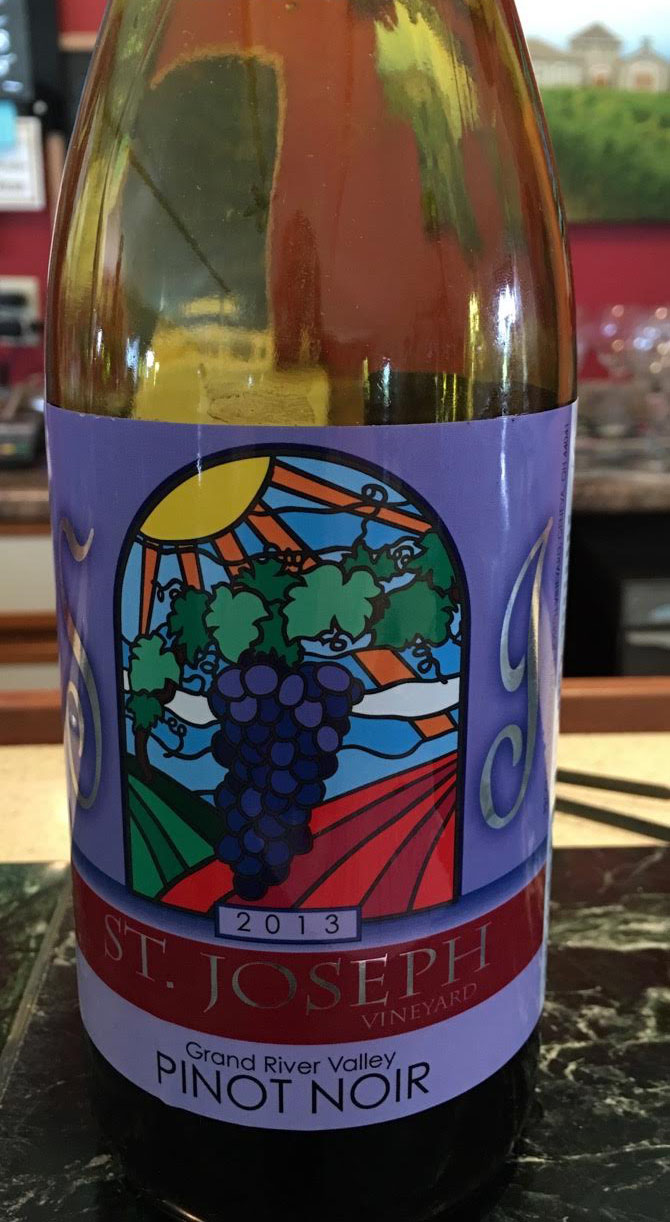 Pinot Noir
Owned by the Pietrzyk family, St. Joseph Vineyard has been open since 2010 but has been making wine with vines that are 30 years old. This winery is proud of their Pinot Noir, the first produced in Ohio.

In the Finger Lake International competition St. Joseph Vineyard won a Gold for their Shiraz and Dry Riesling, and in the San Francisco International competition won a Silver for the Pinot Noir.

All their grapes are grown on their estate and Art Pietrzyk is proud to tell me all about the history. He explained the name "St. Joseph" came from a time when he got a wine-making kit as a gift and thought it would be a fun thing to do with his family. His father was ill at the time and his mother told them all to say prayers to St. Joseph.

When his father recovered he wanted to surprise Art by picking all the grapes growing around the house. "He mistakenly put all the grapes together, not knowing to separate the different varietals," Art says. Art made wine anyway and named it "St. Joseph's 12+1" for all the grapes that were combined and saint who answered their prayers to help his father.


Home Brew wine Tasting
With storm clouds looming, we made our way to the Laurentia Vineyard and Winery.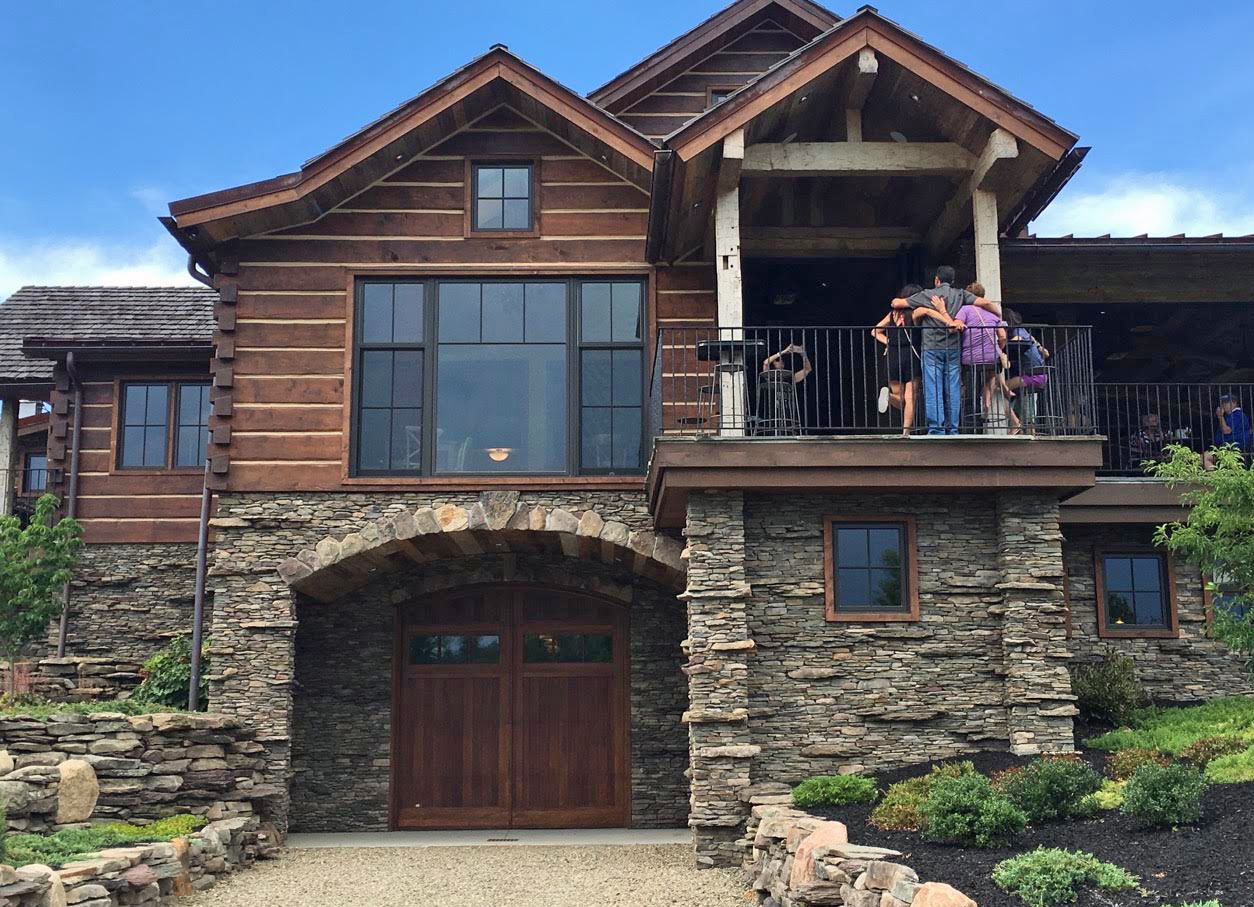 Laurentia Winery entrance
This winery is the newest in the area and one that is reminiscent of the palatial California or Virginia wineries I have visited. Owned by Gary and Leonard Blackie, Laurentia Vineyard & Winery opened July 1, 2015.

At the wine bar we visited with Chelsea. She explained they have 27 acres of vines planted in 2011 and 10 more planted in 2013.

We tasted the Beton Riesling and Beton Chardonnay, both of which are aged in concrete and are delightfully fruity and refreshing summer wines. The 2014 American and 2014 Lake Erie Chardonnays are aged in oak and come across with fruit forward flavor but with a buttery ending. We tasted the 2013 Cabernet Franc which we found to be lively and bright.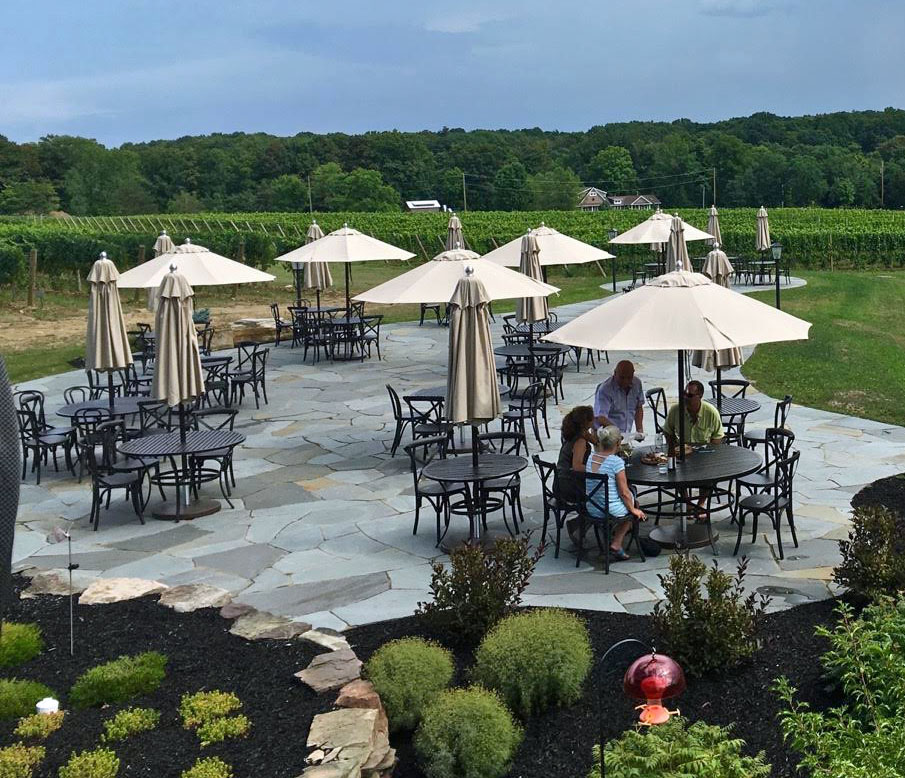 The wine cellar at Laurentia Vineyard and Winery can be rented for parties of up to 50 people. The deck is beautiful and inviting for the summer afternoon/evening. On Saturdays from 5 to 8 they have live music and in the colder months there is a beautiful indoor seating area and huge stone fireplace just asking you to spend a lazy Sunday afternoon there.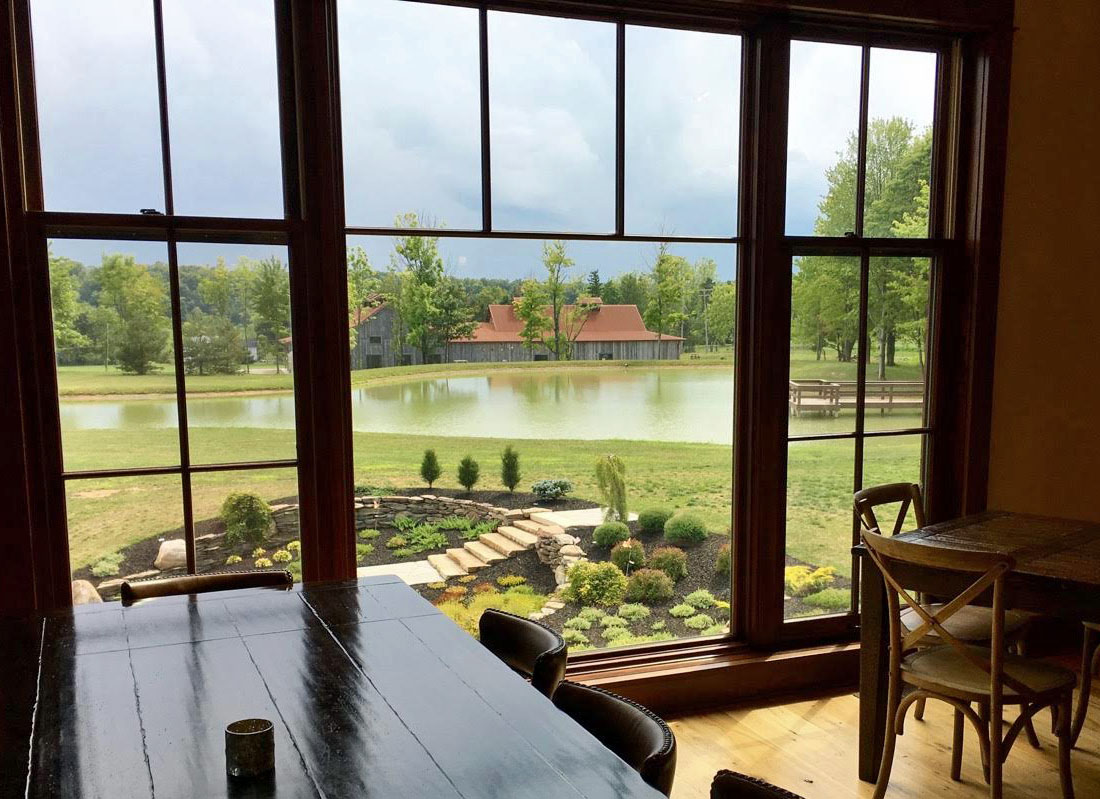 The rain was moving in quickly so we scurried home having had a delightful afternoon exploring the wonderful wineries of Northeastern Ohio.

 —Virginia Jones
Virginia Jones is a retired chiropractor and self-proclaimed gypsy. Every chance she gets she's off exploring someplace new, even those places close to her Alexandria, Virginia home. Currently she's an independent corporate trainer, a vocation that allows her to travel all over the US, having adventures and exploring new places she never imagined visiting.

---
---