Impressions of Turkey

After 3 decades, our impressions of Turkey

Bill and Carolyn Hayes Uber lived in Ankara, Turkey from 1969 through early 1971 while he was in the US Air Force.

In April 1998, in "celebration" of Carolyn's fiftieth birthday, they returned to Turkey for a visit.
Carolyn says, "Here are my impressions of Turkey from older - and perhaps a little wiser - eyes."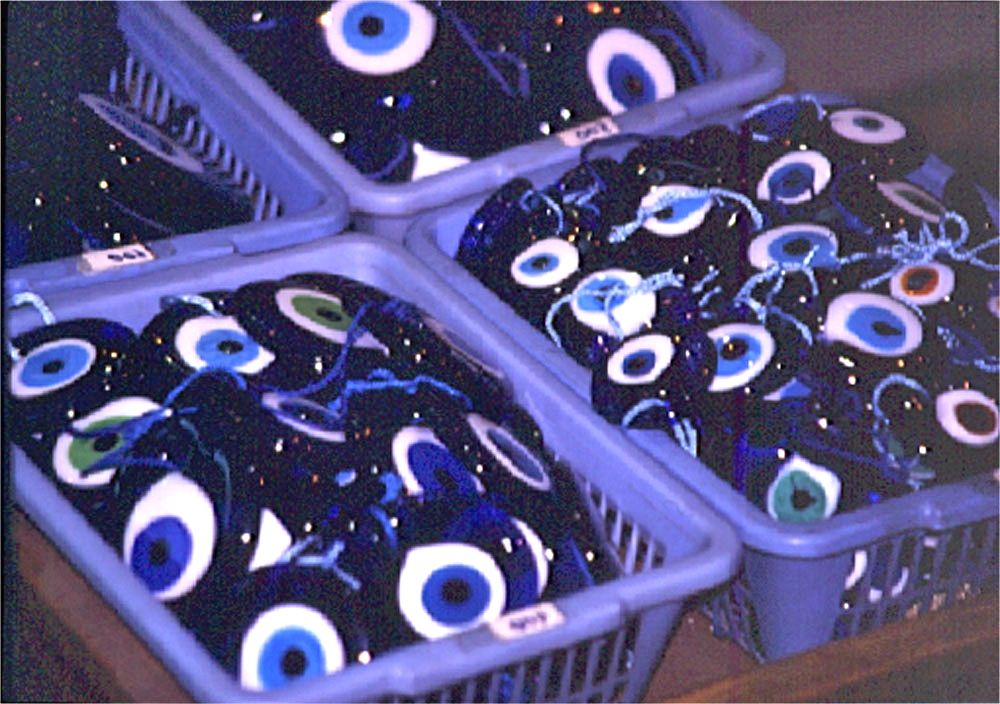 Our arrival in Istanbul, Turkey brought back a flood of memories
I smelled the strong, acrid odor of a country that heats with coal. This smell, like an unpleasant combination of campfire smoke and diesel fumes, was the very first thing to strike me also on my first arrival, back in November of 1969.

It was inevitable that we would find ourselves comparing the old Turkey we had experienced nearly 30 years ago with the Turkey of today.
Impressions of Turkey
Instead of applying for a visa to the Turkish consulate long in advance of our travel, this time before proceeding through airport Immigration we were able to queue up on the spot for a $45 per person visa.
We retrieved our luggage and passed through the empty and unmanned Customs, a marked contrast with the grim-faced officials who had pawed through my case, assisted by a carbine - toting soldier, on my last visit.
The cab driver's Turkish music did not seem so strange to me as the screechy wailing sound did the first time I heard it. Perhaps the combination of the various instruments used in today's New Age instrumentals and my considerable exposure to Chinese music made it seem less odd, and occasionally melodious.
As we neared the city center traffic slowed to a crawl, the cacophony of horns rose and our driver fought for every opportunity to gain a car length over another vehicle.
This continual weaving in and out of traffic, coming within inches of trucks, cyclists and pedestrians, was a never-ending source of wonder to me in 1969. Today, having experienced the driving habits in Rome, Seoul, Bangkok and Beijing, it seemed normal.
Impressions of Turkey

Our hotel, the Istanbul Hilton, featured both cable television direct-dial telephones

in the '60s when we lived in Turkey, we made only one phone call back to the US - a complicated procedure at the Dedeman Hotel, using their operator, an interminable wait for the call to go through and thirty dollars - an enormous sum for three minutes.
Back then we knew of only one Turkish neighbor who had a television, with only a few hours a day of black and white programming.
Our first morning in Turkey was a Sunday. It was bitterly cold, with drizzle and dark skies. Sooty smoke rose from the rooftops.
Bargaining with a street vendor. Photo by Carolyn Hayes Uber.
The Akmerkaz is a modern shopping mall with the toniest European and American brands, like Levi Strauss and Ralph Lauren The prices were VERY expensive.
In 30 years, the Turkish lira has rather inflated. In 1969, we got 12 lira to the dollar, or 60 per $5. Today, $5 equals ONE MILLION lira! Exchanging a few hundred dollars got us a large stack of million lira notes - too many to carry in one's wallet!
We walk again for blocks and blocks through modern day bazaars selling everyday merchandise; cooking pots, jeans, cradles, chicken wire, ladders, shoestrings, and the helpful street vendors I recall from my days living in Turkey, the shoe repairman, the knife sharpener, the tailor, the greengrocer, the baker and the coffee grinder.
I am surprised how comfortable I feel among these stalls, how familiar it all is.
The Turkish Daily News had an article about the Basilica Cistern so the following day, we decided to find it.
One of the major problems of an ancient city was how to insure a supply of water during a siege. Istanbul, as a major city, boasted a number of cisterns under the city to store water. The Basilica Cistern—named this in later times for its proximity to the Christian cathedral nearby—still exists.
To visit the cistern, first you must find the small, nondescript building that houses the entrance. You descend several flights of stairs and find yourself in a large, underground cavernous basement that stretches in all directions as far as you can see.
Evenly spaced pillars and columns, most of them carved or fluted, support the high vaulted roof. Elevated platforms allow you to walk between some of the pillars. Large gray fish swim lazily in the few feet of water.
In one corner, floodlights have been aimed at the base of a pillar. It rests on an upside down head of Medusa. It is believed that the Medusa was brought down to the cistern from elsewhere during some restoration work and used to prop up a damaged pillar.
It is quite dark in the cistern, and the muted echoing voices, the flickering light and staring sightless eyes of Medusa combine in an effect that is unsettling and eerie.
Impressions of Turkey
When we had lived in Turkey, the dolmus (pronounced dal-moosh) was our primary means of getting around. 

These were usually old American station wagons or other large cars of ancient vintage.
You could hail a dolmus at any point along its route, and the driver would let you out wherever you indicated. Thirty years ago, the fare was fifteen cents.
Today's dolmus is a mini-bus seating 8-10 people with room for another dozen or so standing. Entering the automatic doors is much easier than the laborious process I had during busy city traffic of climbing into the third seat of an old station wagon, laden with packages and a baby. We were pleasantly surprised to learn the fare was now just thirty cents.
The ornate ceiling of one of the rooms in Topkapi Palace. Photo by Carolyn V. Hamilton
Topkapi Palace is our afternoon's destination. I wanted especially to see the harem, which we had not been able to tour on our last visit all those years ago. We hired a guide who explained that only 60 people per hour were allowed in the harem section of the palace and it required a separate ticket.
The harem - pronounced "har-eem" - was home to the Sultan, his mother, his wives, up to four, his mistresses, as many as he felt he could afford or accommodate, the Crown Prince and his other children, and 300 or so beautiful and promising young girls. Fifty Nubian eunuchs protected and cared for them.
The harem is a maze of corridors and courtyards - three stories tall. In a dining room and hall where the Sultan and his favorites would gather for the evening are blue Delft tiles that the Dutch traders had exchanged for Turkish tulip bulbs to take back to Holland.
Impressions of Turkey
It was dark when I landed in the '60s at Esenboga Airport in Ankara. 

Today, the taxi ride into town revealed significant change. When we lived here traffic consisted of buses and taxis and a few private cars. Everywhere were carts pulled by horses and donkeys.
It appears a higher standard of living has brought with it the downside of excruciatingly jammed streets. Not a horse in sight, but plenty of late model private vehicles. What used to be a twenty-minute trip into the capital took well over an hour.
Much to our surprise, the Ankara Hilton is located very near our old neighborhood. As soon as we checked in, we set off to explore.
In short order, we found our old apartment. Little has changed. The same greengrocer and butcher shops are in front. We walked around the back, peeked in the windows, chattered excitedly and took pictures of each other by the door.
The current inhabitants were somewhat alarmed, and we were unable to explain our interest, even with sign language, trying to indicate that we used to sleep here.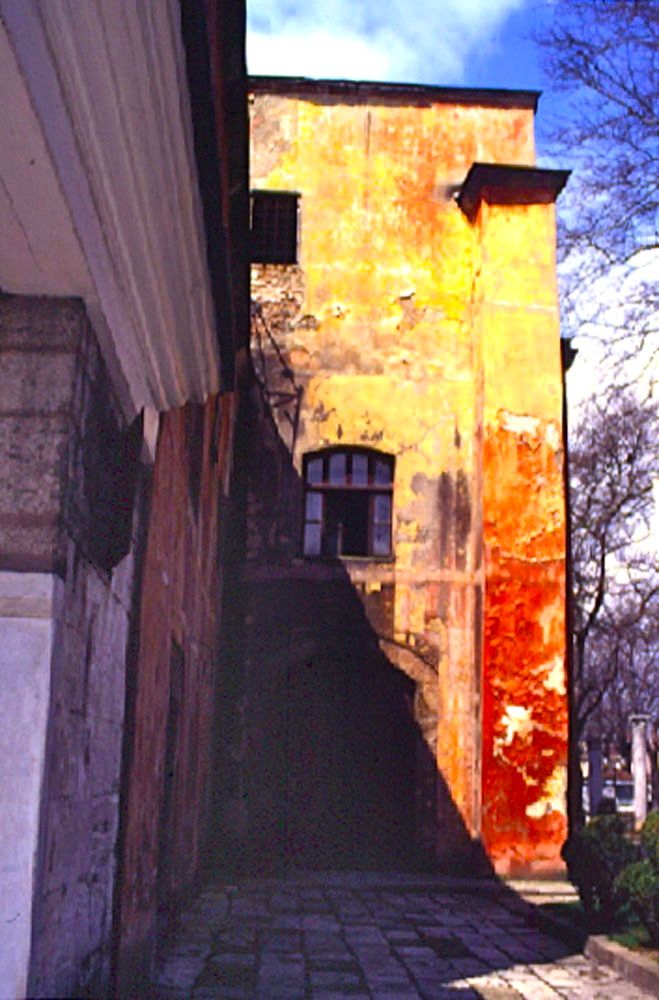 Ankara street, photo by Carolyn Hayes Uber
We wandered about the neighborhood, retracing our old routes. We found the old barracks where Bill lived before I arrived in Turkey. The building now houses the offices of the oil ministry.
Bill used to take a bus from his office in town to the barracks, fill our water jug, and then walk up several steep flights of steps and then the several blocks to our apartment.
To our amazement, we found an upscale shopping district on the street leading back to our hotel. It includes a Marks and Spencer - English - department store, and a McDonalds, Burger King AND Kentucky Fried Chicken. Ahh, what we would have given for an occasional Whopper back in the days when we lived here!
Plenty of well-dressed Turks filled the sidewalks. Prices in the shops seemed very expensive to me. Times have changed.
Impressions of Turkey
The next day we visited Ulus, the "old" section of Ankara. 

The taxi ride seemed familiar this time, and soon we were standing on top of the hill at the spice market within the old citadel walls. This spice market was exactly as I remembered it.

Tents and awnings protect the large burlaps bags filled to heaping with all different sorts of foodstuffs from the rain. Photo by Carolyn Hayes Uber
I bought a small bag of pistachios, which were weighed on an old-fashioned brass scale with weights.
The hotel doorman and the taxi driver had both expressed surprise and skepticism when we had declared Ulus our destination. We feel that old Ulus is the Turkey that we remember.
We spent the whole afternoon wandering up and down the steep and narrow streets, browsing in the shops and watching life go by.
Our daughter Tina was born in a small clinic while we lived "on the economy" in Turkey's capital city, Ankara. Photo by Carolyn Hayes Uber
Impressions of Turkey
One last day of wandering our old neighborhood and browsing the shops, and it was time to say "Gule Gule" to Turkey.
Throughout my time there, I thought about the past and how our experiences in Turkey influenced our future and the way we look at the world.
I am glad to have had the chance to live in the Middle East - and glad it was a temporary arrangement - and I am grateful to have come back for another look.
There are many aspects of Turkey that I like very much, and other aspects that are incomprehensible.
Living through the "sink or swim" situation I found myself in those many years ago gave me a confidence to tackle the challenges that would come my way in the years that followed.
To say nothing of inspiring an incurable desire to travel. I will be forever thankful.

Carolyn Hayes Uber
---
---