Scotland's Isle of Skye
Discover 5 attractions on the Isle of Skye

While it may be common to keep "best kept secrets" to yourself, I love to dish on how the Isle of Skye is a must-visit for the nostalgic fairy-tale-loving, adventuresome woman in us all.
The island's name may mean "Cloud Island", but don't let that deter you as its views are some of the most breathtaking and spectacular scenery I have ever witnessed.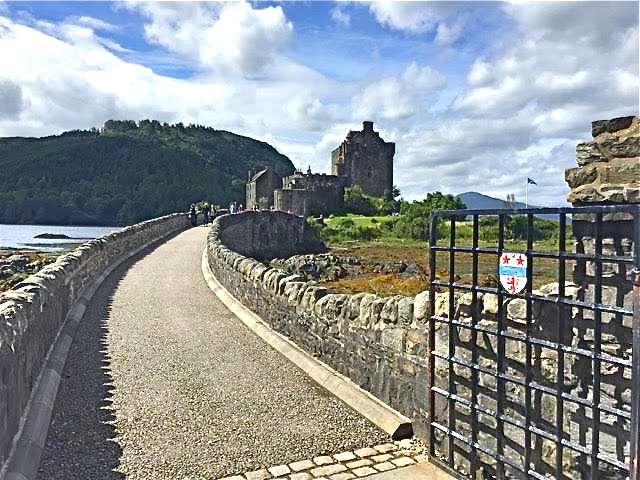 Everything from sparkling rivers, dazzling sea cliffs, mountain ranges, wildlife and castles are a feast for your mind, body and soul. 
Here are my 5 favorite things about the Isle of Skye:
---
Write for us!
If you have an interesting travel tale, please tell us about it. We'd love to hear about your travels and experiences. Please send your story (or simply an enquiry) to us at our contact page. Thank you!
---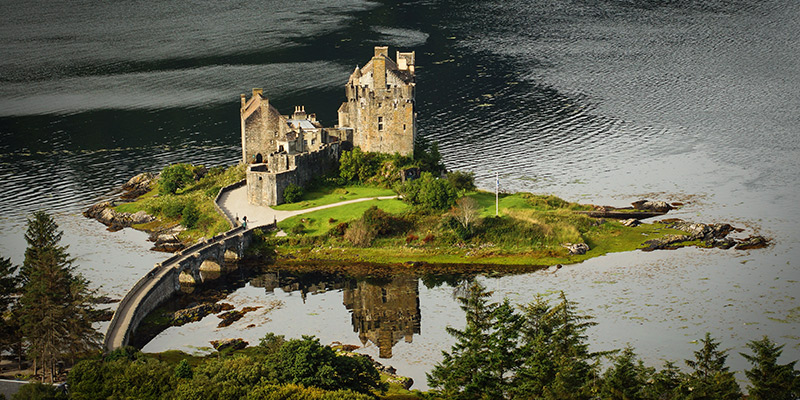 Isle of Skye - Eilean Donan Castle
When the authors of our favorite fairy tales sat down to write the stories we fell in love with as children, they were inspired by castles such as this 13th century fortress.
Touted as the most romantic castle in Scotland, Eilean Donan Castle in Lochalsh is as stunning as it is ageless. While the only access to land is by a connected footbridge, it still comes alive with overnight visitors and you can even have your wedding here!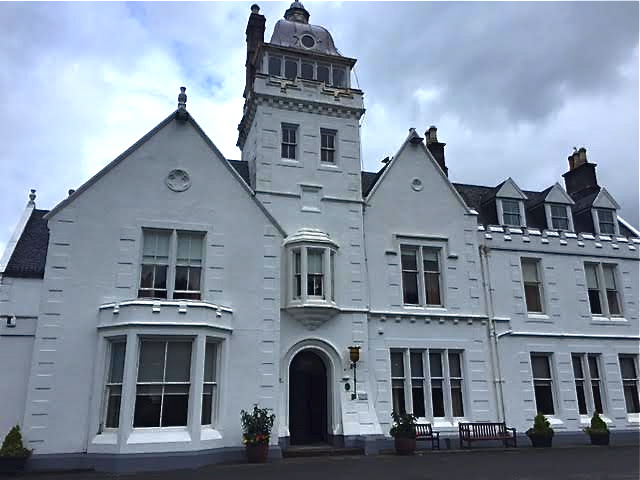 Isle of Skye - Skeabost Country House Hotel
While I may not have booked the castle in enough time, I found an equally charming base for visiting the island with plenty to offer in bygone terms near the island's capital city of Portree.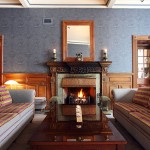 Skeabost lounge and fireplace
While dining on local salmon and Talisker whisky with the company of the bartender/owner, I discovered there has been a house of one kind or another on the site for centuries. He told me, "We all own the Skeabost since the 1800's, I'm just the keeper for a while. The foundation is strong and unchanged, we just added new carpeting and updated the décor."
The Skeabost Country House Hotel was once home to Duncan MacLeod, seller of the famous Isle of Skye Whisky to Al Capone during prohibition in the United States. The illegal trade made the family rich but continual high estate taxes forced them to eventually sell.
The house itself isn't the only ancient treasure, as the outlying properties also boast historic roots. There is something to be said about standing amongst deep-rooted energy.
Isle of Skye
An old road bridge near the main driveway of the grounds leads to St. Columba's Island in the River Snizort, which houses the remains of two small chapels affiliated with St. Columba – the first missionary to Scotland. The island is the ancient burial ground and site of the Cathedral Church of the Bishop of the Isles from 1079-1498.
Another historic attraction on the island is the Mortuary Chapel Nicolson's Aisle, where tradition has it 28 clan chiefs are buried. This would be similar to a burial ground of 28 American presidents! Talk about revered ground.

It is understood St. Columba preached from a rock on the island in the 6th century as he began his mission to convert the Picts to Christianity.
The serene setting, enclosed by water, allows you to escape 21st century reality and capture a rare moment of timeless tranquility and sacred solitude.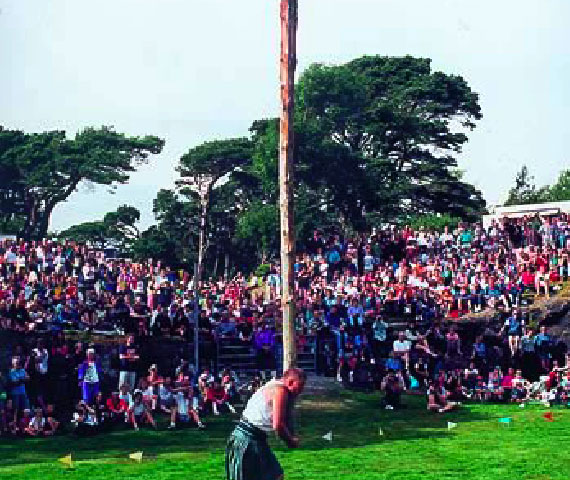 Tossing the caber
Isle of Skye - The Highland Games
If you are into handsome, athletic men proudly displaying their skills, look no further than this Scottish highlight event.
Not only is it full of strength and endurance, but it is also rich in tradition. Hammer throwing, archery, bagpipe performances, dancing and tug of war are all a part of this spirited tribute to the fittest of the fit.  

At one point these games were enacted to choose the finest warriors for battle. Even to this day, the game's "warriors" still wear their clan's tartan kilt (a specific plaid pattern).
This sparked my intrigue not only in the handsome men wearing the kilts, but if my last name (McNally) had a special tartan. And was I in luck! Turns out the Gaelic ancestors of the McNally's settled the highlands crossing over from Northern Ireland. The name's spelling changed over the years, but McNally became part of the McClean clan.
You might want to Google your family name to see if it is related to one of the highland clans and wear a kilt too! I know it gave me a special reason to cheer a bit louder. My day at the Skye Highland Games will no doubt live long in my memory.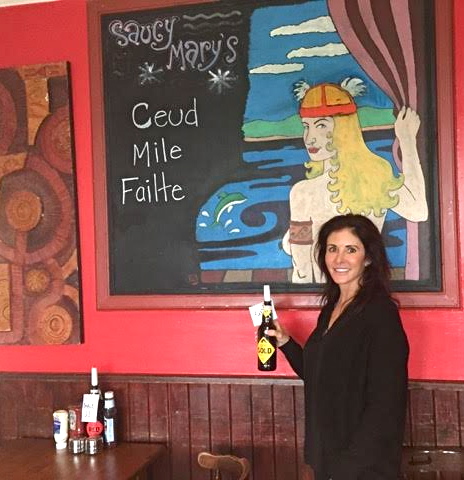 Saucy Mary's
Isle of Skye - Saucy Mary's
Being next to a base, my military friends gave me the inside scoop on this famous dive pub in Skye.
On a Friday night Saucy Mary's was packed with not only military but a plethora of tourists, live music and lots of Talisker whisky flowing.   

The legend of the bar's namesake states that the village, which houses the bar, was originally built for a Norwegian princess known as "Saucy Mary" who resided in a castle on the island called Castle Moil.
Saucy Mary would charge a toll to any boat using the narrow channel by hanging a chain from the castle to the mainland to prevent unpaid crossings.

Her remains are said to be buried on the top of a large mountain to the rear of the castle ruins.  

Talk about a good ghost story!
Isle of Skye - The Cuillin Mountains
Legend has it that these mountains are named after a female Celtic warrior.
Like the woman they were named after, these red and black peaks command your attention and readily stand out for photo opportunities, hikes and inspiration for many modern day movies, novels and artwork.

Stunt bikers flock to the trails, which offer some of the toughest terrain with unsurpassed backdrops. Some believe the mountain range to be the most challenging and rugged UK mountaineering experience–especially in winter conditions.
The summer months hold satisfying expedition potential as well. Many who climb its peaks describe the range as being another planet in itself. From "up there" it looks like an entirely separate world.

I hope you can make it to one of the world's favorite islands. It is certainly one of mine!

--Barbara McNally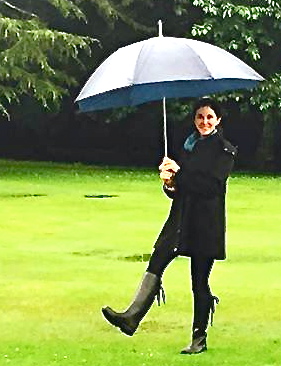 Barbara McNally
Barbara McNally is the author of Unbridled, a memoir chronicling her journey to independent and joyous living. A mother and philanthropist living in San Diego, California, Barbara is also the founder of Mother Lover Fighter Sage, a foundation dedicated to providing women with opportunities for growth and self-discovery. To learn more, visit her website at: UnbridledFreedom.com.


---
---