Koko Crater
Chasing the sunrise up Koko Crater, Oahu, Hawai'i

The air in Koko Crater is still and cool, the only sound is your breath in the pre-dawn night. The darkness envelops you with soft tendrils as a feral cat slips past and a shiver runs up your spine.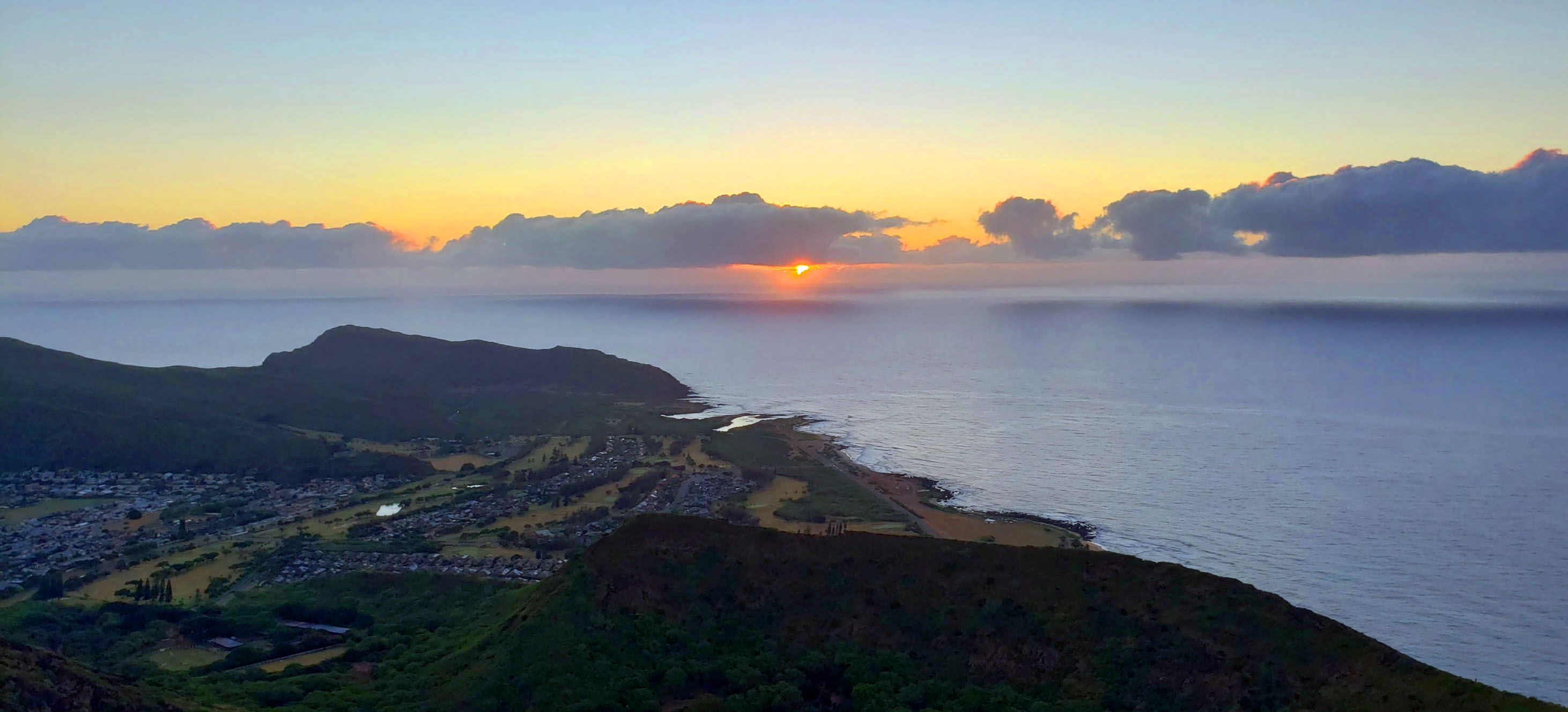 The Koko Crater hike on the island of Oahu reveals a stunning sunrise.
I was 51 years old, about as out of shape as you could possibly get, having just recovered from a 6-year struggle with severe anemia, when we planned our holiday to Oahu with our children and grandchildren.
My husband and I always try to catch a few sunrises and sunsets on every vacation, so I asked who wanted to go on an early morning hike to see the sunrise from Koko Crater. My oldest daughter and two of our grandchildren decided to join us.
Sunrise from the peak of Koko Crater, Oahu, Hawai'I.
Sunrise in Koko Crater
It is 4 o'clock in the morning, the best time to begin the climb in order to reach the top of Koko Crater and watch the sun come up, enjoy the panoramic views from Diamond Head to Makapu'u Point, and the lava rock coastline awash in the golden hour.
I had my crew go ahead of me, so they would see the sunrise, as I knew at my pace, I wouldn't make it in less than 90 minutes. They used their phones as flashlights and strode ahead. I didn't have a flashlight app on my phone and a rock slipped under foot as I fell to one knee.
Cassandra and her daughter, Katryn hike Koko Crater, Oahu, Hawai'I.
I almost thought of turning back at that moment, but my daughter ran back to grab water from the backpack I was carrying, and she put the flashlight app on my phone. She ran ahead again to catch up with her dad and nieces.
Built in World War II, to haul cargo, crew and supplies to pillbox military bunkers at the top, these abandoned railroad ties in Koko Crater make a unique hike.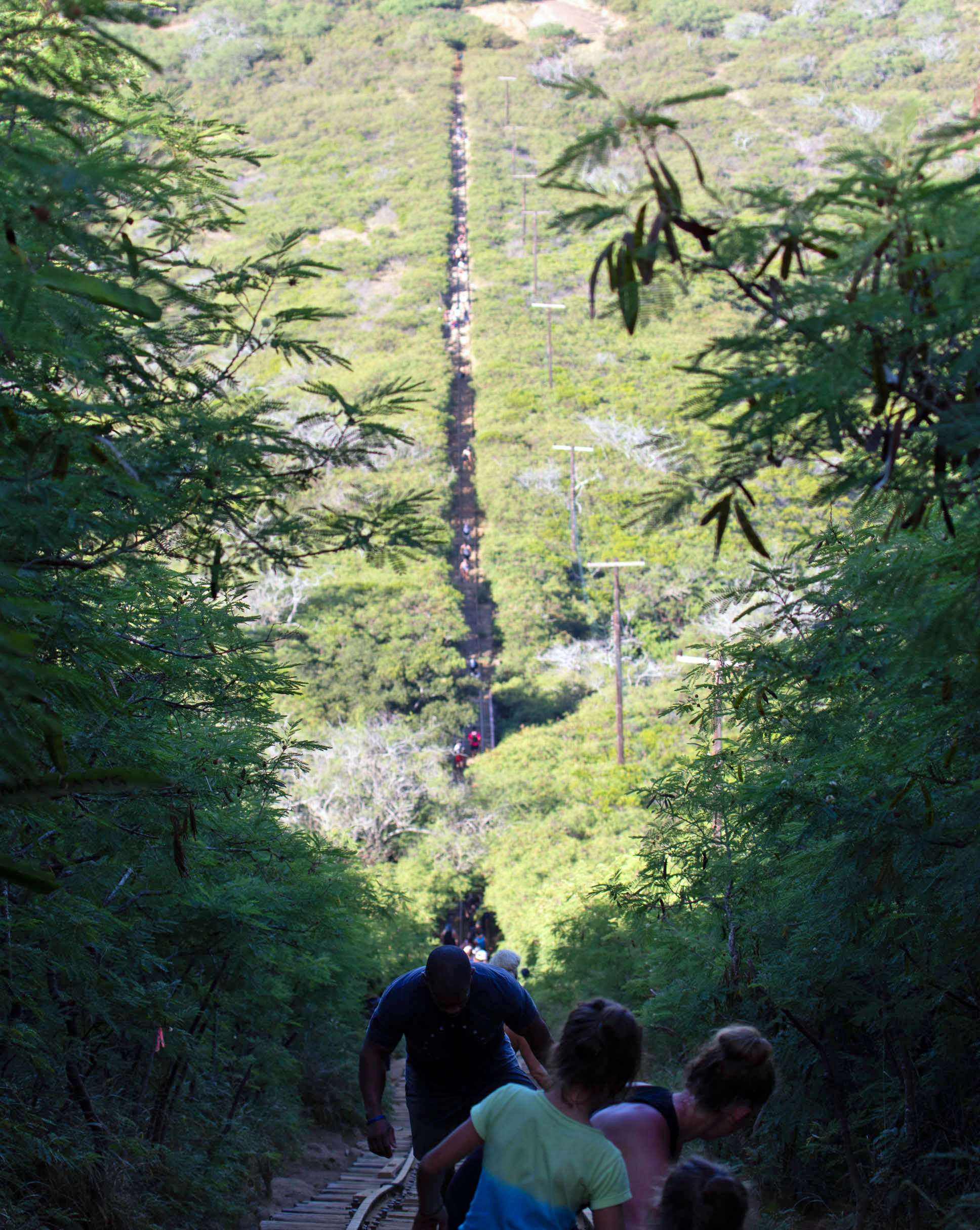 1,048 old railroad ties make up the Koko Head Stairs on Oahu, Hawai'I.
There are 1,048 ties, known as the Koko Head Stairs.

The first 100 stairs are the easiest. Turn around and take a short break. Enjoy the view of Hanauma Bay and the Port Lock Peninsula below.
Continuing upward in Koko Crater, a precarious, flat section of ties forces hikers to crab crawl along the ridge, above the gaping maw of a 40-foot drop.
I stood and stared for what seemed an eternity, trying to build my courage to keep pushing forward. I am horribly afraid of heights. I cannot even stand on the first rung of a ladder. I searched for another solution. Bypass the drop by going around the rocks to rejoin the ties on the other side.
Stop and breathe, take a stretch break, each step an accomplishment, each pause a moment to reflect on the journey and wipe the sweat from your brow. Remember to move aside and let others pass.
Some steps are too hard for short legs and occasionally moving off the ties to walk on the silt and grabbing a branch will help with balance and the upward trajectory.
There are many ties missing on this climb and sometimes it was a matter of hoisting myself up what would amount to doing two or three stairs at a time.
A few times I imagined just turning back, but I truly wanted to reach the top of Koko Crater. I had the opportunity to speak with multiple people and tell them my family was already up there, waiting for me.
Koko Crater

My family waits for me to finish the climb.
The people you meet along the way, like the father who made it to the top and raced back down to get his kids to school; the man who has hiked round trip three times since I started, and usually completes the circuit six times every morning; the two young mothers with the babies on their backs; and the young man with his beautiful dog, all with friendly smiles and words of encouragement.
Even on their way back down from Koko Crater, one hiker said to me, "I saw your family waiting for you at the top. You can do it."
At the base of the last 100 steps, nearly to the finish line, the incline takes on a precarious angle, ever upwards. The thought flits through my mind, "I would have to be a mountain goat to go any further."
The hardest part of the hike in Koko Crater is that last 100 steps where it looks like it's going straight up. Hiking sticks will help the balance-challenged, like me. I've suffered from vertigo for almost 20 years.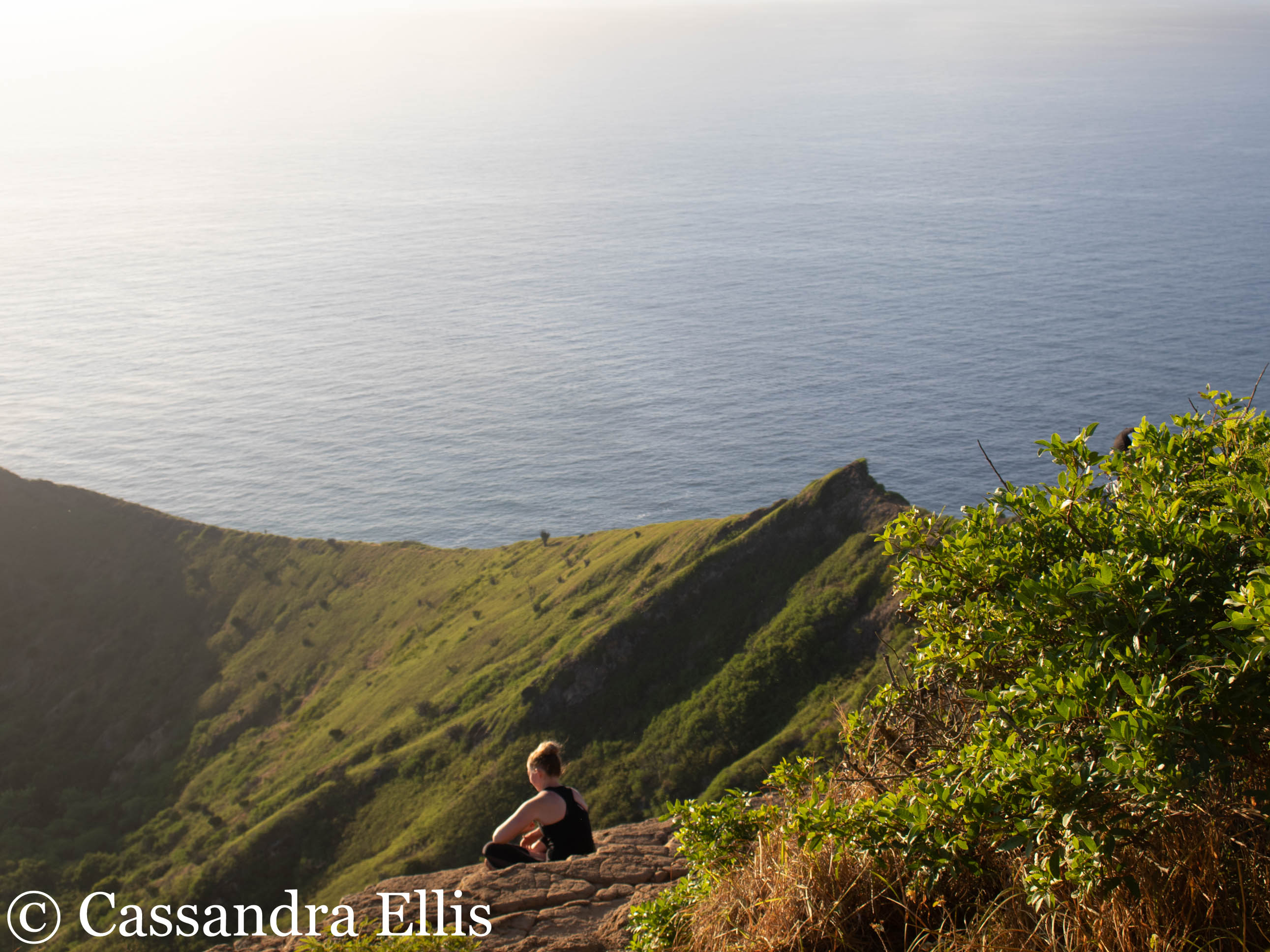 Take the time to enjoy the fruits of your labor at the top.
The sun cresting provocatively over the water, one moment lost on the horizon and the next hidden behind the clouds, suddenly an orange brilliance fills your vision, stealing your breath away, completely different from the lost breath of the climb. The views are amazing.
And remember, what went up, must come down. Easier, perhaps, but with a fear of heights it becomes an exercise in perseverance and strength of will as, with heart pounding furiously, legs burning from the upward journey, one more step down, and then another. One step at a time. You will succeed.
Stop and rest, enjoy the views from Koko Crater. Every step of this journey, from bottom to top and back down again, will exhilarate, frustrate, and thrill in turns.
My husband walked with me going down. He held my hand. He encouraged me. He let me lean on him or hold his shoulder, and he helped me move off the railroad ties to the side and kept me from sliding on the silt. He encouraged me to take my time, to stop and rest.
I cried a few times as I looked below and thought, I will never make it down. It's so far, it's so steep, I can't take one more step.
Our daughter sent us a text to let us know she and the little girls were at the bottom, and I found the strength to continue downward.
Koko Crater
The Koko Crater hike can take anywhere from 30 minutes to 4 hours, depending on your fitness level.

It took my crew 45 minutes up and the girls made it down in 30.
Here's my advice for hiking Koko Crater:
 Go at your own pace, on your own timeline. Don't concern yourself with people passing. They have their own timeline.
 No shade, not much breeze.
 Bring a flashlight,
 Bring as much water as you can carry,
 Bring sunscreen.
 Dress appropriately, in hiking shoes and a hat.
 Getting there: 7604 Koko Head Park Rd #7602, Honolulu, HI 96825; the park opens with the sunset but street parking is nearby.
Next time, I vow, "I will make the top before the sun rises."

- Story by Cassandra Ellis, photos by Katryn Ellis and Joseph Ellis.

Cassandra Ellis
Cassandra Ellis is a traveler, court reporter, and grandmother who currently resides in the Washington, D.C. metropolitan area after moving to the East Coast from Seattle, Washington. She has traveled extensively across the United States and around the world, for both business and pleasure, so she has experienced a variety of cultures from Asia, the UK, continental Europe, to the Isles of the Caribbean and many other locations.

Cassandra has just turned 52 and is seeing the world through new eyes, living her dreams of becoming a writer and enjoying all of life's opportunities alongside her husband, her best friend, Joseph Ellis, who is a traveler, videographer, and photographer. He spends his days searching for just the right photo to take or just the right video to shoot.
When he's not taking photos and video and traveling alongside his wife on their next big adventure, he works hard in his yard to create the garden of their dreams. Their daughter, Katryn Ellis Mata, lives in Santa Clara, California, and dreams of traveling around the world. She is 31 and currently works at Google as a contractor
---
---