Legal Tender
True Tales of a Brothel Madam - Legal Tender

By Laraine Russo Harper
Like Lido Junction Cottontail Ranch's madam Beverly Harrell before her, Laraine Russo Harper proved a woman can run a brothel business better than a man.
A veteran of the casino industry, Harper had little knowledge of the legal sex trade when she was hired to run a brothel in Pahrump, Nevada, sixty miles southwest of Las Vegas.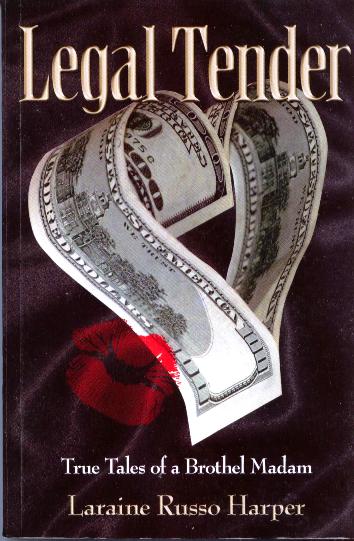 In Legal Tender, Harper describes in straightforward terms how she used her previous casino industry business skills to dramatically transform the brothel from a dingy collection of trailers into a luxury resort that she managed for six years.
She also learned a little more about human nature. "There were quite a few mothers or fathers who would bring in their sons when they turned twenty-one," she says. "They wanted their son's first experience to be a good one."
Legal Tender
Yes, there were customers who tried to build relationships with the women in the brothel, wanting to "save" them, and yes, Virginia, there were men who would pay "just to talk."
There were also disabled customers, Harper adds. "This is a segment of our society that we often overlook (but) they have the same needs and desires that men who are more fortunate do."
Anyone who's ever been even a teensy bit curious about what really goes on behind the scenes in a legal brothel, and that's probably most of us if we are willing to admit it, will find in Harper's memoir enough facts and insight to provide quite an education.
Las Vegas journalist Geoff Schumacher, who grew up in brothel-rich Pahrump, says Legal Tender is a "heartfelt and highly-entertaining" memoir, while also possessing a "legitimate value for those who want to learn a little something about business management and customer service."
He explains that Harper applied a wealth of experience in the casino industry to the brothel business. "You need not be a manager in the sex trade to benefit from her sound advice," he says.
Illegal in forty-nine states, only Nevada continues to legalize houses of prostitution in its rural counties.
Legal Tender
Because Pahrump is located in Nye County, right next door to Clark County where Las Vegas is located, it has a history of numerous brothel businesses.
In the 1970s, after the torching of a brothel called the Chicken Ranch, it became the focus of a magazine cover story and was later memorialized in Jeanie Kasindorf's book The Nye County Brothel Wars. Basically it was the story of a bunch of men gunning for control of a very lucrative business.
Beverly Harrell, the only woman at the time to own and manage a brothel, was not involved. She proved to be a sharp businessperson who was able to avoid the power-hungry machinations of male brothel owners.
After reading Legal Tender, I concluded that had Laraine Russo Harper owned the brothel she managed, the book would have likely had an entirely different ending.
Harper no longer works as a brothel madam but still lives in Pahrump with her husband and seven dogs. In 2007 she founded a non-profit, The Symphony Animal Foundation, in memory of her two St. Bernards, Beethoven and Mozart.
She created the non-profit organization because she recognized the need for a no-kill facility in Southern Nevada that would welcome all animals, regardless of breed or species.
SAF is committed to educating the community about the proper care and treatment of animals, particularly in harsh desert environments.
Harper's writing reflects not only her strong business acumen, but also her sense of humor and ability to rise to the challenge of any situation.
Legal Tender
An accomplished keynote speaker, Harper has spoken to Mensa groups and at the University of Nevada Las Vegas on the subject of legal prostitution. She has also been interviewed by Canadian, British and American television regarding how legal and illegal prostitution affects society.
For anyone interested in sociology, psychology, business, customer service, the sex trade, or just curious about another "world", Legal Tender will not disappoint.
Carolyn V. Hamilton, Former  Editor
---
---