Linda Lous Hummer Adventure
A trip from Las Vegas on Linda Lous Hummer Adventure

If those of you in the colder climates need a little escape, come along with me on a tour I took recently to the west rim of the Grand Canyon through Grand Canyon Hummer Tours.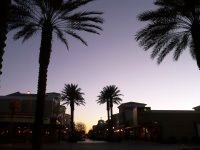 My traveling companion made our arrangements. He told me a Hummer 2 would be picking us up at the Green Valley Ranch casino at 6:40 a.m.
Because I'm neurotic about being late for stuff, I stood at our prescribed meeting spot outside the movie theater entrance at 6:30 a.m. While I waited, I took a couple of pre-dawn pictures.
Linda Lous Hummer Adventure
At 6:43 a.m., I called my companion - again, because I'm neurotic - to see where the hell he was, because, you know, he was all of three minutes late.
"I'm just getting out of the shower," he told me. "I'll be there in 15 minutes."
I tried hard not to sound annoyed because it's a new relationship and all. Then he laughed, and I could see him waving at me as he approached the casino. Very funny.
The Hummer 2 arrived a second later and our tour guide hopped out. "I'm Scott," he said, offering his hand with a broad smile.
Another couple, Heather and Colin from Alberta, Canada was already in the vehicle. Immediately I thought they were nice as hell, but that may be because I just love Canadians - ay.
Our guide gave us an overview of the day's itinerary, and within 20 minutes we were traveling over Hoover Dam. Scott told us a little about the Hoover Dam Bypass project and said we'd stop for photos on the way back.
About a half hour or so past the dam, we pulled into  Rosie's Den, a diner/roadhouse along Route 93 in Willow Beach, Arizona.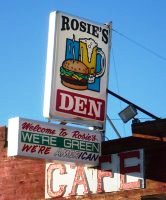 Rosie's Den
We stopped long enough to grab a coffee and peruse the authentic souvenirs from the Old West, like this Marilyn Monroe luxury plush blanket.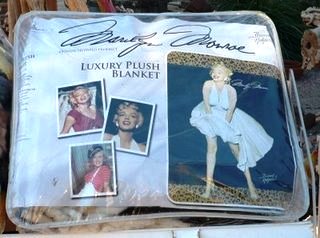 Marilyn Munroe blanket
Linda Lous Hummer Adventure
Back on the road, Scott said we'd be taking a scenic shortcut through private property, thanks to an arrangement the tour company had with the land owners. The diversion would shave 15 miles off the trip, he said, and again, we could stop for pictures on the way back.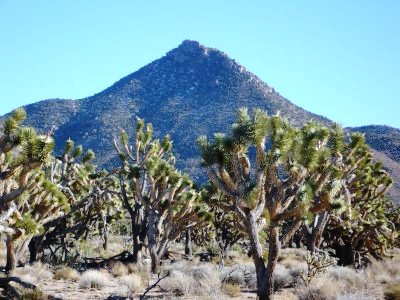 Joshua trees
As we drove along a bumpy dirt road through a beautiful Joshua tree forest, Scott told us about the wildlife we might see and pointed out many different types of plants. I don't remember their names, but after asking our Canadian companions how many people actually live in the city of Alberta, one thing I won't forget is that Alberta is a province, not a city.
Scott fired up the theme music from Bonanza on the Hummer's stereo system, and as we rode along I realized two things:
I wouldn't have experienced this cool shortcut if I hadn't been on a tour, and
I should have opted for a small coffee at Rosie's, instead of a large coffee, since that bumpy road had started to tease my bladder.
Once through our shortcut, we were about 21 miles from the west rim of the Grand Canyon, and had another 14 miles to go on a grated dirt road.
Scott told us the road does quite a job on tires, and even if you had a rental car that you didn't care about, the last thing you'd want is a problem out in the middle of nowhere. Another reason I was glad to be on a tour.
Just a couple of hours after our departure from Green Valley Ranch, we arrived at the west rim, owned by the Hualapai Indian tribe. Just 120 miles from Las Vegas, the west rim is much closer and considerably less crowded than the tourist-heavy south rim.
We browsed through a gift shop and then took a shuttle bus to the Skywalk at Eagle Point. Maybe it's because I'm not afraid of heights, but to me, the Skywalk actually looks a little more imposing in pictures than in real life.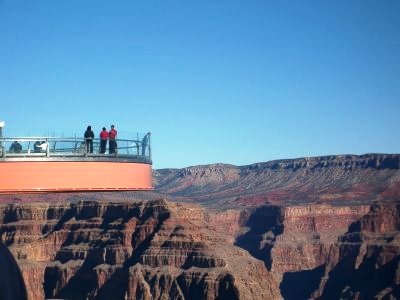 It wasn't scary at all, even though you're almost 4,000 feet above the Colorado River. They don't let you take cameras onto the Skywalk, but that's not the disappointment you might think; there are plenty of photo ops all over.
Linda Lous Hummer Adventure
After the Skywalk we strolled around the Hualapai Indian village, though there really wasn't too much to see except for some teepees and other structures that kind of had the same sense of authenticity as the aforementioned Marilyn Monroe luxury plush blanket. I've seen quite a few native American cultural demonstrations, and they always leave me feeling sad. This one included.
There are no real hiking trails at the west rim. This is more of a "walk around and explore" type of place, and I was surprised by the lack of guardrails at both Eagle Point and Guano Point.
I'd probably be a wreck if I had my 10-year-old grandson with me, even though he's a well-behaved little angel. Despite my years of ballet, I'm clumsy as hell, so I kept a cautious distance from the edge, even though it doesn't look it in this picture below.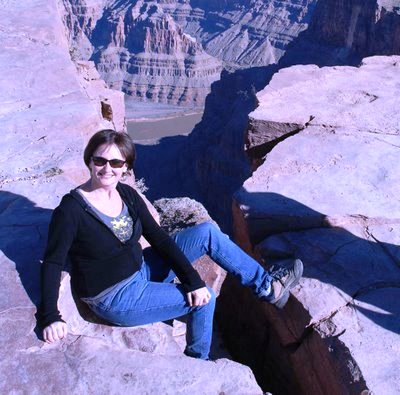 On the edge!
Scott gave us a choice of eating at picnic tables on the rim at Guano Point or we could have a cowboy cookout in the dance hall at the nearby Hualapai Ranch. Once he explained that the continuous sound of chirping birds was piped in to scare away the ravens, which evidently swoop down after your food while you're eating, I spoke for all of us when I said, "Cowboy cookout - definitely!" With my bird phobia, I would have been a mental case eating out there.
Hualapai Ranch was a little hokey, with staged gunfights and that type of stuff,  but it was a blast talking to the actors (I inquired about getting a job as a saloon girl) and the guy who performed card tricks was amazing.
The barbequed chicken, potatoes and glazed carrots hit the spot. Not many people opt for that part of the tour, Scott told us, but we had great fun and I would totally recommend it.
We drove back to Las Vegas the same way we came. I took a million photos in the Joshua tree forest, and as promised, we stopped for photos at Hoover Dam.
A tour of the west rim is perfect if you want to see the Grand Canyon as a day trip from Las Vegas. Admittedly, it's not as dramatic, but I've been to the south rim many times and I'm telling you, it can be a nightmare to park and the crowds can be a real pain in the ass. Plus, the south rim is about 4-5 hours away, and the road up to the canyon from I-40 is borr-rring.
Our day was full, but not overly exhausting. The Canadian couple Heather and Colin became our new best friends, though maybe it would have been a drag if we got stuck with people who weren't so fun.
Scott was the perfect guide; knowledgeable, but non-intrusive, and though he'd probably done that gig a thousand times, he approached our tour with a sense of enthusiasm. The Hummer was comfortable and I think we were all happy to leave the driving to someone else.
-Linda Lou
By day, Linda's a kick-ass technical writer/corporate trainer. Off the clock, she's a fun-lovin', beer-drinkin' humor writer, occasional stand-up comic, co-host of Aging Nymphs talk radio show, columnist for www.Living-Las-Vegas.com and author of Bastard Husband: A Love Story.

---
---