Linda Lou's Grand Canyon Hummer Adventure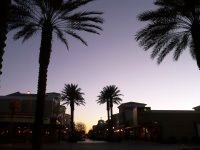 If those of you in the colder climates need a little escape, come along with me on a tour I took recently to the west rim of the Grand Canyon through Grand Canyon Hummer Tours.
My traveling companion made our arrangements. He told me a Hummer 2 would be picking us up at the Green Valley Ranch casino at 6:40 a.m.
Because I'm freakin' neurotic about being late for stuff, I stood at our prescribed meeting spot outside the movie theater entrance at 6:30 a.m. While I waited, I took a couple of pre-dawn pictures.
At 6:43 a.m., I called my companion—again, because I'm neurotic—to see where the hell he was—because, you know, he was all of three minutes late.
"I'm just getting out of the shower," he told me. "I'll be there in 15 minutes."
I tried hard not to sound annoyed because it's a new relationship and all. Then he laughed, and I could see him waving at me as he approached the casino. Very funny.
The Hummer 2 arrived a second later and our tour guide hopped out. "I'm Scott," he said, offering his hand with a broad smile.
Another couple, Heather and Colin from Alberta, Canada was already in the vehicle. Immediately I thought they were nice as hell, but that may be because I just love Canadians—ay.
Our guide gave us an overview of the day's itinerary, and within 20 minutes we were traveling over Hoover Dam. Scott told us a little about the Hoover Dam Bypass project and said we'd stop for photos on the way back.
About a half hour or so past the dam, we pulled into    read more on page 2

---