Los Angeles
To Auckland

Follow Janice van Cleve on her 2006 trip from Los Angeles to Auckland

The airplane ticket read Los Angeles to Auckland, New Zealand, but that is not my real destination. I am actually flying to Middle Earth, the fantasy world of J. R. R. Tolkien, and through him, of countless millions of his fans. I've read the Lord Of The Rings almost every year since I bought my first copy in the late '60's.
I've read the Silmarillion, the Lost Tales, the Forgotten Tales, and practically every other book Tolkien and his son have published. When the Fellowship Of The Ring first came out, I sat next to a person dressed as Gandalf for the premier in Seattle (I was dressed as an elf witch).
Years later I joined my wood elf friend for a back to back extended version of the Lord Of The Rings trilogy at a cinerama viewing that took twelve long bloodshot hours. I have all the DVDs, elf ears, and even my own elfin name – Vyannwë.  I guess I could be considered a fan. 
New Zealand, of course, was where Peter Jackson filmed the Lord Of The Rings. The movies displayed a beautiful country of dazzling mountains, rolling green hills, peaceful valleys, and turbulent volcanoes.
My own knowledge of New Zealand's fine Sauvignon Blanc and their recent successful introduction of Pinot Noirs was added incentive to make the trip. But it took the Lord Of The Rings to get me to put real money down and buy a ticket.  
I had heard about Middle Earth tours in a rather round about way. I was sitting on a stone in the hot jungles of Guatemala, waiting to watch the sunset from the top of Mundo Perdido pyramid at Tikal. The couple next to me were Kiwis, as New Zealanders are called, and I got to joking with them about a country full of hobbits, elves, and dwarves.
They matter of factly agreed with me and told me about the movie site tours. I was immediately sold! I found a tour company, Red Carpet Tours, on the internet at www.redcarpet-tours.com that promised to take me to the places where my favorite movie was made.  I called my agent.
Los Angeles
To Auckland - Arrival

So here I was on a dark Friday morning at Auckland airport looking for a shuttle bus to take me to my hotel. I left Seattle on Wednesday and I lost Thursday somewhere over the Pacific. I hope somebody in Tahiti finds it and makes good use of the extra day. I was not supposed to meet my tour group until Monday evening, so that gave me more or less four days to discover New Zealand before I slipped into Middle Earth.
Dropping in to a foreign city in the middle of the night is nothing new. On previous trips I arrived in Athens at 4:30 am and Cairo at 1:30 am. Here at least the folks spoke a form of English and used VISA cards. Besides, cities around the world generally have most of the services a traveler could want if one is savvy enough to seek them out. The only adventure I wanted right now, however, was a clean hotel room and a place where I could sleep for a few hours uncontorted by airline passenger seats.
I was up by 11:00 the next day and ready to explore the city of Auckland. My hope was to find a store that sold LOTR items, particularly pointed elf ears which I could wear during the tour.  No deal. Auckland seems particularly unimpressed with LOTR and hardly any stores carried even a hint that Middle Earth had ever existed.
One small shop had some overpriced figurines in the back and a jewelry store had a few rings and a pendant, but that's it. So I would have to stay in the cold wet reality of winter in Auckland for a few days before I gained access to fantasy.
First things first.  I found a bank and changed my money. Then I found a wine store with free tastings and performed my scientific research accompanied with the usual banter and bullshit that goes with wine tasting.  That's the thing about wine tasting.  It's not just the sniffing and the sipping.  It's being willing to plunge into a long discourse about the character of the wine whether you know what you're talking about or not.  Everybody else usually nods their head not so much in agreement as in gratitude that somebody else is making a fool of herself by being willing to spout off like a knowledgeable expert so they don't have to.
The park within the city
I found city hall and the library, the art museum and an open air market of stalls all carrying pretty much the same things – jewelry and clothes. There was a pretty park called Prince Albert which is a nice patch of green and exotic tropical plants in the middle of the city. Queen Street is the main retail avenue, running right past my hotel north to the waterfront. Unfortunately it is cluttered with cheap Asian import shops, trashy tourist souvenir stalls, fashion clothing stores and not much of architectural or intellectual interest.
The waterfront has a maritime museum and middle to upper scale restaurants which reminded me a lot of San Francisco's Embarcadero. I was delighted to find the one coffee shop there called "Seattle Coffee." The name of my home town carries great cache in coffee circles world wide. Unfortunately in New Zealand they only make short whites and long blacks and they have no idea what a double grande Americano Irish cream with 2% is.
Auckland Waterfront (2022 image)
I did find a number of internet cafés. Internet cafés are relatively rare in the United States because most people who use computers there have their own. Our coffee houses are filled with people pecking away on their personal laptops with ear buds or a cell phones in their ears.
Overseas, cell phones are common but not laptops. People depend on internet cafés. Hotels generally offer limited internet access at exorbitant prices. Much more to my tastes and budget are the hole-in-the-wall no frills back room upstairs in the rear of otherwise older, ill-kempt buildings type of internet cafes. Tiny booths are fronted by wobbly chairs, and old movie posters relieve the otherwise grimy unpainted walls.
Most of the customers are youths playing video games. The computers, on the other hand, are usually state of the art and the connections are surprisingly good. It takes a little extra effort to master Spanish keyboards and error messages in Turkish, but that just adds a little local zest to the travel experience.
Los Angeles
To Auckland - Dining
Finding supper is another priority and a very important one. My experience of a country is as much in the eating as in the sightseeing. I want to taste and sample its flavors in the little out of the way places where the locals gather and hopefully engage strangers in conversation. 
Then there is the primal thrill of the hunt. Once I have decided the kind of food and atmosphere I want for the evening, I go in search of it. I poke my nose in all kinds of places. I talk to waiters, bartenders, and even the busy chefs. I've peeked in restaurant kitchens and rummaged through wine racks in pursuit of my dinner. Almost always, I find exactly what I want.
Sometimes I decide to order a number of appetizers instead of an entree, just to sample more variety. Often I order several wines to taste side by side to experiment paring with the food. This always gets the bartender's attention, and I am guaranteed a conversation and lots of personal attention. Wait staff of either gender it seems cannot resist chatting up a single woman who is so obviously enjoying herself and who takes seriously the business of eating.
I avoid dining with a tour group unless it is unavoidable. It's not that I'm being anti-social.  Quite the contrary, I am being overtly social, but with other people than those with whom I have spent all day. Alone, I can dine when I want to and leave when I want to.
I do not have to compromise my choices nor is there any confusion about the bill. Often my traveling companions have reported poor service or inadequate food in a group dinner whereas I have enjoyed an excellent dining experience. Also, I can stay on the internet as long as it takes for me to finish my stories with no time pressures to meet with others.
Dinner hunting in Auckland was very successful. I discovered a little alley called Vulcan, just off High Street. There were several pubs in a row nestled cozily together in a couple of old run down buildings of fascinating architecture. Pub food is generally warm, hearty, and unpretentious.
The atmosphere is usually at least friendly and more often boisterous in that kind of welcoming, laid back way. I found an excellent Irish stew the first night and a platter of perfect green lipped mussels the second night. The selection of beers and wines is, as to be expected, first rate.
Los Angeles
To Auckland - the Sky Tower
Just walking around a city can tell a lot about its people. I found New Zealanders to be friendly, easy going, and totally nuts about jumping off things. Since we built our Space Needle in Seattle in 1962, it seems that every city must have a tall spire with a restaurant in it.
From Shanghai to Toronto, Vienna to Sydney, they all want to copy or better Seattle's invention. Auckland goes one further. The Sky Tower is not only somewhere in the neighborhood of 1000 feet tall – they jump off of it!  Really!  They have a little platform above the observation deck where people with a death wish get harnessed up. Then they dive off into space with nothing below but concrete and streets.
Auckland Sky Tower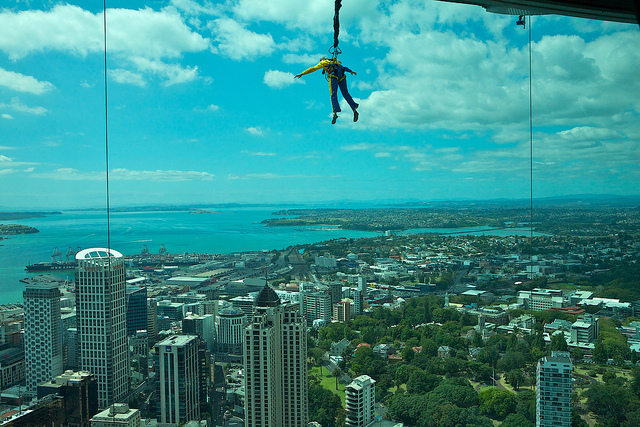 Jumping off the Tower!!!!
The operators dangle them in front of the Japanese tourists on the deck below to feed an orgy of camera clicking. There was another bungee apparatus right outside my hotel on a downtown street. I guess in such a peaceful, pristine, under populated, backwater country like this, people need extra thrills to feel alive.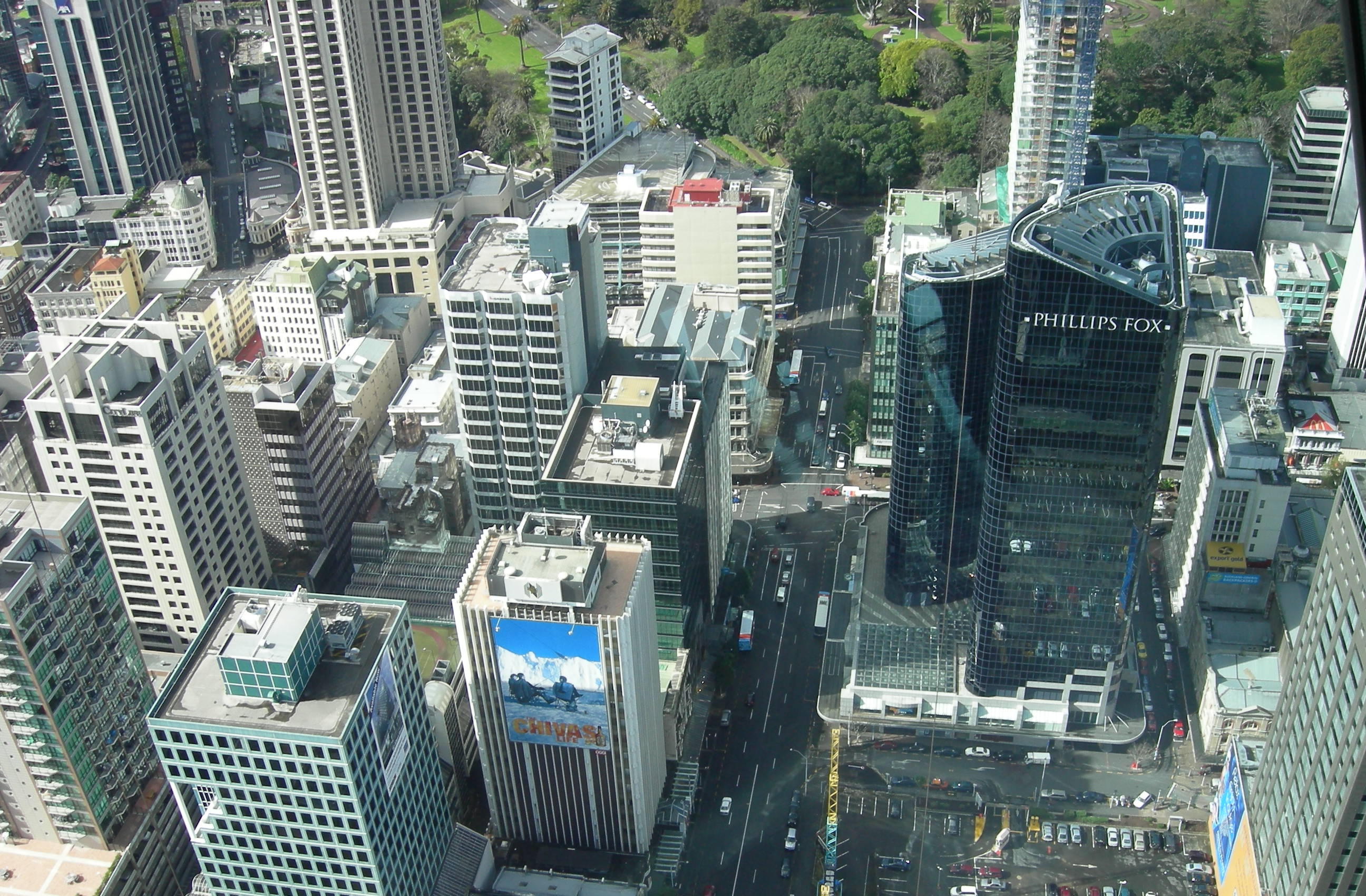 Looking down from the top of the Sky Tower
Sightseeing and eating have their limits and I wanted to learn more about New Zealand as well before I left it for Middle Earth, so I found a map in the back of the tourist booklet in the lobby of my hotel and set out for the Museum of History. It was a bright, clear, cool morning.
The rain overnight had scrubbed the air and freshened the plants. It was one of those great to be alive mornings when just walking among trees and through the parks is the greatest joy that one could have. I skipped through the flower gardens of Prince Albert Park, picked my way through the campus of Auckland University and crossed over the busy freeway to the Auckland Domain – a huge forested preserve.
In there I chanced upon a wonderful Victorian conservatory, complete with brick facades, ceilings of filtered glass, and formal courtyards.  There was no one else in the place.
In the first hall, the humidity was so warm and thick I felt I could lay back and rest upon it. A jungle of lush green leaves the like of which I had never seen before delivered speeches of life and diversity, punctuated by delicate orchids and rare bromeliads.
The second hall was dry heat desert filled with cacti and wonderfully odd succulents. The courtyard between them was formally laid out with a rectangular reflecting pool in the center, archways down both sides, and statues of goddesses in the four corners and the alcoves – a perfect spiritual place to be on a Sunday morning.
To the side was a graveled walk through a dripping rainforest of ferns.  New Zealand has a profusion of ferns and the national rugby team uses a fern as its emblem.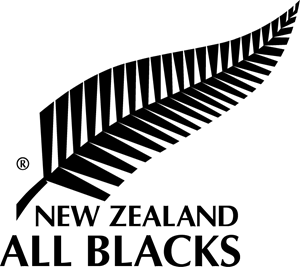 All Blacks Rugby Team Logo
The museum itself is a massive stone structure on top of a hill in the Domain. There I saw the Maori patakas – highly decorated wood huts on stilts which served as each chief's treasury.  There was a  huge  Maori 100 person canoe, Maori and early English costumes and artifacts, and stuffed specimens of the birds and animals of the islands.
There were no mammals in New Zealand other than a bat before humans arrived and there are still no snakes. Most interesting was the geology hall, where I learned that North Island was formed by volcanoes while South Island was pushed up by the collision of the Pacific and the Australian tectonic plates.
Los Angeles
To Auckland
In one room there was a whole house in which we sat on couches viewing a simulated news broadcast. The announcer was reporting the eruption of a new volcano in Auckland harbor – not unbelievable since Auckland has 48 extinct volcano cones within its city limits. There actually is a large shield volcano in the harbor that erupted not many hundreds of years ago. 
On the screen we could see the modern Auckland waterfront and buildings and we could see steam rising from out in the middle of the bay. Suddenly we saw the eruption – smoke and gas and steam exploded into the air.
It was fascinating to sit and watch this unfold from the "shoreline". Then the first eruption subsided and water from the harbor flooded into the caldera like the drain of a bathtub. The cold water hit the hot magma and this time the whole harbor erupted. There was a loud bang and the house shook so violently that I fell off the arm of the couch. Smoke and ash engulfed the screen and the lights in our make-believe living room went out. It was a very realistic and scary animation!
My last day alone and in the modern world was cold and rainy. I slipped into a Borders Bookstore whose street presence belied the cavernous interior which went down several levels. Inside, I found a nice cozy coffee bar with comfy overstuffed chairs, a book on the Maori – English wars, and that soft crackle of intellectual discussion and thought that characterizes the "buzz" of a good bookstore. The coffee and the macadamia and white chocolate cookie were perfect. I settled in to steep myself in the history of the peoples who inhabit these islands.
The winter sun was peeking its last light beneath the canopy of clouds before it set when I caught the local bus to go to the hotel where I would meet my traveling companions – our own Fellowship of the Ring. With the history, geology, culture, flora and fauna, and economy of modern New Zealand under my belt, I was fully grounded in modern world so that tomorrow I could enter into another world – the world of Middle Earth.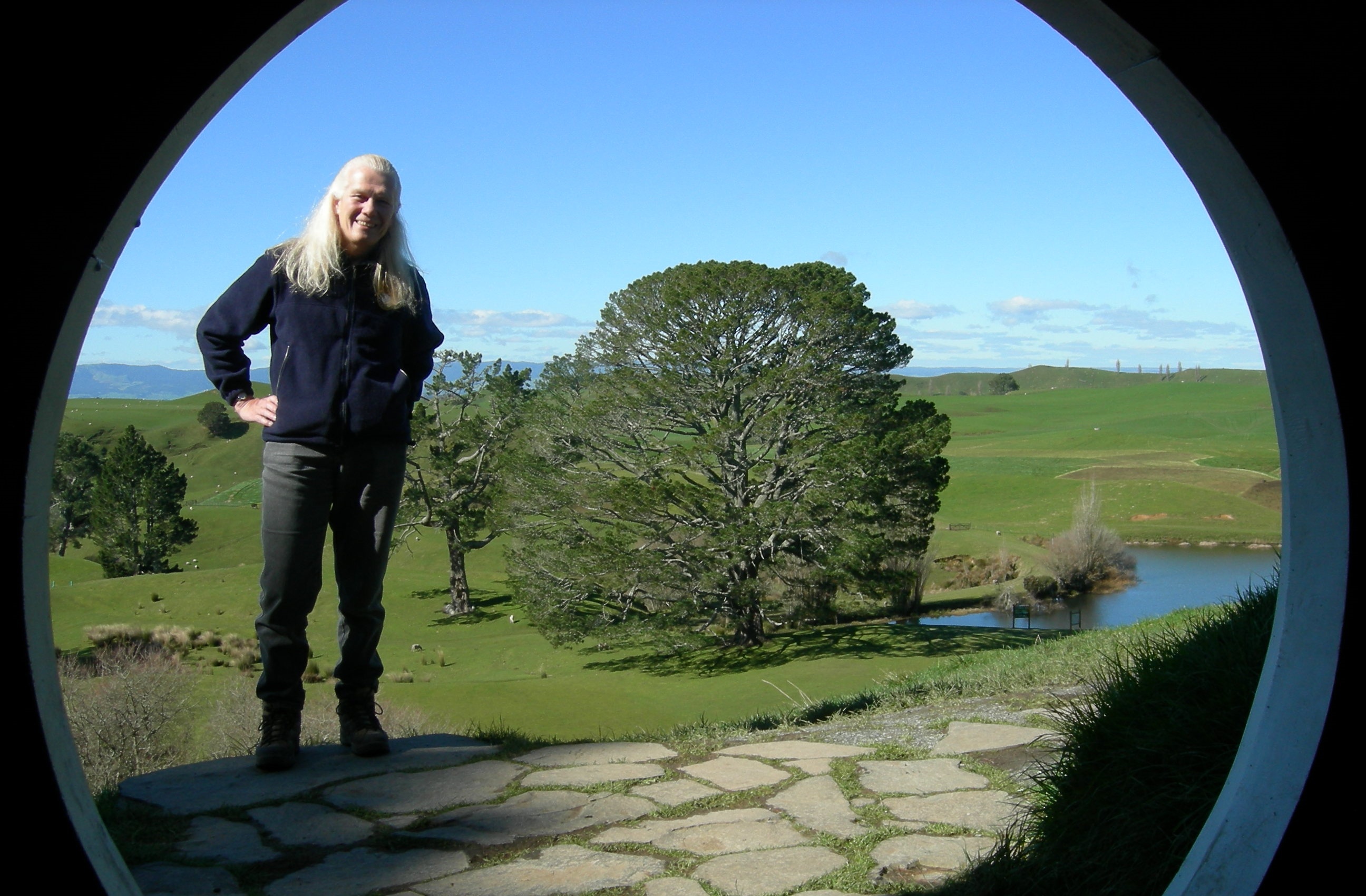 - Story and photos by Janice van Cleve

Author Bio
Janice Van Cleve has traveled the world and compiled stories of her trips in two volumes called, appropriately, The Jumanji Passport Volume 1 &  Volume 2 available from Amazon.com or your local bookstore. Copyright 2022.