The Mabel Hubbard
Telephone Connection

Discover the Mabel Hubbard telephone connection

Mabel Hubbard was born in Cambridge, Massachusetts into a wealthy family on November 25, 1857. Around five years of age, she became seriously ill with scarlet fever. She was in and out of consciousness. She recovered, but not quite back to normal.
One day Mabel asked her mother, "Why aren't you speaking to me?" It was then her parents realized that Mabel was profoundly deaf.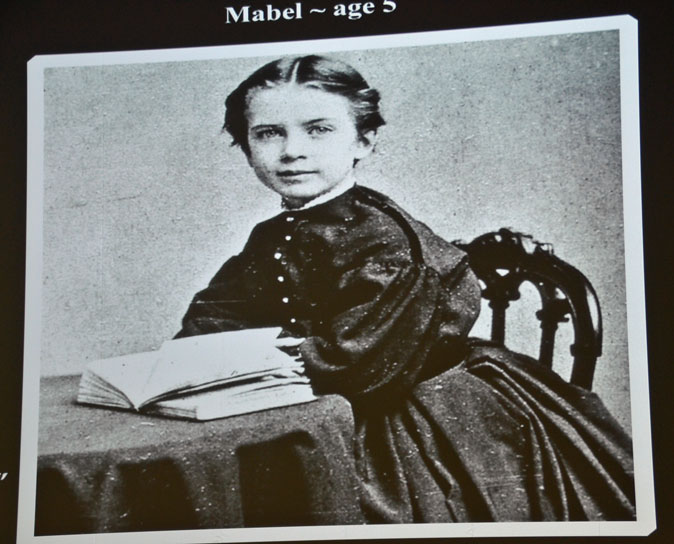 Not wanting her to be isolated from society like other deaf children of the time, her parents used their influence to find special teachers for her. Since she could speak, which her mother encouraged, she had private early education.
Mabel was the first child in the U.S. to lip-read and speak. At nine years of age, she testified before a congressional committee, seeking funding to improve deaf education.
At fifteen, Alexander Graham Bell became her private tutor to improve her speech.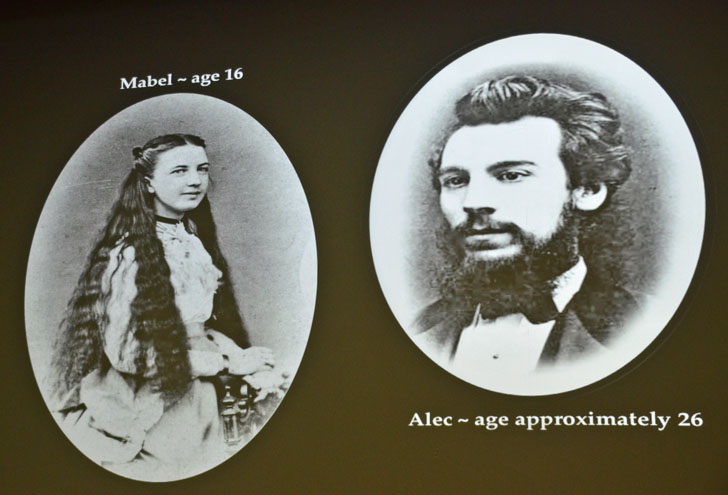 Mabel & Alec at a young age.
After a short time they fell in love and were married on July 11, 1877! She and Alec had two daughters as well as two sons who died in infancy.
Living in Washington DC at the time, the family sought relief from the summer heat and humidity. Their first journey to Baddeck, Nova Scotia in 1885 was the beginning of the Bell's love affair with this place. They purchased land and built a house at Beinn Bhreagh ("beautiful mountain" in Gaelic) and over the years they became semi-permanent residents.
While Alec spent his hours focusing on different experiments, Mabel became involved in the community. In 1891, she formed the Young ladies Club, the oldest continuously operating women's social club in Canada. Today about forty members continue the "Bell Club", a part of Baddeck culture.
In the 1890's Mabel purchased a former church, named it "Gertrude Hall" in honor of her mother, donated it to the community, and opened the first public lending library in Canada. Seeing another need in the community, in 1895 she organized the first Parent Teacher Association, calling it the Canadian Home and School Association.
Mabel Hubbard Telephone

In 1912, in a large unused warehouse on their property at Beinn Bhreagh, Mabel opened the first Canadian Montessori school. Both she and Alec found this type of early childhood education to be more meaningful than the traditional classroom, so she brought in a trained teacher to teach her grandchildren and a few local children.  
Mabel's interest in women becoming self-sufficient led her to develop an interest in handicrafts. She felt that women could create home crafts to generate income. This led to Acadian women in the Cheticamp area to turn to rug-hooking as a profitable business. Today the village of Cheticamp, Nova Scotia is well known for its world-famous hooked rugs.
Recognizing her significant contributions to Baddeck, the town gave Mabel Bell the right to vote in local elections in the 1890's, even though women did not yet have the franchise to vote.
Mabel Bell's prime accomplishment was becoming the first woman in the world to form and manage an aviation company — the Aerial Experimental Association (AEA). In 1907, she was the financial backer and a strong supporter of her husband, who was the driving force behind the first airplane flight in Canada and the British Empire.
On February 23, 1909, the Silver Dart flew about three-fourths of a mile, at an altitude of sixty feet, before it landed on the lake ice near Baddeck.
Mabel Hubbard Telephone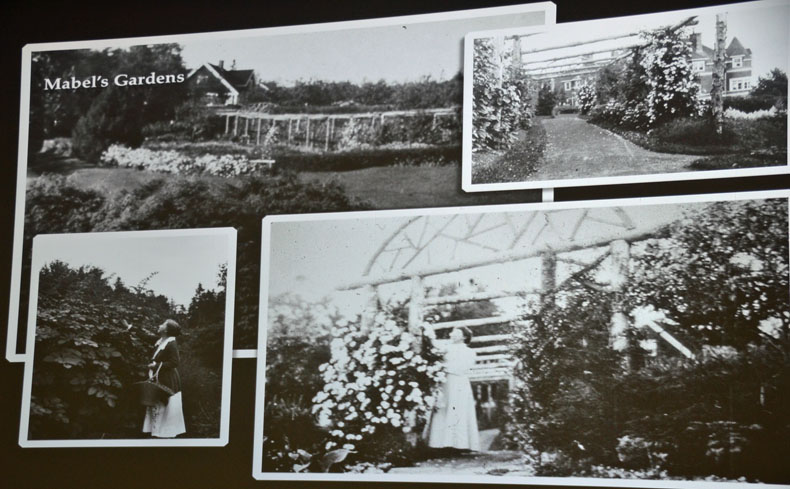 A photo album page of Mabel's Gardens
As the planner and developer of large gardens on their property, Mabel experimented with growing unusual plants. Many visitors brought her a variety of plants to grow in her garden. As a result of this interest, she became affiliated with the Agricultural Bureau of Soils in the US and the Central Experimental Farm in Ottawa, Ontario.
Mabel Bell, though lesser-known than her famous husband, Alexander Graham Bell, had a strong influence on the Baddeck community. She was a tireless advocate for women and children. Her deafness did not deter her from doing all she could, for whoever she could, throughout her life.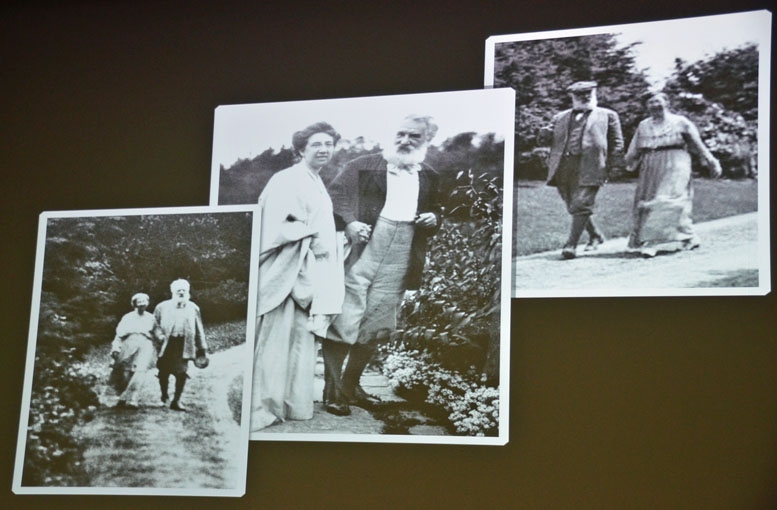 Mabel and Alec enjoying their life together.
She died on January 3, 1923, at her daughter's home near Washington, DC, a mere five months after her husband. They rest together in Beinn Bhreagh, just outside Baddeck, Nova Scotia, their favorite place on earth.
In 2015, ninety-two years after her death, Cape Breton University awarded a posthumous Honorary Doctorate of Letters to Mabel Bell for her education and community efforts in Baddeck, Nova Scotia. Her great-granddaughter, Joan Sullivan, accepted the award.
--Maude Bailey
Maude Bailey
Maude Bailey is a freelance writer who has returned to her roots in Cape Breton, Nova Scotia. Over the years she has lived or traveled to more than 50 countries on 4 continents.

After spending a dozen years living in Europe and 15 years teaching English in Kuwait, she and her husband of 54 years enjoy spending time with family (2 adult daughters and 3 grandchildren). Travel has given them the opportunity to learn about different cultures, and cuisines as well as visit many world-famous landmarks.
Carolyn V. Hamilton, former editor.

---
---