MacArthur Place
In Northern California we find the Macarthur Place Country Inn & Spa

In the heart of Northern California wine country, just forty-five minutes north of San Francisco's Golden Gate Bridge, is the historic town of Sonoma. And here, just off Broadway at MacArthur Street, you'll find a historic inn set on a country estate of six acres featuring lush landscaping, rose gardens, ponds and water fountains.
This is MacArthur Place Country Inn & Spa, recently awarded AAA's prestigious 4-Diamond rating. While checking in I meet MacArthur Place's CFO - Chief Feline Officer - A.J.. A cat of Russian Blue heritage, A.J. pays little attention to me but is clearly in charge; A.J. has his own business card, sitting in a separate holder on the counter along with that of MacArthur Place general manager, Bill Blum.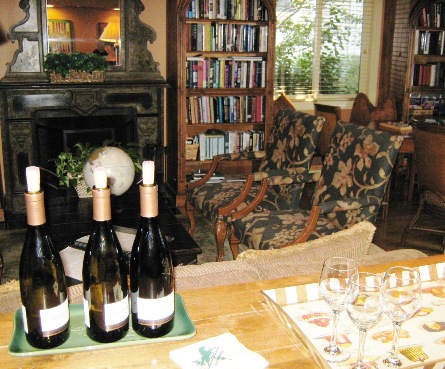 Wine tasting
I'm just in time for MacArthur Place's daily complimentary wine-tasting, served with various cheeses and fruits in the Library.
Peruvian Raquel, wine and cheese hostess and retired Cordon Bleu chef, tells me, "Sonoma is the birthplace of winemaking in California."
This afternoon she pours Buena Vista Estate-bottled chardonnay and Pinot Noir. The Buena Vista Winery is a neighbor, and the hotel also offers guests free tasting tours of its winery.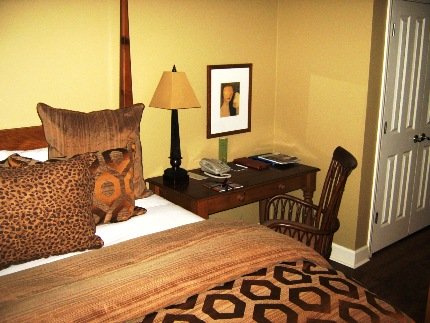 the Oak Cottage
My spacious guest suite is in the Oak Cottage, one of several cottages nestled throughout the grounds. The pillow-topped king-size bed faces a sitting area that features a cushioned window seat, love seat, original commissioned artwork, and a 27-inch flat screen television with surround sound mounted atop a full-size fireplace.
the Fireplace
Above the wetbar I find a DVD player. The desk features dual line data port phones. The oversized bathroom contains every luxury: a hydrotherapy tub with plenty of room for two, a walk-in European shower, and marble-topped wide, dual sink counter. The closet contains plush bathrobes, iron and ironing board.
Just past the bathroom and closet, a back door leads to a private patio complete with chaise, table and chairs, and an outdoor shower enclosed in a black-and-white striped tent.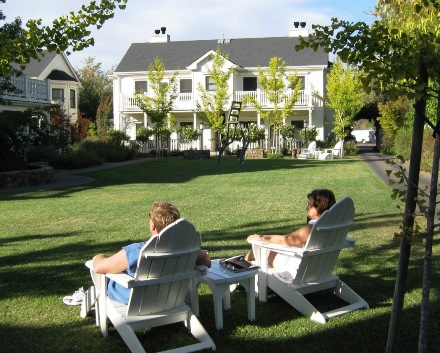 Relax in the Garden
In September, it's a beautiful evening to sit outside and enjoy an evening cocktail to the accompanying sounds of the last crickets of summer.
MacArthur Place Inn & Spa
Sixty-four guestrooms and suites are situated throughout the estate. Suzanne Brangham, developer of MacArthur Place, completely restored the main house to feature ten spacious guestrooms. She then made sure the newly built cottages containing additional guestrooms replicated the look of the Manor House, maintaining its architectural heritage.
MacArthur Place was originally the estate of David Burris, a prominent Missouri farmer and landowner.
Here in Sonoma, along Nathanson Creek, he built a 300-acre working ranch with a hay crop and vineyards, cattle, fruit orchards, and prized trotters used for transportation in the horse-and-buggy era.
David Burris also founded Sonoma Valley Bank, at first conducting business out of his home's first floor corner library.
The 16-room, two-story house, set off from the street by the original white picket fence, dominates the property and was home to nine Burris children.
With its wooden pegs and square nails, the house is believed to be one of the oldest Victorian homes in Sonoma. Five generations of the Burris family lived here, and their home was known for gracious hospitality and gala events.
In 1971 Anna Burris Welch sold the estate to Howard and Jane Good, who enhanced the gardens and maintained the estate for 26 years.
MacArthur Place Inn & Spa
In 1997, Suzanne Brangham contracted with the Goods to create a country inn. The result, MacArthur Place, has been honored by the Sonoma League for Historic Preservation. The 20 buildings comprising today's MacArthur Place feature Greek revival Victorian style design, with individually hand-carved spindles on porch and balcony railings. Shutters duplicate those of the original mansion.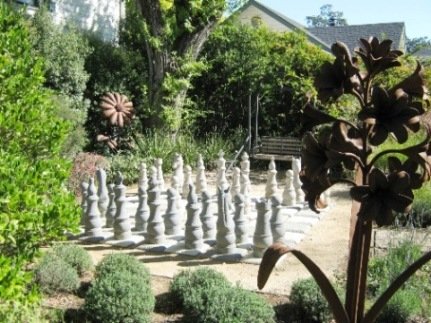 The Chess Garden
Creative gardens, such as the enlarged chess board of the Chess Garden, and art paths, featuring unique sculptures from local artists, link the buildings. Saddles, MacArthur Place's signature restaurant, is my choice for dinner. The original estate barn - circa 1857 and said to be fashioned after Thomas Jefferson's barn in Monticello  - houses this authentic steakhouse, which specializes in corn-fed 100% U.S.D.A. prime beef, steaks, chops and a variety of fresh seafood.
Wine, of course, is from Sonoma and Napa Valleys.
The décor is distinctly sophisticated equestrian: restored original hardwood floors, vaulted ceilings, and white-clothed tables with comfortable leather chairs. Life-size paintings of horses in their stalls are spaced among authentic barn doors. Wrought iron chandeliers and sconces balance with soft light the flickering flames from the large brick fireplace.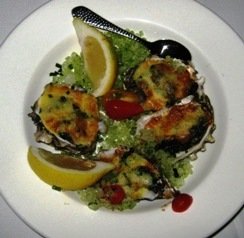 Baked Oysters Sonoma
My server, who wears jeans and a crisp white shirt, starts me off with real baking powder biscuits in lieu of bread. I enjoy Baked Oysters Sonoma with spinach, pancetta & Béarnaise with cognac; Saddles Salad with baby greens, candied walnuts, goat cheese 7 cider vinaigrette; the 14-ounce Ribeye, medium rare, and oven-roasted prawns in caper-butter.
Dessert presentations include Banana Bread Pudding and Apple or Pumpkin Gelato.
Saddles' Martini Bar serves more than a dozen choices of oversized martinis for guests who sit in seats fashioned from real saddles. A collection of cowboy boots decorates both entry and bar.
MacArthur Place Inn & Spa

In the morning, a complimentary continental buffet breakfast is served in the Martini Bar, where Bloody Marys are served in Western boot-shaped glass mugs. Against the dark wood wainscoting, the long table is laden with three kinds of cereal, assorted fresh fruit, hard-boiled eggs and choices of muffins and bagels. Served until 10 a.m., this breakfast proves to be beyond "continental."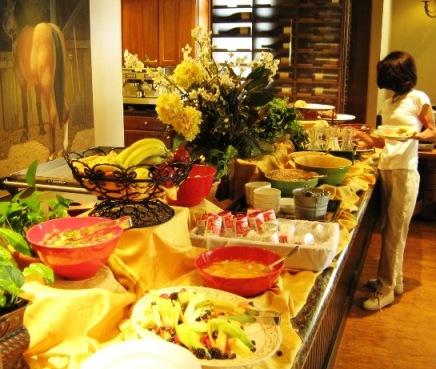 Breakfast
No stay at MacArthur Place would be complete without a visit to the Spa Botanical Garden.
The spa building itself was the estate's original pool house. The Spa provides the latest in specialized garden body treatments, including massages, facials, scrubs, and wraps. Here you'll find men and women's locker rooms, a co-ed steam room, outdoor heated pool, whirlpool and fitness center.
The outdoor pool
Specialized aromatherapy treatments are based on the Spa Botanical Garden's fruits, flowers and herbs. Unobtrusive signs in the garden relate to different therapy herbs, proclaiming that "Essential oils are the life force of the planet." These oils are highly-concentrated extracts from plants, flowers and herbs that produce a wide variety of beneficial effects.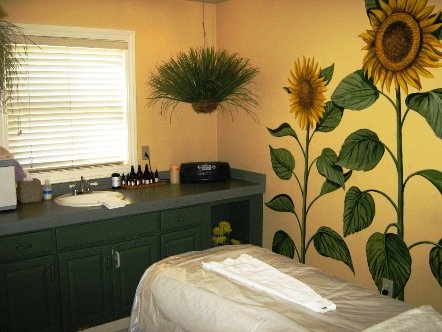 Massage room
In February, 2007, two Garden Spa Suites were added to MacArthur Place, and several wine-inspired spa treatments have been crafted to enhance the personal Spa Suite experience.
GM Bill Blum says, "Guests have the option of indulging in a Red Wine Grape Seed Bath in the indoor 20-jet hydrotherapy tub while gazing at a glowing fire in the fireplace, or soaking in a Chardonnay bath in the outdoor teak wine tub in their own private Japanese teahouse."
MacArthur Place is within a healthy walking distance to Sonoma's central Plaza, a National Historic Landmark since 1961. Or you can ride a complimentary bicycle provided by the hotel.
In Sonoma, historically referred to as the Valley of the Moon, you'll find a variety of fun activities like hiking, biking and jogging trails, golf, tennis, motor sports at Sears Point Raceway, tasting rooms and winery tours, boutique shopping, horseback riding, and hot air ballooning high above the valley.
I couldn't leave Sonoma without a visit to the Buena Vista winery to see their historic Press House Tasting Room and Cellar, aptly located on Old Winery Road. Other nearby wineries are Valley of the Moon, Kendall-Jackson, and Sebastiani.

A 2008 Zagat survey rated MacArthur Place top among U.S. Hotels, Resorts & Spas.
Suzanne Brangham says, "Our guests have been our best advocates, referring their friends and returning every year."
My friend Adrienne Wyman, from the nearby town of Glen Ellen, says, "If there were such a thing as a 25-star hotel, this would be it."
--Carolyn V. Hamilton
---
---