Midwest Seniors Run Away

Seeking a break from routine, Midwest seniors run away from home!

Sometimes it's fun to run away from home. Get a group of friends together and leave husbands, kids, grandkids, dogs and the routine of day-to-day life behind for a little while.
When Trudy suggested a Caribbean cruise five friends jumped at the chance. April weather around Chicago can be cool and gray. Sunshine and tropical beaches sounded wonderful.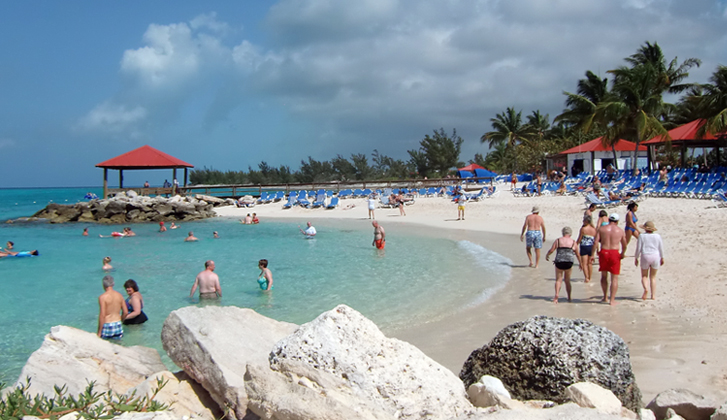 Eleuthera Beach
We flew to Fort Lauderdale, Florida, where we trooped onto the ship dragging suitcases with way too many clothes. We roomed three to a cabin.
I drew the top bunk. At 64 years old, with one replacement knee, I'm climbing a ladder to the top bunk!  But I'm also tall, and the top bunk gave a little more room, making the climb worth it.
Midwest Seniors Run Away
Port Number One was a beach day at Princess Cays on the island of Eleuthera, Bahamas.
All of us pale faced, winter-worn Midwesterners swam, snorkeled and joined a BBQ picnic on the beach. Slathered with sun screen we lazed on the soft white sand. 
Back on the ship we were reminded how water washes away sun screen when snorkeling. The varying degree of red on faces, arms and backs was the topic of discussion and laughter.

Dinner was served at 5:45 p.m., but around 8 p.m. our conversation slowed as we realized the dining room had emptied and servers waited to clear our table.
Day two we cruised, recuperating in the shade, various cool drinks in hand.
The islands of St. John, St. Thomas, and St. Croix make up the US Virgin Islands. Our cruise ship docked early the third day at Crown Bay on St. Thomas.
Our snorkel tour was on St. John, the smallest of the islands, which can only be reached by small boat. We took a 30 minute ferry ride, boarded a bus to ride over the mountains, and stopped to take in a dazzling bird's eye view of our destination, beautiful Trunk Bay.
St. John's Trunk Bay
The ride on the steep, narrow roads was an adventure in itself. It was essential to keep all body parts inside the windows, or risk scraping off those parts on the mountainside. 
At Trunk Bay everyone received a mask, a pair of flippers and a life jacket. We were prepared to become One Horned Butt Fishes.
Loaded down with snorkeling gear and bags brought from the ship, we followed a narrow trail down to the beach.  Trunk Bay features clear, warm turquoise water and a gorgeous long stretch of white sand.
It also features a unique self-guided snorkel tour. Snorkelers follow a trail of undersea stone markers, which are stamped with descriptions of coral and fishes of the area. The crystal clear water allowed for reading the markers as we swam. 
Midwest Seniors Run Away
Our last port, on day four, was St. Maarten. 
Little did we know that morning that we had saved the best for last.

A  Segway tour didn't appeal to Linda and Trudy, but the rest of us signed our lives away on the required waivers. The tour guide provided us with helmets, elbow pads and knee guards. That should have made us think twice about this venture.

Patty had done this before, so the instructor took her first. She was a great example of how to step onto the Segway, balance, and just motor off. Simple!
Diane was most nervous, so we all agreed she should go next. The instructor held the Segway steady, but every time Diane stepped on, it would move. Diane was scared stiff and wanted to back out. Good friends that we are, we wouldn't let her!
She tried again, grabbed the young man's hand with a death grip and gave a scream that sent everyone into peals of laughter. Finally, she was able to control the Segway.

Donna was next in line and then me. We both caught on fairly quickly and the four of us motored carefully around the practice area.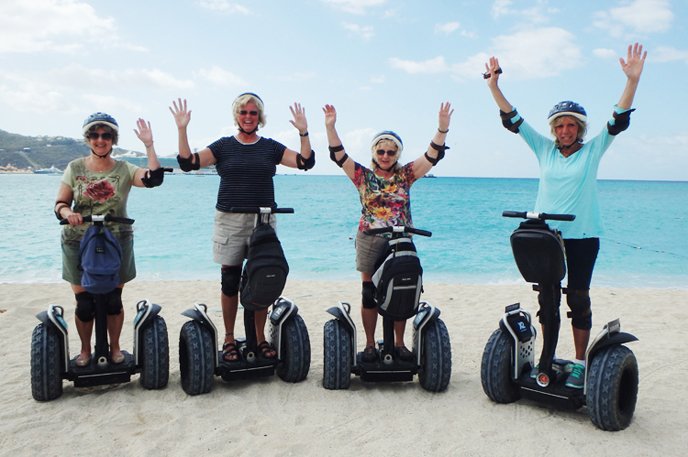 We're ready to take off on the segways. From left: Diane--who just couldn't let go of the handle--Carol, Donna, Patty)
Soon the tour guide told everyone to fall in line and follow him. He started slowly, but before long the necessary leans became second nature.
We rolled along the beach, onto the boardwalk, and thru the market. I was afraid of running into someone in the market, but everyone survived intact. 
He took us thru a small obstacle course, and then it was break time at The Lazy Lizard, a small open-air bar across from the beach.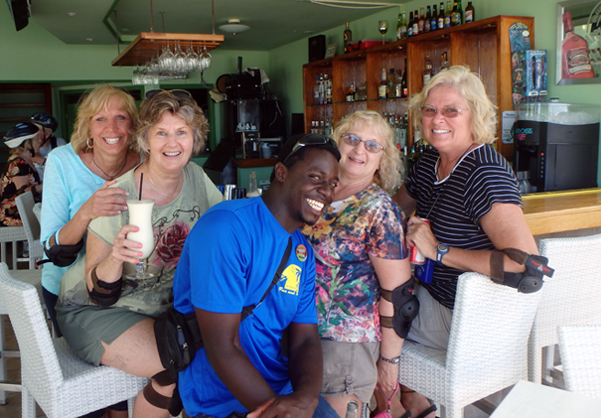 Break time on the island of St. Maarten - L to R: Patty, Diane, our tour guide, Donna and Carol.
The tour ended too soon. After disembarking, we needed to walk a bit to regain our 'land legs', and then we headed for town.
As we walked, several gentlemen along the sidewalks tried to sell us private island tours. We debated the safety of four women going with a strange man before deciding to give one a try. 
We chose Al. He led us to his tour-licensed taxi, giving us island history along the way.
St. Maarten, also called the 'The 'Friendly Island', is half Dutch owned, and half French owned. The Dutch side is Sint Maarten, the French side is Saint Martin, and islanders are called St. Martiners.
Al showed us the best beaches, including where nudes roam free.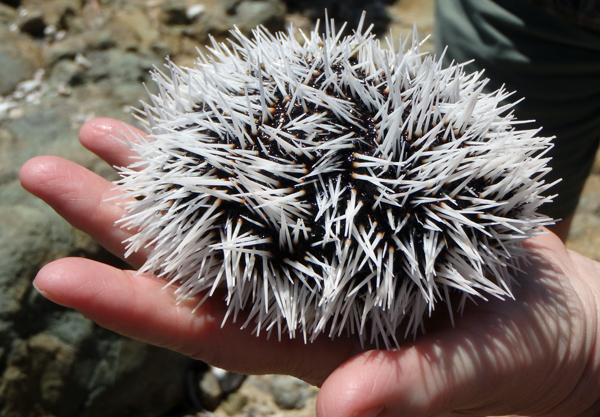 We held sea urchins, and felt like we were driving in the clouds.
Why should the high school build a swimming pool with an available ocean?

Competition pool in the Ocean!
Because they couldn't hold competitions. Al showed us the floating swimming pool that was built IN the ocean.  

We saw Princess Juliana International Airport, directly adjacent to the beach, where plane spotting is a sport. Tourists (the locals aren't so dumb!) wait for landing jets to come in, maybe thirty feet above the beach. On take-off, jets blow away hats, sand, and sometimes even people.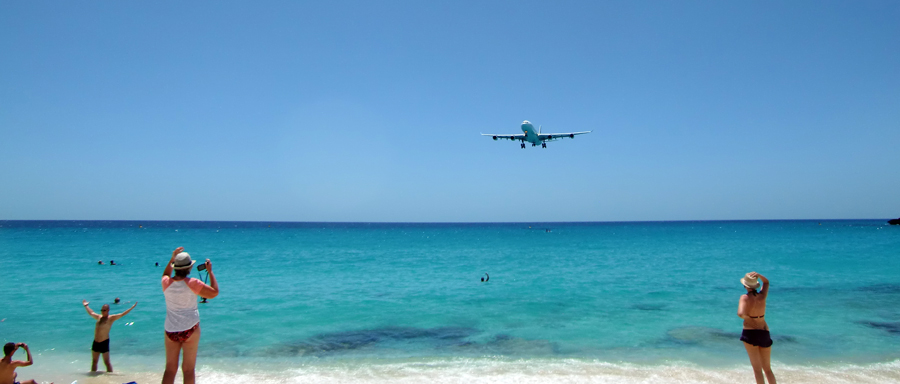 Princess Juliana International Airport
We told Al a sad goodbye when he finally dropped us off at the Philipsburg Market Place, and then we walked back to the ship.  
What a day! I don't think an organized tour would have shown us nearly so much of this 'Friendly Island.'
We came together at dinner to share stories of our day.

Diane related overcoming her fear and that she was so grateful for our instructor, whose patience allowed her to have a memorable Segway experience.
We talked, laughed, and like every other night, we closed the dining room.  On this last night, a younger woman came over to our table. We thought maybe we were being too loud.  She said she wished she had sat at our table!
Can a group of age 60+ women still have adventures? Absolutely!! (Sorry Patty. We know you're not 60 yet!)
—Story and photos by Carol Ann Oostman
Carol Ann Oostman lives in Cedar Lake, Indiana, USA. She has written in various genres, sells stock photography, and now is focusing on travel writing – because she loves to travel. 
She's visited many states in the US and loves going beyond these borders into the world. Her first love, though, is her family. She is married and has three sons, three daughters-in-law, and six grandchildren.
---
---