Mii amo Spa

A Real Indulgent Mother-Daughter Visit to Mii amo spa in Sedona, Arizona

For my 70th birthday, my sweet daughter, Dawn, gifted me a stay with her for four days at The Enchantment Resort and Mii amo Spa in Sedona, Arizona.
Dawn's a single mom of two sixteen-year-olds and our chance to spend time together, just the two of us, just never happens for more than an hour or two at a time.

Needless to say, I jumped at the chance.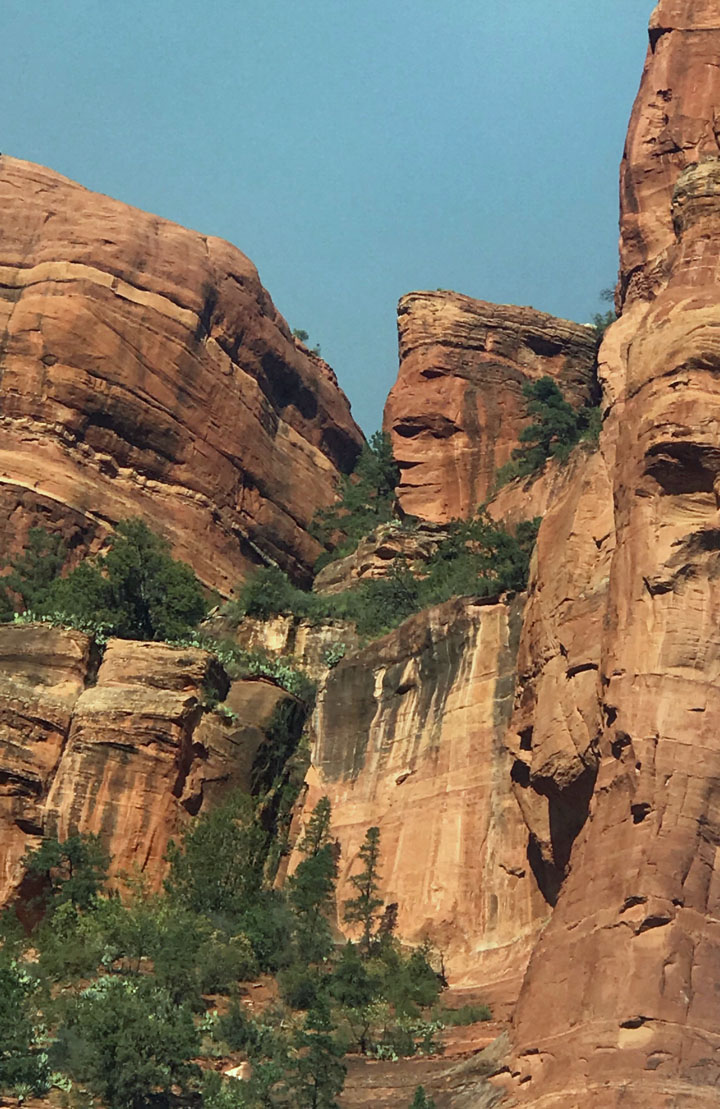 Hiking Rocks in Sedona, Arizona
Escape to Sedona's 

Mii amo Spa

 
It felt like a Thelma and Louise adventure, escaping—just the two of us—to the mountains for an adventure. The drive gave us time to share and catch up more thoroughly than our usual five-minute snippets. 
We turned the music up in car and sang to the tunes we both knew, while climbing from the low, hot Tucson desert though Phoenix and to the mountains and red rocks of Sedona. 
Magic energy surrounded us as we drove through Sedona and out the road to the high desert of historic Boynton Canyon where The Enchantment Resort is located. An outside check-in was easy and quick and a bellman stood by to lead us to our casita.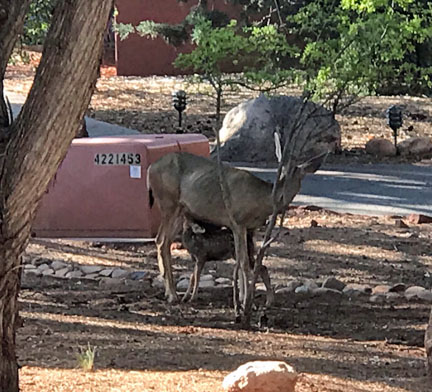 A four-day old fawn in Sedona, Arizona.
As we followed, the bellman turned right. but…STOP…on the left we spotted, the cutest little baby deer with his mom and we had to jump out to take pictures! The bellman finally came back realizing he'd lost us. "The fawn was born four days ago," he said.
The Kachina Woman Vortex in Sedona, Arizona.
Our spacious casita (an Arizona word for cottage or little house) was on the hill overlooking red rock spires and the Kachina Woman Vortex. 

This sanctuary is designed to connect you with relaxation, renewal, and rediscovering the peace in your soul.
The casitas at the Spa have all-inclusive packages for three or four days that include meals and a robe and spa treatments. 
Ours schedules didn't fit for the package availabilities, so Dawn had reserved rooms at the adjoining The Enchantment Resort, where we could walk across the street to Mii amo and choose a la carte treatments and enjoy all the spa's amenities.

The Mii amo Spa in Sedona, Arizona
The Mii amo Spa
The first evening, to unwind we each enjoyed a relaxing ninety-minute treatment. Dawn chose a Deep Tissue Massage and I chose a Table Thai Massage. Arriving at the women's locker room, we slipped on the elegant, cotton and satin robes.
The locker room was thoughtfully stocked with all the personal items we might need and included a quiet relaxation area stocked with fruit, snacks, teas and lemon-water stations.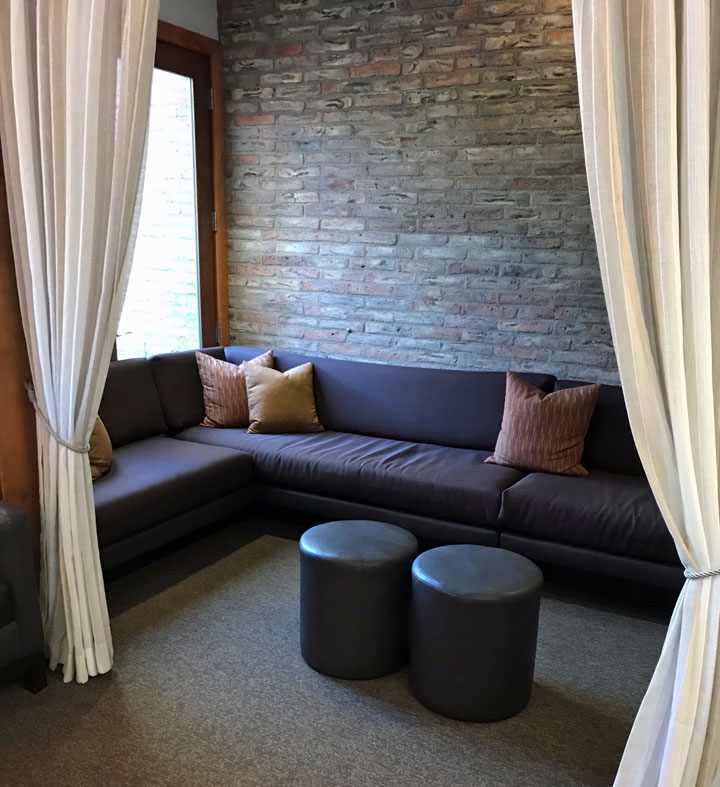 A quiet waiting room at Mii amo Spa in Sedona, Arizona.
Upstairs, a quiet room with a water/tea station set the tone as folks waited for their therapists. I must confess Dawn and I didn't do so well at this "quiet" part and got a few sideward glances for our exuberant chatting, but we just couldn't help it.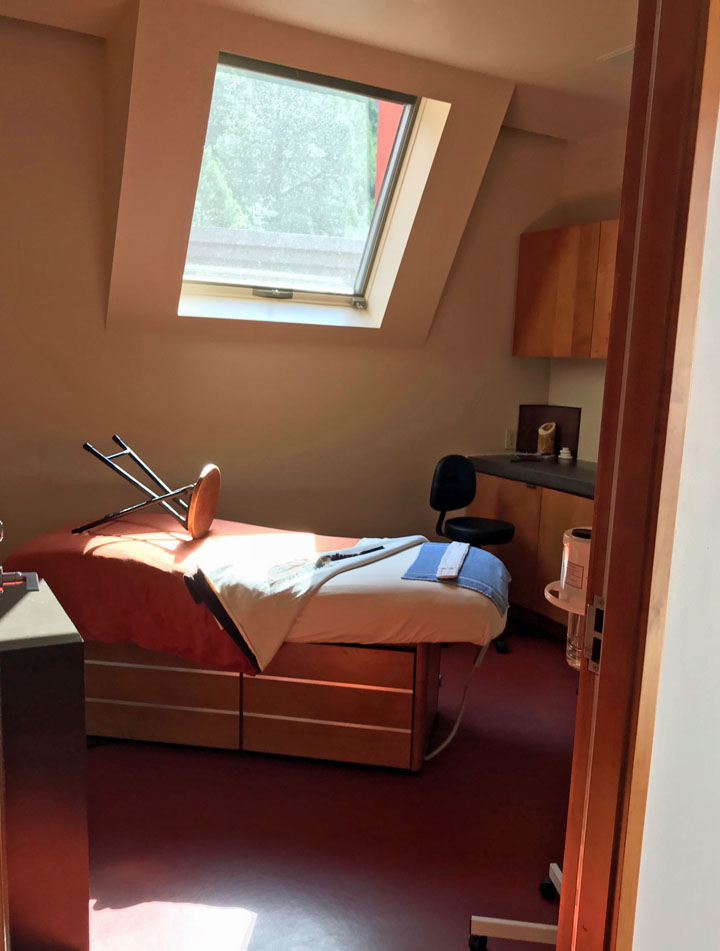 A treatment room at Mii amo Spa in Sedona, Arizona.
The large windows of the Mii amo Spa treatment rooms face the rocks and bright, luminous light pours right in.

I reclined on a heated massage table, with soft, soothing music playing softly in the background, and all tension started to melt away. All I had to do was to relax and be pampered.
Table Thai Massage is delivered in loose clothing on the comfort of a massage table, rather than on the traditional Thai floor mat. My therapist guided me into gentle stretches and yoga positions that were challenging and stretching but not uncomfortable. 
A few times, she got on the table to apply pressure from just the right angle. The hour and a half flew by as I submitted to letting my body let go of all its kinks.
Dawn and I met back in the locker room after our treatments, skinny-dipped in the private hot tub, and sat in the sauna, extending and furthering our experience.
The dining room at Mii amo Spa in Sedona, Arizona
We enjoyed a light dinner of little plates at the Mii amo Cafe, which uses fresh, wholesome, high quality ingredients, infusing them with natural, imaginative flavors.

A nice glass of red, Australian Shiraz wine enhanced my dinner. 
By now we felt like wet noodles, ready to go back to our room. On our walk back to the casita a canopy of thousand stars twinkled above us. We weren't awake for long once we sank into the down quilts and pillows of the comfy beds.
An outdoor pool at Mii Amo Spa in Sedona, Arizona
On the following days, choices available to us when we weren't enjoying treatments, ranged from scheduled, group classes to solitary respites, hikes or poolside relaxation. 

A hiking trail in Sedona, Arizona
Hiking Trails
Beyond and surrounding the resort, beautifully wooded grounds offered vistas and hiking trails in all directions. 
Dawn is a rock climber and she made me hike with her every day, and just hiking the rocks and vortexes was challenging enough for me. She kept saying, "Mom, you can do this!" And I found I could.
The Extensive Luxury Menu at Mii amo spa

Decisions, decisions, decisions….almost overload! 
The extensive and intriguing spa menu delighted and temped with seventy-two treatments. 
Mii amo spa offers traditional treatments, like a Swedish massage, plus other, non-traditional options, some reflecting the Native American culture of the area – even past life regression. 
Many spa staff couple their spa expertise with experience and competencies as intuitive healers. Dawn is a massage therapist, and esthetician, so I relied on her guidance in choosing some of the treatments.
Unusual Treatments?
What made this the perfect luxury spa for me? 
During our stay, I enjoyed five different treatments: the Table Thai Massage, an Oxygen Facial, and a Pinion Scrub. Two other unusual—and new to me—treatments included Watsu and Chi Nei Tsang.
Behind the building, a tented pool was the location for my hour-long Watsu Treatment: Birds chirped and a warm summer breeze surrounded me as I sank into the private, 93-degree therapy pool.

My therapist instructed, "Your job is to breathe and be like seaweed." I closed my eyes while my body was swirled and stretched. I did indeed feel like seaweed. Ah, relaxation!
Chi Nei T'sang  is an ancient Taoist form of detoxifying, energizing, and massaging just the abdomen, known as "working the energy of the internal organs." For an hour, my therapist focused on my abdomen with gentle massage designed to work on releasing both the physical and emotional levels. Subtle release!
A Luxury Mii amo Spa Mother Daughter Experience
What an amazing birthday present! The days passed much too fast as we rejuvenated, indulged and connected in a leisure, pampered time capsule. 

Mii amo spa in Sedona, Arizona
If a luxury spa is your idea of bliss, Travel and Leisure's #1 spa for 2018, the destination spa Mii amo is the perfect spa for you. 
--Story & photos by Joeann Fossland
---
"If you're not enjoying yourself, you're doing it wrong" is Joeann Fossland's motto. She was bitten by the travel bug in the 70s and spent a year traveling the country with two small children in a blue and purple converted school bus with peace symbols on the front!
Since then, she has lived in a tipi at 8500 feet with no running water or electricity for 18 months, explored 4 continents, 26 countries and dozens of beaches and islands. In her first career, she was an award-winning writer and speaker in the real estate industry for 35 years.
These days, seduced by her love of travel, she has re-invented herself. Joeann loves to share travel insights and adventures to inspire like-minded baby boomers to make their dreams come true.
A member of ITWPA, she has published hundreds of articles, and her stories have been featured in 4 books, including Conversations for Success and Chocolate for A Woman's Heart.

---
---