Oasis Death Valley
Discover an oasis  Spa in the desert - Oasis Death Valley

My husband Bub and I visited Furnace Creek Resort and spa in Death Valley 10 years ago, and felt like we had found a secret hideaway. We heard there had been $100 million dollars spent in renovations, and we were anxious to see the changes, so we booked a couple of days.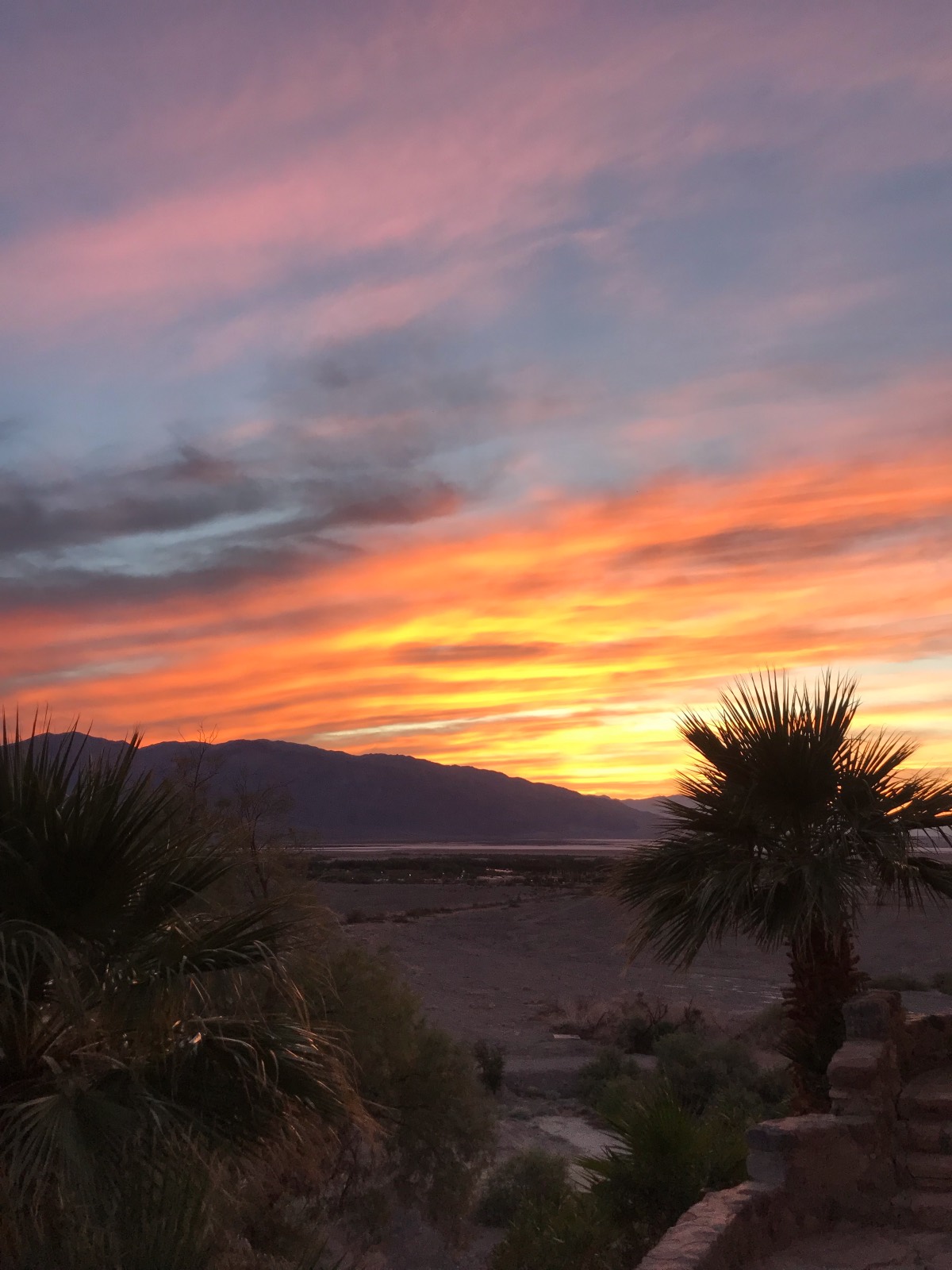 Now called The Oasis at Death Valley, there are two properties: the luxurious Inn at Death Valley and family-oriented Ranch at Death Valley.
Taking care to preserve the historic elements, The Xanterra Travel Collection has breathed energy and life back into these lodgings, expanding and upgrading not only the rooms and the property, but the service and amenities.
Our road trip started in Arizona. Then we drove through Las Vegas out into miles and miles (did I say MILES?) of dry, desolate, desert into the 3.3 million acres that comprise Death Valley National Park.
After about another hour of barrenness, we crested a hill and, suddenly, there was a lush oasis right ahead, the polar opposite of the terrain we'd been immersed in! And, this Oasis was real, not some shimmering illusion.
Off the beaten track, yet accessible, The Oasis at Death Valley is a bucket-list worthy experience. Two hours from Las Vegas and four from Los Angeles, Death Valley it is an ideal destination to escape and unwind over a long weekend or as a venue for an unforgettable destination wedding!
Oasis Death Valley
The Superlatives of Death Valley National Park

By entering the extreme desert of Death Valley National Park, we found ourselves in the land of the superlatives!

Driest: Dry, dry desert, mountains and salt flats comprise most of the Park with an annual rainfall of 2.4 inches.
Hottest: Temperatures have climbed to 134° in the summer. The afternoon we were there in June, it was 121°.
Lowest: If you are aching to golf at the lowest golf course in the world, at 214 feet below sea level, the 18-hole Furnace Creek Golf Course is for you!
Biggest: An International Biosphere Reserve, Death Valley National Park is 3.3 Million Acres, the largest National Park in the continental US.
When we visited previously, the Inn closed from Mother's Day until October. These days, though, everything is open year-round. Stays are shifting from being a one-night stop on the way through the Park to being a destination resort with lots to do.
Trey Matheu, General Manager, told me, "The summer brings lots of European visitors who want to check some of those superlatives off their Bucket Lists. They're delighted when the temperatures reach insane numbers."
Visitors from France sat at a table next to us at our first meal.
I couldn't help thinking, though, about the staff who spend all summer living in these extreme temperatures - not for a day or two and then onward to the next bucket list item -but for months. Maybe you get used to it or, actually, come to love it. Because of the location, most of the staff live in the dormitories or other on-site housing. Many have transferred here from other National Parks.
Our waiter at breakfast had just transferred from Yellowstone, as had Matheu.
"What a change!" Matheu said, "But it didn't take long to fall in love with this place."
All the staff we encountered were upbeat and seemed to be having the time of their lives. I imagine it will make for some good stories later on.
Our Stay in Death Valley

We wanted to stay again at the 66-room The Inn at Death Valley, which has earned AAA-rated four-diamond standing.
We valeted the car in front of the new fountain and checked in. On the way to the room, I noticed the addition of a library area off the main lobby with comfortable leather couches and wood desks. It looked like a great place to read or do a little work (but you're not gonna bring work, are you?)
Our spacious, elegant room had a door leading out to the stone patio that overlooks the entire valley and mountains to the west. A thoughtful cheese and fruit plate along with a note from Manager Matheu provided a nice welcome. I'd been driving for seven hours and was ready to jump in the waters of the 87º ancient underground springs that feed the pool.
On second thought, there was no hurry. I decided a nice glass of wine and tastes from the welcome plate would take the edge off.
Later, as we walked through the tall palm trees from our room down to the pool, we heard melodic, bubbling streams next to the walking paths. Surprisingly, water is everywhere. Ahhhhhh…as I dropped into this spring water, I could feel tension melting away. The relaxation had begun.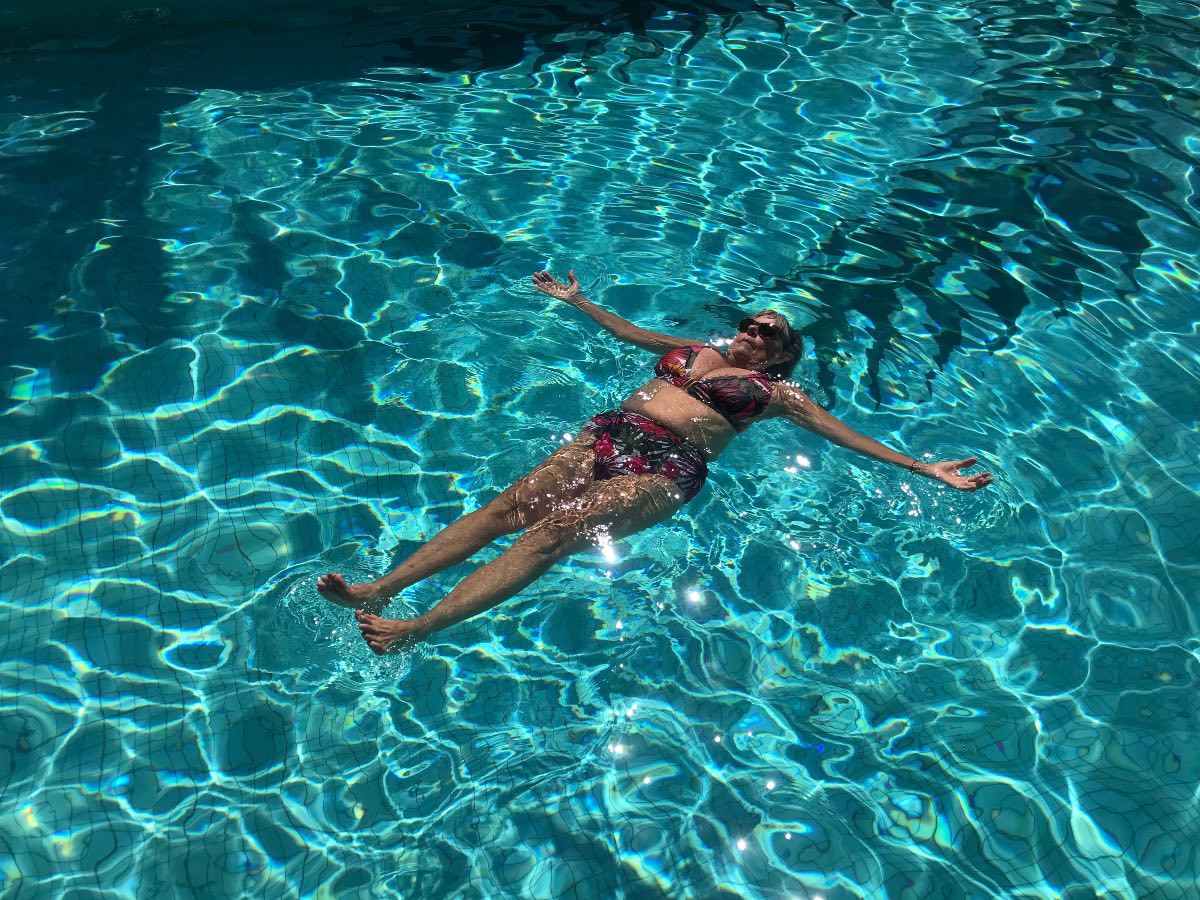 Below the pool, twenty-two new casitas have been built beside a 60,000 square-foot grassy lawn. The perfect setting for a wedding, I think.
The epitome of privacy and luxury, each casita includes a wet bar, a separate bedroom with king- or queen-size beds and a golf cart to navigate the grounds. Perfect for a honeymoon, baby moon or romantic getaway, I'm sure these will be fully booked as the word gets out.
For a more casual, family-oriented experience, the 224-room Ranch at Death Valley, about a mile farther down the road, is the place to stay.

There's plenty going on down here: a spring-fed swimming pool, tennis courts, horseback riding, jeep rides, golf and the Borax Museum as well as a General Store.

The famous Furnace Creek Golf Course is located here. Xanterra plans a second phase of renovations that will focus on upgrading this area. All rooms will be remodeled. Additionally, 80 cottage units are planned with full kitchen and laundry facilities. A classic soda fountain with burgers, shakes and ice cream with be a signature piece of this phase. 
Oasis Death Valley
The Historic Roots

Originally this was the headquarters for the 20 Mule Team. Later, tourism became a focus and the elegant inn was built in 1927 by the Pacific Borax Company as a stop on the train ride west and a winter destination.
It became a hideaway for adventurous travelers and the Hollywood elite. Movie stars such as Marlon Brando, Jimmy Stewart, Bette Davis, Clark Gable and Carole Lombard, relaxed here.

I'm prepared to channel their energies while I unplug, swimming in the spring-fed pool at a perfect 97°, lounging in a cabana, and strolling through the date gardens surrounding the Inn.
Thanks to the foresight of the Pacific Coast Borax Company and the National Park Service Death Valley was declared a National Monument in 1933 and a National Park in 1994, when it was substantially expanded. Further development was limited and, today, we can enjoy the same untrammeled beauty of Death Valley that guests did back in 1927.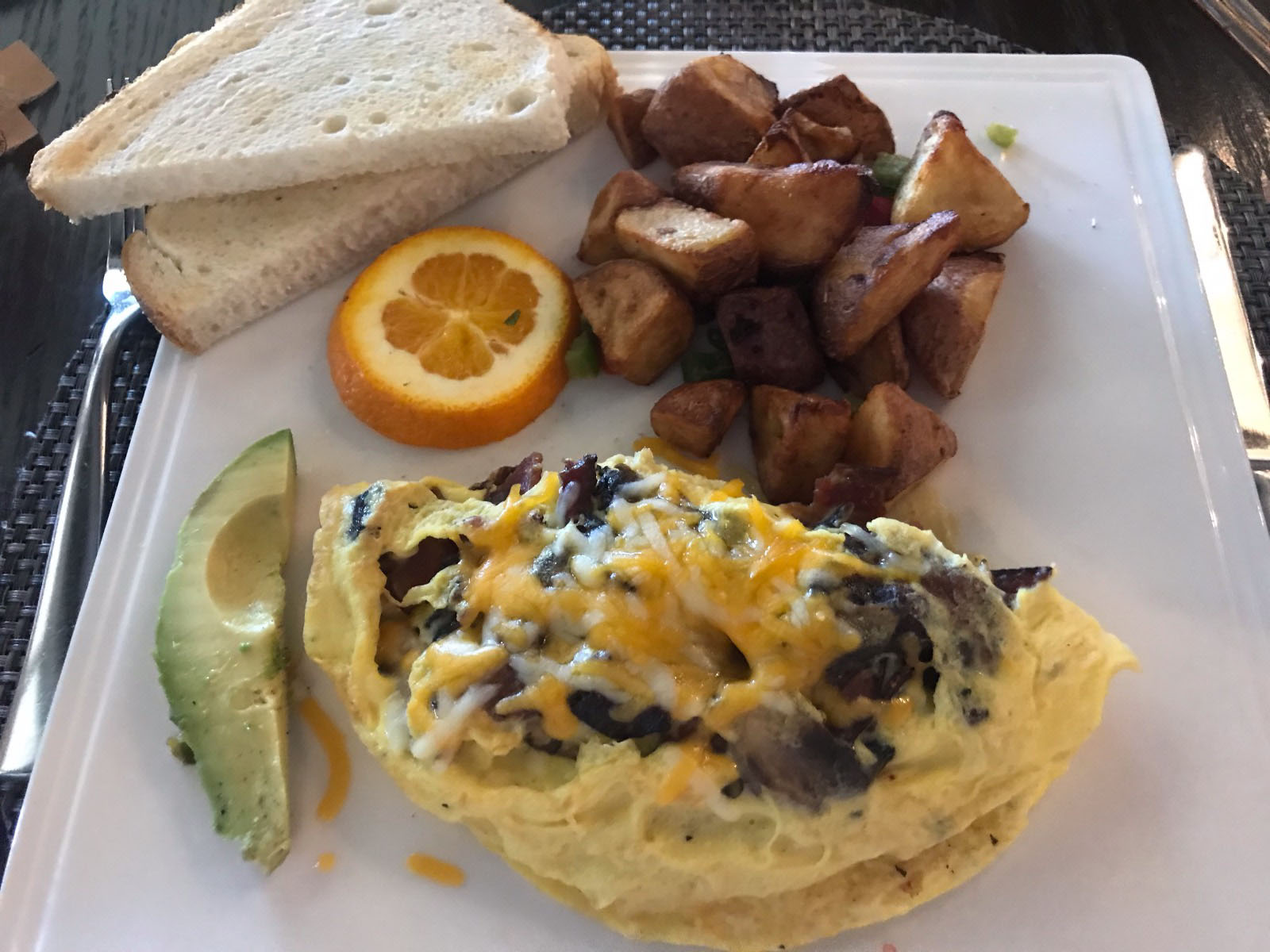 Breakfast was included with our stay at The Inn Dining Room.
The offerings took advantage of their dates (the date bread was fantastic) and other regional flavors of food like cactus and pomegranates for gourmet eating. I had their omelet, choosing mushrooms, spinach and Swiss cheese from a long list of options that even included salmon. A nice touch was additional cheese melted on the outside the omelet, rather than just inside.

The next phase of renovations will include a chef's garden, expanding the date groves, and planting citrus and pomegranate trees.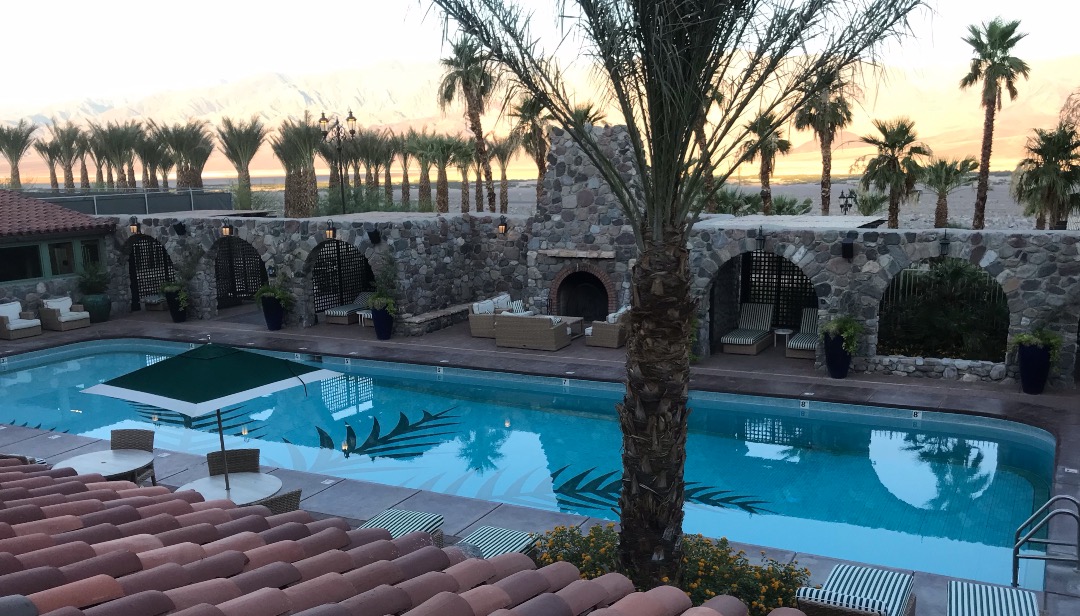 The pool
Down at the pool, The Inn Pool Cafe allows guests to feed that hunger or thirst without leaving their cabana or the pool. Its menu features sandwiches, wraps, salads, sides, and assorted beverages.
Next to the dining room, The Oasis Lounge is filled with Western art, from original paintings to original bronze sculptures. It's a busy place for signature cocktails and a limited small-plate menu in the afternoons and early evening.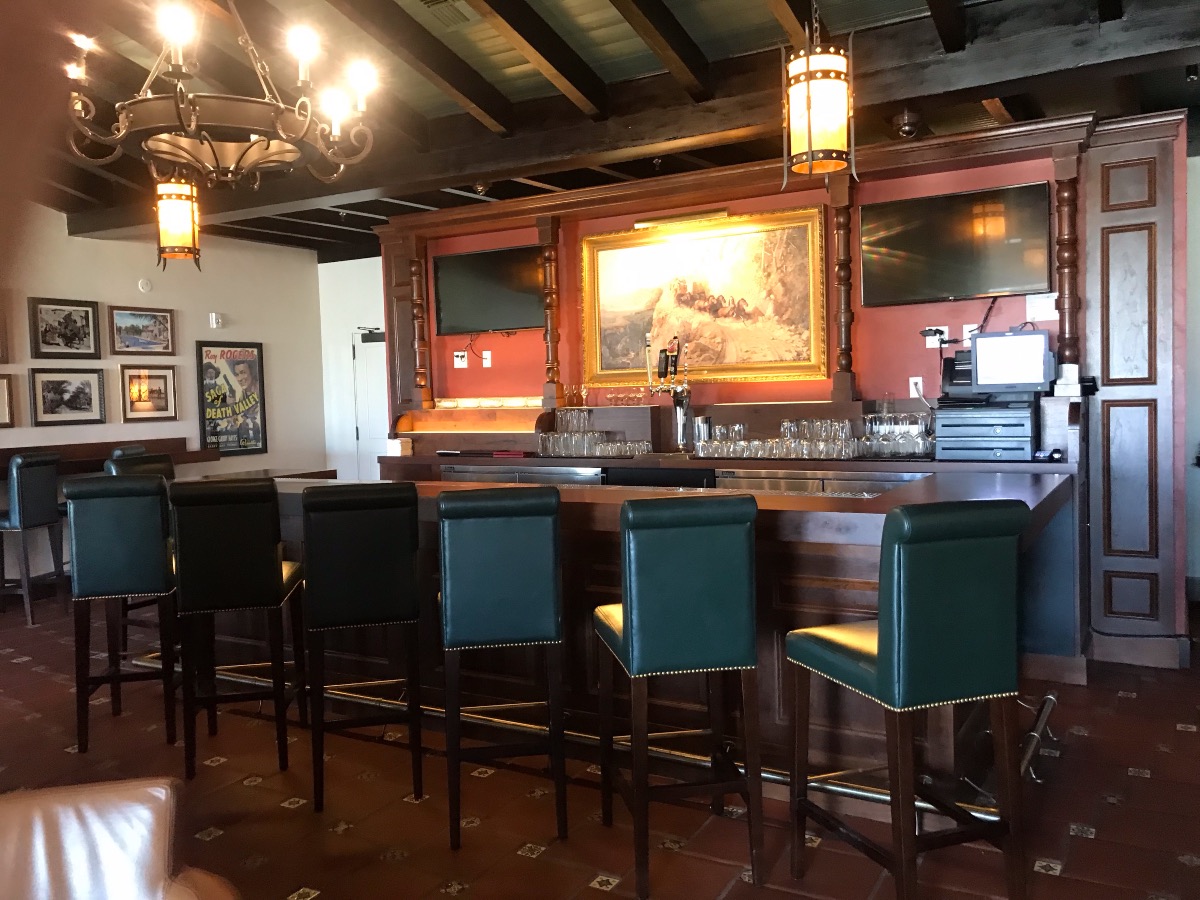 Food Down at the Ranch
Last Kind Words Saloon has been completely updated to bring the Old West alive. The menu includes everything from a 36-ounce tomahawk ribeye to wild Alaskan salmon to featured game of the day, all of which can be enjoyed alongside local draught beers or a large selection of wines and whiskeys.

Open for breakfast, lunch and dinner, Ranch 1849 Buffet features a rotating array of items that include breakfast entrees, breakfast meats, and a cold selection of baked goods and assorted fruits.
At lunch, there's a make-your-own sandwich station, soup and salad stations, and assorted pizzas. For dinner, you can enjoy a full salad bar, a carving station and assorted desserts.
The bar and grill fare at 19th Hole at The Furnace Creek Golf Course is perfect after your golf game for burgers and brew.
Oasis Death Valley
What else is there to do in Death Valley?

Whether you want to just unwind and relax or want to take advantage of the National Park, there is enough to do here for all ages. I can sit by a pool soaking in unreal scenery with the Pool Cafe offerings and spa treatments from the Spa for several days before getting antsy.
Both mornings we were here, we played tennis early before the heat became intolerable. There are two beautiful courts at the Inn and more at the Ranch.

Then it was time to jump in the pool. At both resorts, the pools are sourced from the natural spring water that flows through, so no chemicals or chlorine are needed. During the renovations they were resurfaced and are refreshing.
I floated easily due, I think, to the mineral content of the water. It felt good to close my eyes and just float.
For active adventurers, there are trails for hiking are in every direction. Or, if you are into rock climbing, your options are numerous.
There are some incredible natural wonders in the Park that are worth the effort to see. The roads through the park are mostly flat, so bicycling is an easy and fun way to explore.
Horseback Rides and Jeep Tours also offer a less strenuous way to see the trails, sand flats and surrounding mountains. And then, of course, there is golf.
On our first night, after our swim, we drank in the spectacular, psychedelic sunset from our room's terrace, as we drank our bottle of wine, and ate our fruit and cheese.
Not long after the colors began to fade, the stars began to appear. Death Valley National Park is the largest Dark Sky Nation Park in the Country and you can see the Milky Way like nowhere else.
Would I Go Back to Death Valley?

Our two days were a fun, yummy and relaxing time. The Inn at Death Valley strikes the perfect balance between the historic romance of a vintage hideaway and the pampering amenities you'd expect from a contemporary luxury resort. It would be fun to bring my kids and grandkids for a week and let them stay at the Ranch, while we stay at the Inn.
 STORY & PHOTOS by Joeann Fossland
"If you're not enjoying yourself, you're doing it wrong" is Joeann Fossland's motto. She was bitten by the travel bug in the 70s and spent a year traveling the country with two small children in a blue and purple converted school bus with peace symbols on the front! Since then, she has lived in a tipi at 8500 feet with no running water or electricity for 18 months, explored 4 continents, 26 countries and dozens of beaches and islands.
In her first career, she was an award-winning writer and speaker in the real estate industry for 35 years. These days, seduced by her love of travel, she has re-invented herself. Joeann loves to share travel insights and adventures to inspire like-minded baby boomers to make their dreams come true.

---
---