Only in India
Adventures of an Educator, only in India

If you've ever wondered what it would be like to teach and live in a foreign country, reading this book is a great place to begin your research.
International educators Jill and her husband, Dan, have spent their years since their children have grown traveling and teaching in exotic foreign countries like Egypt and India.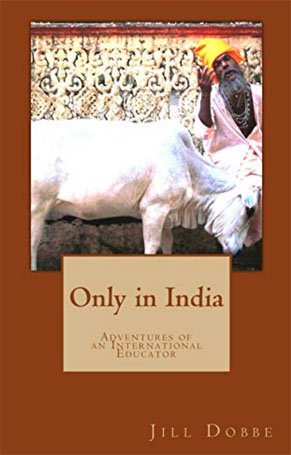 Only in India, by Jill Dobbe
When they accepted a two-year assignment in India as Principals at a new architecturally-opulent Indian/International school, imagine their surprise to learn the most basic supplies, like chalkboard erasers, are nonexistent.
They also encountered viewpoints and ways of thinking that can be incomprehensible to those of us who grew up in the US or Canada.
Read along as Jill and Dan discover that the distinctive and dramatic day-to-day life of Indian society can in no way compare to their American life in Wisconsin.

Only in India
In a reader-enticing engaging way Jill describes the school where she taught in Gurgaon outside Delhi, the kind of apartment in which she and Dan lived, and the surrounding environment. Aside from their daily work experiences, they took advantage of their home base to travel in their downtime to other nearby towns and attractions.
Photo Courtesy of One Stop Travel & Tours India
Her opening chapter "Illegal in India" immediately pulls you in to the angst and uncertainty that was part of their wonderful, colorful daily life.
Chapter one - Illegal in India
     Our life as educators and foreigners in Gurgaon, India, ended on an inauspicious day in September, 2009, after only one year. Although my husband, Dan, and I had been hired in 2008 to work for two years at an international school as the upper and lower school principals, we found ourselves leaving before our second year had barely begun.

It was the first and only time we had broken a school contract and never had we left a school under such harried circumstances. I suddenly found myself working in India illegally because the school decided not to provide a work visa for me.
As a result, dan and I felt we had no other choice but to give up our furnished apartment, our car and our jobs and return to the U.S. I didn't know what kind of trouble I could be in and only imagined the worst.
Would the Indian government deport me? Make me pay a huge fine? Put me in jail?
Only in India
Prior to that fateful day when we had departed Gurgaon for good, Dan and I had spent the school vacation with our family and friends in Wisconsin.
When September rolled around, we packed our bags once again and said good-bye to Ian and Ali, our college-bound kids.
We got on a plan and flew back to New Delhi to begin our second year of working at the International School. Days after arriving and settling into the school routine, we were informed by the business manager that our work visas were about to expire and we needed to apply for new ones.
If we didn't we'd be unable to stay in India. While the teachers were busy decorating their classrooms and preparing for the new students, Dan and I were trucked across the city to the humid, crowded and disorganized Indian Immigration Office.
CLICK HERE to buy ONLY IN INDIA 
To give you a flavor for Only in India, here's an introduction to the TABLE OF CONTENTS:
Chapter One - Illegal In India
Chapter Two - It's Done
Chapter Three - An Auspicious Beginning
Chapter Four - Ant Invasion
Chapter Five - The City Where Blue Cows Once Roamed
Chapter Six - A School Like No Other
Chapter Seven - Teacher, Ma'am
Chapter Eight - The Taj
Chapter Nine - Stupidity Is Not A Handicap. Park Elsewhere.
Chapter Ten - India Is Color
Chapter Eleven - The Caste System, Still Going Strong
Chapter Twelve - Rishikesh Is Not Just For Yoga Masters
Chapter Thirteen - Shrieking Peacocks, Clever Cows & Manic Monkeys
Chapter Fourteen - A Festival Of Lights
Chapter Fifteen - Home Sweet Hostel
Chapter Sixteen - Shimla: Queen Of Hill Stations
Kudos to Jill Dobbe for sharing her adventures and insights as an expat teacher in India in this memorable book, Only in India.
Only in India
In spite of a tendency to write with clichés, Jill's story is so fascinating that this is easy to overlook and forgive. And since this is memoir it reflects the author's voice. I can imagine this is exactly how she would tell you her story to you over lunch and a glass of wine.
Jill Dobbe has created a compelling tale of the highs and lows of teaching in a foreign country. This book captures well her Cross-cultural learning experiences, the story flows with interesting detail and intrigue, and Jill keeps you always wanting to read more.
It offers a enlightening and insightful glimpse into the educational views and culture of India.
Much of Jill's experience reminded me of my Peace Corps service in Suriname, so I know none of this is made-up! 
As one amazon reviewer described, Only in India is "Part memoir, part travelogue and part tragic comedy."
--Carolyn V. Hamilton, Former Editor
Jill Dobbe, author of Only in India.
Jill Dobbe is an international educator and published author who writes about her experiences living and working in schools and countries around the world. She presently lives in her seventh country, Honduras, with her husband, Dan, and her Yorkie-Poo, Mickey.
While working as an elementary principal, Jill also writes, reads, travels, takes photos of the beautiful people and countries of Latin America, and muddles her way through the Spanish language. Jill loves her life as an international educator, and most days, feels like she is living her dream.
---
---