Outdoor Vacation
with a Disability
Taking a friend on an Outdoor vacation with a disability.

This year I tailored with my friend Laura a week-long, adventurous outdoor vacation to accommodate her disability. Our activities included kayaking, hiking, cycling, and boating.
Travel intrinsically comes with anxiety. But when you have a disability, the tension increases. Preplanning made all the difference.
Laura and I met and became friends in 2004. She had an appetite for new things, a carefree spirit, and a desire for new adventures.
In 2006 Laura was diagnosed with Charcot-Marie-Tooth (CMT) disease, an inherited degenerative nerve disease that causes muscle weakness, atrophy, diminished sensation, and foot deformities. Today, Laura wears leg braces and often uses a cane or walking sticks for added stability.
We flew from Portland, Oregon, to Vancouver, British Columbia. We boarded our flight early to give Laura time so she didn't feel rushed. I carried her bag and followed behind her as she climbed the stairs to the plane ensuring that if she fell, it would be on me.
On the way off the plane, I walked in front and she steadied herself with her hand on my shoulder. From Vancouver, we rented a car and ferried to Vancouver Island, British Columbia.
Kayaking and Boating in Sooke Bay
Outdoor Vacation with a Disability
We stayed at Sooke Point, a solid rock peninsula on Vancouver Island on the southwest tip of Canada. The following morning, we met Allen Krutz from West Coast Outdoor Adventure.
Allen fitted us with life jackets and walked us to the dock to board our open and stable Hobie kayaks. Laura had kayaked with me once before on calm waters, but she knew that Sooke Bay would be a new challenge.
Laura said she kept thinking, "I'm really doing this, even with my physical limitations."
These kayaks are equipped with a pumping pedal system and a handle to maneuver the rudder.
Excitement built, along with some apprehension. Allen reassured Laura and explained how to operate the kayak. After a test run, she was ready to go.

We pedaled across the bay from Sooke to Sooke Point and saw two starfish, curious seals and a sea lion. Allen happily talked about the wildlife, currents, housing developments, and his adventures.
Laura says, "Heading back to the dock, I wondered how I would get out of the kayak. After two hours of pedaling, I was tired. Tracy and Allen gave me instructions, and I moved onto my knees and crawled onto the dock.
Forget pretty and graceful, those are not my companions anymore, but the victory was in the adventure and spirit of trying something new."
In the afternoon Laura and I joined Terry from True Key Adventures for a boat ride. Terry helped Laura into the boat and took us out onto the ocean.
He maneuvered the boat with expertise giving us as smooth a ride as possible. Terry spent years as a fishing guide, and he shared several stories along the way.
Hiking at Sooke Potholes Provincial Park

Laura and I both awoke a bit sore from pedaling the previous day. We stretched and then drove to Sooke Potholes Provincial Park.
The park provides access to a series of deep, polished-rock pools and potholes carved naturally into the bedrock of the Sooke River.
Trails weave in and out of the forest and along the river. The Galloping Goose Trail is a fully accessible multi-use trail with access points to view the river.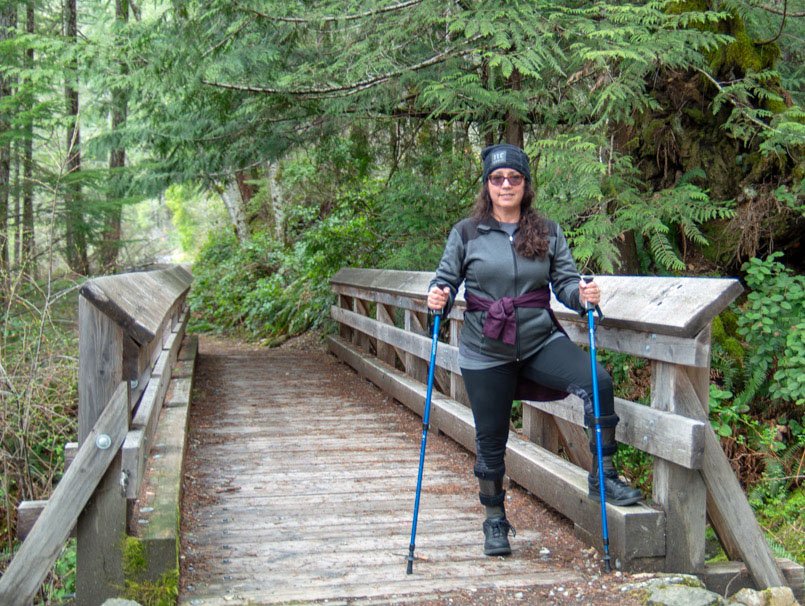 I alternated between trails while taking photos. Laura took the Galloping Goose Trail with its easy grade. Twice she joined me on a steeper path leading to the water.
I helped her by placing my hand on her back to steady her and to give her momentum uphill. Her braces keep her feet flat making it difficult to navigate steeper terrain even with walking sticks.
Outdoor Vacation with a Disability
Cycling and Rejuvenating in Harrison Hot Springs

We ferried back to the mainland and drove to Harrison Hot Springs where we met Terry from Jamie's Quadricycles.
Laura stands five feet tall, and most bicycles are too big for her. She had concerns about getting on and off a bike and not being able to put both feet firmly on the ground.
She had not ridden a bike in more than twenty years. At first, she hesitated; but after convincing her of my confidence in her, she boarded the quadricycle, grabbed the wheel and took me for a wild ride. 
Laura was like a little kid in a candy store for the first time. She was so excited, pedaling fast and rounding the corners at lightning speed. Her face beamed with a joy I have never seen before.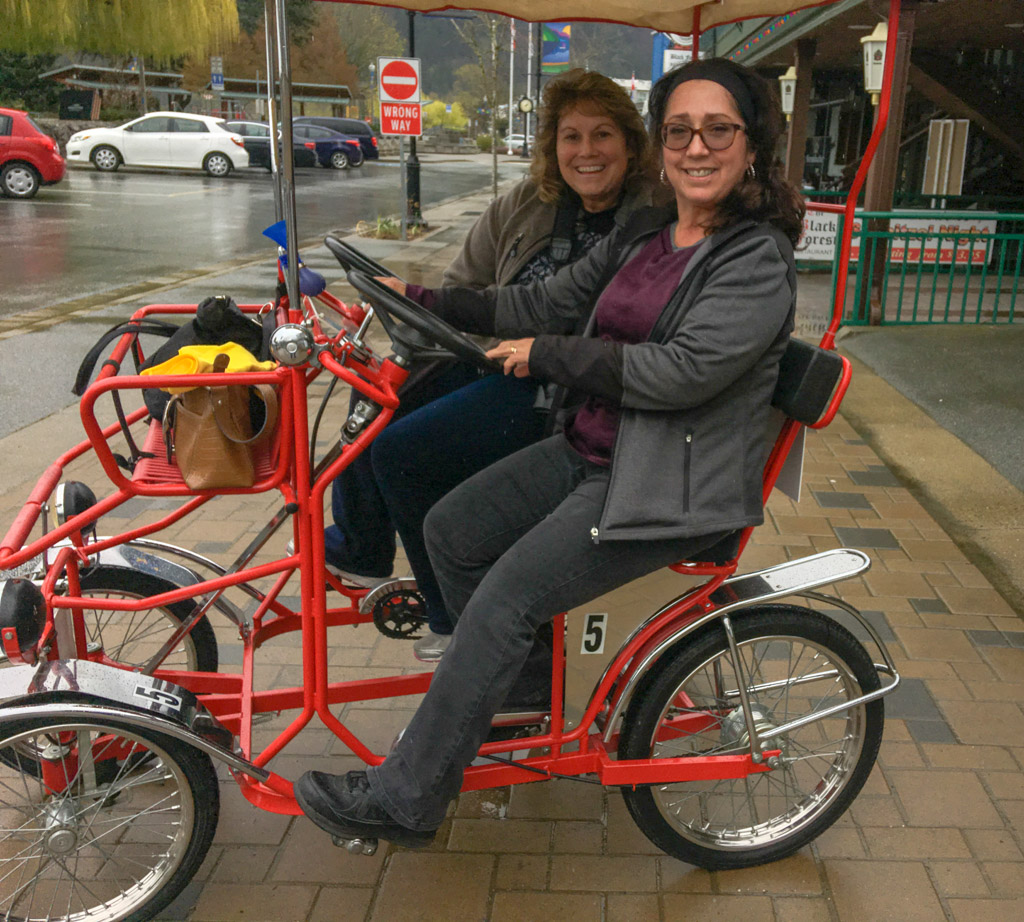 After returning home, I asked Laura why the bike ride brought her so much pleasure.
She said, "Riding a bike was something I enjoyed doing growing up, and that ride triggered those childhood memories. I rode with abandon like I did before I had my disability."
After bike riding, we walked to the public pool filled with waters from two local hot springs. The springs come in at an average temperature of 145°F and are cooled down to 100°F for the pool.
The challenge was getting Laura to and from the pool with no shoes or braces to aid her on a slippery floor. Laura clutched my arm, and we slowly walked from the dressing room to the water. The eight minerals in the water are said to bring relief from rheumatism and arthritis.
Hiking at Bridal Veil Fall Provincial Park
Our final adventure was a short but steep hike to Bridal Falls in Bridal Veil Falls Provincial Park.
The forest was stunning, and going uphill I steadied Laura with my hand on her back and again walked in front of her going downhill. She bravely made her way up and back with the support of her walking sticks.
Our trip was successful due to thoughtful preplanning, patience and creative consideration of Laura's limitations. Our itinerary allowed for rest time and accessible routes, and we planned adventures with equipment and people willing to make each activity a positive experience for both of us.
Bringing Outdoor Pleasures to Everyone

People all over the world are working to make the outdoors more accessible. I highly recommend you take a friend who needs extra assistance on an outdoor adventure and help them experience the world's beauty in new and exciting ways.
Because it's possible to navigate an adventurous outdoor vacation with a disability.
—Tracy Ellen Beard
---
---