Penobscot
Bay Sailing

Adventures sailing in Penobscot Bay!

We plunge into the 57-degree water and I bounce up ready to yell WHOA!!!! but the cold takes away any sound I could muster. My husband nervously looks on as I fight to catch my breath. The water is exhilarating. I finally say in a whisper, "I'm okay, I'm okay, I'm okay!" 
This is just one way to lose your breath and kick-start your day aboard the Schooner Stephen Taber.  It had been a bucket list item and a memorable way to celebrate both of us turning fifty this year.

After a quick flight to Portland, Maine and a two-hour drive North to Rockland, we excitedly boarded the sailing vessel that would become our home for the next few days.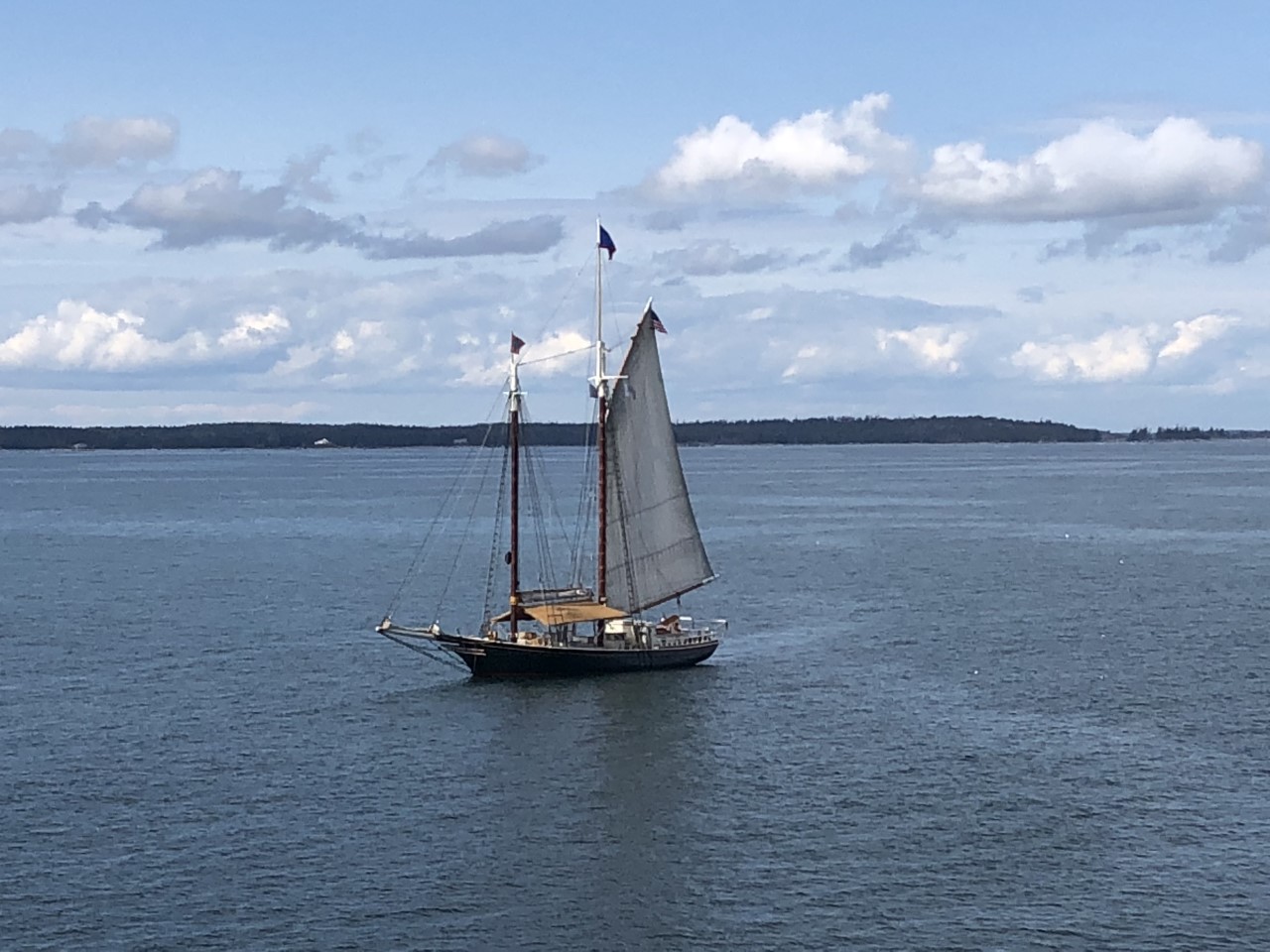 Sailing on the schooner Stephen Tabe in Penobscot Bay, Maine
Penobscot Bay Sailing

The 147-year-old wooden schooner is one of a few historic ships still in service. Once a hard-working cargo ship, the schooner has been saved and restored to accommodate adventure seekers, nature lovers, and foodies wanting to explore a piece of the Maine coast and some of the 2,200 islands in the area.
The first night we stayed docked in the harbor, received our safety instructions from Captain Noah, met the twenty other passengers and four crew members, then set off to Rockland for dinner.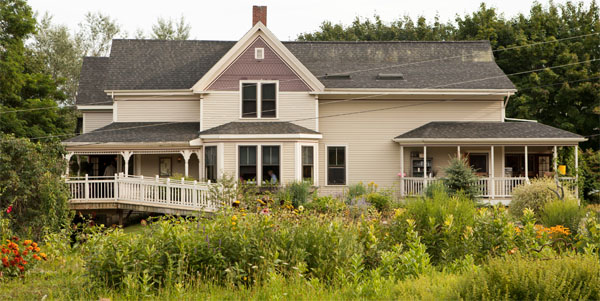 Primo Restaurant in Penobscot Bay, Maine.
There are dozens of restaurants within walking distance to choose from, including Primo, which has a two-time James Beard award winning chef at the helm.
The accommodations aboard the ship are best described as "glamping." Although you have a private cabin, the walls are thin with two shared bathrooms up on deck and an "on-demand" hot water shower stall set up when we are not underway.
The smell of bacon and coffee lures everyone from their sleeping quarters below. We each select a coffee mug that will be ours for the duration and make small talk with our fellow passengers.
The bell rings for breakfast and Chef Ean comes up from the galley to tell us what he has been up to for the last few hours.
The indulgent spread before us includes several types of fresh fruit, dried fruit, nuts, yogurt, homemade granola, organic bacon from a local farm in Rockland, blueberry pancakes, maple syrup, and potato and sausage hash sautéed in duck fat. 
He shares the galley with Pastry Chef Allison who creates at least one baked item per meal in a wood-burning oven.
Shortly after breakfast we push off from Rockland, just as another Schooner is arriving after a few days at sea. I notice they are all women passengers and see plastic bins of fabric – a quilting club cruise. The smiles on their faces say it all – a successful voyage and bonding time with fellow hobbyists.
Penobscot Bay Sailing
The weather and winds were kind to us on our first day. We assisted the crew in hoisting the sails. The sturdy and solid schooner provides a smooth ride and a front row seat to the beautiful, unspoiled Maine coast.
As we slowly passed sleepy fishing towns and uninhabited islands, we got to enjoy this part of the world from a different perspective.
Although I know lobstering is a prominent way of earning a living around here, I am struck by the number of lobster traps. Our ship glides safely through the colorful confetti of lobster trap buoys displayed above water.
I learn that it is by design that our captain can sail so close to them. Between the lobster pots a boat can get caught on and the unforgiving granite shoals and rocky bottom, it takes an experienced sailor to navigate around these waters – providing an even more remote feel to the trip.
As I look on, I see a loon quietly floating on the water then dive with authority out of sight for several minutes, only to pop up in a different location swallowing a fish.
One of our fellow mates points out porpoises swimming alongside the boat. Later, a seal pops his head up to look at the beautiful ship.
We are treated to occasional bursts of color as the leaves begin their fall transition. A few people fish off the back, trolling their lines behind the wake.
Everyone relaxing, spending time with friends or family they brought along – playing cards, catching up, knitting or reading.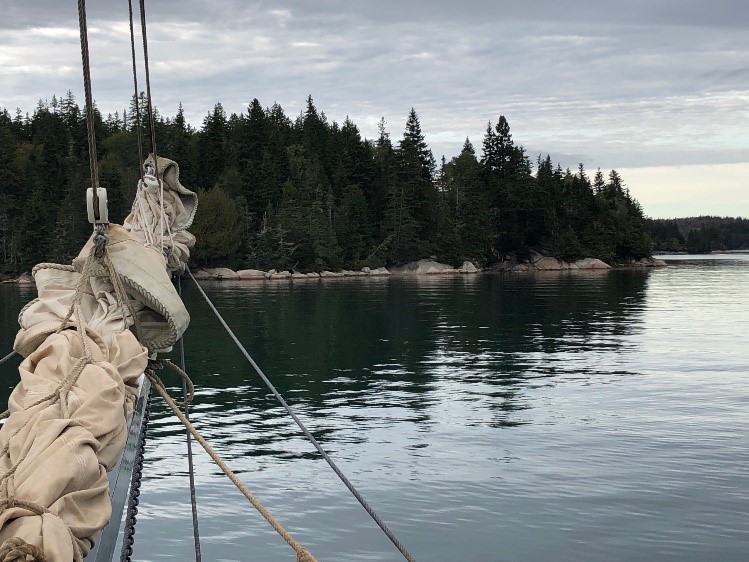 We find a nice secluded place to anchor for lunch. Two passengers take the rowboat out to explore the area while some brave souls jump into the cool water for a swim. The paddleboards remain unoccupied this afternoon. 
The lunch bell rings and we are treated to a hearty Irish stew with lamb and beef, homemade Irish soda bread, a mixed salad with a homemade blue cheese dressing.

After everyone has had their fill, the crew recruits a few strong assistants to crank up the anchor and we shove off again. We head off for a few hours to find our spot for the evening. 

As the anchor is secured, two young boys sail around the ship in their sunfish as if they are auditioning for a future crew spot on the Stephen Taber.
The bell rings again at 5 o'clock for happy hour! A white and red wine are served, one savory and one sweet baked brie, crackers, pate, grapes, figs stuffed with blue cheese wrapped in prosciutto, a charcuterie platter, apple slices and two other delicious cheeses.
Penobscot Bay Sailing
Our captain, a self-proclaimed Maître Fromager, describes each cheese, where they are from, and how many years they have aged. The difficult part is having enough restraint to get only one plate of appetizers to have room for dinner, an hour or so afterward.
More wine is served. Amazing dish after amazing dish is brought up from the galley for our dinner, all followed by a homemade Tiramisu cake.  
Everyone slowly finds their way to bed relatively early and I excitedly think about how we get to do it all again tomorrow!
The next day another amazing breakfast, then we shove off, but the winds are not as cooperative. We eventually find our way to Stonington to pick up as our captain said "an obscene amount of lobsters" – which we find out is forty!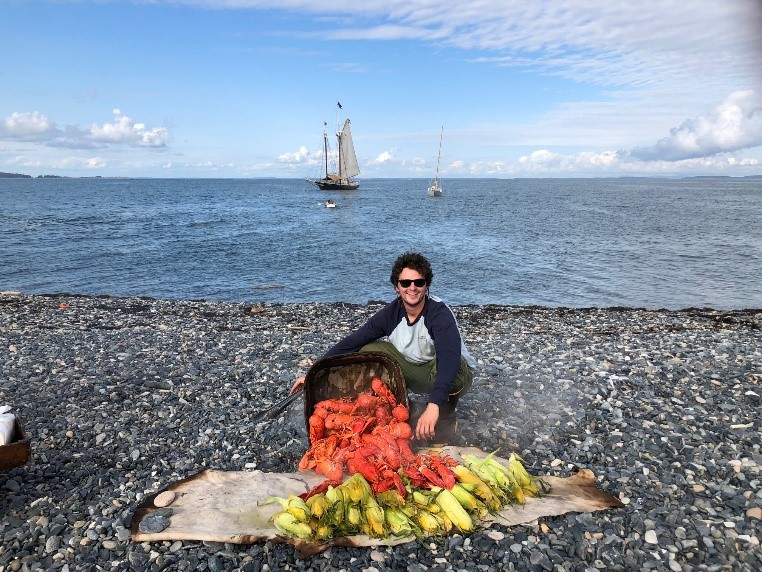 Food on the beach in Penobscot Bay, Maine.
We set off to a remote, uninhabited island that our captain tells us he hasn't been to since he was a kid – a black beach with rocks as smooth as glass – our afternoon lobster bake location.
While the fire is being built to cook the forty lobsters and about that many ears of corn - veggies, dip, wine, cheese and chips are available to nosh.
We have time to hike the island and burn some calories and build up an appetite. The lobsters and corn are accompanied by grilled, marinated flank steak and chicken with a Sriracha zip to it.
And if that wasn't enough, the finale was smores – but not your average smores. The captain made individual pizzelles (traditional Italian waffle cookie) over the fire while we roasted our marshmallow.
He folded the pizzella like a taco to house the dark chocolate, peanut butter and marshmallow.
With full bellies we head back to the ship and are told that there will be a "light" dinner tonight. You've got to be kidding – more food! Lentil soup with sausage and bacon, a salad and corn bread….So much for light…Can't wait to do it all again tomorrow…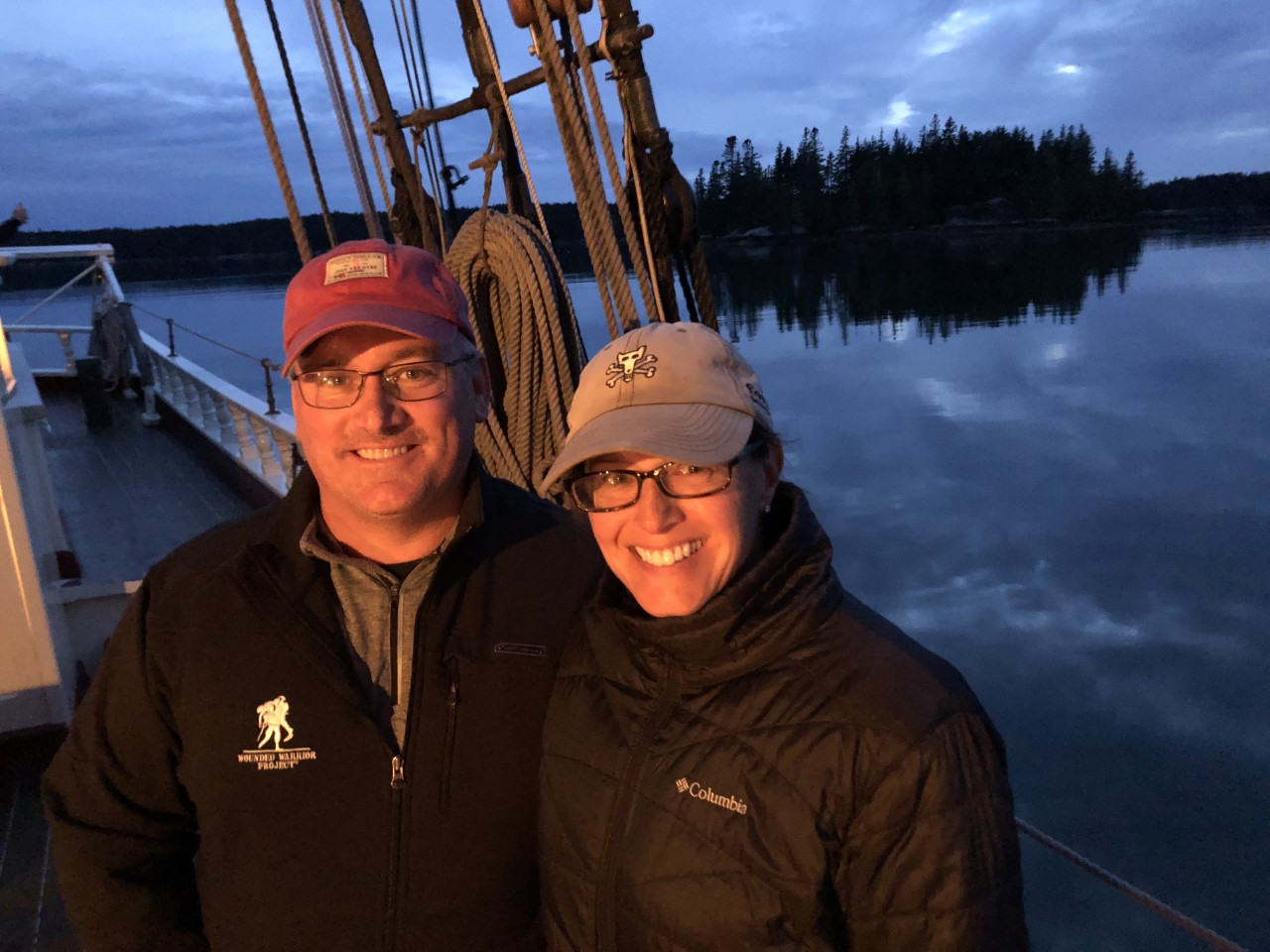 Tracy Welsh, Penobscot Bay, Maine
So, sailors, foodies and nature-lovers alike — if 2019 has a milestone birthday, an anniversary, a girl's weekend, a book club event or knitting get together in your plans – hop aboard the Schooner Stephen Taber to elevate your event to the next level.

Their trip calendar runs from Memorial Day weekend to mid-October, all set with different themed trips. All you have to do is relax and soak in the local flavors – the captain and crew will take care of the rest.
Cell phone coverage will be spotty at best, so just tell those back at home you will be off the grid for a few days – so you can recharge and reconnect with family or friends…I cannot think of a better way to do so!
—Tracy Welsh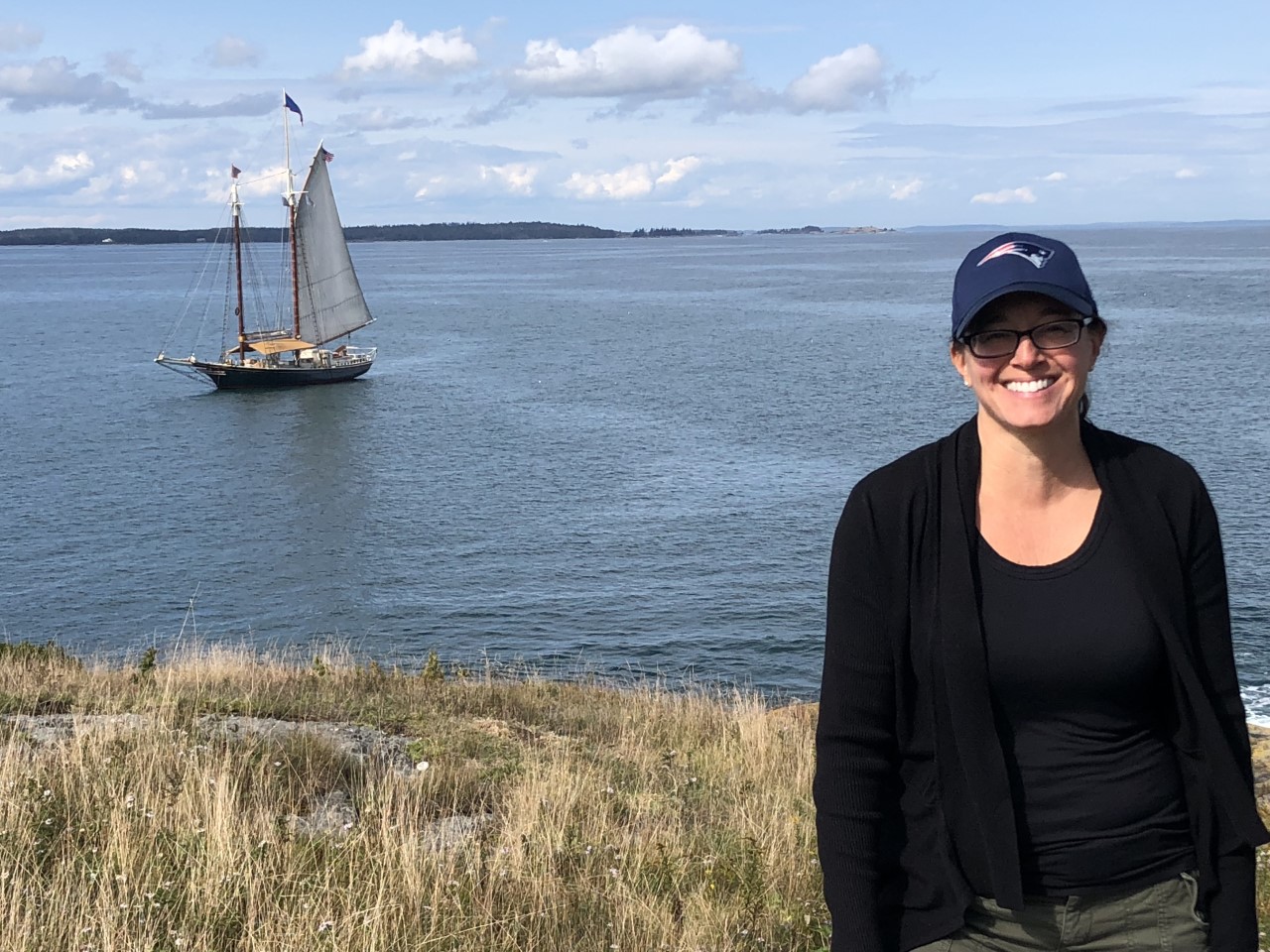 Tracy Welsh is an aspiring freelance travel writer, self-proclaimed foodie, and travel enthusiast. She will soon be launching a new blog/website to share experiences that inspire everyone to love their personal journey.
---
---