Profile Lin Schneider
Lin Schneider lives and works from her beach home in Peru. Read her story here in our Profile Lin Schneider

She and her husband, David, live a truly international ex-pat life, with children in Bolivia and California.   
In the following interview, Lin shares with Adventuress-Travel-Magazine how she and her husband landed there, what their life is like, and how they stay in touch with their family.   
Lin also gives some great advice for women thinking of traveling or retiring in a South American country.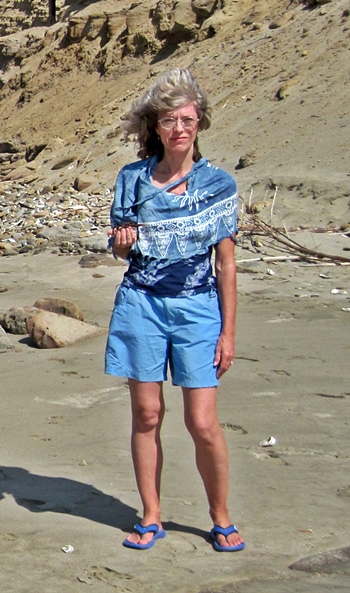 Carolyn:  Because you both work via the internet, you're free to live pretty much anywhere in the world. So how did you decide to settle in Peru?
Before settling here in Peru, we had lived off and on in Latin America – Ecuador, Bolivia, and Nicaragua – for much of the previous 15-year period doing volunteer work.
In-between, we lived in Washington State and North Carolina. We finally decided to settle down in Peru.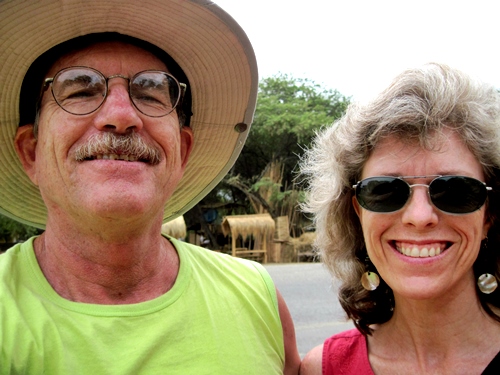 David was born in Peru (his parents were missionaries) and he has dual nationality, so the move was a logical one.
I'm currently on a tourist visa but we are in the midst of getting the legal papers in order so I can get a resident visa.
Carolyn:  Has it been hard to live in a different country from your kids? 
Yes, it has.
Our daughter, Kelsey, was 18 when we were planning on making the move from Bolivia to Nicaragua. At that time, she informed us that she wanted to stay in Bolivia with her many friends. She did stay there in the city of Cochabamba and has made her home Bolivia since 2005.
Growing up, Kelsey spent most of her time at home with me. She only went to school "officially" for 2 years and got a GED when she was 16. Then, she trained online for medical transcription and has worked pretty steadily over the years in that field.
Having her so close all those years and then "losing" her was tough.
Kelsey is the only offspring of our marriage, and I went through major empty nest syndrome when she broke the apron strings in 2005.
At that time, we moved to Nicaragua for a year and then to Washington State to help David's aging parents. We didn't see Kelsey in person again until her wedding in Bolivia when she was 23.
Profile Lin Schneider
Carolyn:  By what most common means and how often do you communicate with your family?
Our daughter is still in Bolivia. David's two sons are in California. We've used Facebook video, Skype, regular phone, and emails as a way of staying in touch. 
We're really looking forward to seeing Kelsey soon. Kelsey and our son-in-law Cesar will be coming here to Huanchaco soon for a 3-week visit.
Carolyn:  What is the most adventurous thing you've done while living in Peru?
Adventurous? Hmmm. We have had lots of adventures over the years in various countries, but here in Peru we have been trying to live a more quiet life (smile).
I would say that riding the buses on long trips is really an adventure, and we regularly take the buses up to Ecuador, 16 hours. By choice, we don't own a vehicle and always travel like the local people.
To me the most exciting thing we have done in Peru was during a trip we took while we were still living in Bolivia.
My mother had come down from Maryland with some friends and we all went on the trip of a lifetime to Cusco, Machu Picchu, and the Sacred Valley area.
I have to say, if anyone has the opportunity to do the trip, it's well worth it. We are not generally tour-kind-of people, but the tour guide we hired took us places we didn't even know about, gave us a lot of background, and definitely made the tour exciting and special.
Not only is Machu Picchu itself fabulous but also many other awesome Inca sites in that area. Words can't describe it.
We have lived now in Peru about 3 years. I have suffered, like many other women, chronic fatigue and fibromyalgia; and then, adding insult to injury, menopause, for many years. I have been pretty bad at times and pretty good at others, so this does affect our getting on the road more.
We just recently took a trip to Otuzco, which is about 1-1/2 hours from Trujillo, from sea level to nearly 9,000 feet in 48 miles and the changes in scenery and vegetation were fascinating.
It wasn't too bad on the way up, since the bus can't go too fast around the switchbacks. But coming back down is another matter. You know what I mean if you, too, turn green on really, really curvy roads.
We were told that the market in Otuzco on Sundays is one of the sights we should see, but we didn't get to the market this time. Hopefully, we'll do that somewhere down the road, since Otuzco is not that far away.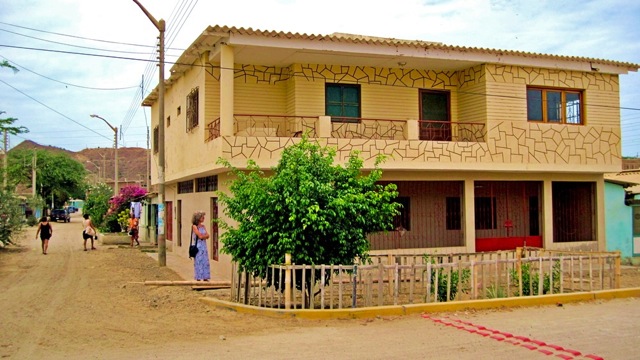 A highlight was that we got to stay in one of the really, really old original houses there in Otzuco; center courtyard with rooms opening onto it, really thick adobe walls, timbers in the ceiling, et cetera. David loved the doorway. He's only 5 feet 8 inches at the most and had to duck to get into the bedroom.
Hey, we even had a bed pan under the bed for convenience. Rickety stairs going down to the first floor bathroom in the middle of the night could be hazardous to your health. ;-)
The family that owns the house is friends of friends and gave us permission to stay, although they themselves were away. So we had this old landmark house all to ourselves!
Profile Lin Schneider

Carolyn:  Do you have an absolute "fave" place in Peru, a "must-see" for anyone contemplating a visit to Peru?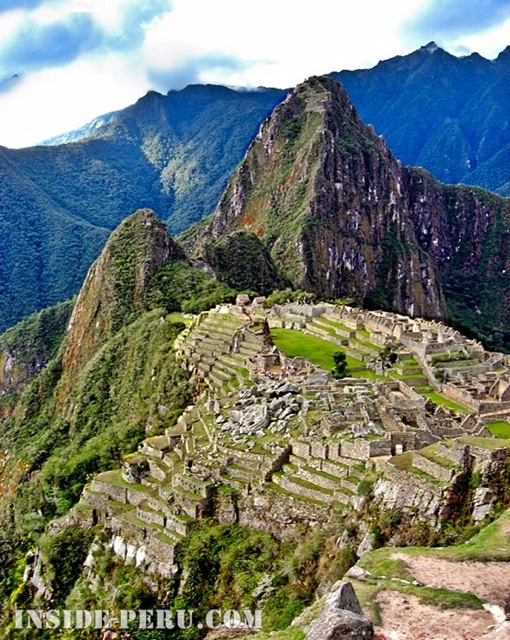 For a visit, I would have to say Cusco, Machu Picchu, and the various ruins scattered around the Sacred Valley. There is so much to see there.
I'm hoping we can make the trip to the "Machu Picchu of the North," a site named Kuelap, one of these days.
Also, (I am embarrassed to admit it), but although we've been in Huanchaco almost a year now, we haven't explored Chan Chan. Taking the bus to the mall from here, we go right through this amazing archaeological site that is huge.
Chan Chan was the largest city in the Western Hemisphere at the time of Columbus, literally miles of huge adobe walls, temples, and ruins. We definitely will be checking it out as soon as we get our video camera fixed.
There are just so many things to see in Peru. However, Machu Picchu would be first and, for us, a jungle trip, perhaps to Puerto Maldonado, would be definitely close to the top of the list.
We love the jungle, but we are beach people at heart and that has won out… at the moment.
Carolyn:  What advice would you have for a woman thinking of traveling or retiring in a South American country?
For traveling in Latin America:
Be street smart.
By that, I mean, don't get super chummy with just anybody, especially strangers of the male variety. Don't even smile at men you haven't been introduced to.
Men here have a tendency to think that if they see an "extranjera" (foreign woman) traveling alone, she's loose and looking for a man. 
We do know single girls here in South America who travel alone or are living here single. It's doable and the ones we know are happy and enjoy the country and people.
Just use your head, i.e., don't accept rides home from unknown guys in bars, don't hitchhike, know your surroundings, et cetera.
For thinking about living or retiring in Latin America:
Be sure and visit the country first unless you're already very familiar with third-world countries.
Take at least one month to visit and try to go to several quite different areas to get an idea of where you would be happiest.
Many prefer the mountain towns or the modern areas of the big cities. Others prefer the coast, small towns, or the rainforest.
Here are some useful questions to ask yourself:
Do you know any Spanish (or Portuguese if you're thinking about Brazil)?
At the very least, start learning some useful phrases now.
Are you really ready to live far away from family and friends? Or are you able to return to visit them regularly?
How will you cover healthcare?
A lot of people don't realize that their health insurance in the states (or other countries) will not cover any doctor/hospital visits you end up having outside of your country.
Case in point was the American couple recently who went to Mexico and her husband had a zipline accident. The hospital would not accept their insurance from the states and she had to pay out-of-pocket over $50,000. So be sure and do your homework before you leave to settle somewhere.
A lot of expats look into local health insurance plans of the country they plan on living in, and that's a good idea. Read the fine print before you sign. Not all insurance plans are created equally.
Profile Lin Schneider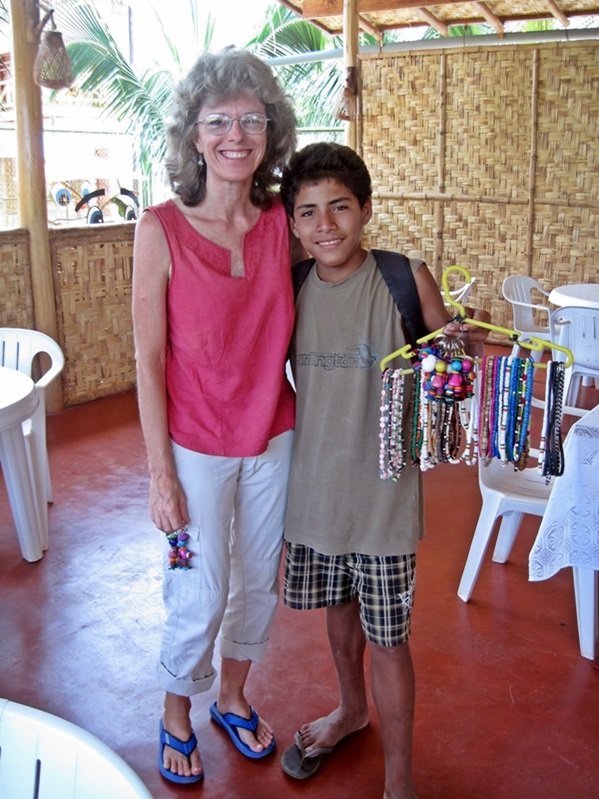 Do you make friends easily?
Not being near friends or family is probably the #1 reason that moving or retiring to another country ends in failure. We have a huge support system wherever we go, but not everybody is that fortunate.
And yes, we don't have a problem making friends. Get us going and we can talk the hind legs off a donkey. ;-) It is something to seriously consider beforehand, though.
Carolyn: Thanks, Lin, for sharing your life and adventures with us.


Lin and David Schneider own and operate two websites chock full of interesting, useful and fun information:
OdysseySeaGlass.com - Where you'll find a complete guide to collecting, sorting and working with sea and beach glass
Inside-Peru.com - Where you can learn all about the exciting variety in this top-ten world travel destination with pictures, stories and a travel forum.

all photos in this Profile courtesy of Lin & David Schneider
---
---