Ricks Cafe Casablanca
Remembering Kathy Kriger's vision for a real Ricks Cafe Casablanca

In January 1943 Warner Bros released a film aptly named Casablanca starring Humphrey Bogart and Ingrid Bergman. The film was a huge hit and won an Academy Award for Best Picture. In the film Humphrey Bogart plays an American expat living in Casablanca, Morocco, who owns and operates a bar named Rick's Café Américain.

Of course this was a fictional movie, a fictional bar and Rick's Café never existed, until 2003, when a retired U.S. Diplomat by the name of  Kathy Kriger, living in Casablanca, decided that Casablanca needed a real Rick's Café.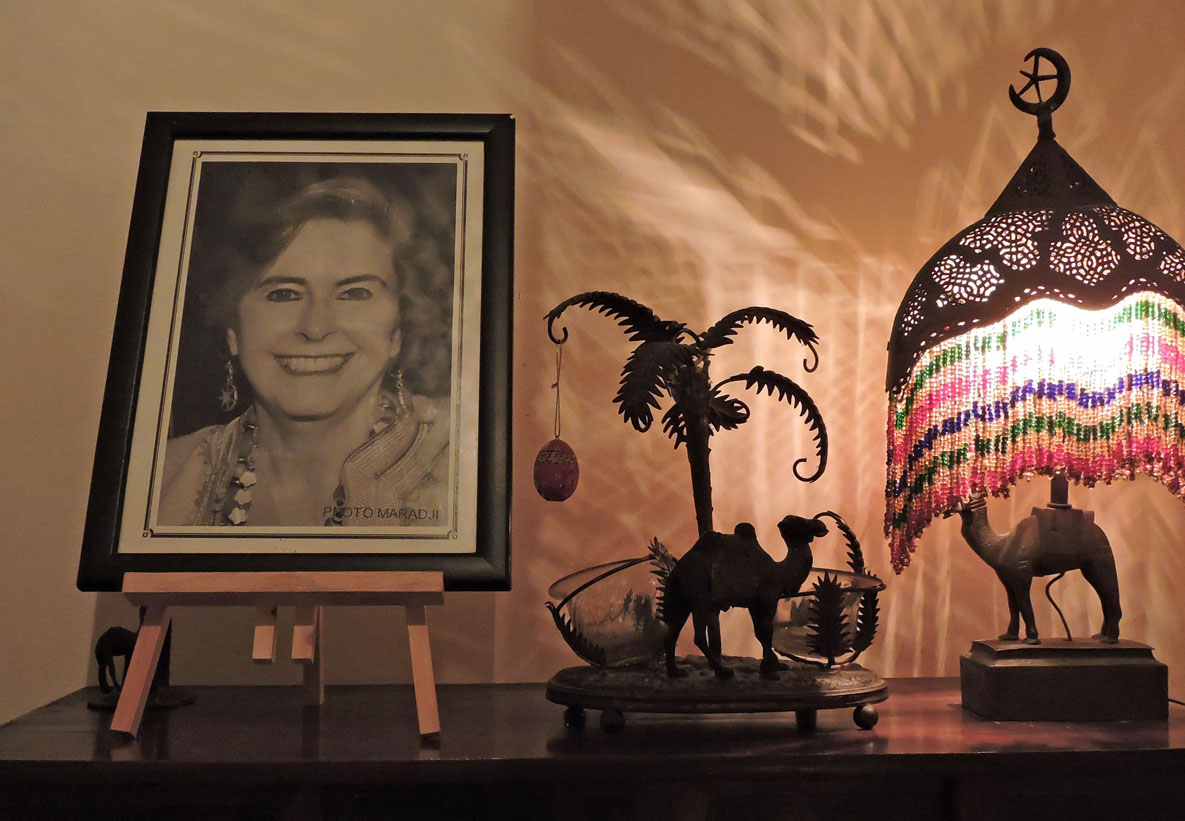 Ricks Cafe Casablanca
Kathy had a vision to create and open a bar that would play piano music, have a lively atmosphere, be filled with Moroccans and expats alike, serve authentic Moroccan cuisine mixed with tastes from Europe and America, serve alcohol and become a place for everyone to relax and enjoy an evening with live jazz and good food.

So after over one year of design and build construction, Rick's Café opened its doors in 2004. Kathy's vision had come to life.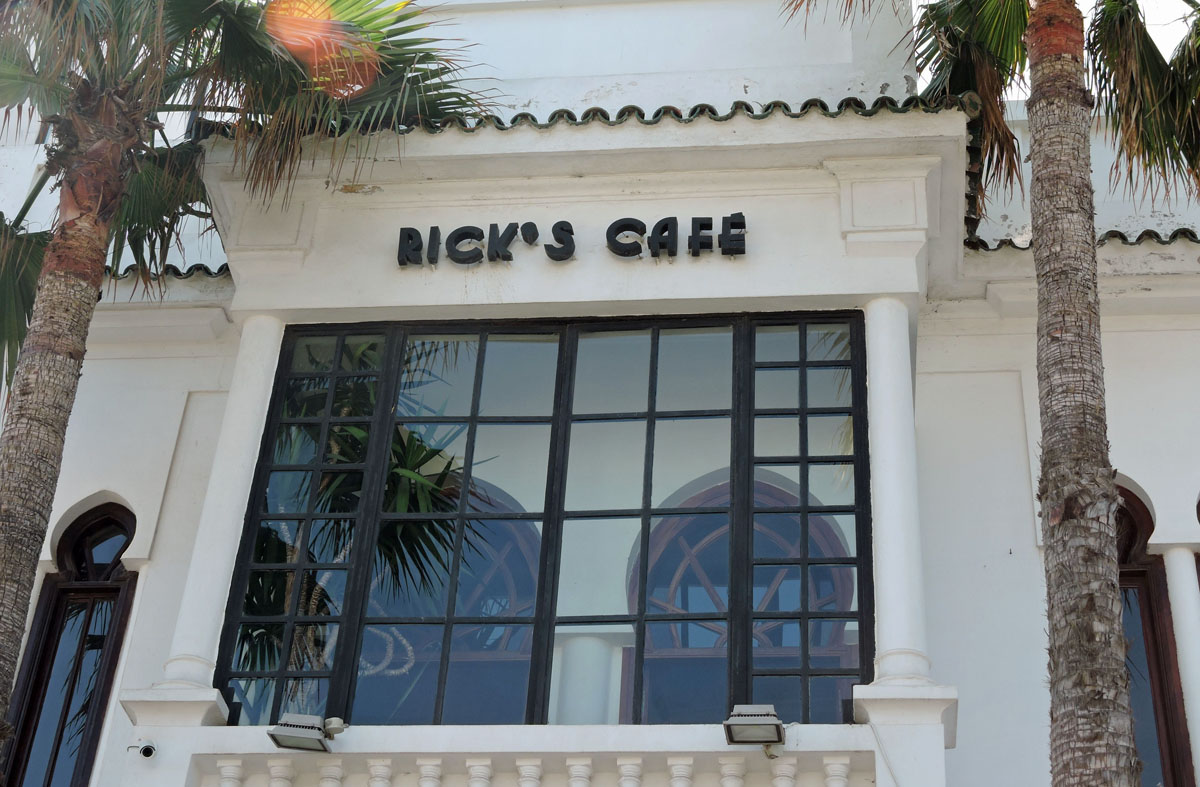 She poured her heart and soul into the restaurant and truly lived the life of Rick himself, meeting and greeting everyone who entered the restaurant.
She openly told the story of how she had this vision to open Rick's and become a social and economic player in the everyday life of not just Casablanca, but Morocco as well.

I first visited Rick's Café in 2006. I had the pleasure of being one of the patrons who was touched by Kathy Kriger's vision for Rick's when she told me the story of how she was a retired diplomat and felt that Casablanca needed a place like Rick's.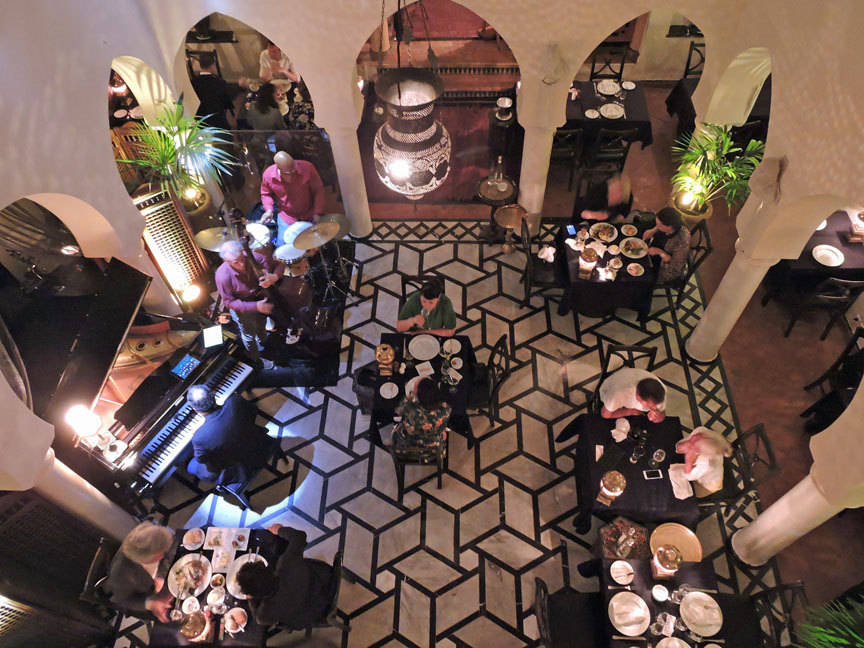 Kathy took a huge chance to proceed with this dream, because failing flat was the more likely result, rather than becoming a successful businesswoman in Morocco.
She was forthright, charming and also quite proud of what Rick's had become after only two years of operation.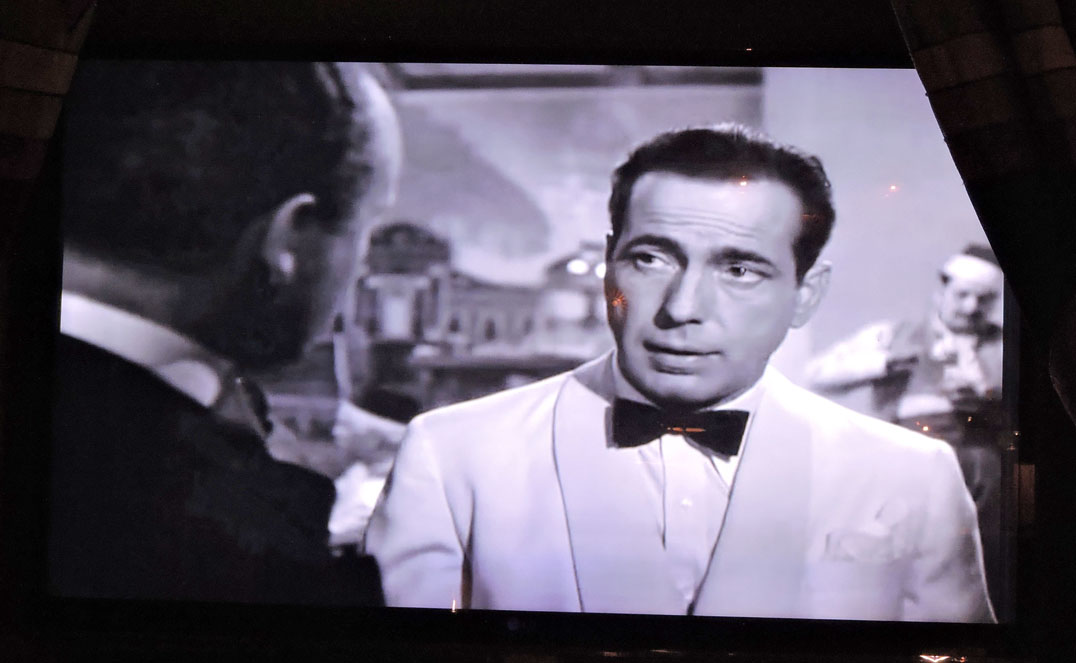 Ice-cool Humphrey Bogart
One note we took in while visiting in 2006 was that the movie Casablanca was playing on a big screen TV in a room on the second level. Kathy told us that she plays the movie over and over while the restaurant is open.

Ricks Cafe Casablanca
Early In 2019 I decided I wanted to go back and revisit Rick's, to talk to her again, interview her and see how the past thirteen years had fared. Sadly, I discovered that Kathy had passed away in July 2018 at the young age of 72.
She left Rick's to her son but he gives full control of the daily activities to the staff, specifically the Manager, Issam Chabaa, who has been with the restaurant since its inception in 2003.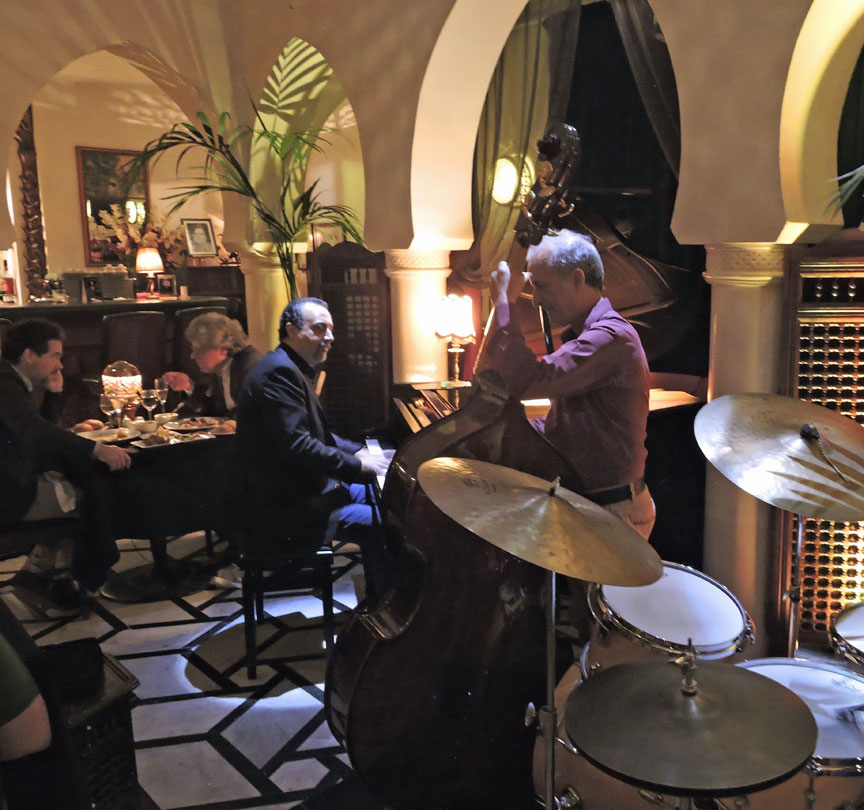 Issam Chabaa is also the piano player in the restaurant.
But it's not just Issam, there are 4 other staff members who have been keeping Kathy's vision alive since 2003; Moroccan men who love the place and feel her presence every single day. Talking with Issam and other staff members the sentiment was the same throughout, that losing Kathy was not just a loss for Rick's Café but also a loss for Casablanca and even Morocco.

You see Kathy became an economic fixture in Casablanca, she lobbied and she promoted free trade and equality for women. She was highly respected by members of the Casablanca commerce circles and was given a voice among them.
Kathy also chose to be buried in Casablanca, a city she lived in and loved for over twenty years. Kathy's legacy of Rick's Café lives on and if Issam has anything to say about it, it will live on for years to come.
June update - We are trying to find the location of Kathy's grave site in Casablanca for one of our readers.  If anyone knows, do please contact us here!
In the department of things that never get old, the saying "play it again Sam" for me has always held some significance of sadness and warmth.
In the movie, Rick just lost the love of his life for the second time, so he asks Sam who is sitting at his piano to play her favorite song, yet again.
From this point forward, instead of saying, "Play It again Sam", I think I'll say, "Play it again, Issam." That will forever make me fondly remember Kathy Kriger and her legacy in the real Casablanca and the very real Rick's Café. 
And you know what else? The movie is still playing in the room on the second level.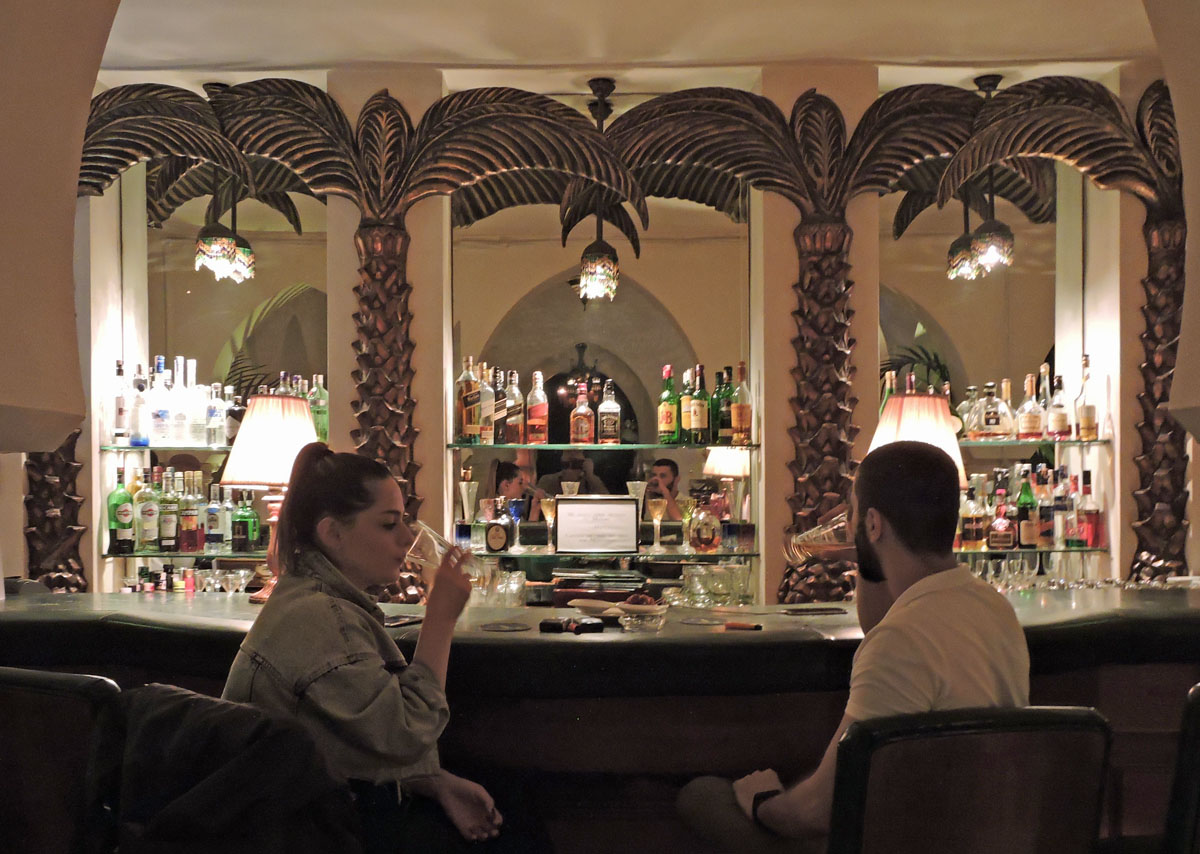 Rick's Cafe is located in the old Medina area of Casablanca.
 If you visit Rick's, be sure to try the lamb shank tagine which is to die for, or a time-tested Moroccan favorite, grilled chicken over rice.
Like most Moroccan dishes, these are both sweet and savory with stewed prunes and apricots adorning the plate of lamb, chicken and rice.
Casablanca is the largest city in Morocco and is the main port city for all import and export goods. It bustles with commerce and people, always lit, always active. Casablanca is in the midst of installing a new subway system so right now walking in some areas can be hazardous to say the least.
Ricks Cafe Casablanca
Driving in and around the city is also a bit trying so unless you're comfortable driving in chaotic traffic conditions. It's well advised to use taxis or hire a driver to get around. 
I personally find Casablanca and Morocco in general to be a very safe place to visit. The people are always friendly, the food is always tasty and the adventure is amazing.
The people of Morocco generally speak Arabic and French but you'll find many more who speak a multitude of languages including English. 
Moroccans are eager to help and answer any question one would have, freely giving directions and talking about places of interest.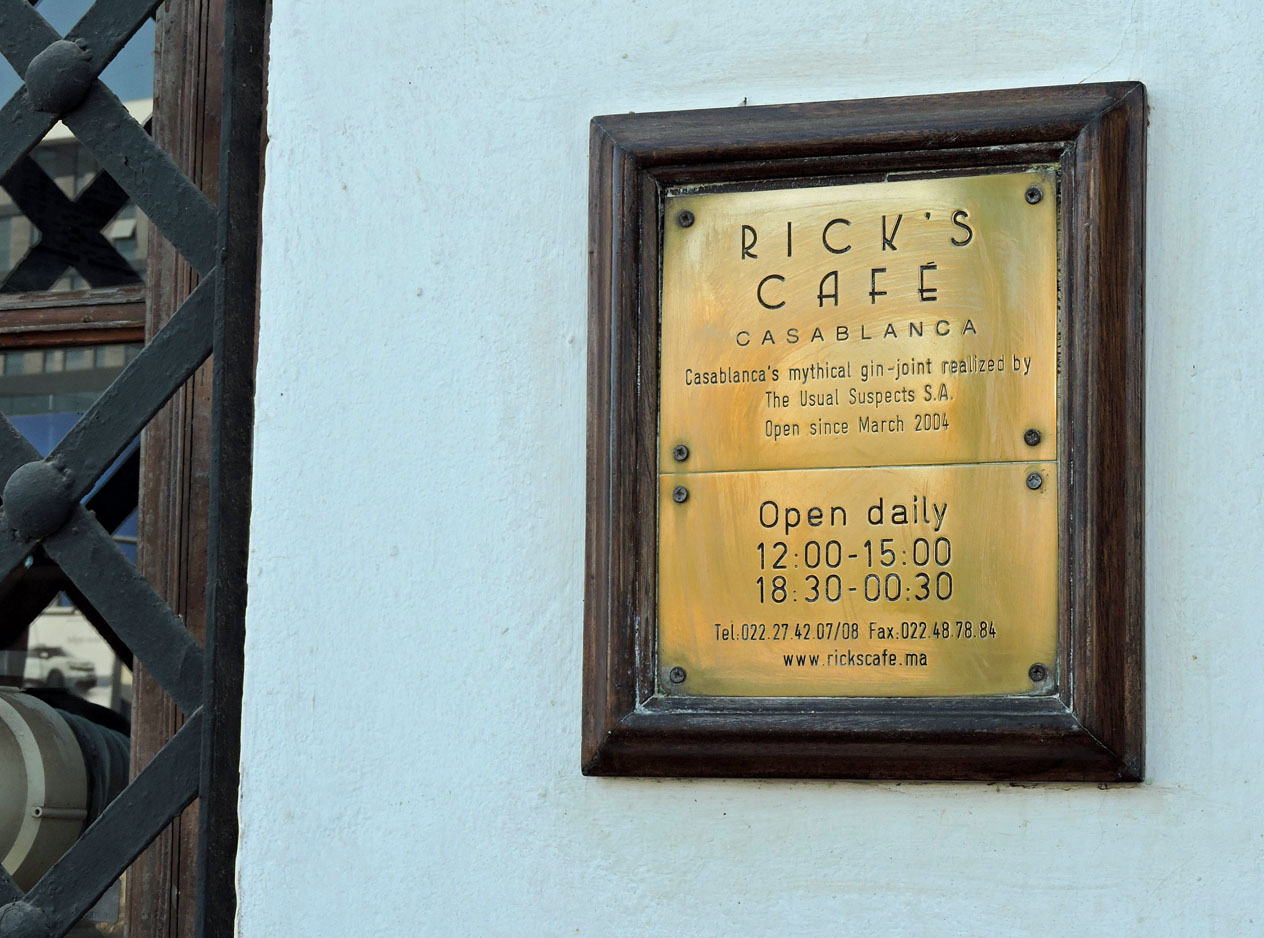 Nightlife in Casablanca exists but it is not for the faint of heart. Like many neighboring European cities - well, as close as any European and North African city can get - one wouldn't even go to the club until midnight and one would expect to dance until 4 a.m.!
Morocco has many great cities to visit; it's old and it's aged and it's beautiful.
"Round up the usual suspects".

—story & photos by Bob Chenevey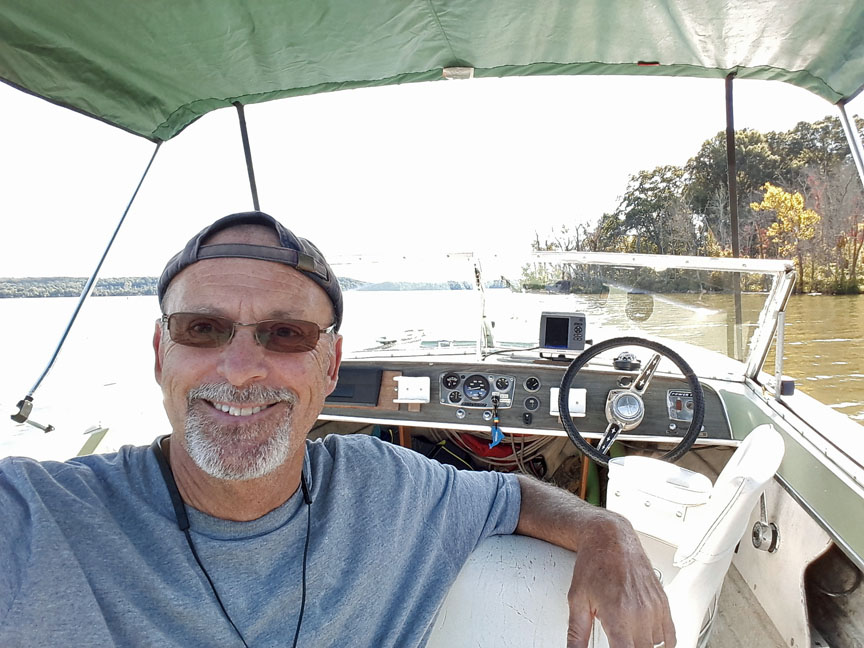 Bob Chenevey
Bob Chenevey is a retired State Department employee who has lived in Spain, Cyprus, Algeria, Morocco and Uganda. Years ago he met the lady who opened Rick's Cafe in Casablanca, and he has taken an immersion French course in Rabat.

---
---