Road Sports
women over 50?

Jessica looks at road sports women over 50 - motorbikes!

Women are no longer shy about entering areas which either used to be considered men's fields or dominated by men. An active trend has been seen in the field of road sports in which women participate actively regardless of their age.

Mardelle Peck, motorcycle racing at age 67.
Meet Mardelle Peck

An inspiration now in her early seventies, Mardelle Peck has proved her mettle by clinching third place in the expert category of motorcycle racing in the Afemme Championship. Her bike of choice is the BMW GS 1200 motorcycle.

"Doesn't matter what your age is," she says. "It's never too late to make a change in your life."

Meet Mardelle Peck here in this short VIDEO and ask yourself her question, "Why not now?" and read more about her HERE. She has shown the world that it's never too late to follow your heart.

The days are gone when the life of women revolved around the duties of taking care of the family and raising children. The rotation of the wheel is reversed and this change has been brought by women themselves.
A woman is not afraid to go shoulder to shoulder with a man, whether going solo on a trip around the world or backpacking and hiking in the mountains or learning a new road sport like motorcycle racing.
Road Sports
Women over 50?
A major shift is seen especially among women over fifty, where social taboos and notions of age and fitness can still prevail.Women in this blooming age are engaging in road sports either as an amateur hobby or professionally. Whether riding motorcycles or bicycles or racing cars, women are turning heads on the road.
You can find female mountain motorcycle riders or cyclists in all types of terrain. In fact, countries like Australia and Britain have become hotbeds for the sale of motorcycles among the elder generation.
Women can defy all the ill-conceived misconceptions of a woman's "old age" and stamina. She reaches a stage in her life when she has fulfilled most of her duties or responsibilities towards home and/or career. Why not utilize this precious time in fulfilling long-lost wishes?
According to the Motor Sports Association in the United Kingdom, "Motor sport is one of the few sporting activities in which men and women can compete alongside each other on an equal footing."
As Mardelle Peck asks, Why not now? 

Road Sports
Women over 50?
Road Sports Dare To Be Different

Dare to be Different is a campaign founded by Susie Wolff and the MSA to inspire, connect and celebrate women who work in every aspect of motor sport.
Their mission is"to inspire the next generation to smash preconceptions and prejudices, raising the curtain on a new era in which daring to do something different is praised and encouraged."
Living legends like Gloria Tramontin-Struck have shown the world that there is no expiration date to fulfill your wishes.
Known as "Matriarch of women riders" Gloria Tramontin-Struck, of Clifton, New Jersey, is still going on her Harley at 91. She estimates she has ridden nearly 700,000 miles and has proven she is no novice.
Gloria has been a member of the American Motorcyclist Association (AMA) since 1946 and was in 2017 was inducted into the AMA Hall of Fame for her lifelong commitment to motorcycling as a role model, mentor and ambassador.
The summer she celebrated her 89th birthday, she rode her blue Harley-Davidson 1,700 from Clifton, New Jersey to Sturgis, South Dakota.
Gloria encourages you to live your dream."I think I inspire," she says. "So many people tell me that… I am enthused about my life and how I live it."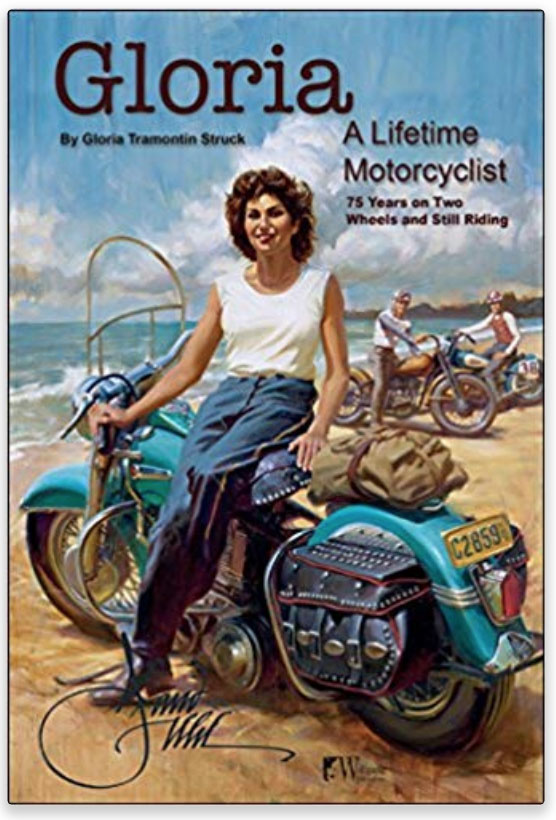 Gloria became a first-time author at 92, when Car Tech published her life story, Gloria - A Lifetime Motorcyclist: 75 Years on Two Wheels and Still Riding
This lady biker has no intentions to pull brakes on her adventurous journey anytime soon.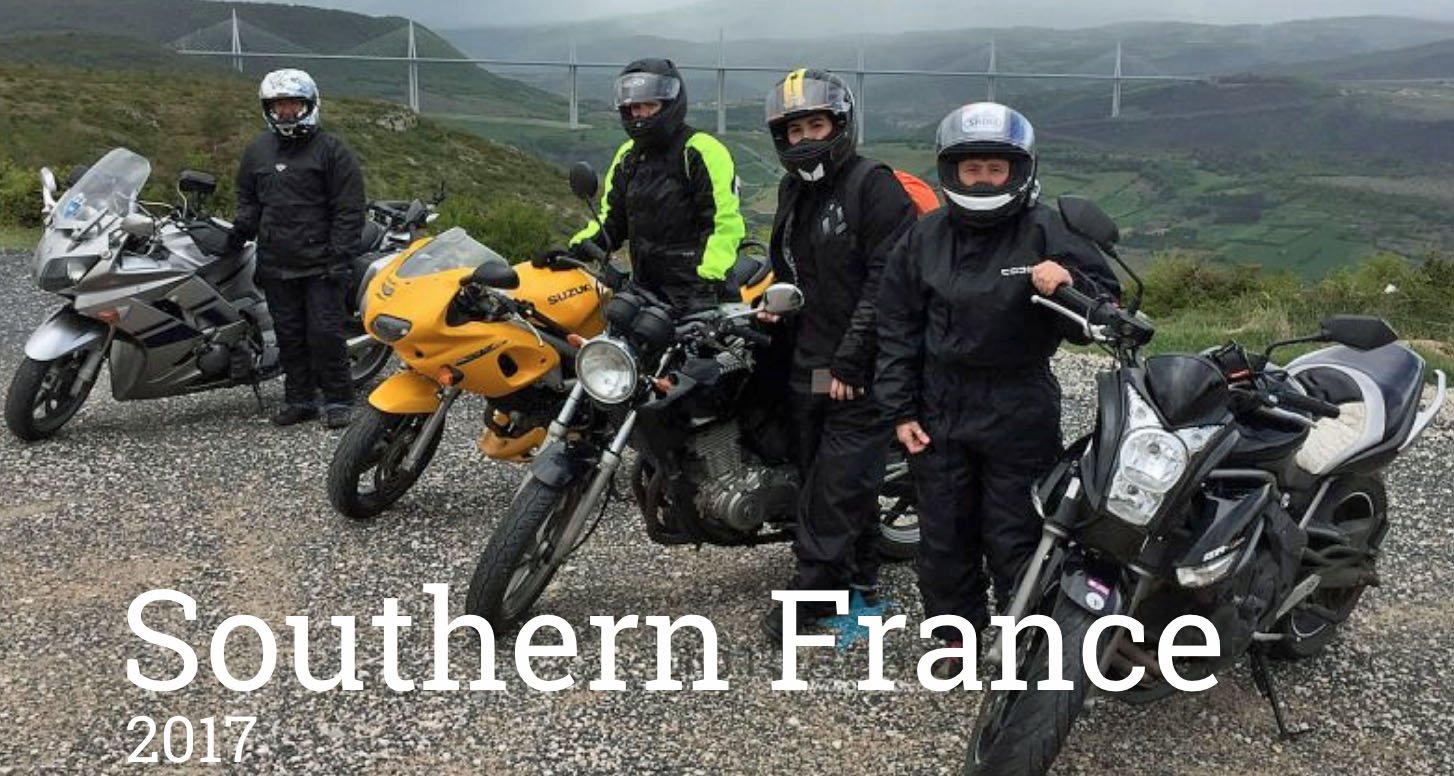 International Female Ride Day

Motorcyclist Vicki Gray, owner and founder of the magazine, MOTORESS®, is an avid globally-known motorcycling advocate. 
In May, 2007, she founded International Female Ride Day© (IFRD) in Canada. In its first year, the "JUST RIDE!©"  idea caught fire and went global. 
The event, now held annually on the first Saturday in May, is on every woman rider's agenda. 
Discover more about International Female Ride Day HERE.

Female motorcycle clubs

From India's Bikerni female motorcycle group in India to Australia's Women's International Motorcycle Association to Florida's Chicks in the Wind, female motorcycle clubs and groups are uniting female motorcycle bikers of all ages around the world.
These are not "female biker gangs." They are recognized 501(c)3 charitable organizations.
They are recognized by their communities as professional and family-friendly, and known for their toughness, dedication to their rides, and charities.
Whether it is a local event or a professional championship, you can see courageous and adventurous women turning the crowd's heads in awe.
What keeps them going is their passion. Whether dirt track motorcycle racing or on sand, these women are not reluctant to show their skills. To encourage them,many events are sponsored by businesses such as the Harley-Davidson Motor Company and Modern Moto magazine.
The advantages over the age of 50 of doing road sports are that it boosts mental strength, makes the brain more active, and helps in maintaining a fit and healthy lifestyle.
There is a famous saying that getting older makes you wiser, not weak.
Jessica Ho, with Carolyn V. Hamilton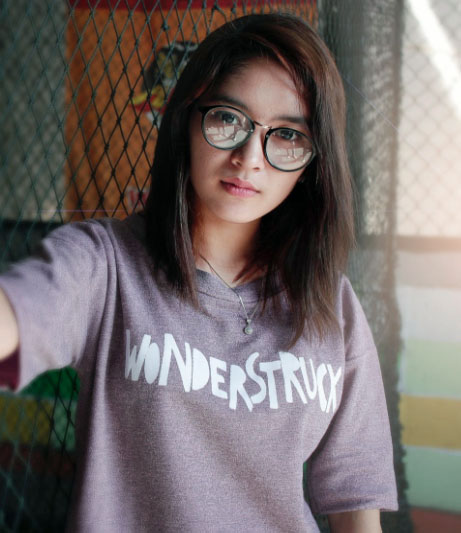 Jessica Ho
Jessica Ho is a traveler by heart. Along with frequently penning her thoughts related to travel experiences, she is an avid biker and an expert reviewer of motorcycle adventure products. She makes her home in Delacombe Victoria, Australia. Learn more at her website www.frontrunneroutfitters.com
---
---