Salish Lodge & Spa 
Snoqualmie Fall's Salish Lodge and Spa in the Cascade Mountains

I've arrived just in time at the Salish Lodge & Spa for afternoon tea in the Asahel Curtis Library. With its oak plank floor, overstuffed leather loveseats, games tables and heap of logs next to the stone hearth, the library is a peaceful respite.
Sipping tea and nibbling raspberry oat bars, I peruse the collection of books available for guests to enjoy while visiting: books of Ansel Adams photography, a complete set of leather-bound Encyclopedia Brittanica - including Brittanica's Great Books - and others with titles like Seattle, Then & Now and Washington, A Great Place to Live.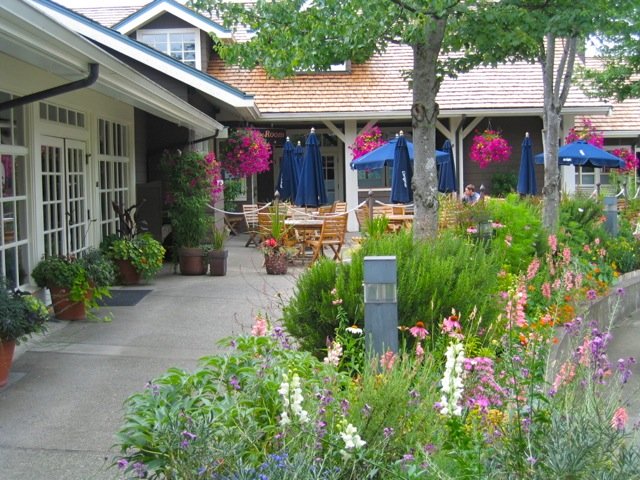 Trailing verbena, petunias and coneflowers adorn the entrance.
The library is named after prominent Seattle photographer, Asahel Curtis. The noted outdoorsman and regional activist came with his family from Minnesota to Washington Territory in 1888.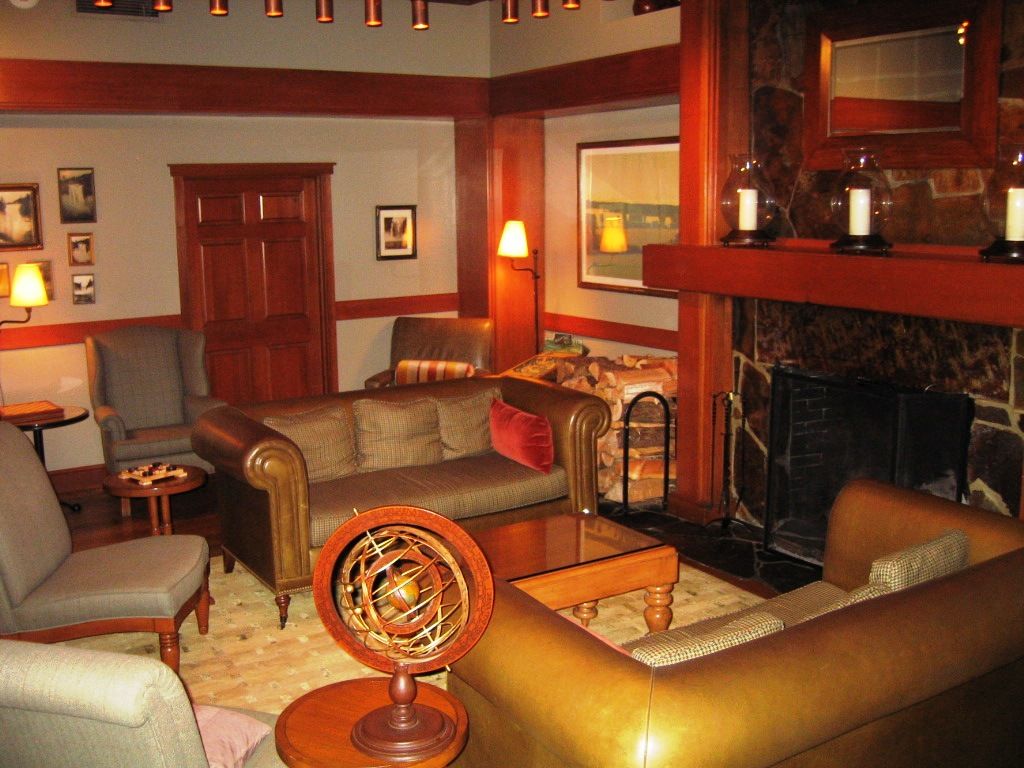 The lodge's Asahel Curtis Library.
Curtis documented the Klondike Gold Rush, opened a Seattle studio, and became known for his images of Washington landscapes and particularly Mt. Rainier. The Washington State Historical Society holds 60,000 of his images in trust.
Salish Lodge & Spa, an employee tells me, is "a sacred place." "Snoqualmie" is the English pronunciation of Sdob-Kuahl-Bu, from the ancient Puget Sound Salish Indian word snoqualm meaning "moon." Early settlers here called the Indians the "moon people."
Salish Lodge - 91 guest rooms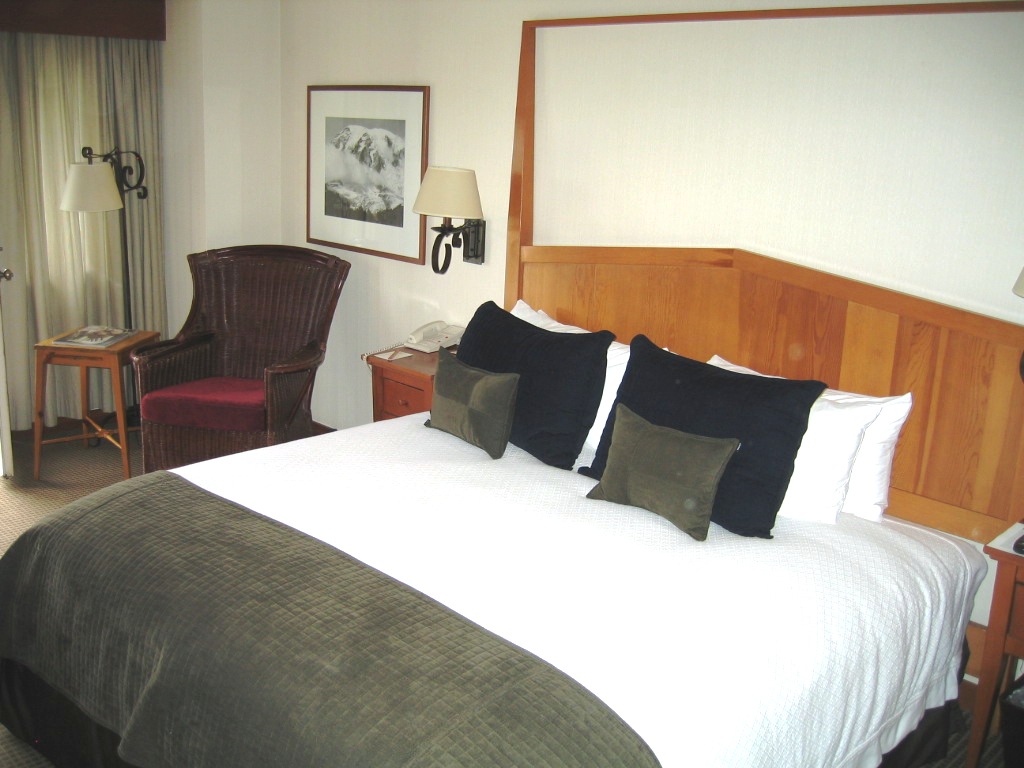 Romantic bedroom
In this romantic mountain retreat, each guest room has a bedside wood-burning fireplace, two-person whirlpool bubble jet tub, balcony or window seat, and feather beds with goose-down comforters.
The controls for the bubble jets have three levels and six pulse patterns: one controls lights, which fade from turquoise to purple to rose to orange to gold to green to turquoise—what fun!
I think of my room's décor as "contemporary cabin", with colors of olive, burgundy, and smoky golds.
I love the wicker rocker reminiscent of the 1920s with a magazine holder built into the arm. Next to a notepad by the bed lays a carpenter's pencil.
In the bathroom, shampoo, conditioner, and lotions nest among black river pebbles on a round black ceramic plate. Hidden in the closet are iron, ironing board, room safe and spa slippers.
A Pillow Menu offers eight different sleeping options, including a therapeutic Buckwheat Pillow, a Swedish Foam Pillow, a Pregnancy Pillow, and a Kenko Dream Pillow that incorporates magnets.
Later I discover that not only did they make up the room, but they lined up my shoes. It's the little things that count!
Salish Lodge
Heated River
Rock Massage
After tea and settling in, I'm scheduled for Salish Spa's signature Heated River Rock Massage - I've been looking forward to this all day.
This Northwest-inspired Asian retreat is a quiet area where signage requests, "no voices above a whisper, please."
I'm welcomed into a room in Japanese garden design to have tea and wait for my practitioner, Bryce. Listening to melodic background music doesn't overwhelm the peace of this sensory space. While waiting I peruse a book, The Art of the Japanese Postcard.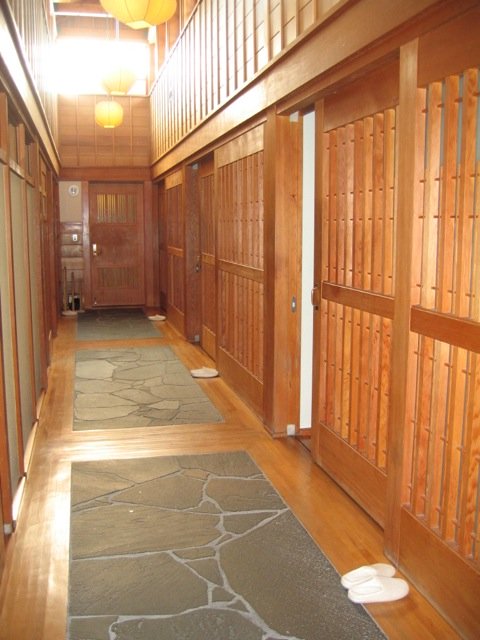 Salish Lodge Spa
Salish Lodge
Bryce leads me into a hallway of natural inlaid slate and madrona wood floors with a peaked, aromatic cedar ceiling. White paper lanterns highlight sunlight filtering through high windows.
In this Zen-like simplicity, she slides open handcrafted shoji doors to our private massage room. In the warm air I smell aromatic herbs.
"The stones heat the body, calming, grounding, warming up muscles," Bryce says. "We all find our own stones, seeing which ones speak to us."
The stones she's moving in her hands make a pleasant clicking sound.
"Guests ask, can they have a stone? and I don't mind sharing. They're not really my stones."
I feel grounded to the earth plane, and my dry too-many-years-in-the-desert skin goes orgasmic, every cell crying, "Oh, yeah."
"Sometimes stones are used for chakra work, placed on the chakras of the body," Bryce explains. "If a guest is at all skeptical," she adds, "it takes about ten seconds for them to decide they love it!"
I turn over onto my stomach, and Bryce places a warm rock in the palm of each hand and in the center of my back. She inserts warm "toe stones" between each toe, places a larger one on each arch and wraps my feet in a warm towel.
Aaaaah. These are minutes of pure bliss while I inhale the scent of fragrant oils, am vaguely aware of string music in the background, feel total peace; this is a headspace far away from reality.
Salish Lodge
Among skin care treatments and other massages, Bryce tells me the Heated River Rock Massage is the most requested treatment.
"At the minimum we're helping to reduce road rage," she says, smiling. "Maybe contribute to world peace."
The Japanese-influenced Spa offers a Eucalyptus Steam Room, Dry Sauna, two tiled, heated Therapy Soaking Pools (one with a waterfall) and a Hydrotherapy Rain Room.
In addition to quiet Massage Rooms such as mine, there's a premier Couples Fireside Treatment Room.
I can soak and steam afterwards as long as I want. Swimsuits are provided since the pools are in a co-ed area.
Oils and scents may be purchased in the Tea Room, as well as 50 inspirational cards by Joseph Campbell called "Follow Your Bliss."
Salish Lodge
A Historic Place
From 1916 to 1932 the original lodge was an eight-room bed and breakfast, a wayside inn for people traveling by car to and from Seattle over treacherous Snoqualmie Pass. A new owner operated it as a restaurant only until 1987—I often came with my family in the 1970s for the famous farm breakfast.
Many structural changes transformed the old lodge into the Salish Lodge, which opened in 1988, and the Spa opened in 1996.
Snoqualmie Falls is the second most popular tourist attraction in Washington State; over 1.5 million visitors a year arrive to view the Falls.
Water from the Snoqualmie River reaches a basalt rock shelf and plunges 268 feet into a 65-foot deep pool.
In the 1800s, settlers turned the valley into a thriving hop-growing region. With the mining of coal and iron ore came railroad tracks, and Snoqualmie Falls became a tourist destination.
Two power plants below the falls constructed in the early 1900s harnessed water power and the lumber industry thrived. Plant One is recognized by both the National Register of Historic Places & American Society of Civil Engineers as an historic landmark.
The Salish Lodge & Spa perches on a craggy promontory one hundred feet above the Falls; on the walls old black and white photos show Snoqualmie Falls, taken from every spectacular angle.
The Weyerhaeuser Timber Company built the old mill town of Snoqualmie Falls where silver screen legend Ella Raines was born and the 1990's TV mystery series "Twin Peaks" was filmed.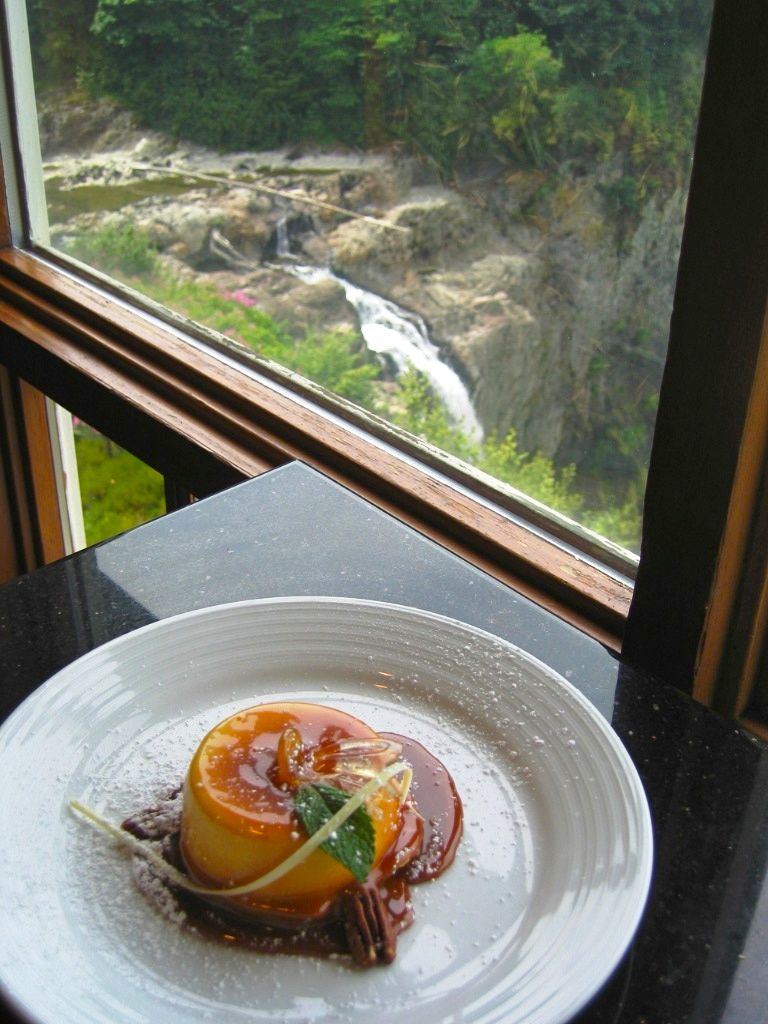 My flan dessert
Watching swallows dip and dive above the falls gives new meaning to "bird's-eye view." People at the foot of the falls picnicking and exploring are tiny spots of color. But I'm more interested in my flan dessert.

The Salish Lodge & Spa consistently wins awards from Condé Nast Traveler, Travel + Leisure, the Washington Wine Commission, Mobile Travel Guide, Sunset Magazine and the AAA Four Diamond Award.
story & photos by Carolyn V. Hamilton
---
---