San Francisco Bay Area
Find out what Editor Mogsy discovered on a trip to the San Francisco Bay area!

Our journey to San Francisco from Spain started with a flight from Madrid to Los Angeles International airport, with a detour via Monterey on the way, for the Big Sur International marathon.

Iberia Jet
We flew with Iberia, and with the flight barely half full, discovered that all we had to do to get another bottle of wine was wander back to the rear galley and ask the cabin steward. He was busy chatting to other passengers, and handing out drinks to anyone who asked!
L.A. International Airport
The Airport Sniffer Dog
Arriving in California at LAX, we made our way through immigration to the bag pick-up. I decided to pay a quick visit to the ladies comfort station, as our baggage usually appears last.

Imagine my surprise when I came out to the luggage hall to see a small crowd gathered around my partner, who was in earnest discussion with a man in uniform with a dog.
As I walked over, I saw that he had both our suitcases off the luggage belt, but the dog - (a beautiful Beagle, by the way) - was paying particular attention to our large green bag. The guy in uniform walked the dog away for 10 feet, then walked back past the green bag. There was no hesitation - the Beagle sniffed the bag again and firmly sat down.

San Francisco Bay Area
Had somebody planted some drugs in our bag? My imagination ran wild. I watched my partner open the case, and lift out the first few layers of clothes. Then he got to a pack of aluminum foil. The Beagle became very interested - which was odd, because I knew that the foil contained our home-made energy bars for the Marathon.

The crowd all craned forwards to see what was in the foil packet. Slowly, as the foil was unwrapped, it became obvious that it was full of a gooey yellow substance - my partner had taken the wrong packet out of our freezer when we left home; he had picked up the frozen bananas instead of the energy bars!

After disposing of the rotting banana at the Customs desk, we continued our journey to the San Francisco Bay area via Monterey.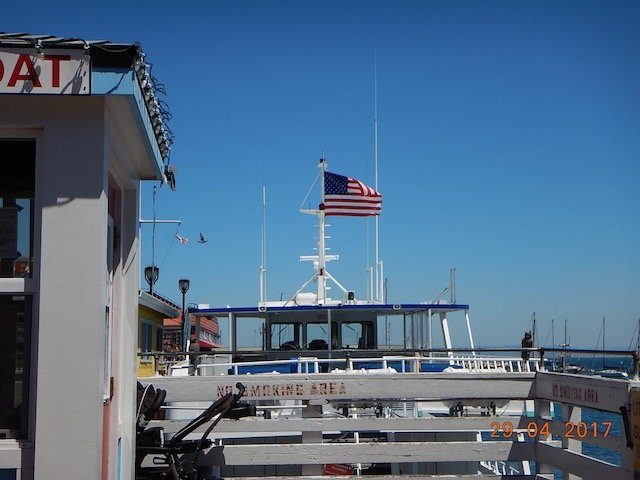 Monterey Pier
Monterey
We were entered in the Big Sur International marathon, which takes in Hurricane Point and the Bixby Bridge, among other great coast sights. When we got to our small motel in Monterey, we walked down into town to the pier and Cannery Row. In the afternoon sun, we had a glass of wine and chatted about the marathon the next day.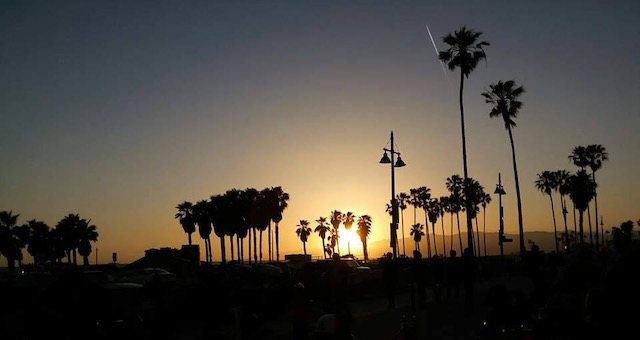 Sunset
We had to be up early in the morning, at 3.30am to have our pre-race breakfast, and to catch the shuttle bus along the Pacific Highway to the start at Big Sur. It was still sunrise at the start area. All our fellow runners were super-friendly, and we were taking pre-race photos on each others smart phones.

The marathon itself is the most spectacular we have done, running alongside the Pacific Ocean. Just before the 2 mile climb up to Hurricane Point, there was a drumming band, which whipped up our determination!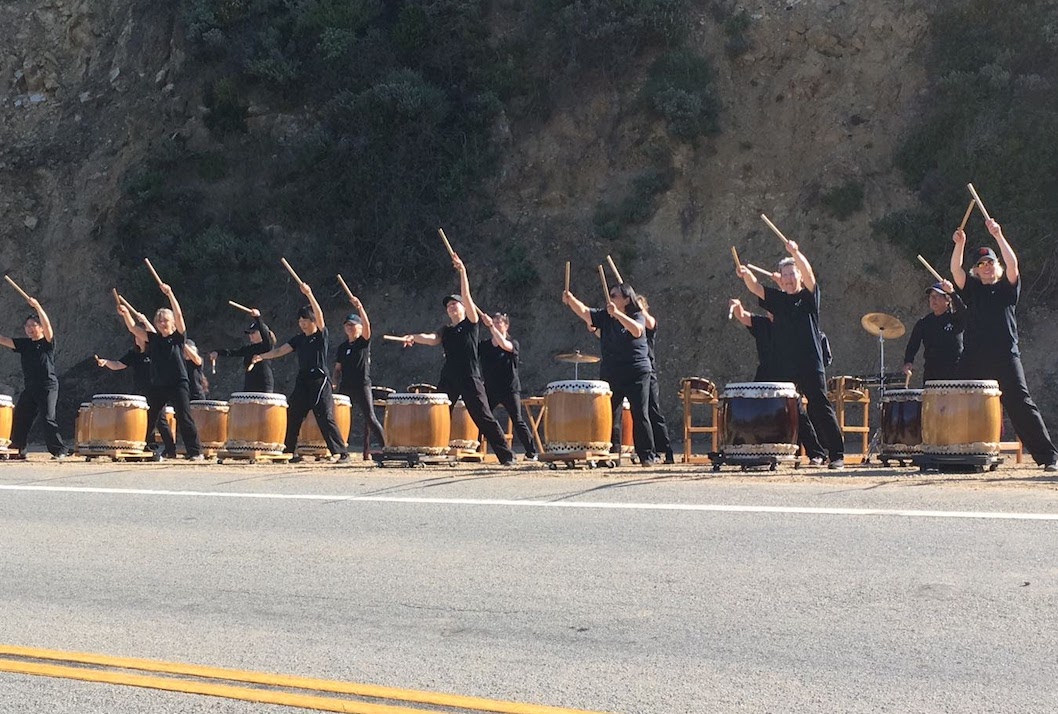 Drummers before the climb to Hurricane Point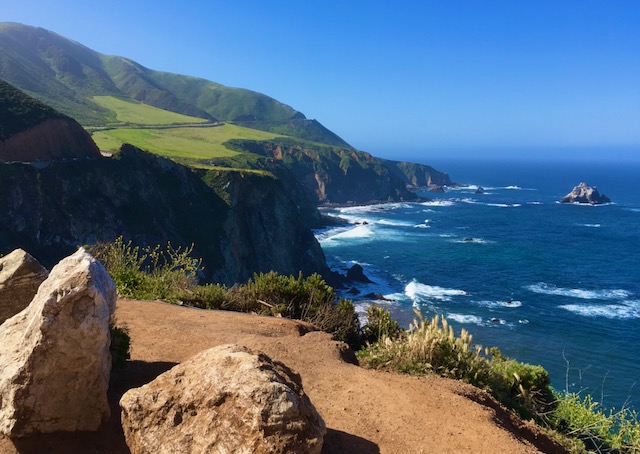 The Pacific coast south of Bixby
After battling the very strong wind around Hurricane Point, we descended slowly along a winding coast road towards the Bixby Bridge. We could hear the sound of 'Annie's Song' by John Denver being played on a concert grand piano from over a mile away - there was a concert pianist on the bridge! Apparently he does it every year, dressed in full concert suit. I loved it.

Bixby Bridge from a mile away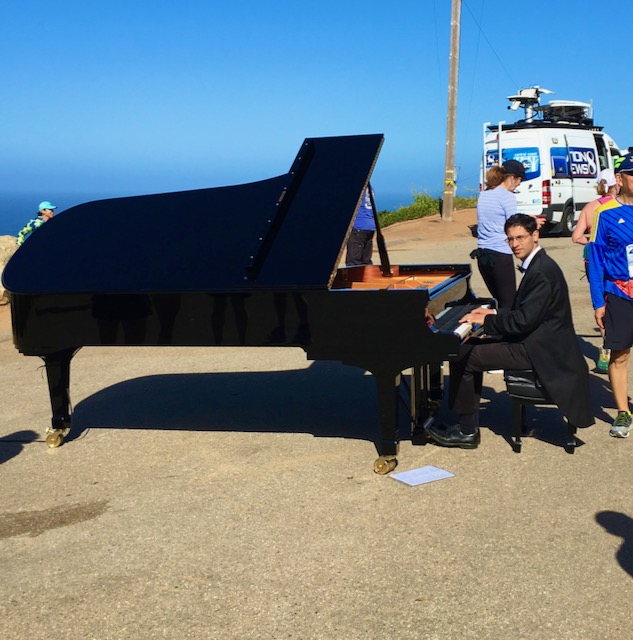 The Bixby Bridge Pianist
Editor Mogsy with the pianist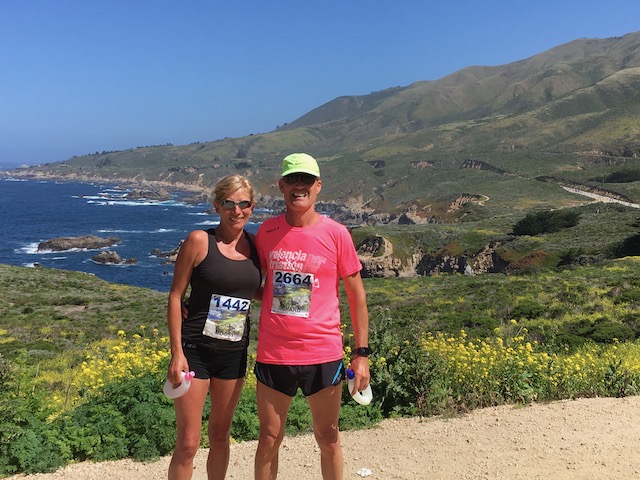 Editor Mogsy with fiancé Richard
We completed the marathon, ending in Carmel, and got the shuttle bus the short ride back to Monterey. After a shower and a few beers, we headed back to Monterey Pier, and had a late lunch to re-fuel our energy! I had a fish chowder soup served in a big bread loaf with the top cut off. No idea why the soup didn't leak out of the bread!

With our Marathon Medals
San Francisco Bay Area
Flight to San Francisco
Next day, we caught a flight from San Juan to San Francisco, and got a taxi to our AirBnB accommodation in the south of the Bay Area. We had a list of lesser-known sights to visit, as well as a few of the main attractions! These included;

The Antique Vibrator Museum
The Tonga Room and Hurricane Bar

Lombard street
A Cable Car Ride
Greens Restaurant
Pier 39  - Seals, a Hard Rock Cafe, a Carousel,  a sunset cruise under the Golden Gate Bridge and Alcatraz Island.

Coit tower on Telegraph Hill
Running over the Golden Gate Bridge

Visiting Marshall Beach,  under the bridge - and collecting driftwood!
Antique Vibrator Museum
Good Vibrations
We found the Antique Vibrator Museum at 1020 Polk Street, Nob Hill. To my fiancé's embarrassment it was located at the rear of the 'Good Vibrations' sex shop. We had to walk through the full length of the sex shop to get to the 'museum. It was basically a large room at the back with various exhibits and items of vintage vibrators. It was actually very interesting, and gave us a laugh as well!
Antique Vibrator Museum
Tonga Room and Hurricane Bar
The Tonga Room and Hurricane bar is a hidden gem. It's not easy to find. It's actually located in the basement the Fairmont Hotel, at 950 Mason Street, and you have to go through the hotel hallways to get there. We were a bit confused as there was a dog show going on in the hotel foyer when we arrived!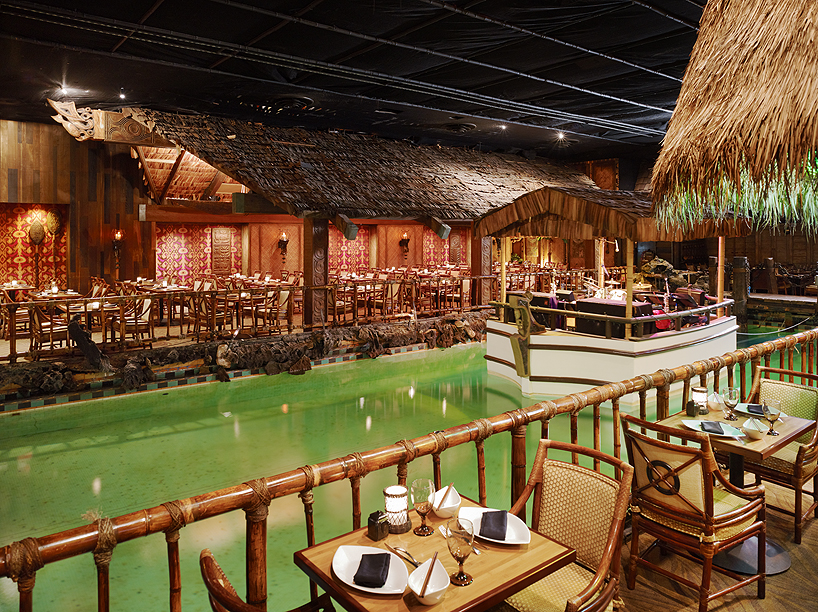 Tonga Room and Hurricane Bar
The Tonga Room and Hurricane Bar is a very cool 'tiki' bar and restaurant, with tables arranged in a huge room around a central pool. It's quite dimly lit, with tropical palms all around, so it feels like sitting in the evening at sunset on a Polynesian island.
Every 20 minutes or so there is a rumble of thunder, introducing a short downpour of 'rain' from a clever system above the pool. With storm sound effects and lighting, it's just like being in a tropical rain shower, but you don't get wet. With a Mai Tai in my hand I was in 7th Heaven!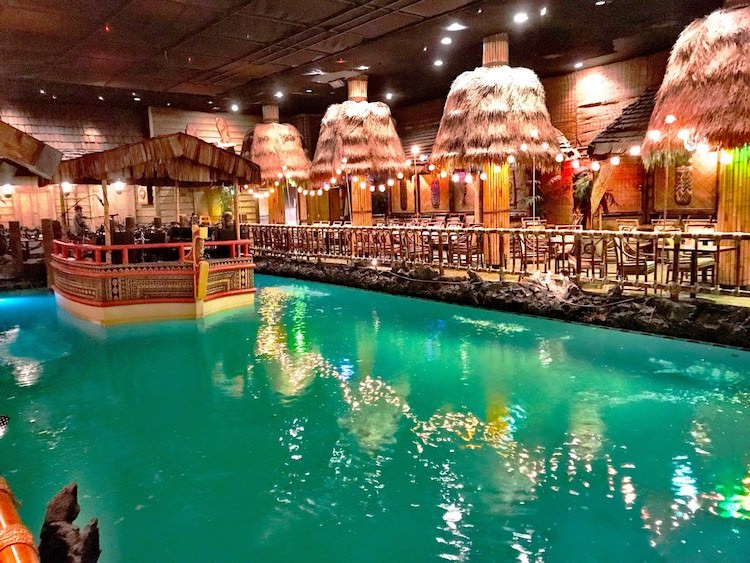 Tonga Room and Hurricane Bar
San Francisco Bay Area

Lombard Street
This must be one of the most-photographed streets in the world! Originally a very steep hill, it was converted into a less-steep series of bends that winds it's way down a hillside past beautiful flower beds and shrubs.

Lombard Sreet
Cable Car Ride
Of all the things to do in the San Francisco Bay area, taking a cable car ride is near the top of most visitor's list. We picked a route that had a decent downhill section, and held on tight!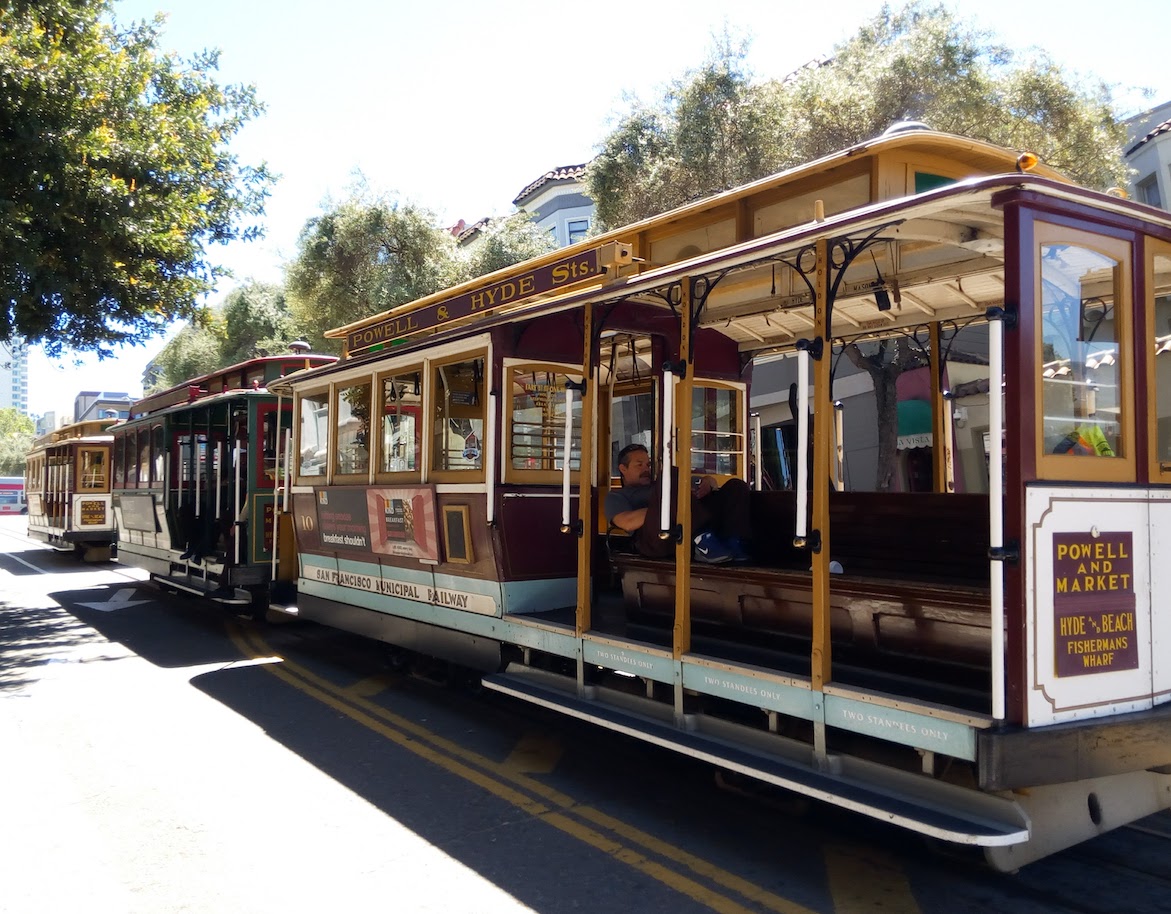 The Cable Car
Greens Restaurant
Years ago I was given a vegetarian recipe book from Greens Restaurant, and I was keen to find it and see what it was like. We got a bit lost, as it is located away from other shops and restaurants at Marina Boulevard, East Harbor. Confusingly, East Harbor is to the West of Fisherman's Wharf.

Greens Restaurant
This is an up-market vegetarian restaurant with superb food, and great views. The service was great, and the whole atmosphere calm and relaxing.
Pier 39
Another tourist attraction, Fishermans Wharf, is dominated by Pier 39, full of shops, bars and eating places, including a Hard Rock Cafe and a Bubba Gump Shrimp Company.  We found a large heart shaped statue for a 'selfie' at the end of the pier.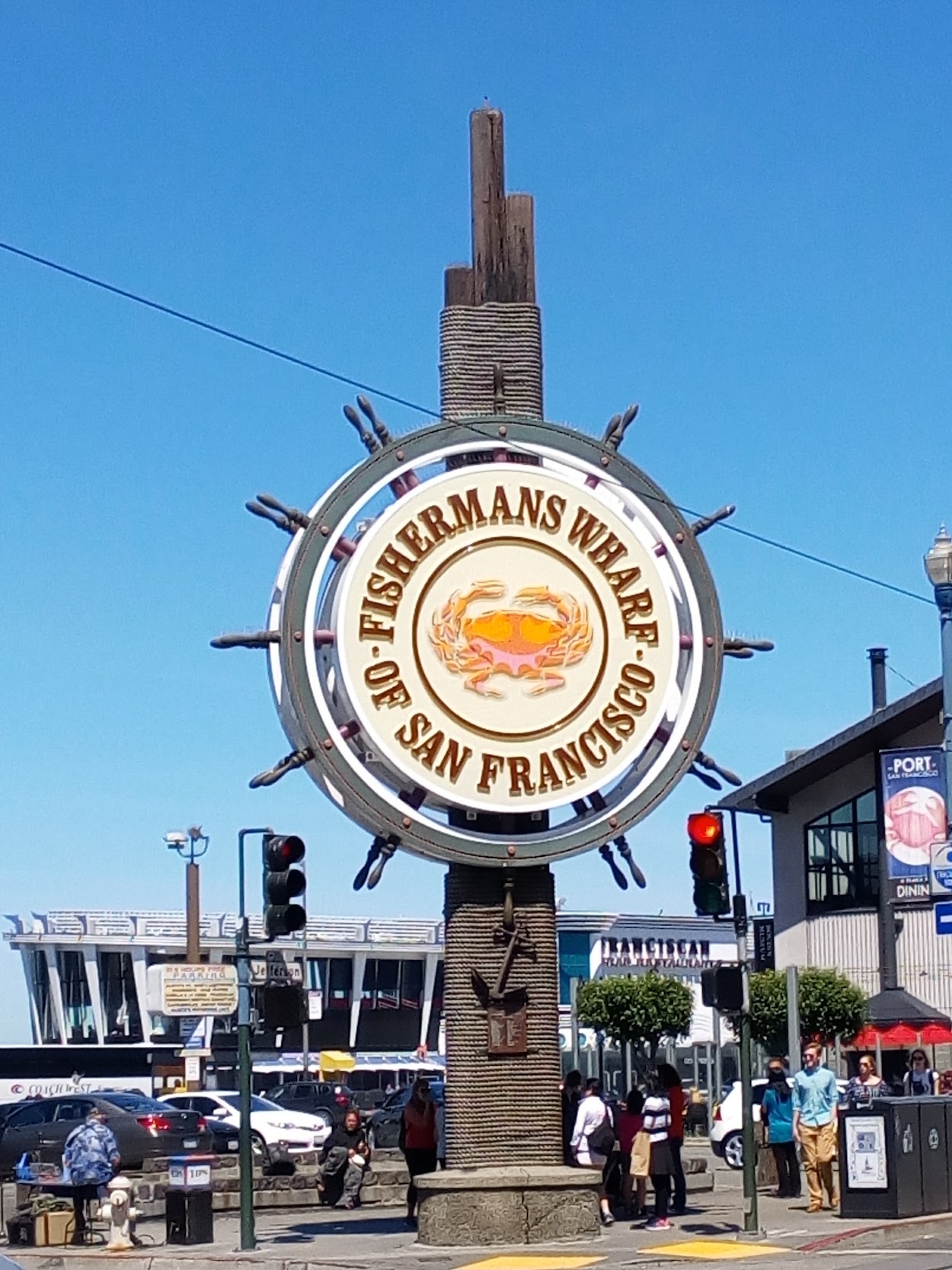 Fishermans Wharf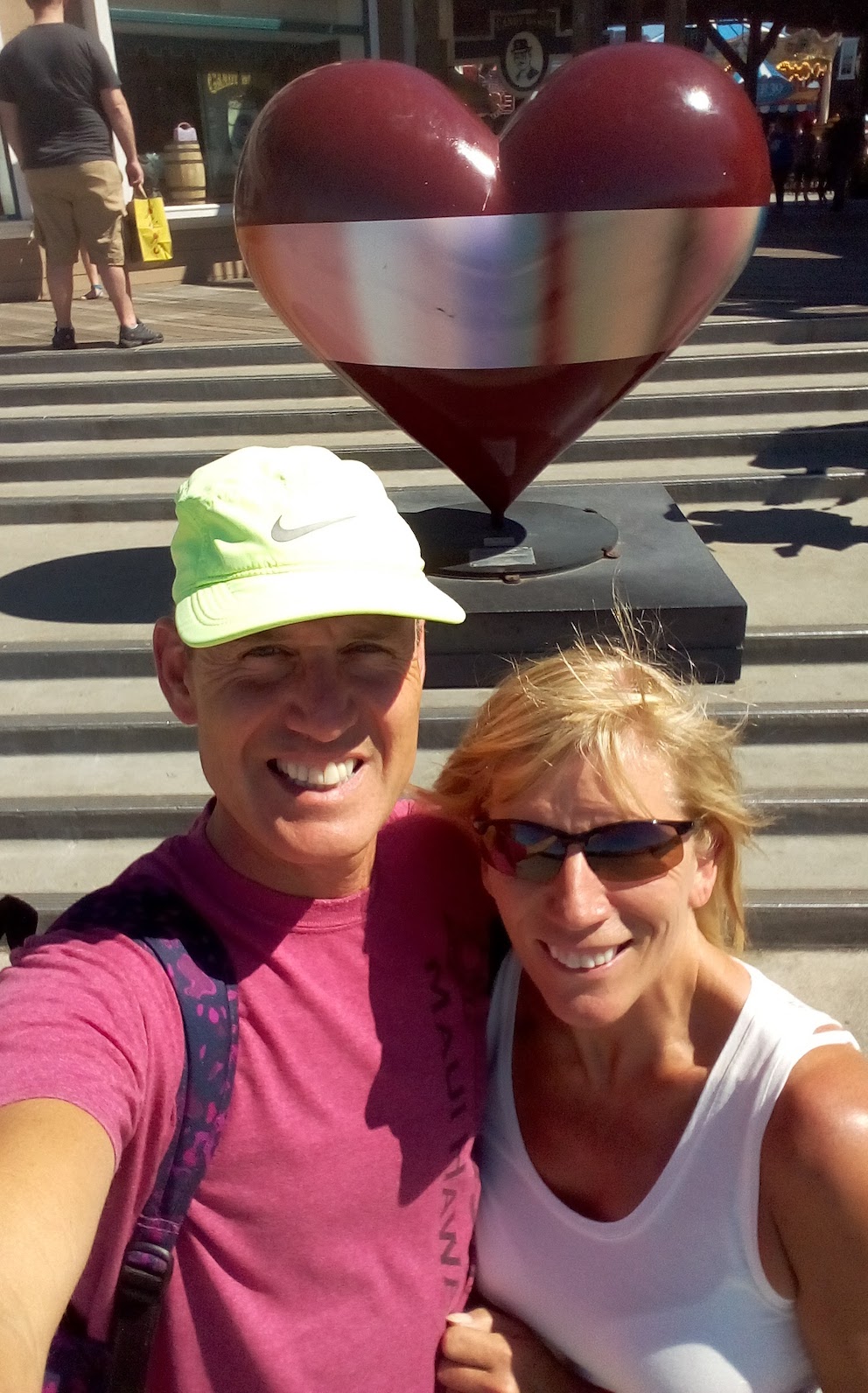 The Heart Statue!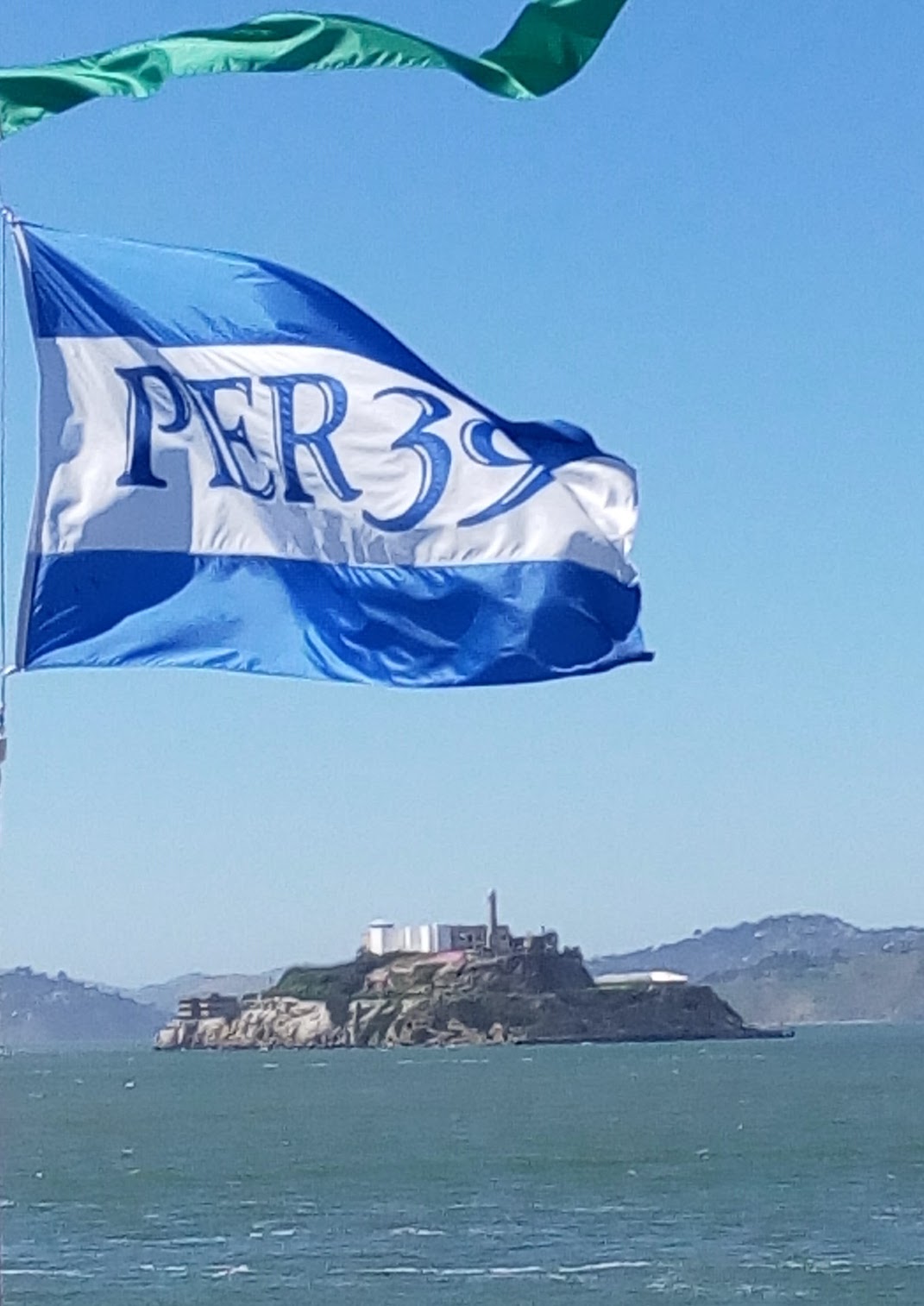 Alcatraz
Then we took a sunset sailing cruise on a catamaran, past Alcatraz on the way to the Golden Gate Bridge. Wine was served as the sun went down.
Sunset cruise
After the cruise, we strolled back along Pier 39 in the evening dusk, and came across an old brightly-lit carousel going around and around, with just one lady on board having a lot of fun.
When she got off, she saw us watching, and said - 'Go on, you know you want to, it's great fun!'. And so like big kids we bought a couple of tickets and had a ride of our own on the carousel - and it WAS fun!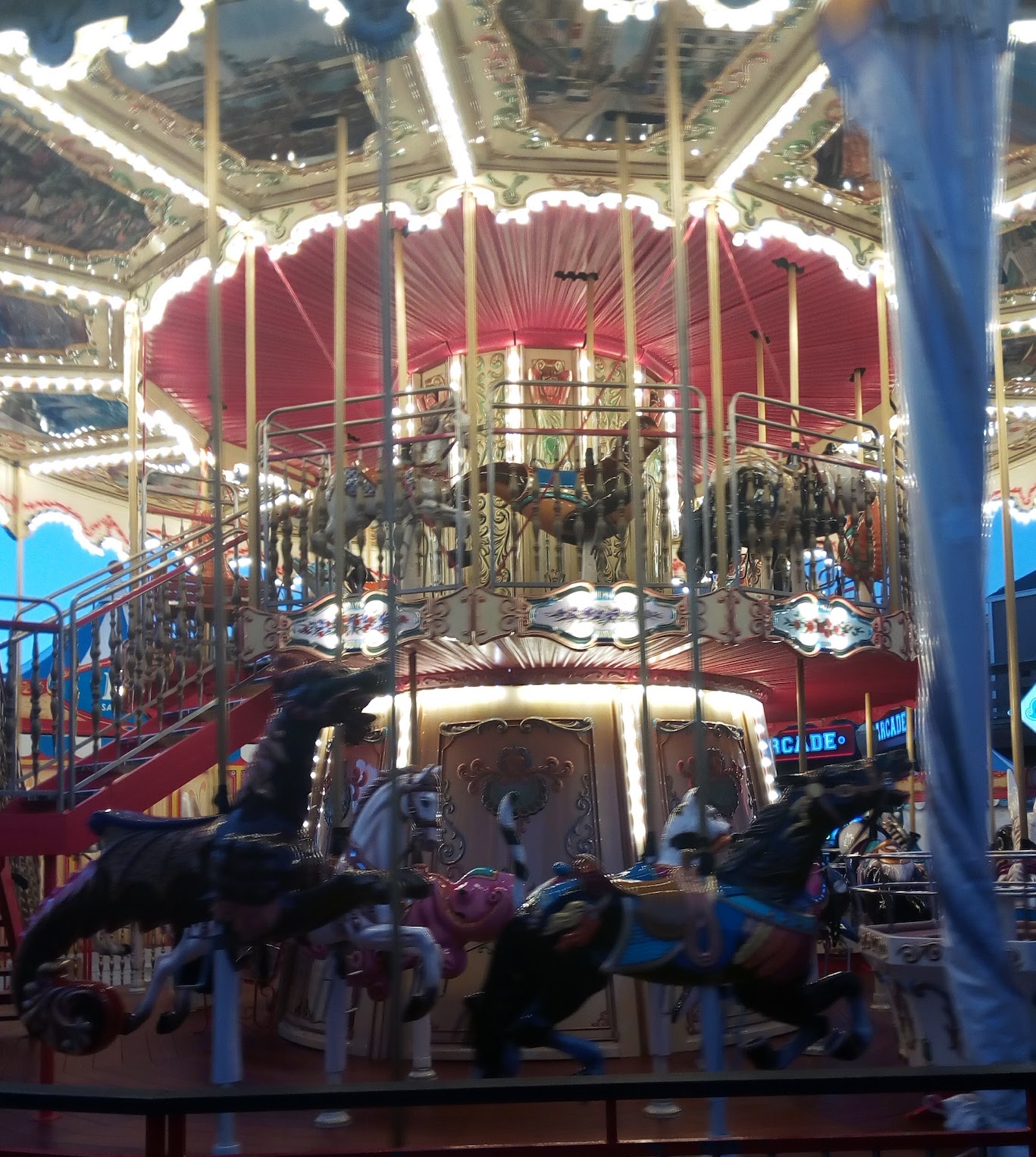 Pier 39 carousel at night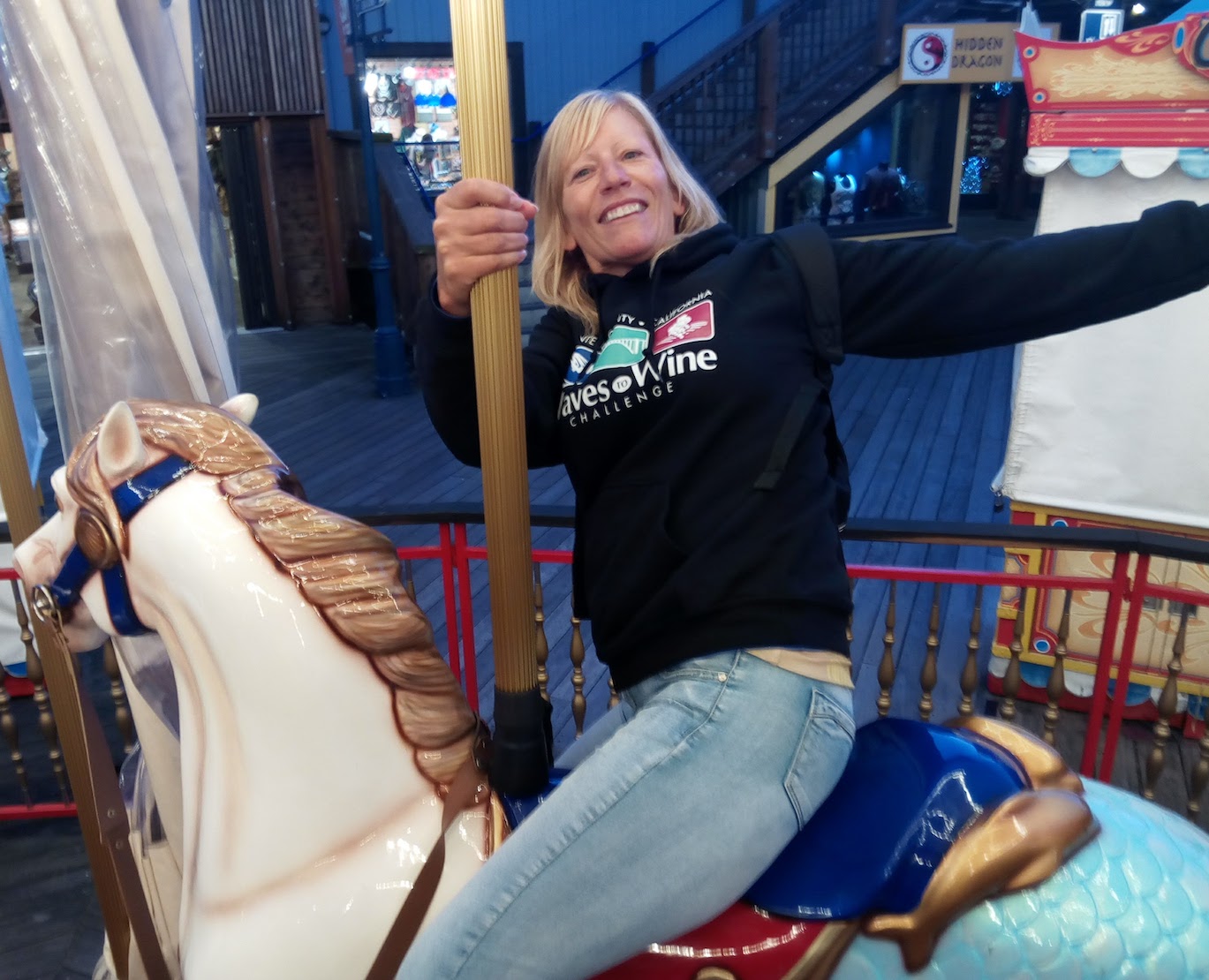 On the Carousel
Then it was in to the Hard Rock Cafe for something to eat, and to inspect the inside. Every Hard Rock Cafe we have been to is different, and it was fun to see what the Pier 39 version was like.

Hard Rock Cafe
Hard Rock Cafe Ceiling
Coit Tower
Coit Tower
This is a 210 foot tall Art Deco style concrete tower on Telegraph Hill, and it has great views all around of San Francisco Bay area. It's a bit of a climb all the way up, but well worth it! It was built to commemorate the City's volunteer firefighters who died during the 5 major fires that have occurred here.

Some people claim that the Tower is in the shape of a firemans hose nozzle, but it's probably a coincidence. The inside is full of murals that depict various aspects of life.
San Francisco Bay Area
The Golden Gate Bridge
The last but by no means least place to visit in the San Francisco Bay area is the iconic Golden Gate Bridge. We eventually ended up seeing it from 3 different aspects. First, there was the sunset cruise on the catamaran from Pier 39. We sailed under the bridge and had amazing close-up views.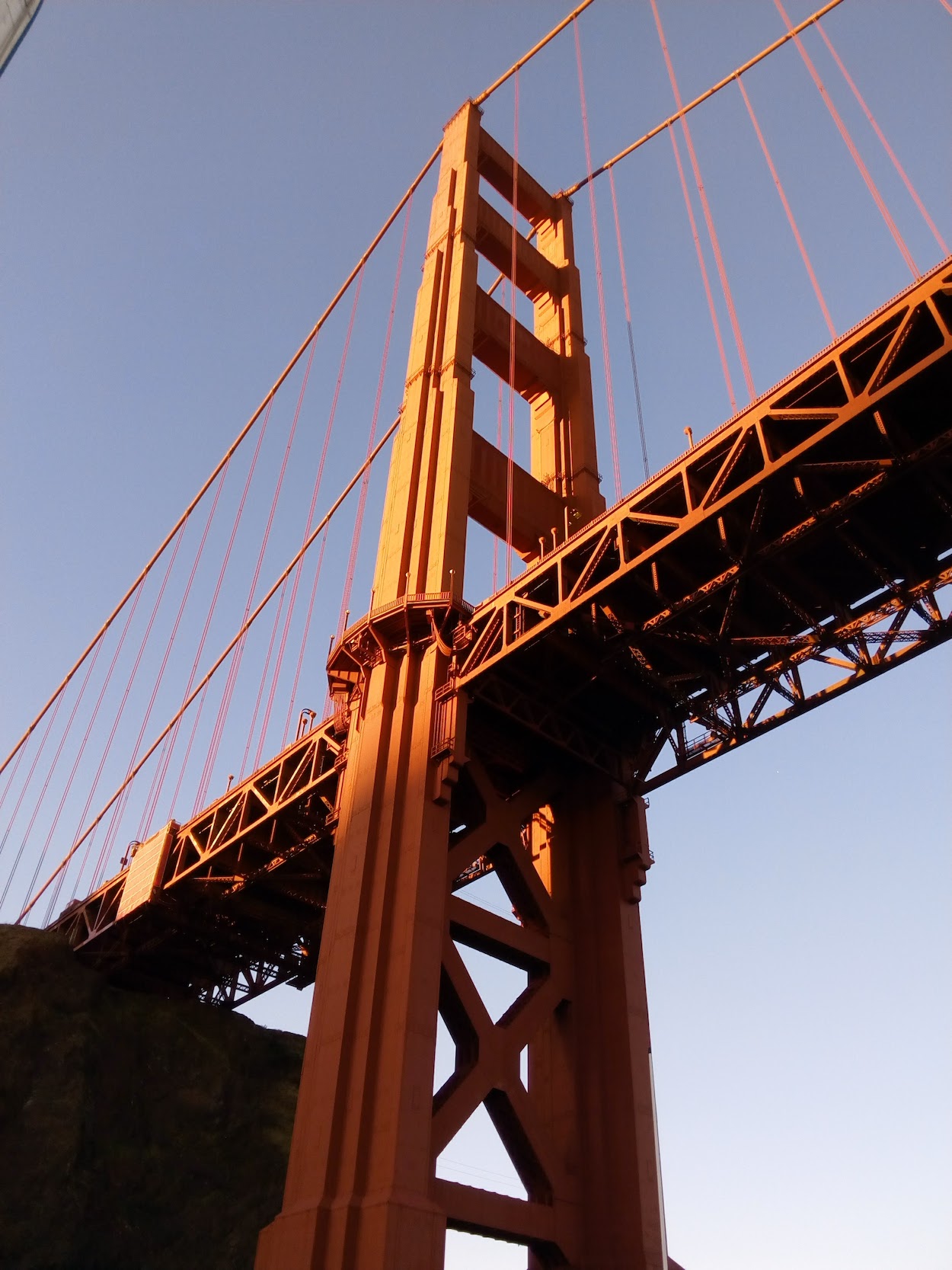 Golden Gate Bridge from Underneath!
Second, we decided to run across it and back. We had recovered from our Marathon at Big Sur, and wanted to stretch our legs. So we caught a bus to the Welcome Center at the South end of the Bridge, and started running! This was really good fun, and gave us a totally different aspect of the bridge.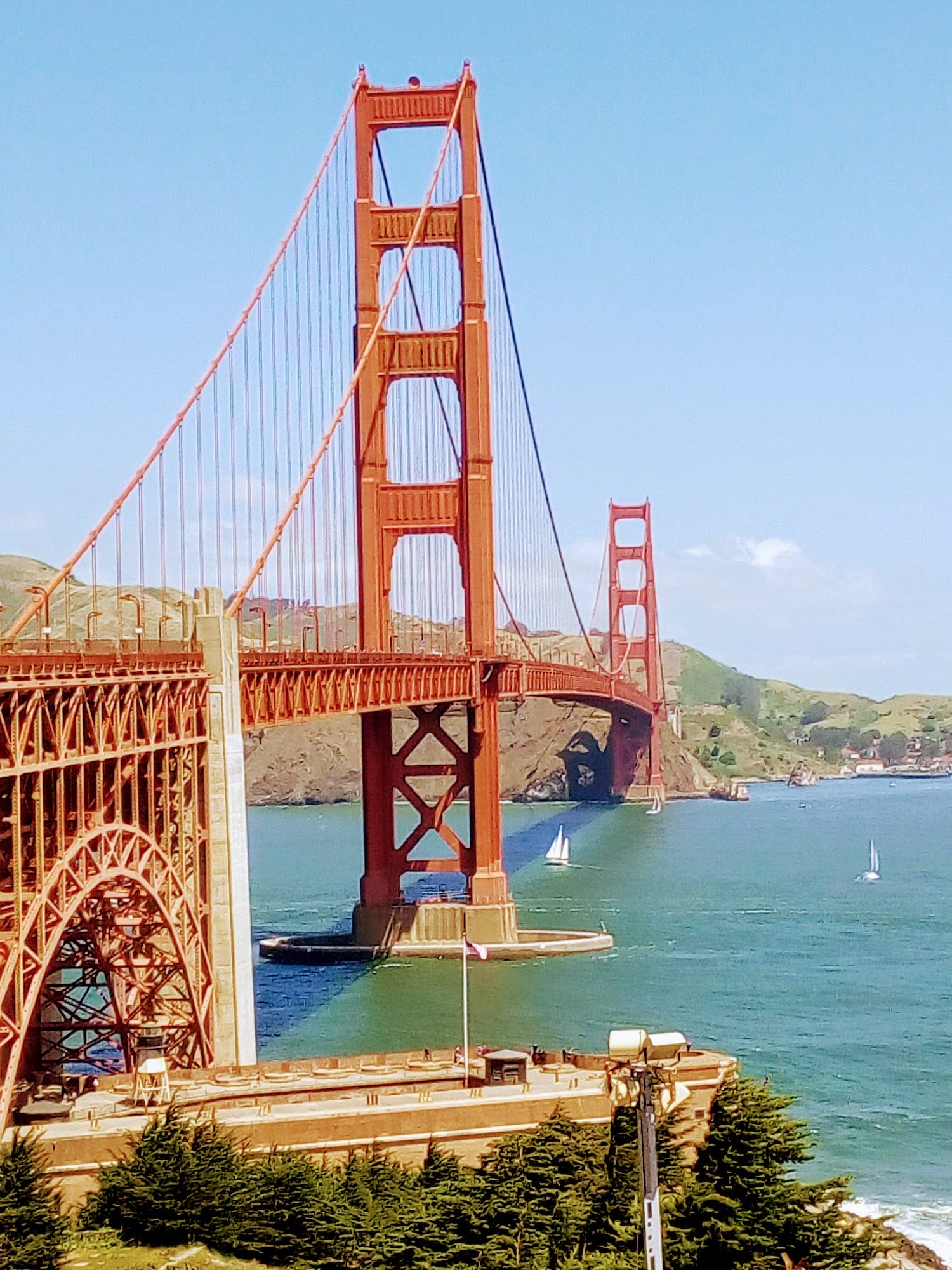 Golden Gate Bridge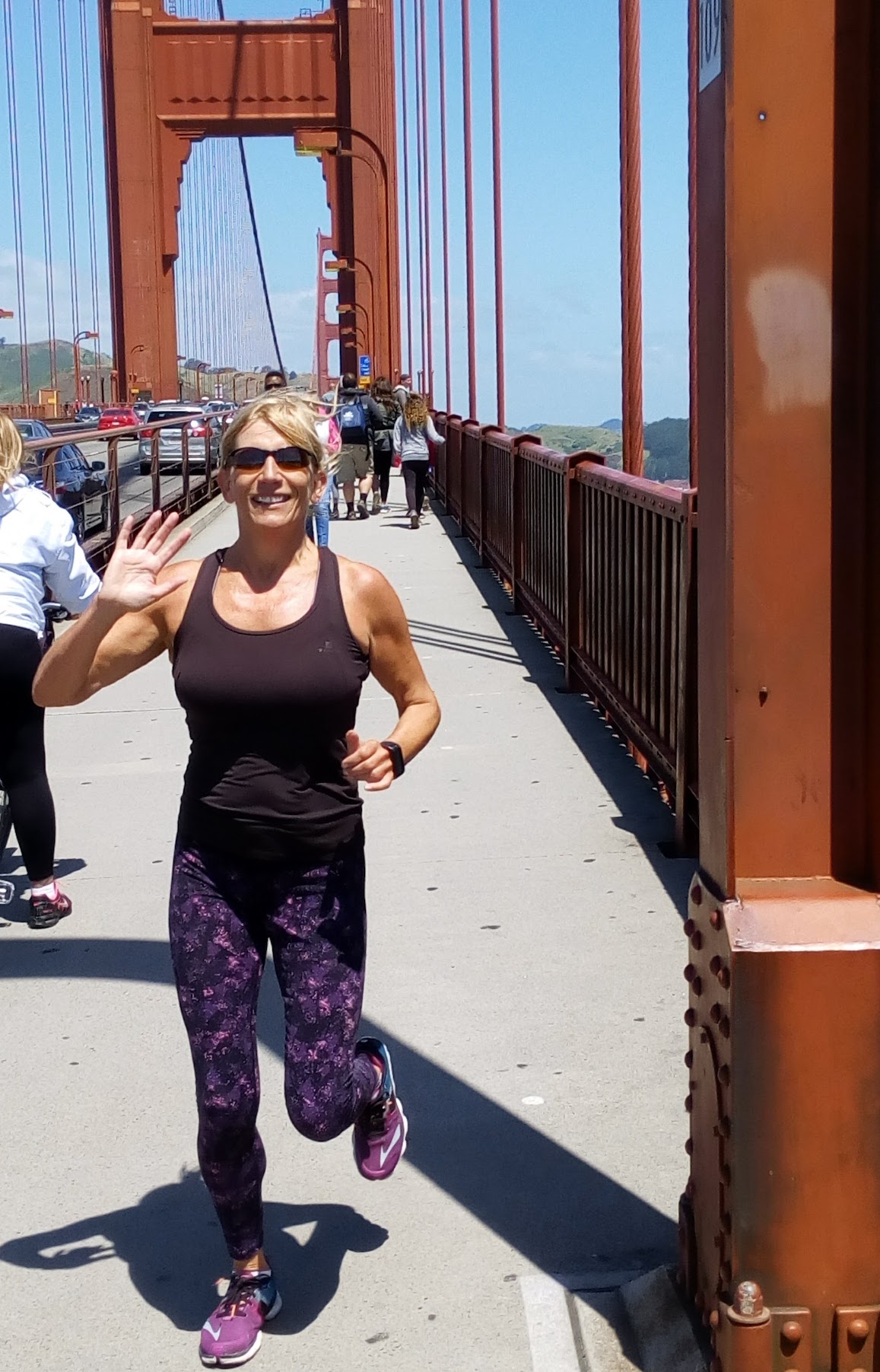 Running the Golden Gate Bridge
Third, we wanted to explore the trail that goes West from the base of the South end of the bridge. We ended up on Marshall Beach, with amazing views of the bridge from the west side. I also discovered lots of small pieces of driftwood for my driftwood art projects!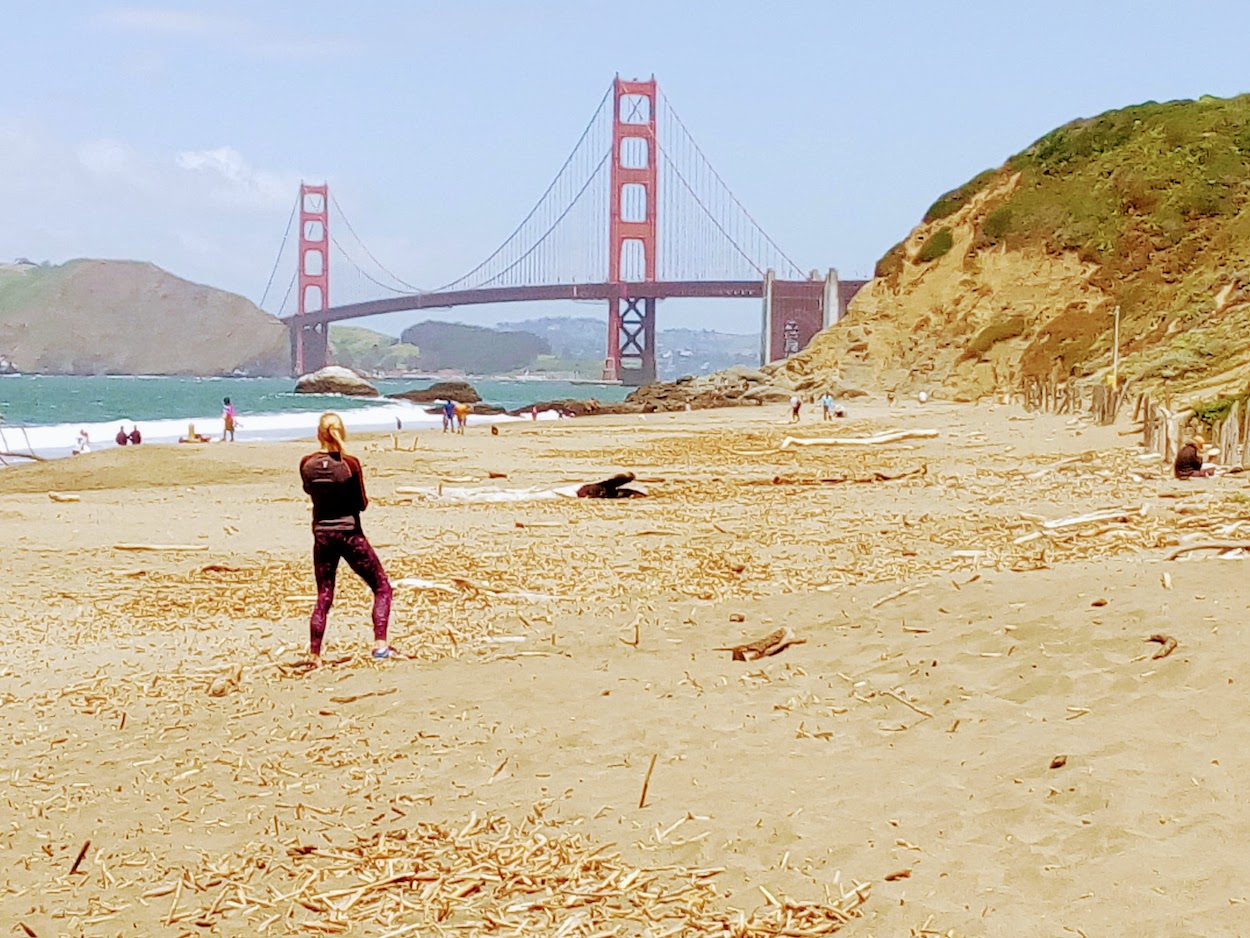 Marshall Beach
The San Francisco Bay area is huge, and takes in so many attractions that it's hard to know what to focus on. The 8 sights listed above are not meant to be a definitive guide to San Francisco - but they are the things that I remember most from my trip.
Of course, there are other things, like the local taco truck, and the Golden Gate Park.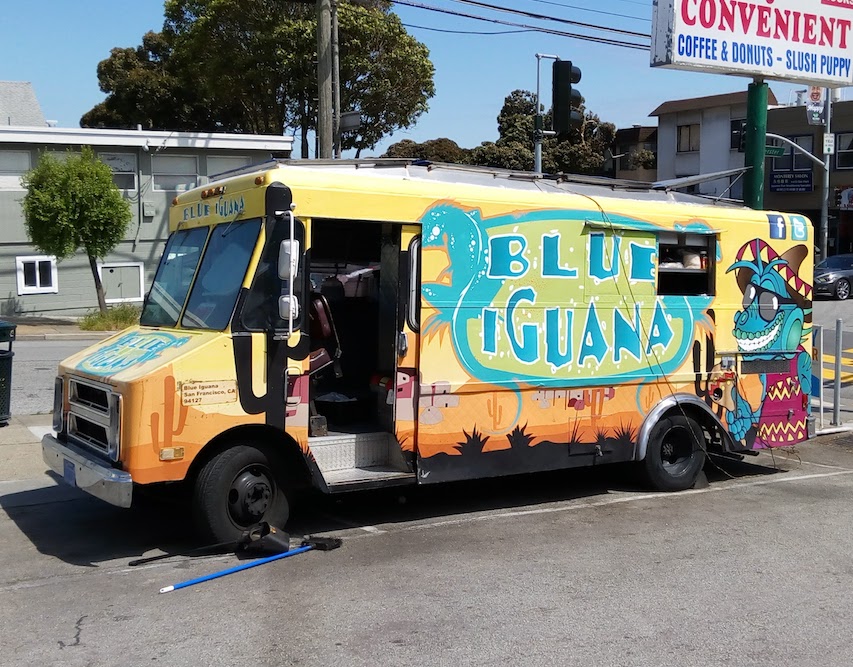 Our local Taco Truck
Then we returned to L.A.,  .. .but that is another story - to be continued!

Story and photos by Mogsy Ford, Editor

---
---