S for Shangri La
The Moorish home built by heiress Doris Duke, called Shangri La, on Oahu Hawai'i

In 1935, twenty-two year old tobacco heiress Doris Duke envisioned Shangri La. She had just married American sportsman and advertising man, James H.R. Cromwell and sailed on an ocean liner for a 10-month honeymoon tour of the world.
She came home particularly inspired by her visit to India's Taj Mahal.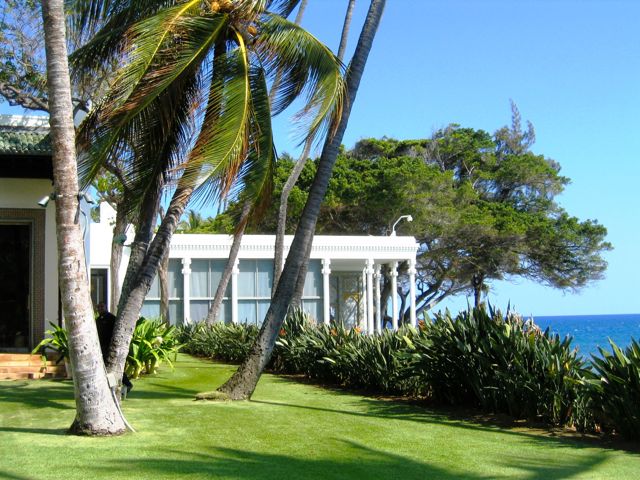 She purchased five acres in the outskirts of Honolulu on the Pacific Ocean, with sweeping views of the ocean and Diamond Head. There she designed and built a personal sanctuary that today is one of Hawai'i's most architecturally significant houses.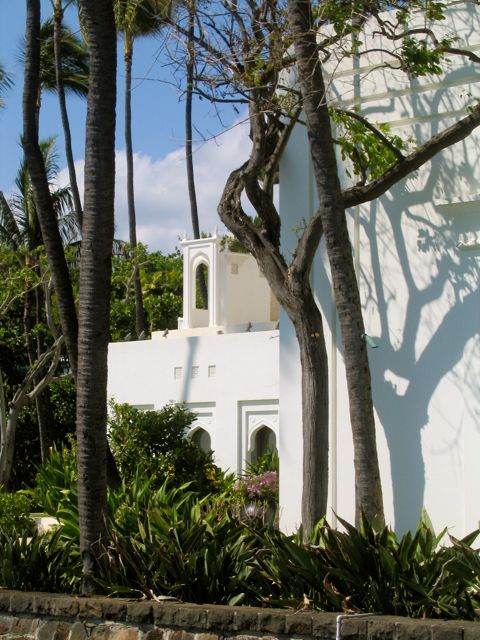 Behind the public image of "wealthy heiress" was an intelligent, independent woman with an adventurous spirit, a deep interest in other cultures, and with the imagination and the discipline to envision and create Shangri La.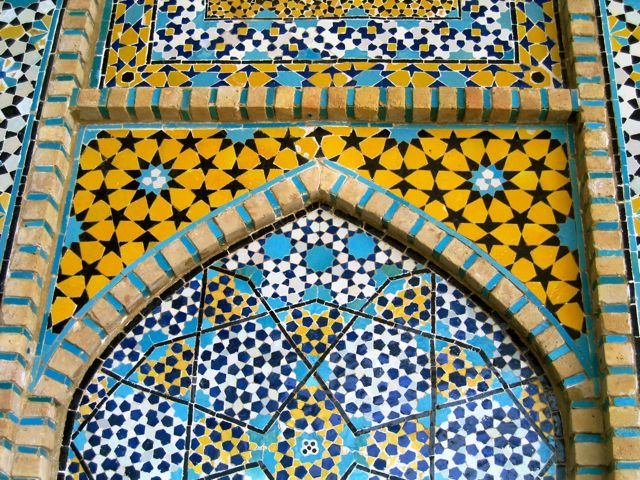 In her design Doris Duke incorporated architectural features from the Islamic world and over the next 6 decades filled it with an extensive collection of Islamic art.
The day I visited was balmy, sunny and gorgeous, but then this is Hawai'i, where I'm not sure there is ever a bad day.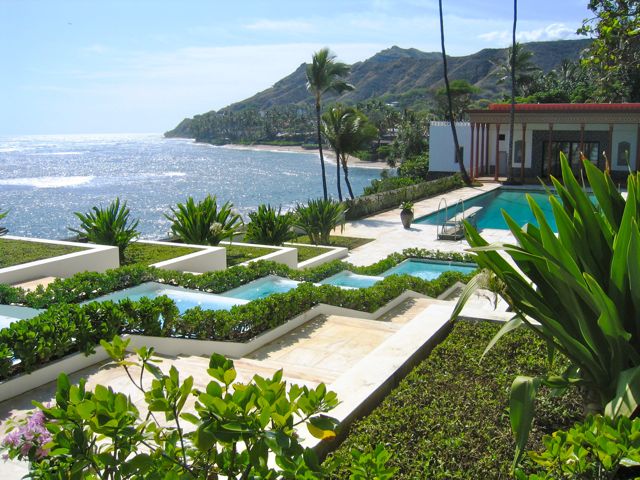 Shangri La, Hawai'i
At Shangri-La, Doris Duke put a high value on her privacy.
From the ocean, a high sea wall with a lava rock veneer blocks the property from sight. From the road, the estate can't be seen, either.
Facing the street is a simple plaster wall, single doorway and ceramic tile roof. Passing through this plain façade, you descend a sloping driveway into a courtyard with a large, ancient banyan tree.
The house is not as large as you would imagine, given the wealth and social status of the designer/owner, but the interior is opulent.
Six hundred Isnik tiles from Turkey, 84 colored glass, Spanish-style windows, plus textiles, urns and wooden chests from India, Iran and Syria and central Asia fill the house.
A beauty herself, Doris Duke's purpose in her design of this home was to immerse herself in beauty. She's created an intimate house, full of tile panels, glass vessels, metalwork, luxurious textiles and colorful views of the Pacific Ocean.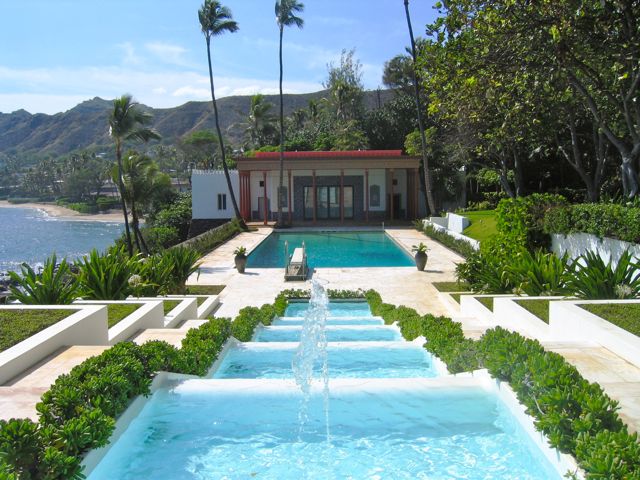 One entire wall of the living room can disappear thanks to a magical feat of engineering to open to a view of the long 75-foot swimming pool, running parallel to the sea wall, that separates the main house from a pool/guesthouse known as the Playhouse.
Another aspect of her penchant for privacy was that her passion for collecting Islamic art was known to only a few close friends. Meanwhile, she imported entire columns, fountains, floors, and ceilings to incorporate into the structure of the house.
Doris preferred swimming, surfing, sailing and outdoor living to any indoor passtimes.
At the beginning of World War II, she had priceless objets d'arts and even entire walls dismantled and crated for protection until the threat of damage from war ended.
Shangri La
Born to wealth
As the only child of James Buchanan Duke, founder of the American Tobacco Company and Duke Energy Company, the lady was born into wealth.
(I'm also an only child, but my father was a laundry truck driver - ah, the whims of fate.)
As a child Doris visited exhibitions all over Europe with her father, but when she was twelve, he died. Afterwards, she became the tobacco heiress the press dubbed, "the richest girl in the world."
Her autobiography, Trust No One, is appropriately titled since her father's advice was always, "Trust no one."
This didn't prevent her from marrying twice; her second husband was a diplomat and infamous Dominican playboy, Porfirio Rubirosa. She divorced them both.
Shangri La remained her private domain until her death in 1993.
And then Shangri La…
Doris Duke's will stipulated that Shangri La be open to the public as a place for the study of Islamic art and culture. The Doris Duke Foundation for Islamic Art owns and supports Shangri La, and the Honolulu Museum of Art, Hawai'i's largest fine arts museum, is the orientation center for tours.
At www.shangrilahawaii.org, you can scroll through a timeline of the property's history, take a virtual tour of the estate, and search for and view items in the Islamic Arts collection.
Doris Duke's Shangri La is a must-see when you are in Honolulu. It's best if you book a tour well in advance, as visitor groups are kept small on purpose.
Shangri La is open for educational tours by reservation only; you can't just drive up to the front door and be admitted. The neighbors objected to that idea, so the Honolulu Museum of Art agreed to only admit visitors in small groups on a limited basis.
Doris Duke, despite her millions, worked for a while as a foreign correspondent based in Rome. She was not an idle lady. As a philanthropist, she actively supported environmental causes, animal rights, social and health services, and cultural programs.
She contributed millions for AIDS research at Duke University - named for her family–in Durham, N.C., and to the Elizabeth Taylor AIDS Foundation.
A very good general review of Doris Duke's life and times can be read in her lengthy New York Times obituary.
Carolyn V. Hamilton
---
---