Snow Hotel
Norway

An adventure in the Arctic, sleeping in Kirkenes' Snow Hotel Norway.

Oh My God. Whose crazy idea was this? Sleeping in a hotel made of ice! In January, no less, above the Arctic Circle?
I guess I better get up. There's a sauna in the building next door. How quickly can I get there? Okay. Okay. I am getting up. Got my boots on. Walking carefully, but quickly down the ice hall. Into the next building. It's warm. A sauna never felt so good. I am warming up.
---
Write for us!
If you have an interesting travel tale, please tell us about it. We'd love to hear about your travels and experiences. Please send your story (or simply an enquiry) to us at our contact page. Thank you!
---
Our room in the Kirkenes Snow Hotel Norway
Snow Hotel Norway

Okay. Time to get dressed. We are famished. Ready for breakfast and to receive our certificate for surviving a night at the Snow Hotel Norway.
The Snow Hotel in Kirkenes (pop. 3,500) is in northern Norway not far from the Russian border. We flew north to Kirkenes from Tromso, Norway, a short flight. We had originally inquired about going to the Ice Hotel in Sweden, but it was completely sold out. Luckily, the Kirkenes Snow Hotel still had a few rooms open. 
Kirkenes Snow Hotel Norway
After a short ride from the airport, we arrived at the Kirkenes Snow Hotel. It seemed as if we had walked into a winter wonderland. The Snow Hotel looked like a large white mound. Once we walked inside, we were blown away. There were ice sculptures by artists from Harbin, Mongolia, throughout the hallways and in each of the 20 rooms.
Every room has a different theme and within the room, there is only a bed made of ice and covered by a mattress. There were no doors (to prevent humidity from accumulating in each room), simply a curtain covering the doorway.
We walked into our room and saw the murals carved into the walls. The carving in our room was of two swans.
Kirkenes Snow Hotel Norway
Snow Hotel Norway

After seeing our room and exploring the hotel, we had a drink at the ice bar in an ice glass.
Then we were off to our first excursion: ice fishing for snow crabs. We were pulled on a snowmobile sledge out onto a frozen fjord where gigantic (2-3 feet wide) crabs were pulled out of the water.
Kirkenes Snow Hotel Norway Crabs
After learning how to identify the female crabs, we were taken to a rustic hut where the crabs were cooked and served. We were given scissors and taught to eat it the Norwegian way. Best King crabs ever!
Then back to the Snow Hotel Norway for an orientation to the hotel. We were instructed to take a sleeping bag, and a balaclava to cover our heads. We were told not wear too much clothes as they would retain moisture and actually make us colder.
Most importantly, to prevent having to get up in the middle of the night, we were encouraged to go to the bathroom before bedding down for the night. We got into our sleeping bags, zipped them up to our chins and wrapped our heads in the balaclava. We actually felt nice and toasty as we went to bed.
Snow Hotel Norway
Waking up was another matter. It was freezing! Fortunately, we only had to get ourselves out of bed and to the sauna to defrost.
The Snow Hotel charges 3100 NOK (US$363) per person to stay in one of the 20 rooms individually carved by artists from around the world. This fee includes your transfer from the airport to the hotel and full board at the spectacular restaurant.
In the main building they have lockers for electronics and other valuables to keep them safe and prevent condensation.
The hotel also offers various excursions. The cost for the King crab fishing was adult 2100NOK (US$266), child 1050NOK.

Each winter at the end of the season, the hotel literally melts away, and they start all over again when the cold sets in!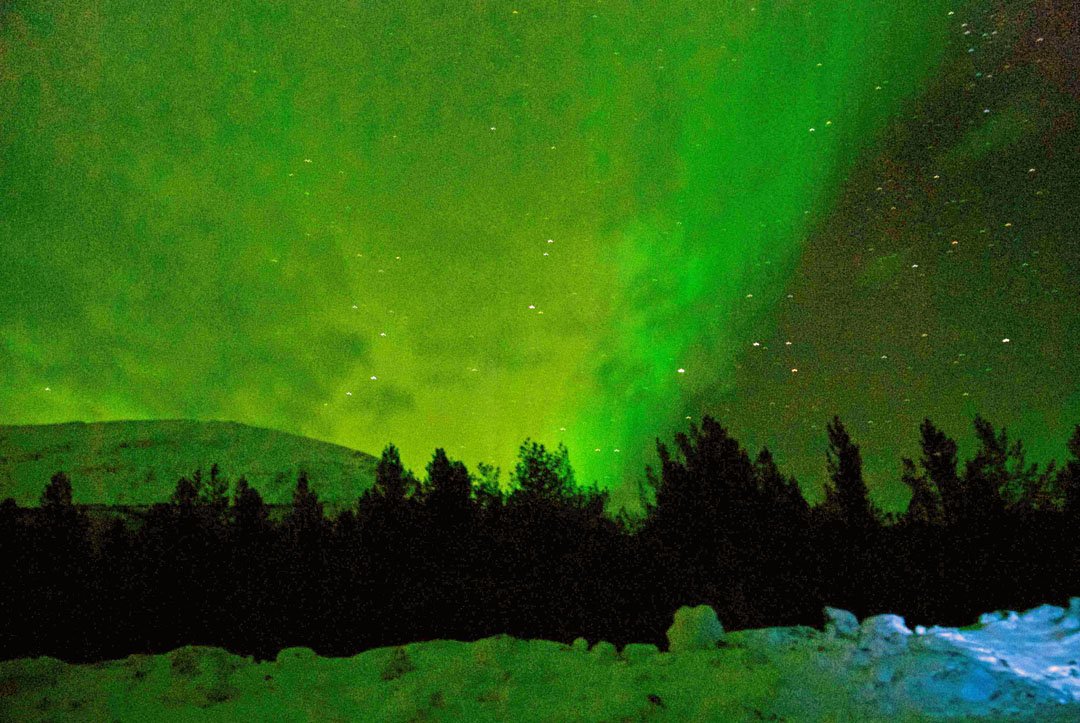 Chasing the Aurora Borealis
The day before the trip up to Kirkenes, we looked for the Northern Lights in Tromso. This was yet another freezing evening experience.
We found and joined the Amazing Aurora group for this exciting evening excursion. They picked us up at our hotel at 6:30 pm and we returned at 2 am. The excursion included dinner (a hearty warm seafood stew) and coffee/tea.
As the Northern Lights are very unpredictable and viewing them depends greatly on weather conditions, there were no guarantees we would be able to see them.
That night, the guides checked their tablets for any signs of the Northern lights and with some calculations and adjustments, we were literally driving all around the area surrounding Tromso much of the evening.
We ended up close to the border of Finland where we hunkered down and waited for another hour.
Just when we thought the Northern Lights would never appear, the light show began.
Green waves floated in the night sky above us, magnificent and luminescent. Rewarding us in small ribbon like waves and hovering above us, as if teasing us.
Many folks scrambled out of the bus into the cold frigid air. Those of us who had set up tripods were clicking away using our remotes. Fingers froze the moment that we took off our gloves.
The green ribbons gave way to broader strips of cloth like sheaths billowing gently against the deep black sky.
Just as suddenly as they arrived, they started to dissipate. After another hour, the light show was over. We all clambered back into the bus, exhausted but exhilarated.The 6-hour excursion costs 2500 NOK per couple (US$315) and includes transfers from your hotel, warm suits, dinner, hot drinks.
Snow Hotel Norway
Norway Dog Sledding Adventure Tromso Photo by: Horst Bursik
The day before, we decided to try dog sledding under the stars with Arctic Adventure Tours. We were taken to the lodge where huskies were trained for the sole purpose of sledding.
After a brief information and instruction session, we were given warm suits, showed how to suit up and each couple assigned 8 huskies and a sled. We were taught how to work the sled (go, stop, turn) and how to respond to the dogs.
One person would sit while the other mushed. Once everybody has picked out their sled and dogs, we were ready to go.
The dogs were excited and raring to get on the snow. They barked and pulled at their harnesses as our lead dog turned and looked at us as if to say, "What's the hold-up, gals?" He was chomping at the bit to run and get us moving across the tundra.
If you've never been on a dog sled, you don't realize how hard this can be. While the dogs do most of the work in pulling you and your companion along, at times, you would have to help them, step out and push as they try to pull you up.
We finally got the hang of this and it was unexpectedly fun and exhilarating as the dogs pulled us along the openness at 30mph. We looked up at the wide expanse of sky, almost devoid of stars and then, suddenly, we saw the Northern lights in the distance.
The dogs did not notice and continued to pull us like they were running into the lights.
What an amazing feeling!
This 4-hour excursion costs 2750 NOK per couple (US$350) and includes transfers from your hotel, warm suits, equipment and hot drinks.
 —Sue Davies & Regina Ang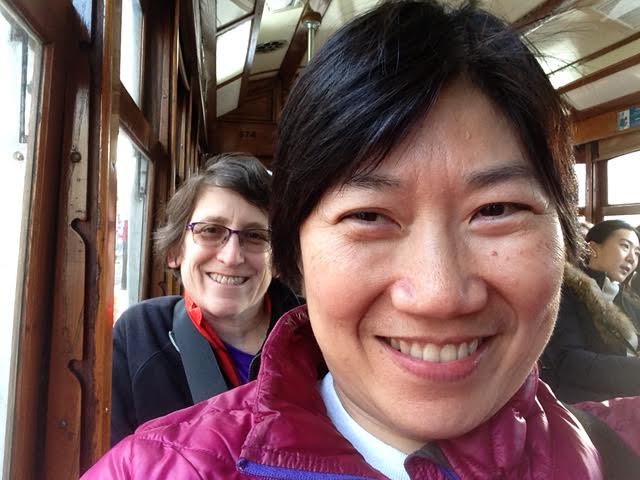 Sue Davies and Regina Ang have been to more than 50 countries and five continents around the world. They are based in the New York area. Regina grew up in Singapore while Sue is a native New Yorker.
They like to go off the beaten track and have adventures along the way - sleeping in an ice hotel, hanging out with bears in the Alaska wilderness, chasing the northern lights across Scandinavia, following a black rhino in Tanzania, racing donkeys in Petra, Jordan, seeing the magnificence of the Angkor Wat temple complex in Cambodia and camping in the Sahara desert.
---
---