Spa BVI

Tina floats in the spa BVI in the British Virgin Islands

When Hurricane Irma devastated the British Virgin Islands, she destroyed homes, infrastructure and livelihoods. In her aftermath, Dale Mapp picked up the pieces of the debris she left behind and started rebuilding his life.  
In November of 2018, he opened Ocean Spa, a floating spa in White Bay Jost Van Dyke. Built from debris Dale collected from the wrath of Irma, the Ocean Spa is a shrine to fortitude in the face of disaster and finding "peace in living simple." The spa offers a place to rejuvenate, and "embrace the healing powers of nature."
Spa BVI
As a regular traveler to the British Virgin Islands, I have followed their rebuilding efforts on social media. When I saw the Ocean Spa was opening in White Bay, I was more than intrigued.  
I have been in love with White Bay on Jost Van Dyke, since my first visit almost twenty years ago. It was made famous by the Painkiller: a tropical cocktail created at the Soggy Dollar Bar.

The Bar was named for the condition of the money used by sailors swimming to shore to imbibe in the delicious, rum-infused Painkiller. It sits on a snow-white stretch of beach, in a pristine cove in the southwest corner of Jost Van Dyke.
In the shade of the palm trees one can while away an afternoon, sipping on an icy Painkiller. What could be more perfect than adding a pre-cocktail massage on a floating spa to that delightful afternoon?
Jost Van Dyke is just a short ferry ride from Tortola, BVI, Cruz Bay St. John, USVI, or Red Hook St. Thomas, USVI. Water Taxis are available from Virgin Gorda, BVI. The Ferry Terminal is in Great Harbor. White Bay is a twenty-minute walk or five-minute taxi ride over the hill to the south or you can arrive. as we do, by charter boat.
We tend to keep a loose itinerary when cruising in the BVI. We allow winds, weather, and seas to determine our course more than a planned itinerary.
I was pleased when I sent a facebook message requesting an appointment for the next day and they responded quickly giving me two available appointment times.
This floating oasis has been a dream in the making for nearly ten years. Dale trained as a massage therapist to supplement his hospitality industry job while he was living in Barbados.

Spa BVI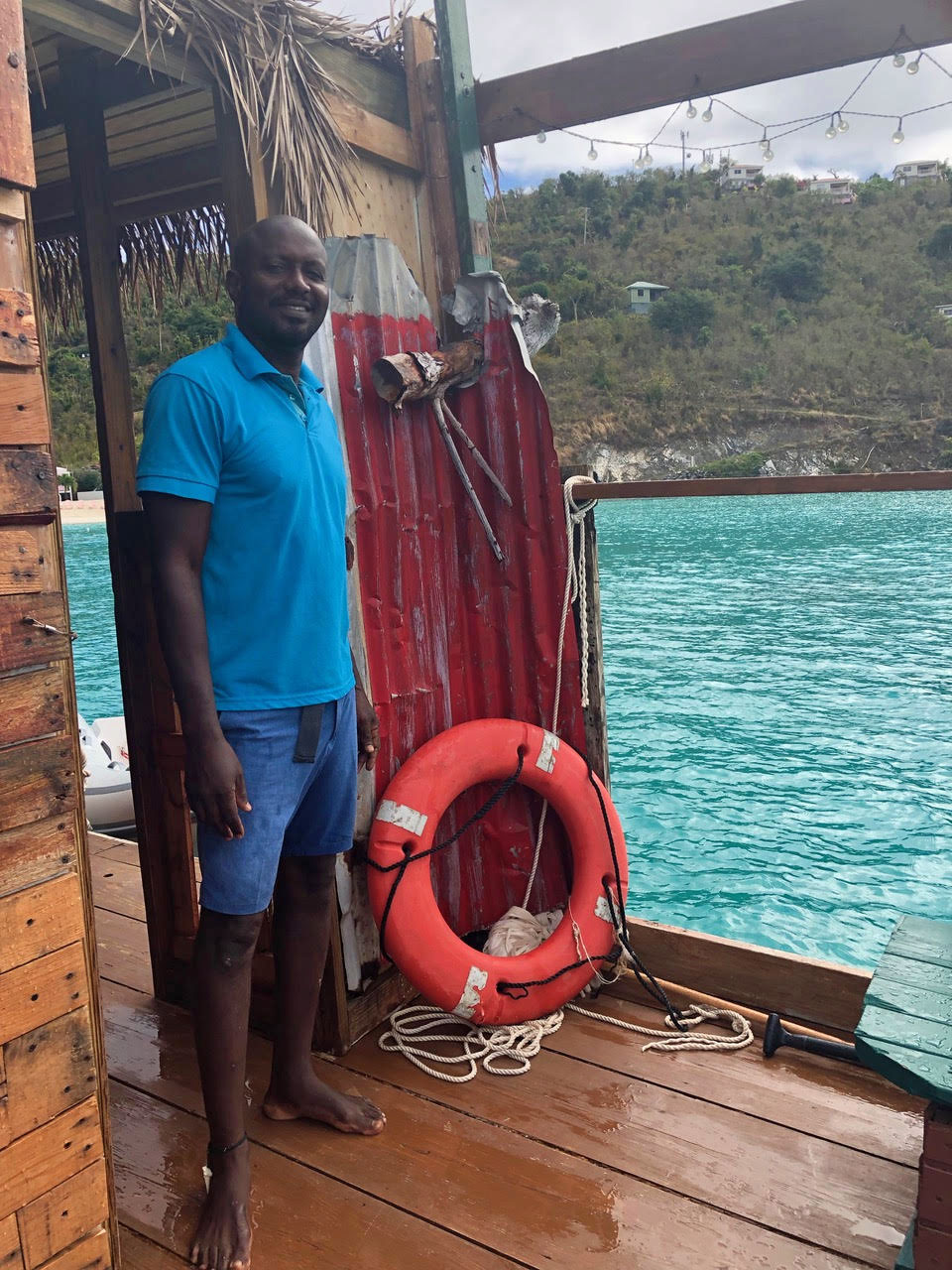 The Ocean Spa is his third attempt at a floating spa in the British Virgin Islands.
When Irma hit, he had just been promoted to the coveted position of Food and Beverage Manager at the posh Peter Island Resort & Spa, celebrated his fiftieth birthday and received the permitting for a floating spa in White Bay.

After Irma, he had no job and no place to live but he had the permit for the floating spa. Using his small savings, he purchased the pontoons to build the spa upon.
He scavenged refuse piles and landfills for cherished pieces to build the structure. From the minute he pulled the floating Spa into White Bay, his phone started ringing with people requesting appointments. The unique structure catches your eye right away. It is his best advertising.
Spa BVI
We arrived for our ten a.m. couples massage via dingy. Guests swim, paddle board or dingy to the spa. If you are staying on land you can arrange to be picked up from shore. Relaxation begins as soon as you step into the Spa. Dale and his therapist Gayle, greet us as we approach the spa.
Tossing our dingy line to Dale and stepping aboard, a sense of serenity and peace enveloped us. We spend a few minutes getting to know them as the sea gently laps against the pontoons and the waves softly roll onto the shore. The busyness of land life floats away.
The first thing you notice is how pieces of life before Irma are woven together to create the spa. A gate is used as the back of a bench, a salvaged door has childhood scribbles on it, a piece of galvanized metal roofing has a tree branch through it.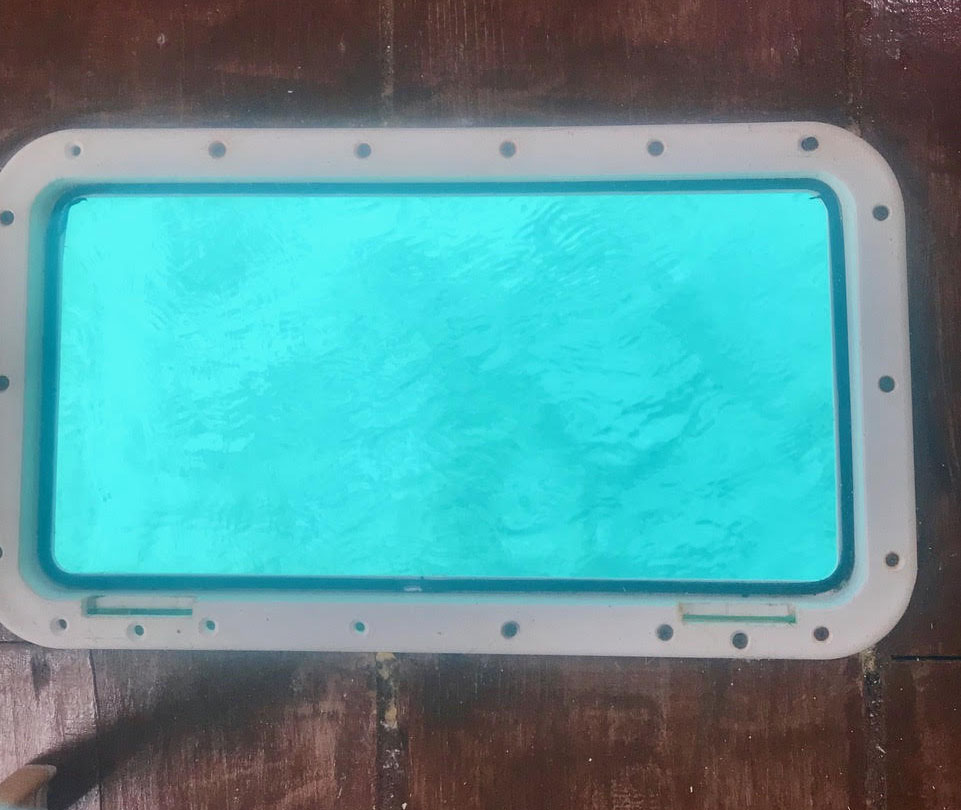 Gentle breezes blow in through the curtain covered windows and "portholes" in the floor under the face pillows allow you to watch the fish below. Nature is embraced in every corner. The Ocean Spa is truly a place of inspiration, tranquility and well-being.
As Dale and Gayle work their magic on us, the breeze cools us, while the gentle rocking of the spa soothes us.  A Thai style massage stretches out all our tight muscles.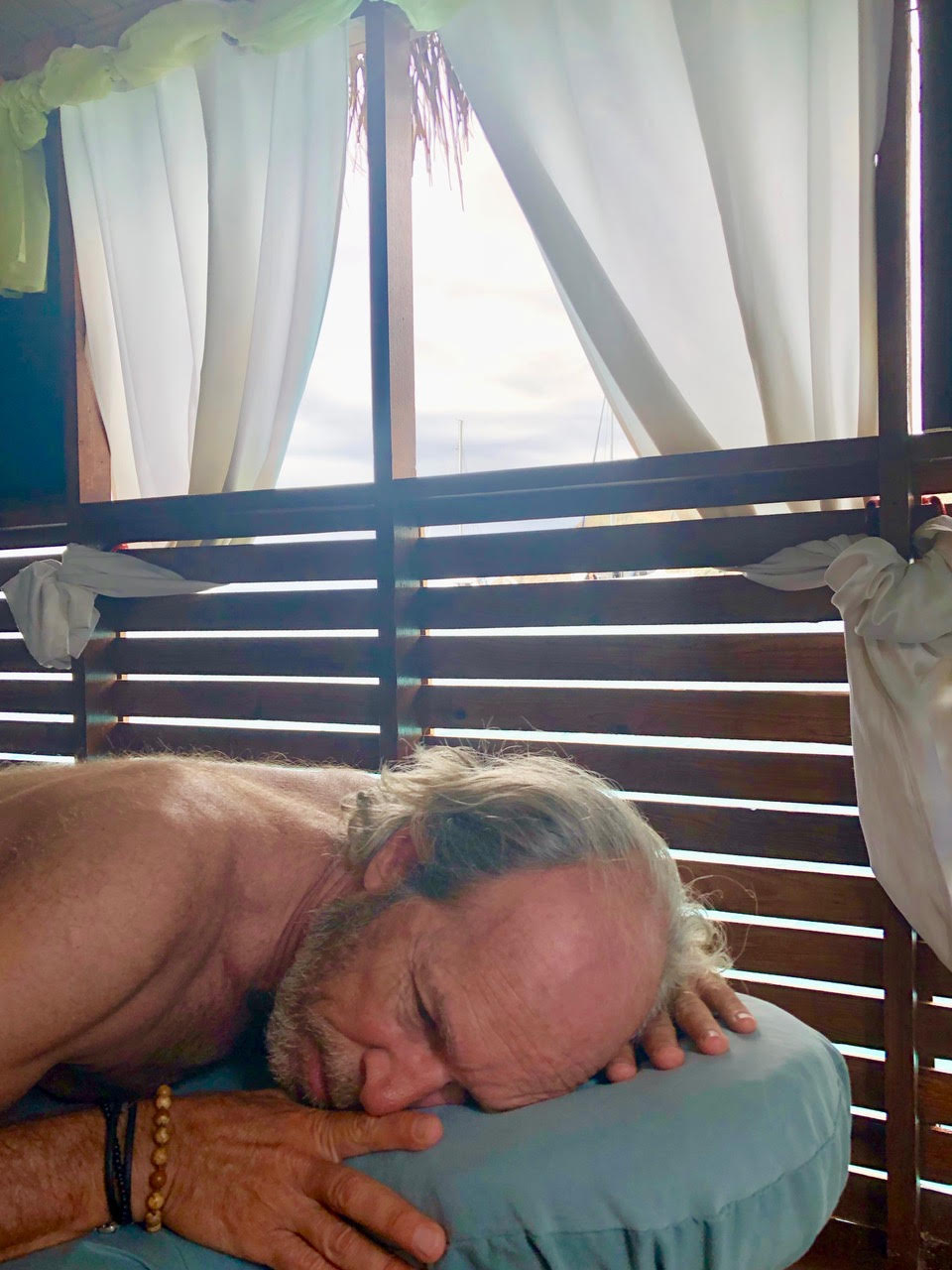 My husband proclaimed it "the best massage ever." This from a man that is very cautious with his praise.  It was 60 minutes of bliss. 
I prefer my pressure deeper and Dale was able to expertly work out some of my knots. My husband prefers a lighter touch. His praise of Gayle's work speaks for itself.

Gayle is a licensed Esthetician and worked in spas on Tortola before Irma. Both therapists asked questions up front and checked in during the treatment, to ensure that the experience was just what we wanted.
The Ocean Spa had two treatment rooms. They do both individual and couples massages from 9 to 5 Monday to Friday and sunset or moonlight massage by appointment.
If you are celebrating something special, you can book a Champagne Massage, enjoying the view of the bright blue water and surrounding islands while you sip your bubbly. You can book appointments at www.oceanspabvi.com  or through facebook messenger.
- story & photos by Tina Walsh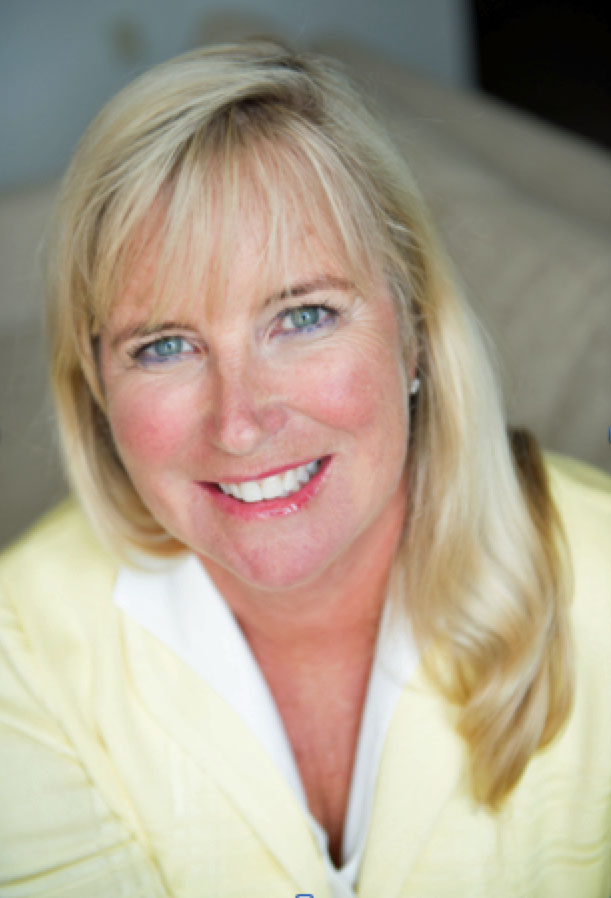 TINA WALSH is from a family of travel lovers and foodies. She has traveled to 51 countries, 47 states in the United States and 5 continents. Eight years ago she retired from my corporate job and began exploring her passions.
She will travel for food, wine, yoga, hiking, visual and performing arts, history, sports and water. She is passionate about these things and the people she does them with.

---
---