Suriname Art Journal
Pages from Carolyn's paintings in her Suriname Art Journal

Most of these pages were created during the two years I served in the Peace Corps in Suriname, South America... and some were created in later return visits. They reflect my reasons for loving "switi Suriname."
The pages here are not in any particular order. You may want to bookmark this page, as I will continue to add more of my scanned art from these journals.
Hope you enjoy these glimpses of Suriname -  formerly Dutch Guyana.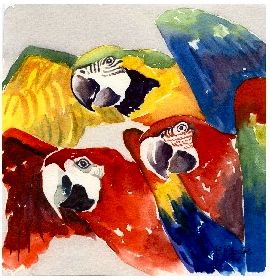 Macaws in the Suriname rainforests are many-hued and fly in flocks. This is my imaginative interpretation of three of them flying together.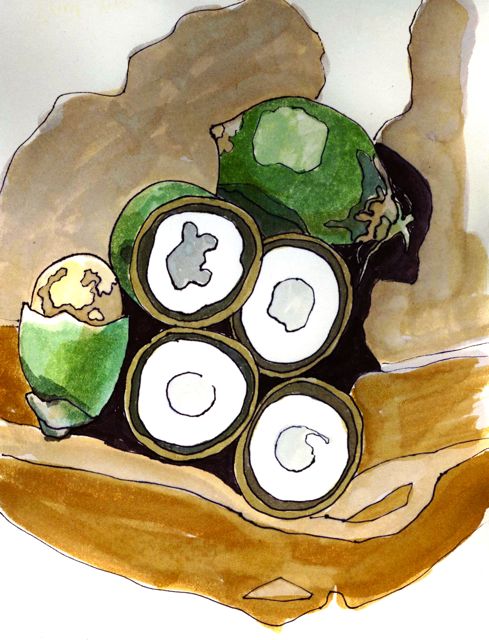 This is what the nut pods look like that contain almonds. Waterkant, a main riverfront street, is lined with a lot of amandrabon (almond trees) with big, fat leaves that provide much-appreciated shade in a tropical climate.
Suriname Art Journal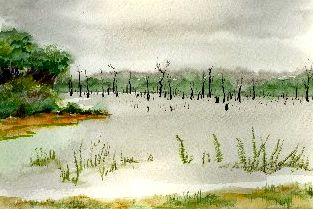 I painted this view of the Afobaka Stumeer (lake), created by the water that backed up when the Afobaka dam was constructed in 1960-64. It's also called the Brokopondo Reservoir because it is in the Brokopondo District of Suriname. The black things sticking up are the tops of former trees.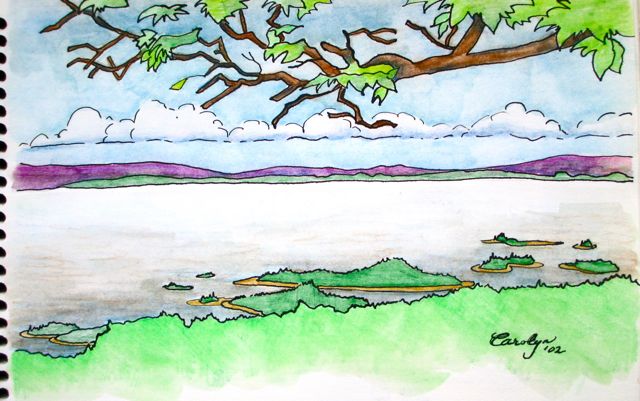 From Brownsberg, a nature park on a high plateau, you can see Tonka Island, a high body of land created by the Afobaka Dam.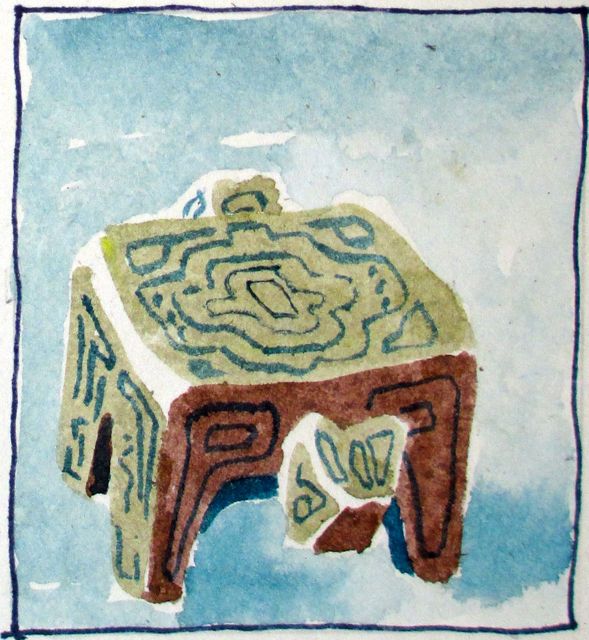 This is a little wooden turtle carved in the Amerindian style.
Suriname Art Journal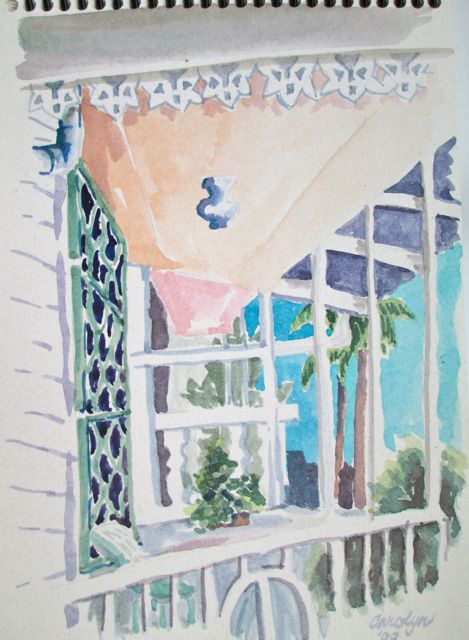 For awhile, I had a little second & third floor apartment in the capital on Zwartenhovenbrugstraat. One day I painted the balcony next door.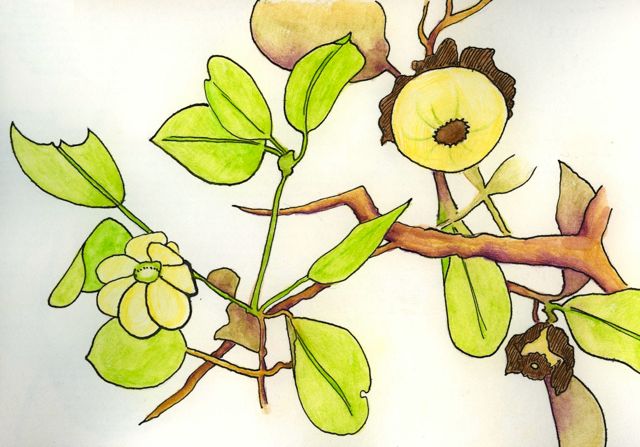 The abrasa fig, about the size of a small grapefruit, grows as a "strangler" vine. Hence the sranan word, abrasa--hug.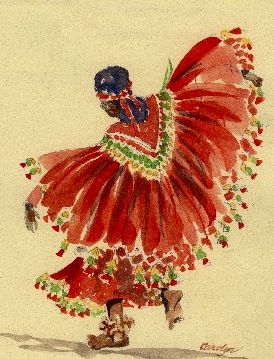 I painted this Amerindian dancer in traditional costume of cotton cloth, feathers and beads.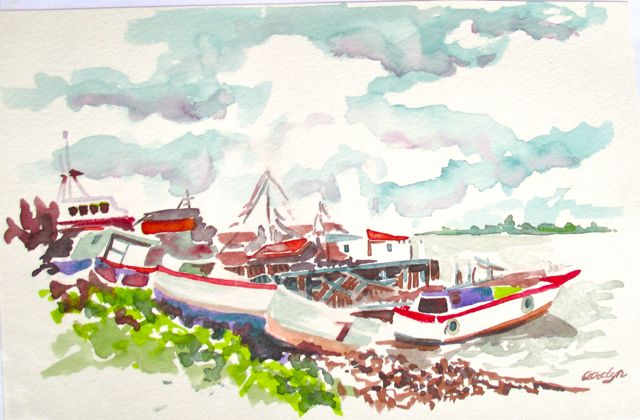 These fishing and travel boats line the waterfront along Waterkant.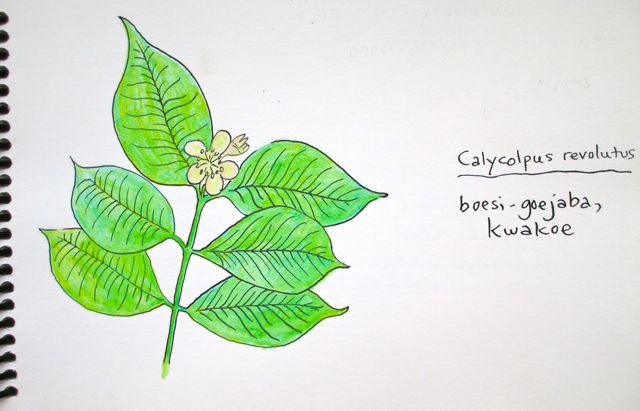 The diverse flora of Suriname fascinates me. This shrub is called "boesi goejaba." It grows mostly in the sandy savanna, between the coast and the edge of the rainforest. As I recall it has some native medicinal value, but I failed to note that in my journal.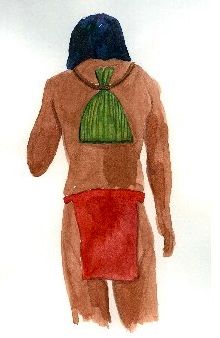 This is a traditional way that an Amerindian man carried stuff (most likely a food snack). A large palm frond was folded in half, closed with a small rope tie that then fastened around the neck.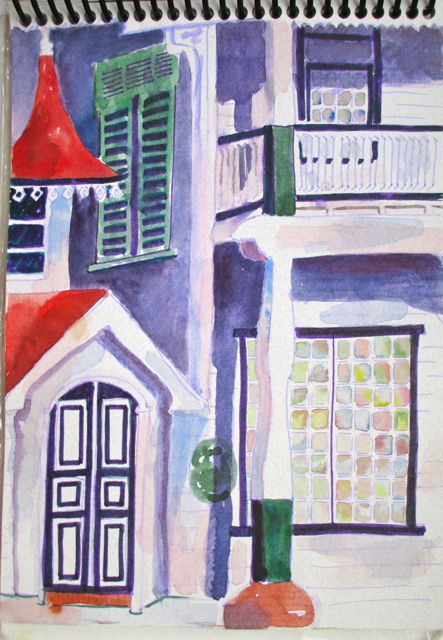 Paramaribo, the capital of Suriname, is remarkable for its wooden Dutch colonial architecture. Many buildings have been preserved. This one is the Belgian Embassy on Dominestraat.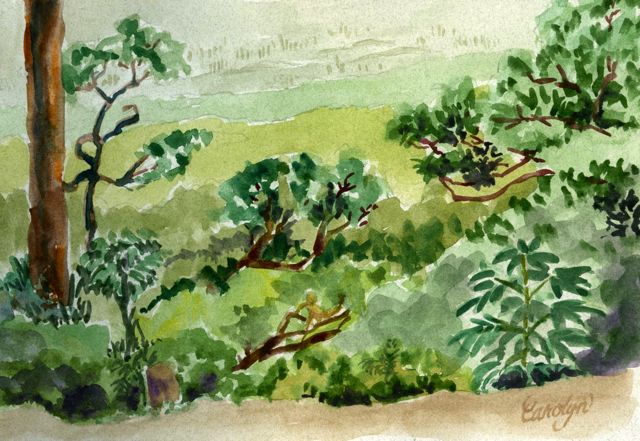 I did this little watercolor study of the jungle at Brownsberg Nature Park. In the early morning while I painted this I could hear howler monkeys.
---
---