Tina travels Puerto Rico

An interview with Tina Paul; Tina Travels Puerto Rico

The following is a transcription of our video interview with Tina Paul.

Carolyn:  This is Carolyn Hamilton and I'm here today with Tina Paul who just came back from Puerto Rico! That is so exciting, Tina, and I'm thrilled that you're with me today to talk to us about Puerto Rico and to share some insights for Adventurous Travel Magazine readers. So, how did you come to decide to go to Puerto Rico?
Tina: Thanks for having me. You know we wanted to go some place where it was sunny. I wanted to get a tan. Living in Ecuador, and it's the cold, rainy season, I was just missing the sun so bad. We've looked at options for where we could go to a sunny destination, and Puerto Rico came up.

We were a little hesitant, you know. Do they have electricity? Do they have water? We really wanted to go to San Juan. Old San Juan has been in our bucket list for a long time.
So I did a little research, and it seemed everything was fine, we found a great hotel, The Intercontinental Hotel which I highly recommend, they're on Isla Verde Beach - they never lost power during the hurricane.
Intercontinental Hotel, San Juan, Puerto Rico, a beautiful Caribbean vacation destination.
Carolyn: That's good.
Tina: Yeah, and they have generators so if you know when the next hurricane comes… They were prepared ahead of the hurricane. They have water, they have generators, so, when you were there at the hotel, you really wouldn't have known anything ever happened.
Tina Travels Puerto Rico
Carolyn: Wow. That's amazing. But you did leave the hotel and see Old San Juan?
Tina: We did, we went, it was about 10, 11, 12 – dollar Uber ride from the hotel…
Carolyn:  They have Uber? In San Juan, Puerto Rico?
Tina: They have Uber in San Juan.
Carolyn: Oh My God!
Tina: Very timely, very good. We were very, very pleased with it.
Carolyn:  How cool is that?!
Tina: The hotel we stayed at was less than 5 minutes from the airport, and then Old San Juan is like a 10-, 12-minute, 15-minute drive from the hotel, so you really don't need a rental car there. And there's plenty to do around that part of San Juan around the hotel, when you're not in the Old San Juan.
Carolyn: Because this was a beach area, where the hotel was?
Tina: Yes, it's a beach area. Then there's some restaurant…there's another really cool hotel that's wasn't quite open, it was going to be opened in a couple of weeks, the Old San Juan Hotel. Then further down there's the Ritz Carlton which was also going to open this summer, but in Old San Juan, everything is open.

We did an amazing food tour there. We met two, three other couples on the food tour, and their guide. Their guide was an American who had come six years before, and she just fell in love with the island, and she never took her return trip home, and she's been there ever since.
Carolyn: So what's the food like? Do they have a certain cuisine that you didn't find anywhere else? Was it spicy?
Tina: It's not spicy. We thought it was going to be spicy, but it is not spicy. It's a mix between South American food, Central America, Mexico without the spice.
They have their own recipe for beans – beans and rice is a very big thing in Puerto Rico, and they have this dish called Mofongo, which is made with fried plantains, lots and lots of garlic, and then with vegetables, or chicken. On the food tour, we got to make our own Mofongo at this restaurant and it's great. 
Carolyn: Do you have a recipe for them?
Tina: I could probably make the recipe for it, yeah.
Carolyn:  Okay, great. 'Cause I'd love it if you share it with us.
Tina: And we did a free walking tour. There's this gal, her name is Zarah, she's the only walking tour in Old San Juan and she is the owner and operator, tour guide. She did an amazing job. There's no charge for this tour—at the end of the tour, if you're happy with the tour you give her a tip, and that's how she makes her living from the tour.
Carolyn:  And what would be the average tip?
Tina: I think it was probably five to eight dollars,
And there were not too many people on the tour. There might have been ten people or so, fifteen, I don't know. But I think she does okay off of it. You really can't beat it— I'm sure for a walking tour, if you're going to pay for it, would probably be at least twenty dollars per person, and there's a company as well as a tour guide making money.
Carolyn: Everywhere, I'm sure. So, Morro Castle is there, right? In Old San Juan?
Tina: Yes, yes.
Tina Travels Puerto Rico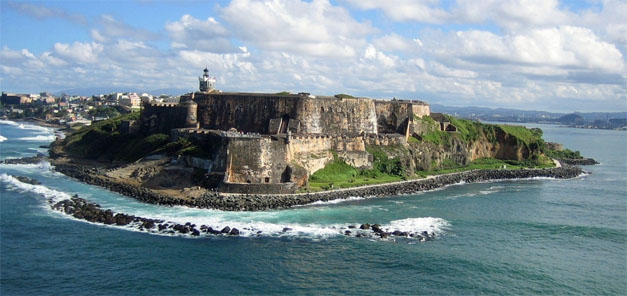 Morro Castle, San Juan, Puerto Rico.
Carolyn:  Because that's my favorite castle from when I was a kid, and I read pirate books long before "Pirates of the Caribbean", so I personally, I felt like a little kid when I went there and visited. But how did you go there?
Tina: We didn't go into the castle itself. We saw it from the outside. 
There is something that we did. We went in to this… I can't remember the exact name of it right now…but it's like a nursing home, a recovery center that's run by nuns.
They don't charge. Anybody who knocks at their door in need of first aid, or nursing care is seen and taken care of. Most of the people who are there, they have surgery, and are recovering. They let us go through as long as we didn't photograph the patients, and to the other side, where they have the most amazing view in all of San Juan.
There's a 180-degree view of the ocean. You can see a little bit of the fort, and it was just beautiful. And being an American, we rarely seeing nuns in habits working full time, so that was also very interesting for me.
Carolyn: Imagine. I mean the weather was hot and humid, right? And they were wearing those habits, but I guess they're used to it.
Tina: Yeah, and they're an order dedicated to health care, so…
Tina travels Puerto Rico
Carolyn: That's great. We could probably use some more of that. What else did you do?
Tina: There was a lot of food tasting. We went to the outside of the fort, and the cemetery… I can't remember when they decided to, but they took all of the deceased people and moved them out to a cemetery that's outside of the walls.
It's a very beautiful cemetery, and of course the back drop of this beautiful blue water behind it, and it's real white—kind of makes you think you're in Greece a little bit because of the blue and the white. The fort is really grand to its left. We did a lot of walking…there's this street called Prinsia Street that is so gorgeous.
Carolyn:  Is it hilly?
Tina: No, it's really not. There's some, but it's not very hilly, I wouldn't say. Though it's not completely flat, but it's not a strenuous walk getting around. It's just so pretty, when you're in the town—full of colorful, well kept, clean shops, boutique hotels, restaurants, and then on the outer edges you're along the water, and there are just…it's just beautiful!
We really enjoyed it. And again, we went there for the sun—we wanted to soak up some sun, we wanted to relax. We spent a lot of time by the beach, a lot of time by the pool.
Carolyn: Did you feel fairly safe walking around, being on the beach? You know sometimes I think, I go to the beach, I take all my stuff, but then I can't go in the water with my partner because somebody's got to stay there and watch the stuff on the beach. How did you handle that?
Tina: We felt very safe. Now again, we're on the beach in front of the Intercontinental Hotel, which at least during the day, there's somebody always watching their beach chairs, their umbrellas, and their patrons, I don't think there's any need for it, maybe tourism is down right now, because it did not seem crowded, or, it was peak season, but I'm sure your stuff is being watched.
There's a guy that puts up a beach umbrella for you. He buries the umbrella, and then he buries the weight so that the umbrella can't take off, and puts chairs underneath the umbrella for you, and then he and another person from the hotel are always out just to make sure.
And there's a server that's coming around to see if you want lunch or drinks. So there's plenty of people from the hotel kind of keeping an eye on things.

The beach and pool area at the Intercontinental Hotel in San Juan, Puerto Rico.
The beach did not seem…there's nothing to worry about…we walked many times from our hotel to either a drug store, a grocery store, or restaurants, and always felt very safe.
The cars stop immediately. You do not even stop when you're about to enter a cross walk. You just go from sidewalk to crosswalk automatically without stopping, because the cars stop for you.
Carolyn: Oh, that's good.
Tina: I know, it's a very walkable city.
Carolyn: How long were you there?
Tina: We were there nine days.
Carolyn:  And I'm sure you want to stay longer.
Tina: Oh, yes, yes.
Tina travels Puerto Rico
Carolyn:  Is there anything else you'd like to add, specifically for a woman who might be traveling alone or even with a girlfriend and is curious about Puerto Rico, I mean, how… ?
Tina: I wouldn't probably recommend visiting, trying to go there, and visit all Puerto Rico right now. There's still plenty of Puerto Rico that has not fully recovered from the hurricane and this is in June 2018.
San Juan is in real good shape, Old San Juan is in very good shape, around Isla Verde it's in very good shape, but I know from a first responder that I talked to, you can go fifteen minutes away from there and be in an area that does not have electricity.
So definitely…I know we talked to some people, a couple, and they encountered road problems, and wanted to check in to a hotel, but the hotel was closed.
So I wouldn't be a single woman and say, "Oh, I'm going to land in Puerto Rico, and rent a car and go drive the island." That's a typical vacation for a lot of people in Puerto Rico. I don't think I would recommend it right now.
I would recommend Old San Juan. Many of the Puerto Ricans settled in any kind of driving distance of Old San Juan, work in Old San Juan, and they make their living off the tourists, so they really need the tourists to come back.
Carolyn: That's good advice. Thank you so much for your help! And where are you off to now? You're off to Europe?
Tina: We're off to Europe. We're going to start in Croatia, and we're going to be in Slovenia, Slovakia, Hungary, Poland, the Czech Republic, Dusseldorf, Germany, and we're gonna fly out of Amsterdam, The Netherlands, so we're excited.
Carolyn:  Schiphol is kind of like Miami, it's a shopping mall with parking for airplanes and cars. Anyway, we look forward to talking to you when you come back … we definitely will want to know which country was your favorite!
Tina: Oh, I think it's gonna be hard!
Carolyn:  Oh, the pressure!
Tina: Quite the pressure!
--video transcription by Roger Pro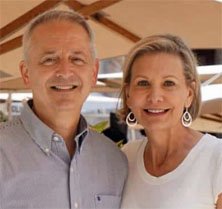 Tina Paul and her husband and best friend of many years, Keith, are Destination & Experience Influencers and Marketers. Their popular blog, Retire Early and Travel, is about living an international lifestyle.
Originally from New Baltimore, Michigan his career in hospital IT and hers as a science teacher and naturopathic doctor took them over the years to Florida, Fort Worth, Texas and Pasadena, California.
Their home base for the past few years has been Cuenca, Ecuador, where they have been featured on the television program, "International House Hunters."
---
---