Tjapukai

Tjapukai is a historic, cultural and theater experience in Cairns, Australia.

About 15 minutes north of Cairns, Australia are 25 acres that make up the Tjapukai Aboriginal Culture Park.
Here you'll find authentic music, dance and storytelling from the world's oldest living culture, the Tjapukai people of the eastern coast of Australia.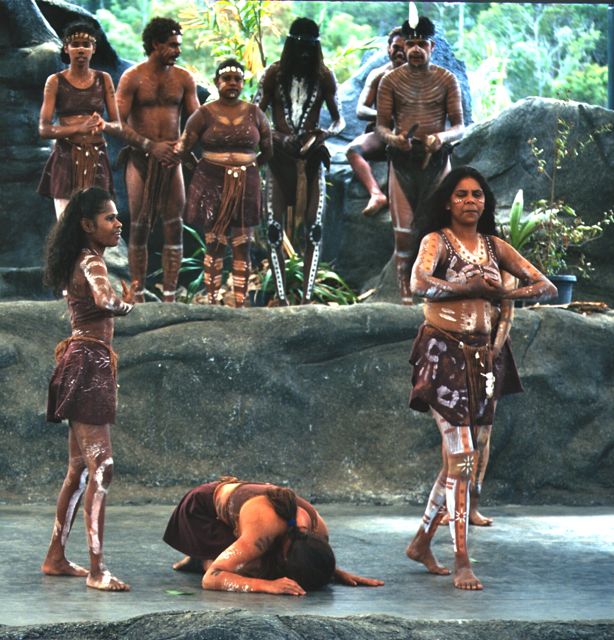 Tjapukai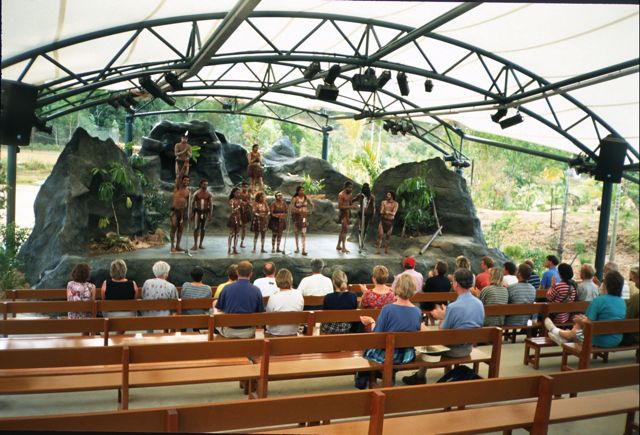 The Creation Theater is a hand-crafted, outdoor stage where Aboriginal performers act out the spiritual and traditional stories of their people. They tell the ancient legends of the Dreamtime, when the world was formed.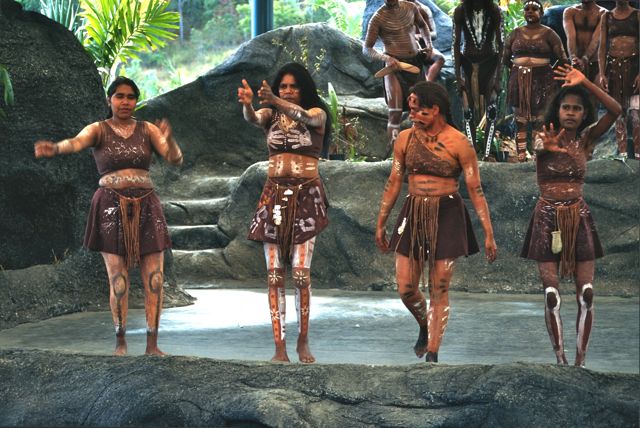 While the performance is told in the Tjapukai language, the audience can choose from 7 languages to hear the story via personal headsets.
In the Guinness Book of Records, the theater presentation is Australia's longest running stage show.
Tjapukai
After the performance we crossed a bridge to a representation of an Aboriginal camp. There we could see how they cooked, sample bush foods, and try to learn to throw a spear or play a didgeridoo. 
These interactive activities, aided by patient young Tjapukai teachers in traditional paint and dress, helped us to better understand this 40,000 year-old culture.
Built on traditional Tjapukai land, this is Australia's largest Indigenous cultural park. The word Tjapukai means "people of the rainforest." 
Tjapukai Theater - How it all began
Twenty-five years ago in the basement of a shopping center in Kuranda, outside Cairns, Don and Judy Freeman - international theater artists - and 5 local Tjapukai men conceived the first Aboriginal dance theater.
They created songs and dances using Aboriginal words and traditions and produced a one-hour play in a small dance theater in Kuranda.
I'm sure they never dreamed how this would so effectively combine tourism with Indigenous culture so many years later.
After nine years, they moved to the larger and current location north of Cairns. In the following years, business activities expanded to include a cultural village with interactive demonstrations, restaurants, a retail store and more.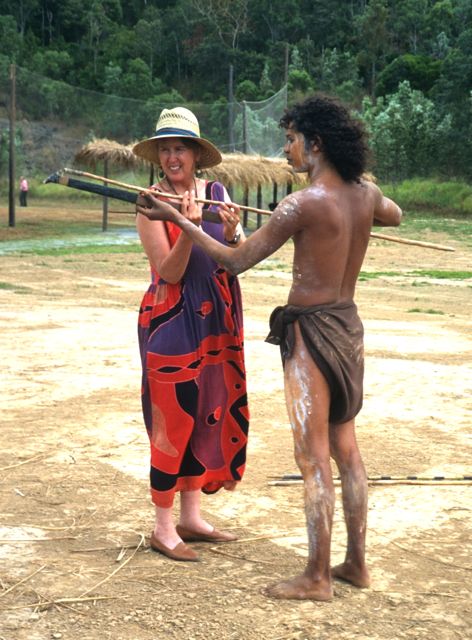 At the Tjapuka Cultural Center, this young man shows me how to throw a spear
The first Aboriginal Cultural attraction in Australia, the Tjapukai Aboriginal Culture Park is today a $9 million enterprise that has attacted more than 3 million visitors.

In Australia, it is the largest employer of indigenous people, and The native community has a substantial equity interest in the business.

I asked the Tjapukai teen-ager who taught me to throw the spear if all that make-up didn't give him zits, and he said, "No, it's actually good for the skin because it's all natural clay."
What a great day at the Tjapukai Theater in Cairns, Australia!

Carolyn V. Hamilton
---
---