Utah National Parks

A trip report from the 5 Utah National Parks by Erin Coyle

Red hue, sandstone, and slate-colored uneven rocks and boulders make the scenery appear fake while walking through any of the five Utah national parks. All the parks are massive and could take several days to see all of the trails. Having visited all five, here are some of my highlights of a few of the parks.

If you are looking for minimal crowds and cool-looking flat UFO-like shaped stones, then head to the Cassidy Arch trail inside Capitol Reef National Park. These crater-shaped flat crusts make this area a good movie scene.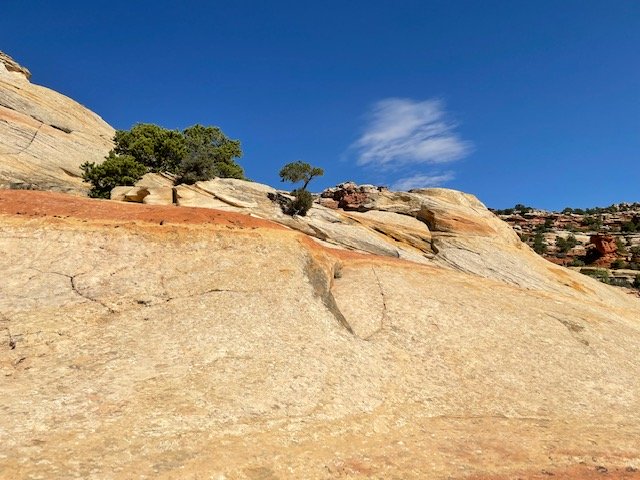 Cassidy Arch Trail in Utah
Trees and bushes sticking in between these rocks make one wonder how they can survive. The trail is a mix of walking paths and walking around uneven stones. The best time to go is the morning as it starts to get hot, especially in the summer, with temperatures reaching over 100 degrees with no covering along the trail.
Bring at least three liters of water. The day we hiked, it was another two miles because the road was closed due to recent flooding. The cost for individuals is $10 and $20 for a private vehicle but check the National Park website.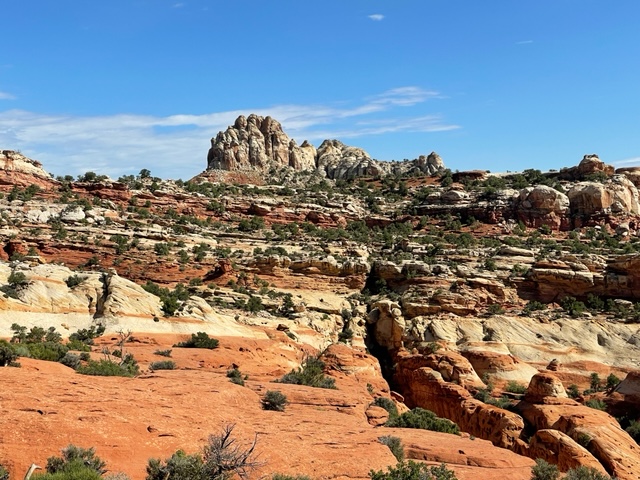 Cassidy Arch Trail, Utah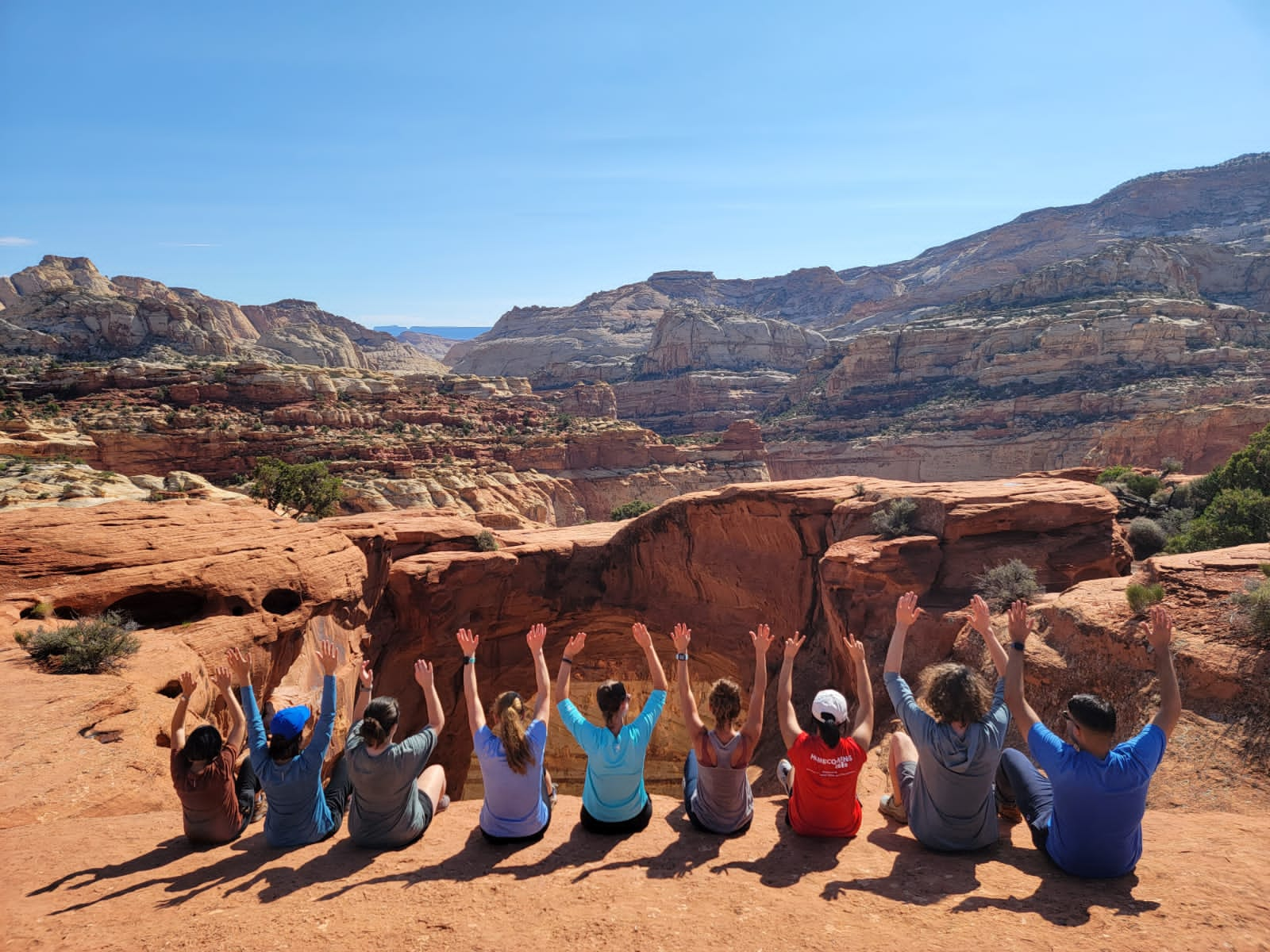 Our group!
Utah National Parks
A sunrise hike up to Delicate Arch at Arches National Park is worth waking up for at 3 am. Watch the sun go from cotton candy pink to a golden yellow as the sun casts its light on the arch, showing sandstone, faded red, and charcoal colors.
It does get crowded, so it is best to start the hike early to find a good spot. Start making your way down to the arch for a photo op just as the sun begins to peak to avoid the crowd as they start to gather to take pictures.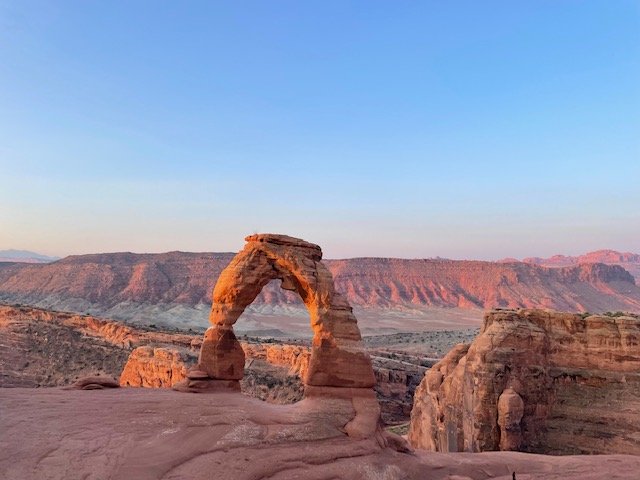 Sunrise at Delicate Arch
Angel's Landing - Zion National Park
For adventure lovers or ones that want to overcome their fear of heights, do not miss the hike up to Angels Landing at Zion National Park. The jagged and layered rock formations will be impressive, but wait until reaching 'the chains' section.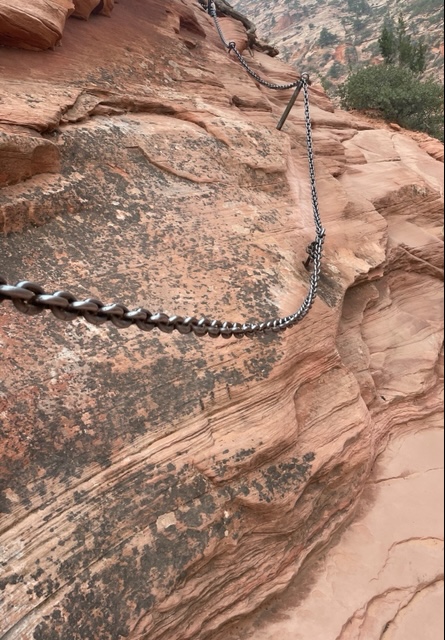 The Chains Section at Zion National Park
The chain will be along the rock for support, but in certain areas, it is easier to climb by placing your hands on the rocks. Once reaching the top, take in views of the Utah mountains and long winding roads below.
Most importantly, look back to see your accomplishment in reaching this area. Because this section requires going in a single file line, it is best to start early to avoid crowds. My group was in line about one hour before the first bus ran to the drop-off point.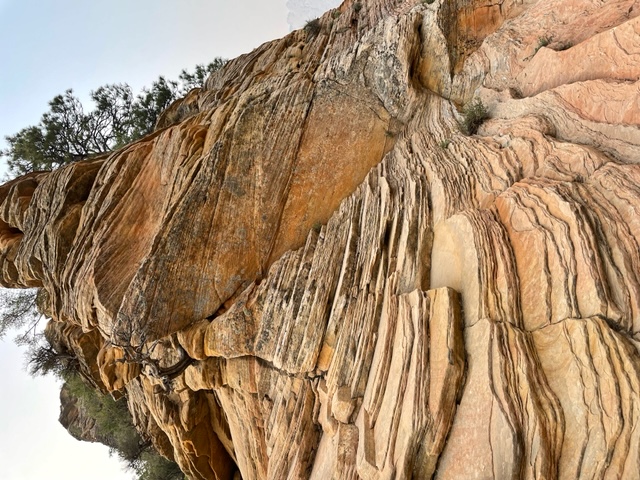 Angels Landing at Zion National Park
Utah National Parks
I made this trip with G Adventures because I wanted to travel with other people, and I didn't have much time to plan the journey independently. There is already an itinerary designed for you, making it easy to show up, so this is a reason why group travel can be good.
I also met a great group of people, and we still keep in touch. Our guide, Mike Hodges, was fantastic. He cooked fabulous meals, always ensured we were having a great time and was very knowledgeable about all the places we visited. I asked him some questions about traveling with a group to gain his perspective.

My Questions for Mike
Me; What's the best part about your job?

Mike; I love showing others the fantastic places the US has to offer and not only getting to show them but hopefully creating lifelong memories.

Me; What are some reasons for traveling with a group?
Mike; The best parts of group travel for me include getting to meet new people and make friends, but also the ease of planning and lowering the cost of the trips.
 
Me; Has there been an excellent experience with one of your groups that stands out in your mind?
Mike; For me, I have had a lot of unique tours and groups. But what sticks with me is when months and even years later, I see my group continue to be in touch in the group message and on Facebook. I love seeing posts of people from my groups post photos together of them meeting up worldwide.

Me; Do you have any pet peeves when it comes to group travel?
Mike; As a guide and passenger, being late bothers me, and it is frustrating for the entire group.
 
Me; Do you have any tips for those thinking about group travel?
Mike; If you are thinking about group travel, understand that the tour is not your tour; you have to respect the group dynamic. Also, be open to others' points of view and differences in culture or people in general.
 
Me; How can a traveler prepare themselves for a tour?
Mike; Here at G, there is a lot of information sent to you regarding the trip; I couldn't emphasize enough to read through it all. It has everything from what you should pack to how long the drives are, how much time is at each location and what will be included.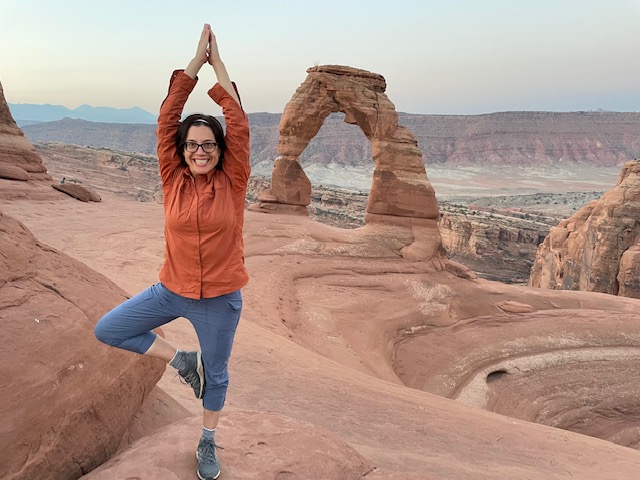 Erin at Delicate Arch - Arches National Park
Me; Is there anything else you want to add about group travel?
Mike; Just be flexible and enjoy the people and places you are visiting. Have a positive mindset, because things happen. You may have to change plans on the fly, and if you let the little things get to you, it will dampen your experience.

Me; Is group travel for everyone?
Mike; I think travel is for everyone! But group travel isn't necessarily for everyone. If you are particular about doing things a specific way, and want to be in charge of how long and all of the stops you are making, you might choose to plan and do the trip yourself.
But I do think even those people can have a fantastic experience in group travel as long as they prepare themselves and know the full details of the trip and have the right mindset going into the tour.
The five Utah National Parks are definitely worth visiting. Try to spend at least one week discovering the trails. The next time you book a trip and don't feel like planning everything, think about traveling with a tour group!

- Story and Photos by Erin Coyle
---
Author Bio

I am a Travel Writers University member. Traveling with friends, solo and in group tours, I have explored Southeast Asia, Zealandia, Europe, the Middle East, and South Africa.
I am currently teaching English in a foundation program at a university in Sur, the Sultanate of Oman. Before this, I taught English at a university in Nanchang China, for five years. Check out my website erinshotpot or find me on Instagram @erinshotpot.

---