Exotic Adventures in Thailand
(Eating Bugs - Optional)
This is Heidi's account of her Adventures in Thailand.

I wanted an exotic, adventurous vacation, but I didn't know bugs would be offered up as snacks during my carefully planned trip. Thailand definitely delivered on the exotic destination, where I spent two weeks during the Christmas holiday with my fiancé, Dan.
Although traveling at that time of year was not my first choice, the company where I worked closed down the second half of December, so off we went.
One of our first Thailand adventures after getting settled into our Bangkok hotel was to walk a nearby street fair, where we encountered clothes, trinkets and food for sale, including a snack cart offering an assortment of beetles, centipedes and other bugs.
"Would you like one?" Dan asked.
"Uh, I'm not that hungry," I replied. I stopped long enough to take a photo. "Do people really eat those?"
"I think they're just to entertain the tourists," Dan said.

In Bangkok the next day our local tour guide proudly showed us the opulent architecture and works of art in the famous Thailand temples, known as "wats." These included Wat Po, famous for its giant reclining Buddha, and Wat Pra Kaew, the most revered shrine in the kingdom and the home of the emerald Buddha.
From there we boarded a longtail boat to zip through the maze of canals and waterways. We marveled at the "floating market" where various trinkets and food were sold and transferred from one boat to another.
After a visit to the Royal Palace and a few vigorous Thai massages—available everywhere and very reasonable—we were ready for our next adventure, Sukhothai.
Adventures in Thailand
Heidi and Dave at the Sukhothai ruins in Thailand
Sukhothai, Thailand is famous for its many ancient temple ruins with both Buddhist and Hindu architecture.
Being fond of more active vacations, we had decided to explore the ruins on bicycle with another local guide who educated us on the history of the area and the story of Buddhism.
We loved spending Christmas day pedaling along lush fern-lined canals and seemingly endless rice paddies with views of the Kao Laung mountain range, stopping to visit a local craftsman building furniture.
We explored temple after temple after temple, enjoying our scenic ride in the warm, summer-like weather. We enjoyed a delicious local lunch—sans bugs--before returning to our hotel for a rest.
Afterwards we walked a short distance to town to explore a large, colorful market filled with a lot of things we couldn't identify.
Later we had a lovely Christmas dinner outside in front of the lagoon fountain, with strings of colorful lights adorning the trees. Although we were in a Buddhist country, everywhere we went we were wished a Merry Christmas.
The following day we traveled four hours by van to Chiang Mai.
Naturally we stopped along the way to visit more wats. There was a bad accident on the narrow, winding road we were on, and we lost hours waiting for the road to reopen, which meant we missed seeing the Elephant Conservation Center.
We visited another wat along the way instead. When we reached our hotel in Chiang Mai, Dan said, "I think I'm watted out." He had seen enough wats, and I had to agree.
We were ready for a different adventure and were excited that we would meet elephants the next day.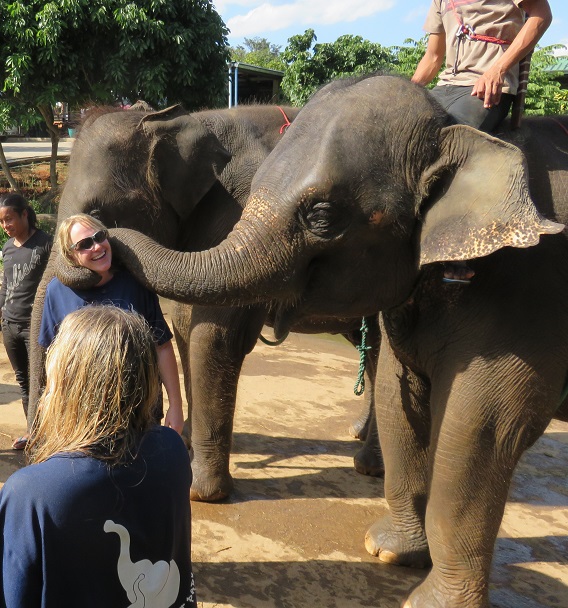 We spent most of the next day at an elephant park learning how to be mahouts, or elephant caretakers.
We were educated about elephants, fed them, and rode them bareback down to the river. Bath time was playful and we got in the water with them to scrub them clean.
Sadly, in Thailand elephants have been squeezed out of their natural habitat and domesticated much like horses and oxen in the United States.
That evening we walked the well-known Chiang Mai outdoor weekly market. It was packed with people and vendors alike and seemed to go on for miles but was really only a bit more than half a mile. We bought unique gifts for family and friends, then returned to our hotel to rest up from our day with the elephants.
Adventures in Thailand

In the morning we boarded a flight for Krabi in southern Thailand to experience the beach adventure part of our vacation.
We strolled through town, darting in and out of shops and enjoyed some beach time. Later we sat outside sipping umbrella drinks overlooking the beach.
The weather was warm, the pace unhurried, the prices delightful, and the locals friendly. We were relaxed and looking forward to our boating and kayaking adventure the next day.
After a drive to Ao Thalane Pier we boarded a longtail boat for the 45-minute journey to Thailand's Hong Island, passing towering karst formations along the way.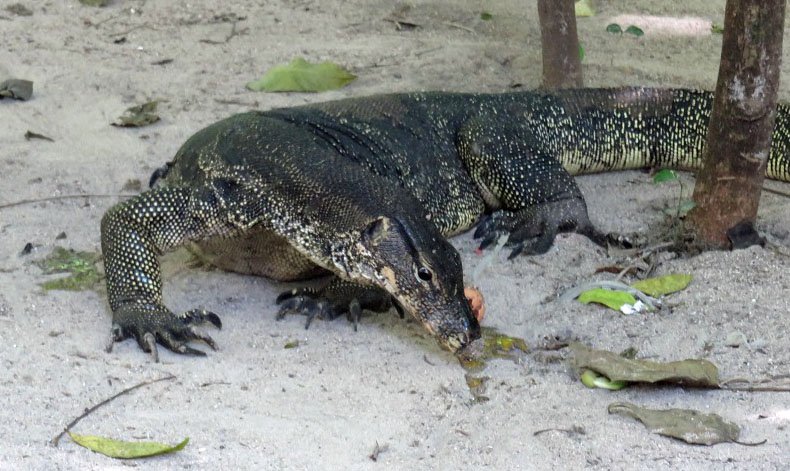 We love seeing local wildlife and were thrilled to see a monitor lizard eating eggs.
These are some of the world's biggest lizards; they can grow up to more than six feet long and weigh over one hundred pounds.
There were sobering moments when we learned about the damage and deaths on Hong, Phuket and other islands from the 2004 Indian Ocean earthquake and tsunami.
We returned to Ao Thalane on another longtail boat and had lunch in an outdoor restaurant with no bugs in sight, unless you count the large yellow spider we saw on the way to the dock. It was the largest spider I've ever seen other than tarantulas.
From the dock we embarked on an amazing kayaking trip past caves and through mangroves. We were warned to watch for monkeys.
Apparently, they like to swoop down from the trees to snatch backpacks filled with snacks. We saw monkeys along the way but they behaved themselves.
The beautiful scenery we encountered on the kayaking trip was the highlight of the trip for us, but our vacation wasn't done yet.
We had one last day in Krabi to stroll the beach and enjoy the shops and restaurants before our exotic adventure was over. The next morning, we boarded a plane to take us to Bangkok and then back to the U.S. We had our exotic adventures in Thailand memories and sun-kissed glow to get us through the rest of the winter.
—Story & photos by Heidi Eliason
Chiang Mai photo by HuaHinTown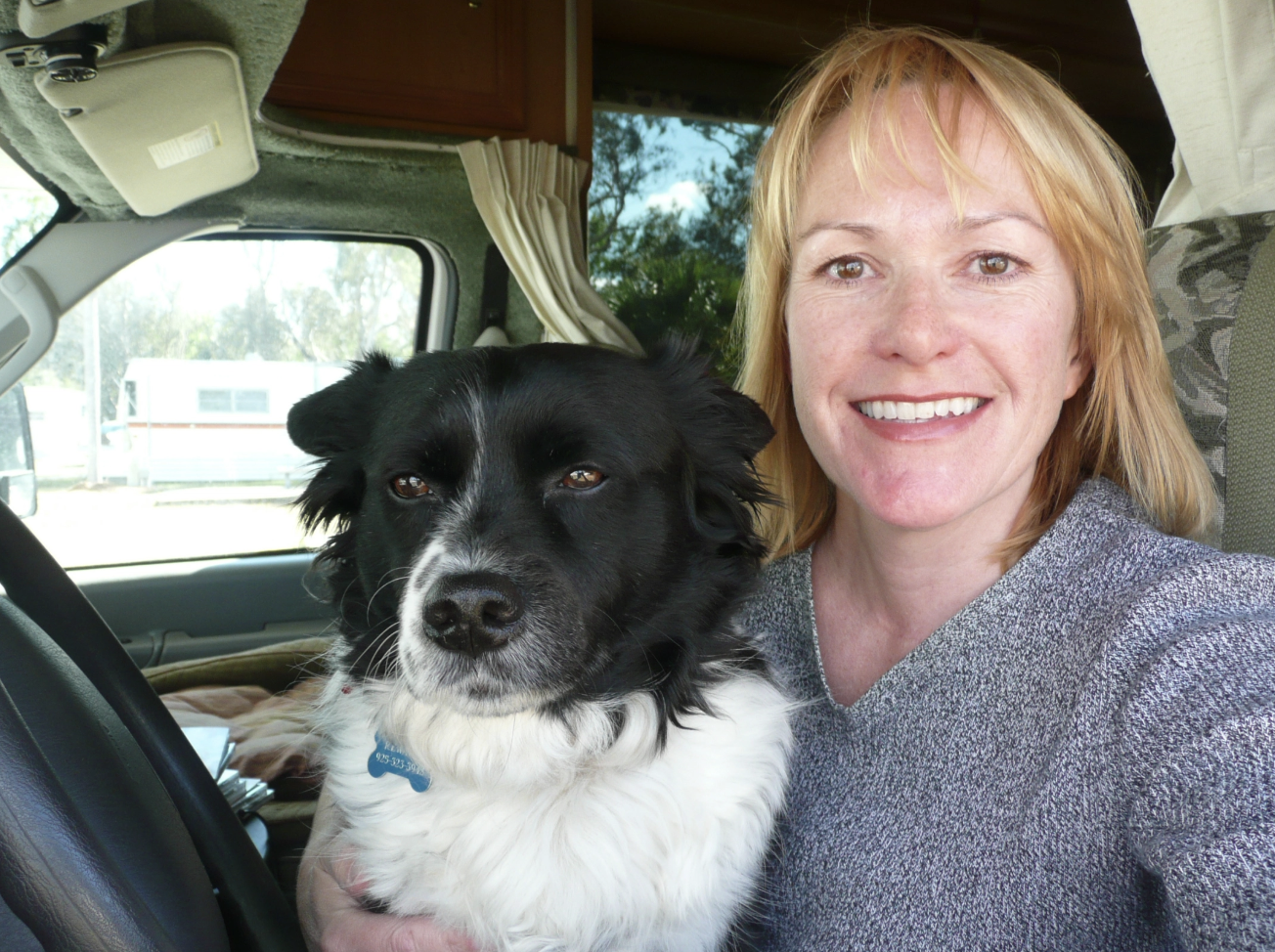 Heidi Eliason grew up in Minnesota and has also lived in Colorado, Washington, and California. She is a freelance writer and instructional design consultant. Her past work includes writing for an RV adventure company, producing more than fifty RV travel articles for an online news source, and developing training courses and manuals.
Confessions of a Middle-Aged Runaway: An RV Travel Adventure is her first book. She currently lives in the San Francisco Bay Area with her bass-playing boyfriend and her dog.
If you enjoyed this story, be sure to read:
Exploring Bangkok With No Agenda
A few travel art journal pages from Thailand
---
---