Brooklyn Pub Crawl
Cheryl Trenary visits beautiful Brooklyn – Pub Crawling Through Carroll Gardens!
The sun hovered delicately above ornate brick buildings, hanging for a moment until plunging the sky into darkness. My husband and I sauntered up the street, breathing the cold air that arrives in Brooklyn, New York in late October.
Our goal was to haunt the many fabulous pubs and cafés dotting the Carroll Gardens district of Brooklyn, and as Halloween weekend approached witches, cats, and ghosts brushed past us darting in and out of open doorways to enjoy drinks and appetizers. A Pub Crawl through Brooklyn is no small task, and as it turned out our adventure lasted several nights.
Carroll Gardens is a beautiful neighborhood with 200 years of history. Parks bursting with lush green trees and streets filled with towering brownstone apartments; families and single individuals alike call this area home. Evenings are alive with authentic pubs and cafés reimagined in historic buildings. Our goal – to find the most amazing pubs with the coolest history.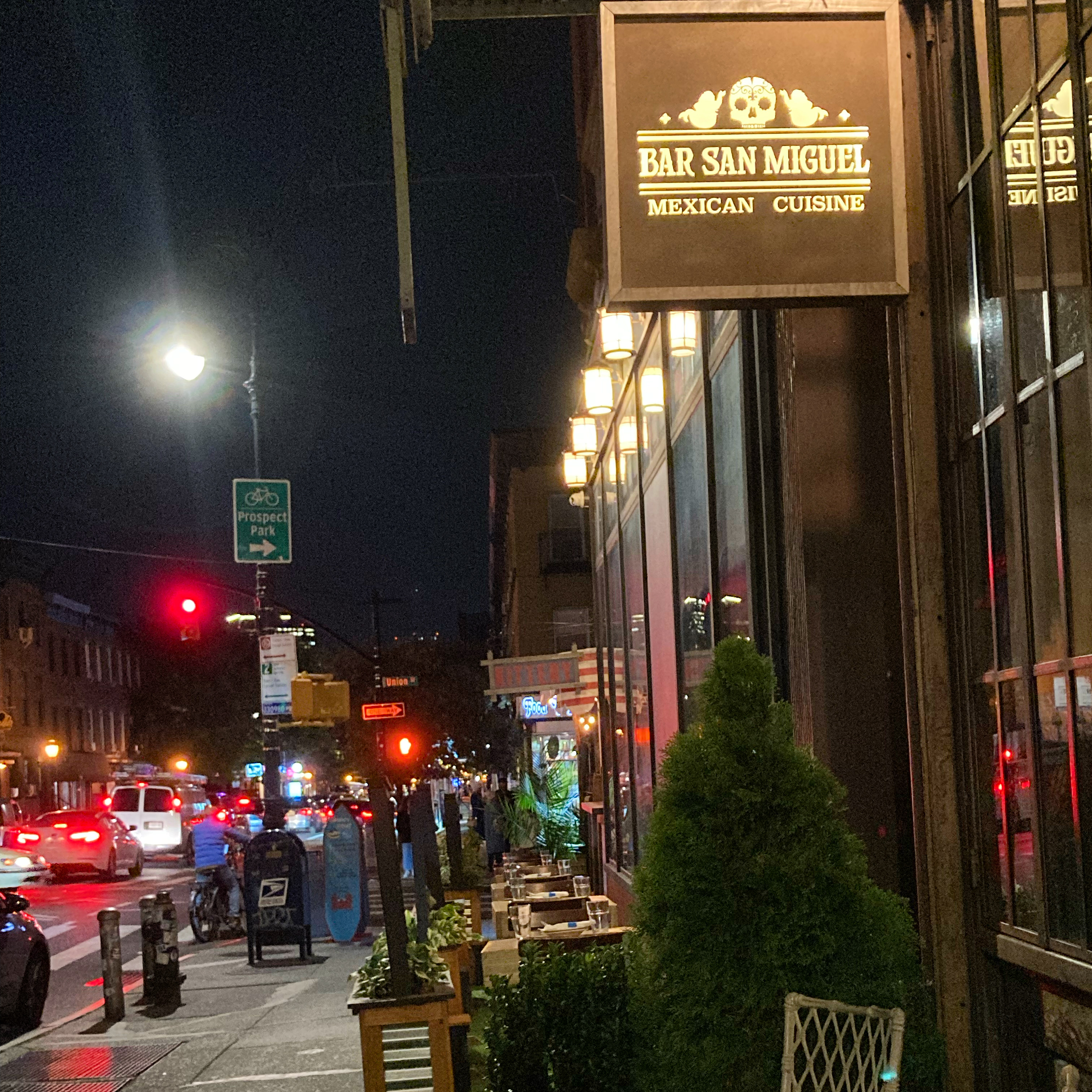 Outside Bar San Miguel
Swinging above the sidewalk, a brown sign announced Bar San Miguel. The wooden door was propped open, welcoming patrons as breezes blew through the bar. A smiling face greeted us, and bade us to wait as servers cleared a table. Inspired by the historic town of San Miguel de Allende located in the hills of Mexico, fare was varied, delicious authentic Mexican food. A skillet of queso passed by carried to a neighboring table as spicy odors tickled my nose. Noshing on enchiladas with margaritas to chase them down wrapped up the perfect first night of our signature Pub Crawl.

Gowanus Yacht Club
As the sun slipped behind the buildings on day two, drinks at Gowanus Yacht Club beckoned. The outdoor beer garden, not to be confused with, well, a yacht club, was tucked into a corner by the Carroll Street Subway stop. Surrounded by a brick and iron fence, we entered the garden as rumbling sounds of trains filtered up through a grate in the pavement.  The cash-only establishment offered draft beers, ciders and canned offerings, along with grilled pub food. Old wooden chairs and stools propped up patrons seated at damp picnic tables, and swiping my hand across a chair I plopped down to sip on my White Claw. It was the perfect way to start the evening.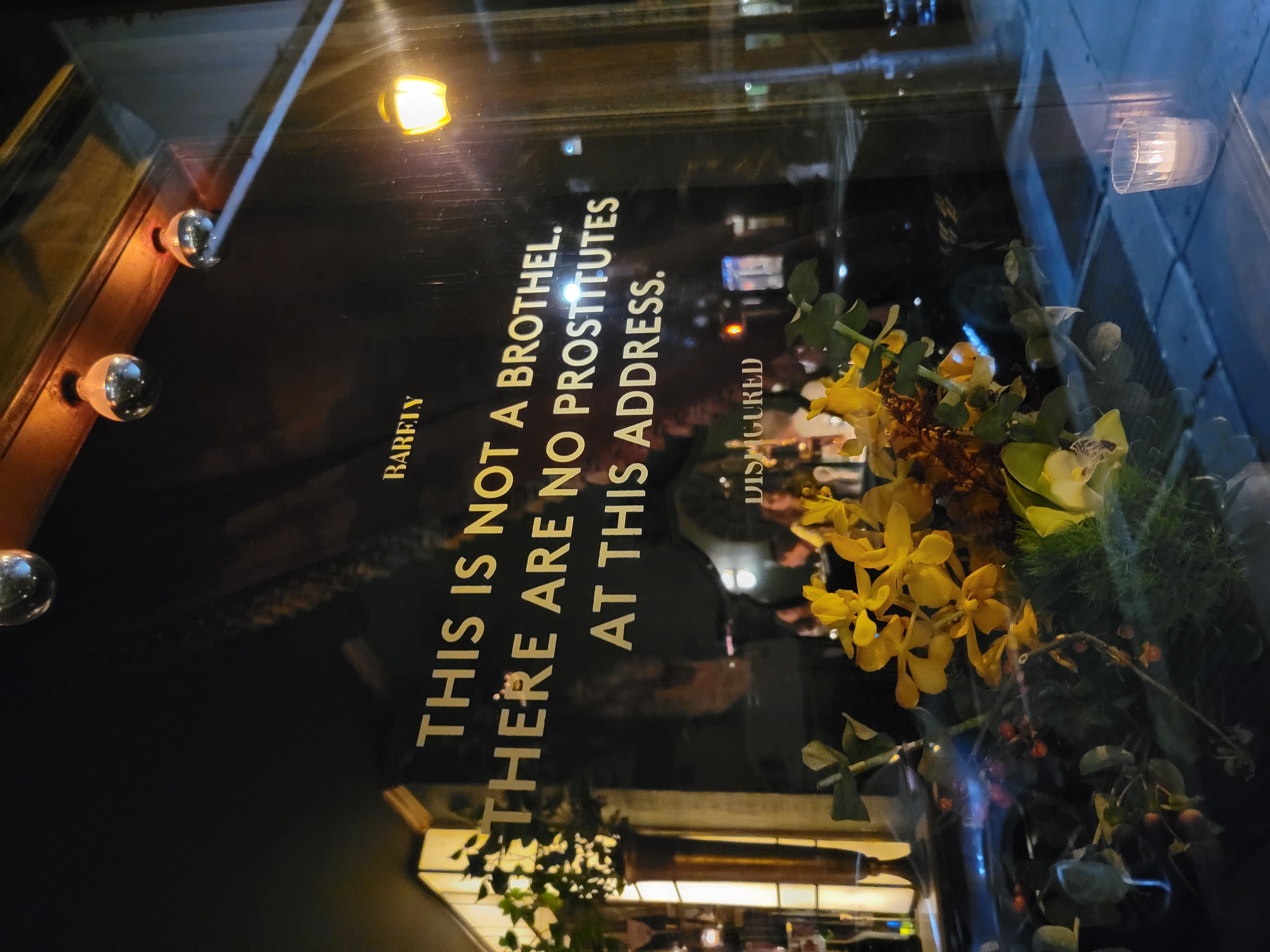 The sign at Barely Disfigured!
Moving further up the street, the night air chilled my nose as an old, unassuming, wooden doorway greeted us. Barely Disfigured was built on the site of a short-lived "house of ill repute," and with the assurance that no prostitutes lingered we opened the door. A curved marble bar and dim lighting surrounded the room, part 1920s speakeasy married to modern Brooklyn.
Unusual cocktails, elevated charcuterie platters and cheese trays graced the menu, along with a robust raw bar tempting the palate. Warm ambiance suited the bar like a soft leather glove, and the crisp "George Washington's Night Out" slid down my throat with a sharp tang. A Charcuterie Board, a work of art, slid onto the bar before us, and my throat hummed in appreciation. 
The fabulous Charcuterie Board at Barely Disfigured
With more to see and experience, footsteps echoed on the cement sidewalk as our adventure continued. Soon, wide glass entryways opened to the night air greeted us at Abilene. With both indoor and outdoor seating, the crisp night beckoned us to sit at the worn wooden table outside.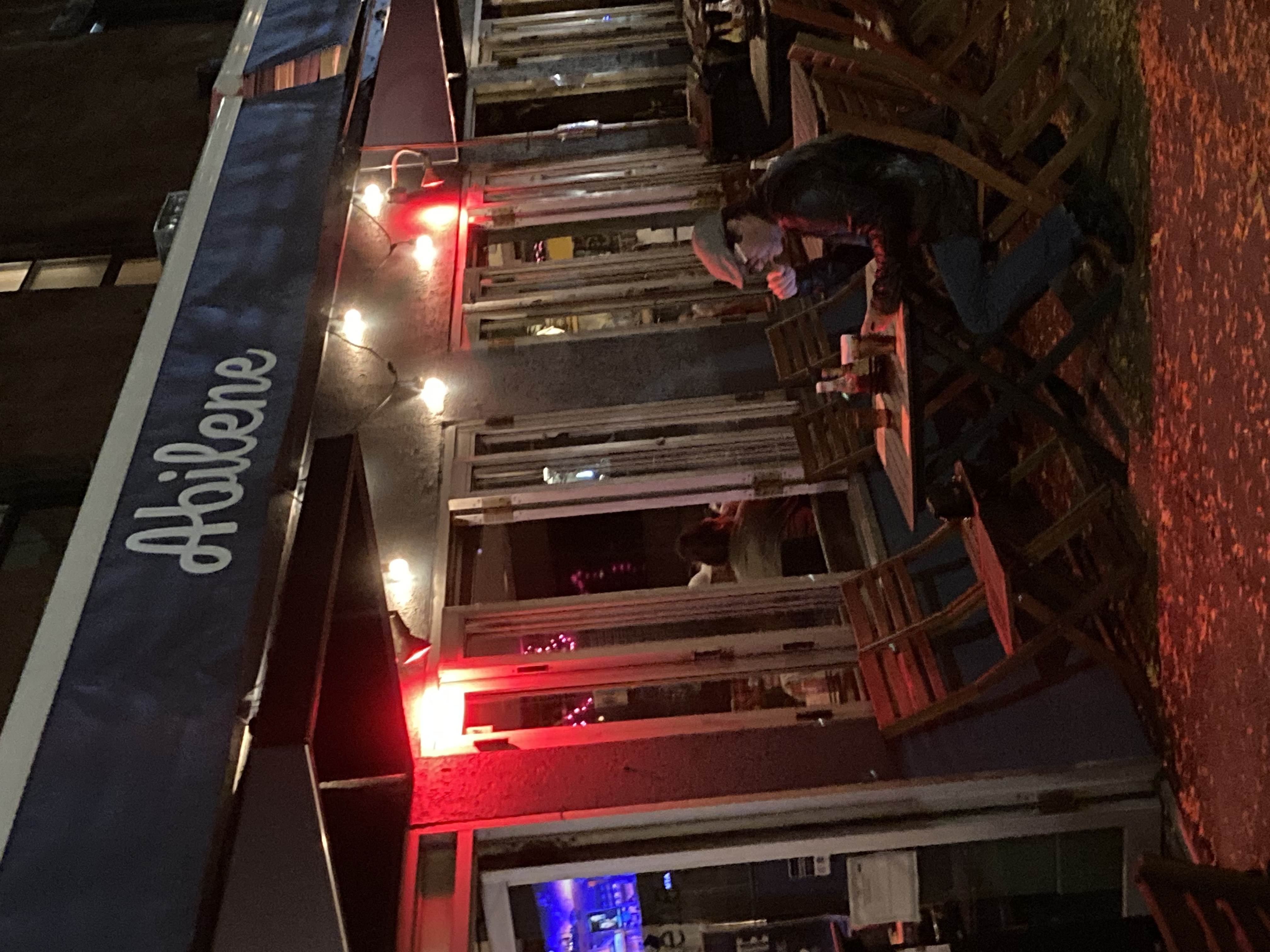 Outside Bar Abilene
Closing my eyes, I sipped a Cosmopolitan and snuggled into my wool jacket. Known as "the blue place on the corner," the bar is a favorite local hangout. Sinking our teeth into wings and the accompanying accoutrements was a most satisfying way to end the evening.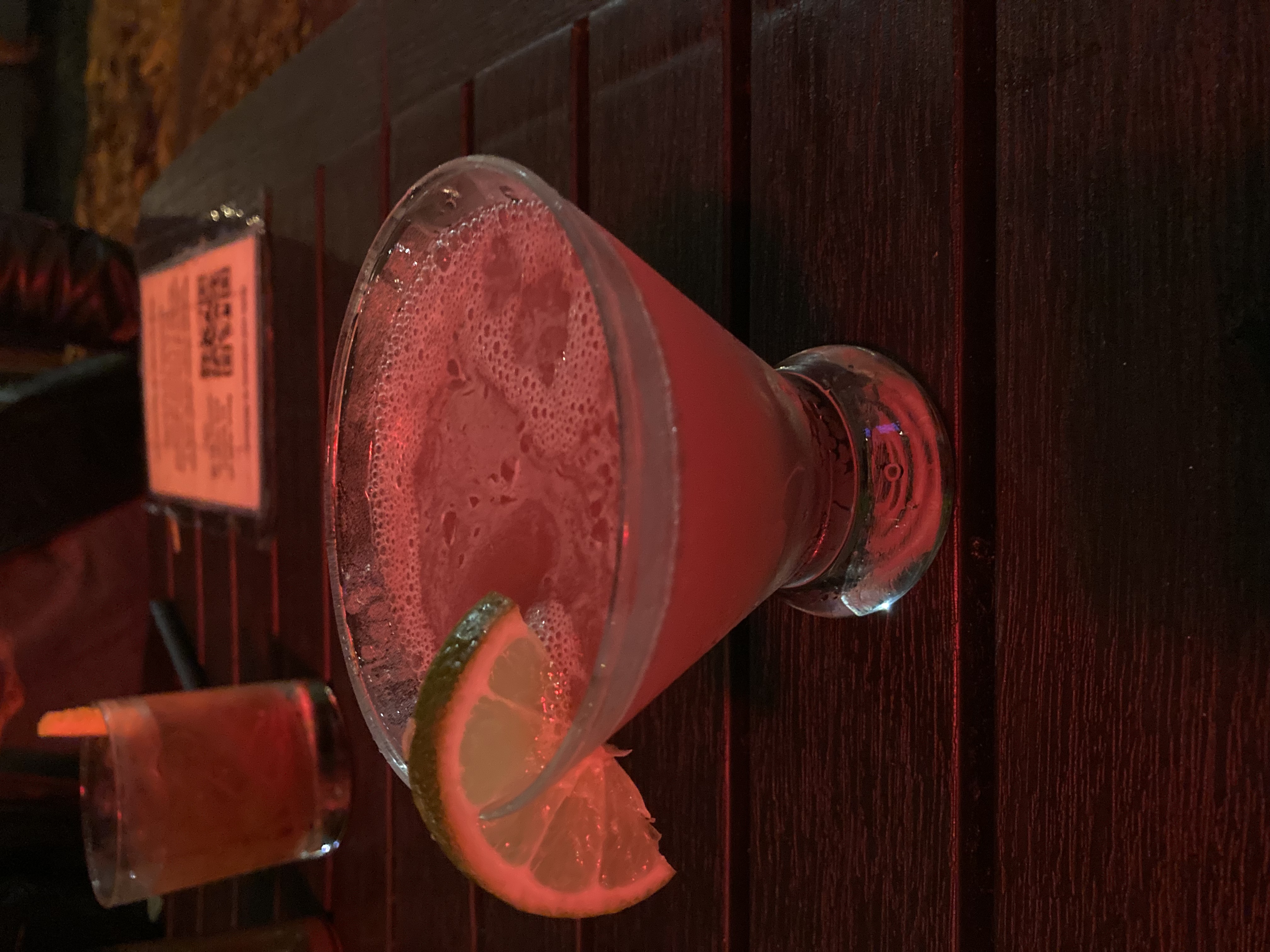 Sipping a Cosmopolitan at Bar Abilene
The final night of our Pub Crawl found us at the oldest bar in Brooklyn. With reservations firmly in hand, we approached the open door. Lush, bright flowers crawled up the walls of Court Street Tavern, and I tilted my head to take in the contrast against the night sky. Blessed with yet another evening of incredible weather, like a repeat playlist the night was crisp and cool. Heat lamps glowed amongst the tables as we settled in. Enjoying traditional burgers and fries, melancholy settled over me.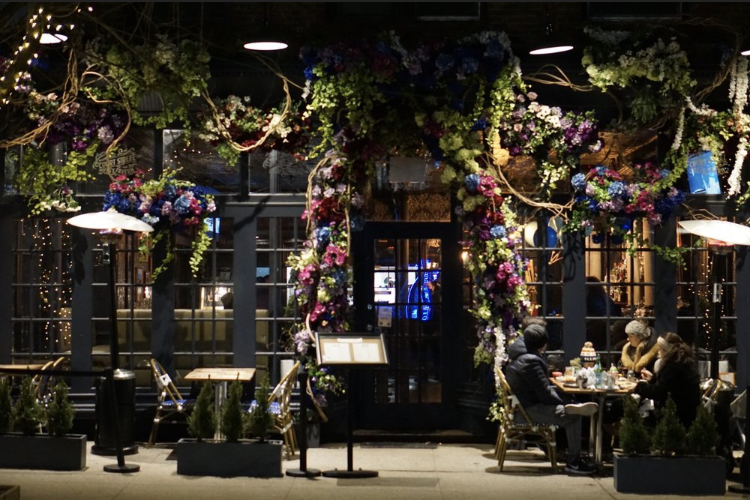 Court Street Tavern
An amazing week is not to be taken lightly and plans formed to return to this lovely corner of Brooklyn. There was still much to see and do to truly appreciate the history surrounding us.
- Story and photos by Cheryl Trenary
Author Bio
Cheryl is a regular contributor to the magazine. If you enjoyed this story, click on the links below to read more fascinating articles from Cheryl:
Cheryl experiences Can Bas Winery, a family-owned jewel outside of Barcelona
A cozy night at Agustin Inn in St. Augustine, Florida
A whimsical look at Parc Güell, Barcelona, Spain
You can also check out Cheryl's blog Trenary's Travels HERE