Confessions of a
Middle Aged Runaway

Read about the Confessions of a Middle Aged Runaway in this true story.

Depressed with her climb up the corporate ladder and struggling with "middle-age" insecurities, Heidi Eliason took a daring leap of faith in herself. At age 45 she sold her house, bought a motorhome, quit her job and embarked on an adventure that would change her life in ways she never imagined.

A modern Travels With Charlie, Confessions Of A Middle-Aged Runaway is an entertaining chronicle of one woman's five years on the road through Mexico and the US with her dog, Rylie in an RV. Heidi's initial plan to travel only a year in the motor home extended to five years, as she discovered she could enhance her savings with writing and photography to support further travels.
Her story opens with a Michael Hyatt quote, "Life begins at the edge of your comfort zone." From the first line, "I stared at the Green Monster as excitement melted into fear", Heidi writes with an authentic, straightforward voice.
Confessions of a Middle-Aged Runaway
This single mom had moved from Minnesota to California when her daughter, Cammie was just three. She had spent years working at jobs that "deadened my senses and made me feel trapped" in order to support herself and her daughter and a mortgage.
"I was running the hamster wheel and could only focus on the next couple of steps. I couldn't see that there was a big, beautiful world beyond the cage."
When Cammie left for college in a distant city, Heidi found herself "overwhelmed by the deafening quiet and emptiness."
Her resulting burnout and depression and associated health issues left her envying the homeless and fantasizing "about leaving everything behind and running away to the beach somewhere with an Airstream trailer."
She writes, "I was an empty - nester and when I looked in the mirror, what I saw terrified me. The face staring back at me belonged to a middle-aged woman with lifeless eyes who didn't know what she wanted to do with the rest of her life."
Confessions of a Middle-Aged Runaway
Heidi had never driven a recreational vehicle before. Her first discovery was that with the Green Monster's 30-foot length and her car towed behind, she couldn't back up.
In her first days on the road, she discovered toll roads and the importance of leveling the RV.
At her first major event stop, the Albuquerque International Balloon Fiesta, Heidi began to think that she, too, was finally taking flight.
In her continued travels, not only would Heidi see wildlife and roadside attractions and amazing ocean sunsets, but she would discover new friends and a new romance that would have an unhappy ending.
Confessions Of A Middle-Aged Runaway is compiled from notes and blog posts Heidi wrote during her travels. In her acknowledgements to all the family and friends who supported her along her writing journey, Heidi admits, "Writing a memoir can be a scary thing."
For everyone who has ever had a "run away" dream, Heidi's experiences will introduce you to what it's really like to live and travel full-time in an RV—the good, the bad, and the unexpected.
She is not afraid to share her tribulations and triumphs. Her writing style is open and honest. It's easy to imagine that she is telling you her story as if you are a luncheon friend.
Confessions of a Middle-Aged Runaway
Heidi's story never slows in pacing and the reader will be heart-warmed as Heidi shares her inner misgivings and her challenges with the motor home she calls "the Green Monster." Yet she never loses her sense of humor.
Heidi's decision to radically change her life provides an inspiration for all of us whose inner soul resonated when Peggy Lee sang, "Is that all there is?"
Heidi's story proves that there is an adventuress inside each of us and shows what magical possibilities can unfold when we risk the growth and insight that come with life's daring adventures.
If you enjoyed Eat Pray Love and Wild and have ever dreamed of just hitting the road, you'll love Confessions Of A Middle-Aged Runaway.
          Carolyn V. Hamilton, Former Editor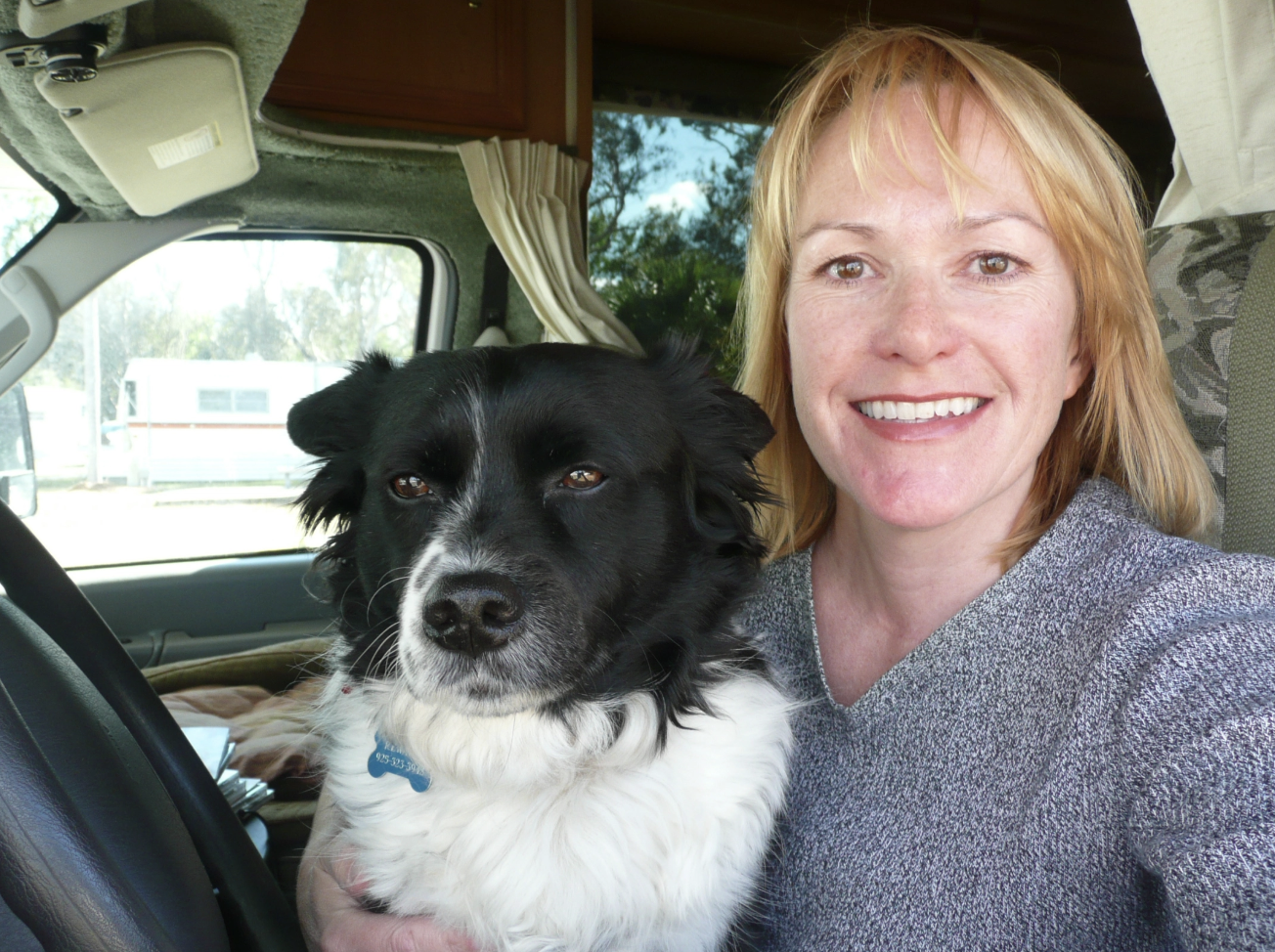 Heidi Eliason grew up in Minnesota and has also lived in Colorado, Washington, and California. She is a freelance writer and instructional design consultant.
She has developed training courses and manuals, written for an RV adventure company, and produced more than fifty RV travel articles for an online news source. Confessions of a Middle-Aged Runaway: An RV Travel Adventure is her first book. She currently lives in the San Francisco Bay Area with her bass-playing boyfriend and her dog, Rylie.
Find out more about Heidi at www.HeidiEliason.com and be sure to sign up for her newsletter. You can contact Heidi here: HeidiLEliason@gmail.com
---
If you enjoyed this book review, be sure to read these reviews:
Why We Left, an Anthology of American Women Expats
Janet Blaser has compiled and edited amazing first-person stories of women who have emigrated from the US to Mexico.
Going Gypsy: One Couple's Adventure from Empty Nest to No Nest At All
Going Gypsy is a thoughtful and thought-provoking memoir of one couple whose first adventure was to marry young and raise three children.

---
---