Falcon Ridge Ski Resort
What was old is new again; Falcon Ridge Ski Resort

Hoping to find a nifty story about a retro dance hall located at the Falcon Ridge Ski Hill in Manitoba's Whiteshell, I'm a little disappointed to discover that the Starbright Dance Hall sign atop the chalet is a prop.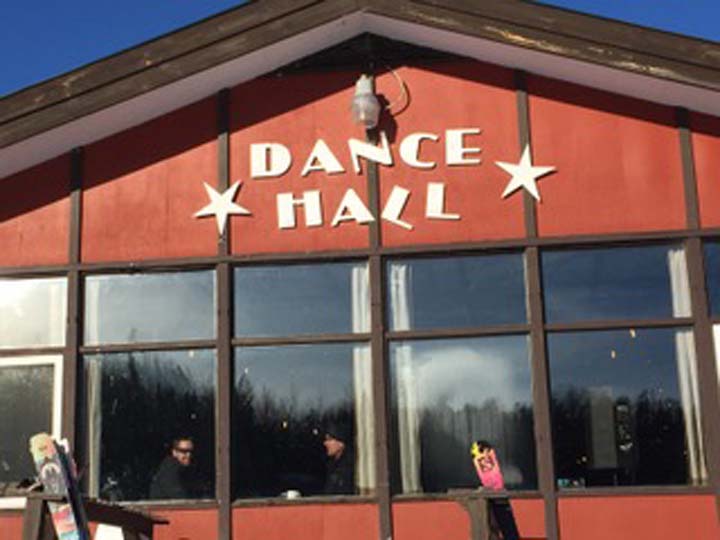 The Dance Hall sign at Falcon Ridge Chalet
The sign was left over from a movie production a few years ago and left there until it became a hazard and removed.
However, there's lots of vintage elements to discover when visiting the little ski hill nominated as a Manitoba provincial star attraction in 2018.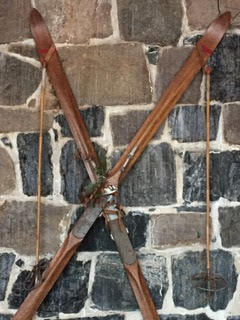 Vintage skis at Falcon Ridge Chalet
Originally opened in 1959 as a government project, "the ski hill runs were cleared by prisoners of a local penitentiary," says Emily Christie, oldest daughter of the family owned ski hill/resort business.
In the early days, the ski lift was powered by a tractor motor at a time when safety was not exactly in vogue.
The little Manitoba ski hill had been very popular the first couple of decades. By the 80s, life changed and as travel became more accessible, patrons looked to other skiing options. Then in 1996, the provincial government deemed the ski hill operation no longer viable.
Enter active local ski club members, Barb and Craig Christie. The local carpenters crafted a proposal to preserve the ski hill business that would include building onsite cabins. The initiative paid off and 24 years later Falcon Trails Resort has an impressive 85% year round occupancy rate.
Over the years, the thriving family enterprise has garnered awards and attention, including a recent scoop in Air Canada's magazine Encore and a Canadian Living magazine article.
Though matriarch Barb, declared "a master host" by daughter Emily & Craig who help with daily grooming and are still current owners, these days the operation is run increasingly by their daughters Emily, Caleigh and Brooke.
Falcon Ridge Ski Resort

"At this point, we've figured out our own realms" says youngest daughter, Brooke, speaking of her sisters and herself "which is fun and sustainable." Emily handles media relations and photography. Middle sister, Caleigh is the resort's administrator and is around everywhere. Brooke manages the Falcon Ridge Ski Hill which serves as a hub for staff and patrons alike.
The Christie offspring started their involvement early according to Brooke who says they have been "doing this for as long as we could walk pretty much." The growing Christie family now includes Caleigh's partner, "Ryan the Groomer", who along with grooming trails is head mechanic for the entire resort.
Emily and Brooke's partners, both incidentally named Benjamin, are less involved in the day-to-day but "help out a ton with carpentry, tree work and live music" says Emily.
I first came here with my children in the first decade of the resort's life. It was always a special place but today there's a new vibrancy in the air. There seems to be a lot of younger folk handling everything from checking hot tubs to ploughing snow to providing musical entertainment in the chalet.
Christmas Day Brunch at Falcon Hills Resort
Since meeting my wife, Nelle in 2012, we have been coming to the resort with friends every Christmas. We could be considered the "lesbian couples dipping naked in the communal hot tubbing group" if you happened upon us at Christmas.
The much-in-demand Falcon Trails cabins have become so popular that we need to book at least six months in advance. It's no wonder since the fifty kilometers of groomed Nordic ski trails in the forested lakeside area makes for a picturesque, magical experience year round.
Christmas time is especially pretty with bunnies hopping on lantern-lit paths between the quiet and private cabins.
This year, we are the first to arrive, and we head directly to the chalet to hear the live music and a bite to eat.
After check in and a nap in the quiet surroundings of our cabin, we take an evening hike up the trail situated behind the resort's Welcome Centre.
This year, we spot a new sign "Private. Manager's Cabin." I feel instantly envious of the resort cabins' manager. What a top-notch work life, living amidst this boreal forest overlooking the lake!
Cross country skiing at Falcon Lake
The few optimists amongst us who brought cross country skis believing that 'if you bring them, the snow will come' did end up doing a ski following a Christmas overnight snowfall. This year, ice formations along the lakeshore add to the wintery scenery and we stop to snap a few pictures.
As a Green party member, I'm impressed with recent efforts I've noticed such as a solar panel project and other green initiatives. The Falcon Trails team has ideas for future capital investment projects.
However, at this 20 year or so mark "where things start to feel pretty tired…we're just really working to keep it all fresh", says Brooke.
Equally impressive is how art is merged with beauty at Falcon Trails. Whether that's in the form of events such as artists in the cabin or musical acts such as "Begonia" and Raine Hamilton or invited photographers, it's the best of all worlds for this art loving soul.
In fact, I discover that my musical artist daughter, Dominique Lemoine (A la Mode) was at Emily's cabin with a fellow musician over the past summer.
As for the Starbright dancehall, which is actually the ski chalet at Falcon Ridge, you can still hoof it up on Sunday afternoons when live music is featured.
On the particular Christmas Sunday we arrived, bard Madeleine Roger and her musical/life partner Logan McKillop were strumming their respective guitars singing folk tunes. Checking out the expanded chef-inspired menu, we hit upon the savoury Ridge Burger & Sweet Potato And Ginger Soup. Yum!
Ice formations along Falcon Lake shore
A more stellar experience we have not found elsewhere in Manitoba. It's good to know we can continue to delight in this winter wonderland to ski or walk the Nordic trails and luxuriate for an après-ski in the hot tub for many more Christmases to come, knowing this piece of heaven is in good hands.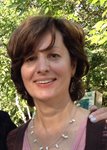 Armande Martine is a freelance writer with three adult children, married to Nelle Oosterom since 2016. She spends part of her travels writing about her experiences.
Armande has been promoting people, places, ideas and organizations since 2014 and can be found at AM Communications - Promotion Plus on Facebook, Twitter, Instagram and LinkedIn.
If you enjoyed this feature, be sure to read these other stories by Armande Martine:

Prince Edward Island, Maritimes: In the Steps of my Acadian Ancestors (part 1)
New Brunswick in the Maritimes: In the Steps of my Acadian Ancestors (part 2)

Nova Scotia, Maritimes: In the Steps of my Acadian Ancestors (part 3)
Farm Fest & grasslands in Saskatchewan
---
---