Maritimes New Brunswick
In the steps of my Acadian Ancestors, part 2 - Maritimes New Brunswick

Known for having the highest tides, we head out to the Bay of Fundy on the New Brunswick side to witness this phenomenon. Arriving at low tide, we can see the unusual sight, from our inn window, of people walking around on what is actually the sea's red soil surface.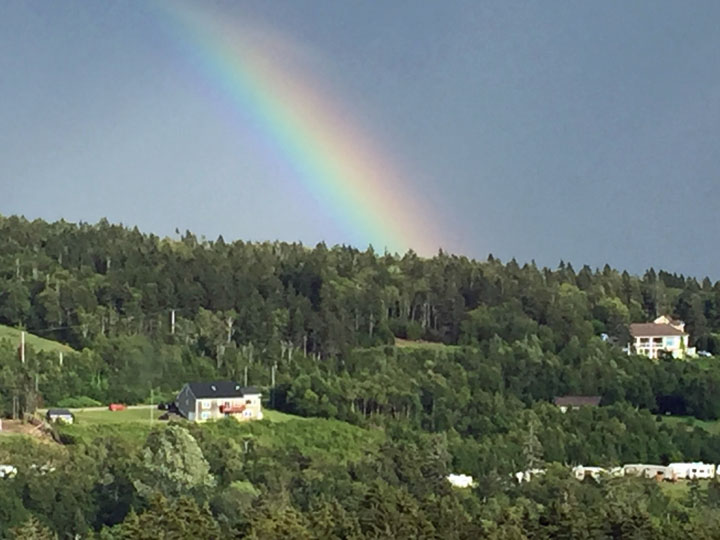 On our way out, we stop at Hopewell Rocks Park but arriving at high tide, we do not experience walking on the ocean floor during our visit. Instead, we walk the park's network of trails and do some soul-soothing forest bathing.
Shortly after learning, a few years ago, that I am Acadian on my mother's side (Bourgeois), I discovered the entire lineage, starting from my first ancestor, Jacques Bourgeois, arriving in Nova Scotia, all the way down to myself. The trajectory that brought me to the Canadian Prairies is a story in itself. 

Maritimes New Brunswick
For only the second time since its inception in 1994, the Congrès Mondial Acadien (CMA) is holding family reunions and the Bourgeois clan organizes their own get together in Grand Digue, New Brunswick. The town is the area where the largest number of Bourgeois families settled in the bilingual province when returning to Canada after the 1755 Acadian expulsion.
Every Bourgeois of Acadian descent can trace their roots to that one individual, Jacques Bourgeois who arrived from France to the Acadian region in 1641 as Montreal Governor d'Aulnay's military surgeon.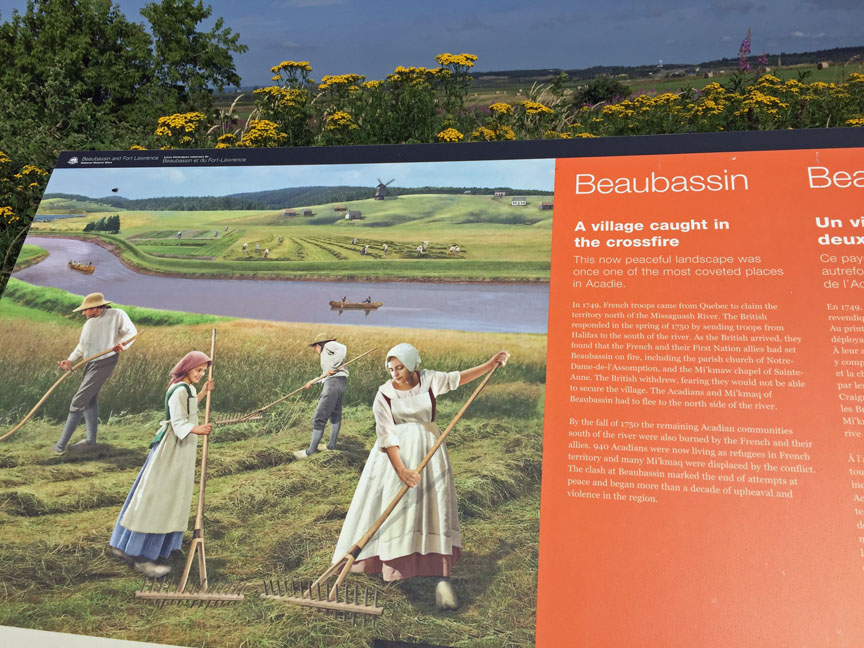 Thereafter a farmer-merchant, Jacques is the founding colonizer of the Beaubassin region, now called Fort Lawrence in Nova Scotia. His knowledge of English allowed him to trade with the Bostonians as well as the Mi'kmaq after learning their language.  
At the family reunion dinner, we are served traditional Acadian fare consisting of Poutine râpée and another type of fried potato and molasses cake for dessert - too rich for me and I do not finish anything on my plate.

Interestingly, seated at our table is the only other Manitoba couple and we quickly acquaint ourselves with the genial couple, Marguerite Bourgeois and her husband, Scott. Hence, Marguerite becomes a newfound cousin and friend who joins us the next day for the annual Tintamarre.
At the family reunion, we are all cousins, albeit distant, so the whole thing feels like a family wedding. It's not an Acadian party without that "joie de vivre" and a local band complete with fiddle player is the entertainment for the rest of the evening as we get up on the floor with our cousins dancing to the rollicking tunes.
Maritimes New Brunswick
The next morning, we decide to attend the family reunion Mass after learning that the only other lesbian couple in attendance is to serve at the Mass. They are locals and we are delighted at the openness and support the family reunion organizers have shown. I take my hat off to them for their spirit of inclusion.
Our next taste of the Acadian Congress is participating in the annual Tintamarre, an Acadian tradition of marching through one's community making noise with improvised instruments and other noisemakers, usually in celebration of National Acadian Day. The term originates from the Acadian French word meaning "clangour" or "din."
The 25th anniversary outdoor concert where a huge stage is set up in downtown Moncton's Riverfront Park is the culmination for us at this year's CMA. We get our fill of the lively "Cajun" style music where another huge crowd trickles in throughout the evening.
Fan favourite Acadian/Cajun artists such as Zachary Richard, Cayouche and Ronald Bourgeois perform until the wee hours of the morning at the riverside park. Our fear of missing out makes it difficult to leave, however, we manage to tear ourselves away with car windows rolled down listening to the fading cajun music as we drive back to our inn.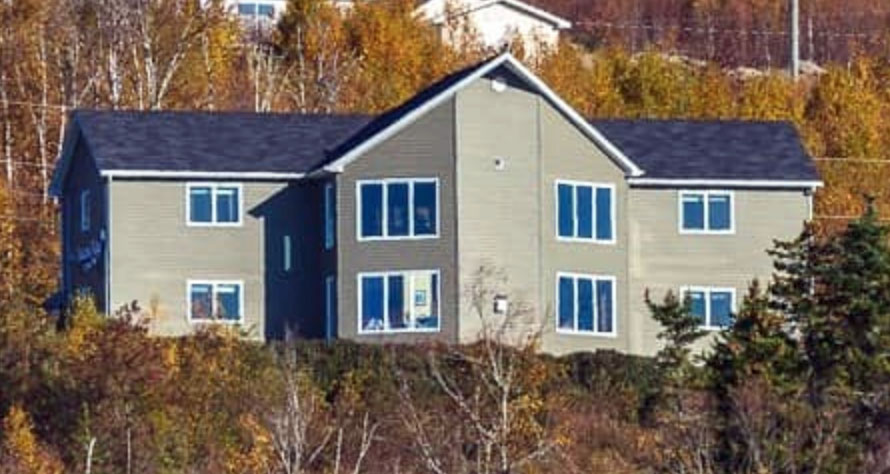 On the Bay of Fundy, New Brunswick side, we stay at the Falcon Ridge Inn with its panoramic ocean view of the low and high tide phenomenon. The dining area with its large windows gives us an astonishing, though foggy view of the ocean in the distance and on this morning, our helpful host serves us our breakfast with a sprinkling of local facts.

Our accommodations experience took a dip while staying in Shediac, New Brunswick at the Tait House, a big, beautiful character home converted to a 9-room inn. Suddenly and without warning, coffee machines are removed from every room and free wi-fi service is cut during our stay.
Apparently, the new owners are struggling and looks like guests are paying for their financial hardship. I must say, we look forward to quickly moving on to our next accommodation stop.

Wild Rose Inn
Thankfully, the Wild Rose Inn, just outside of Moncton is a different experience than our previous with welcoming hosts eager to ensure ours is a comfortable stay. True to its name, our accommodations, built in 1996 has wild rose bushes growing in the front of its English Colonial style inn. Providing free coffee in our room, hot breakfast (to soft music in the morning) and free wifi, we are not taking these little luxuries for granted.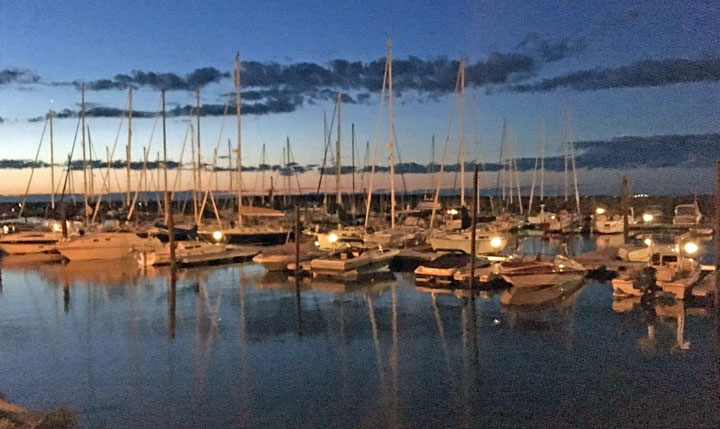 Pointe du Chene wharf
While in Shediac, we check out a suggestion by newfound cousin (and author), Gisèle and pay a visit to Captain Dan's, situated on the beautiful Pointe du Chêne wharf. Finally, I had found the patio ocean view I was searching for which is seen on either side of this roof top bar and grill. 
Thank you, Gisèle for the tip and good luck with the sale of your first novel, True Identity.

I thoroughly enjoyed reading it prior to our Maritimes trip!

Afterward, we take a walk and, from one of the benches on the wharf, we sit and watch the many sailing vessels passing right in front of us with the sunset in the background on this clear full moon night. Life does not get more romantically perfect.
Armande Martine
Armande Martine is a freelance writer with three adult children, married to Nelle Oosterom since 2016. She spends part of her travels writing about her experiences.
Armande has been promoting people, places, ideas and organizations since 2014 and can be found at AM Communications - Promotion Plus on Facebook, Twitter, Instagram and LinkedIn.
Click here to go to Part 3, Maritimes Nova Scotia

---
---