The Spa at
Shangri-La Barr Al Jissah Resort Muscat
Review of the luxury CHI Spa by Erin Coyle
After driving through the winding road while taking in views of the sea and mountains, one will finally go through the entrance to the Shangri-La Barr Al Jissah Resort and Spa in Muscat. When you pull your car up, the friendly staff immediately make you feel welcome. It's as if all your stress and worries have gone away.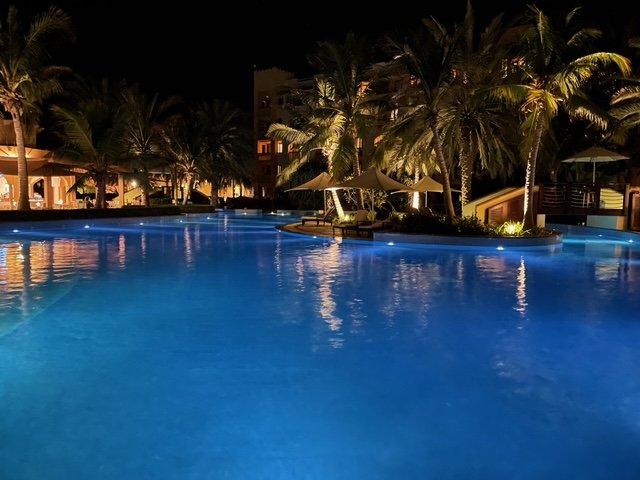 Stunning pool view at night
The lobby has traditional Omani-style decorations, including wooden chests with silver and gold designs around them. The smells coming from the Bakhoor remind me of cedarwood and a mix of oils. Bakhoor smells come from burning these wooden chips that are natural or mixed with fragranced oils.
Make sure to try some coffee and dates on the table near the reception desk, or sit and have a drink before going to your room.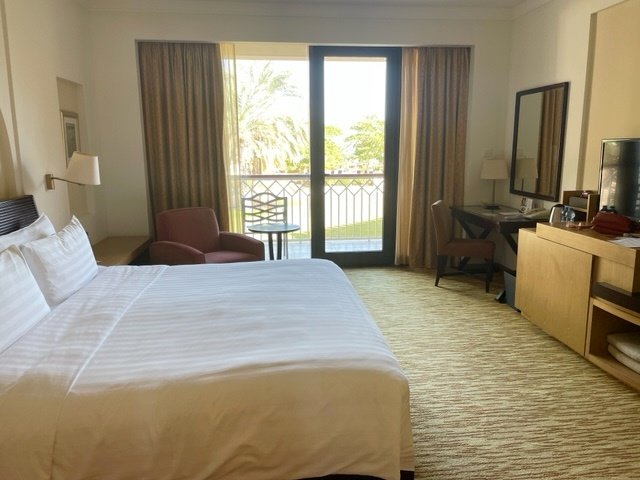 My room with a garden view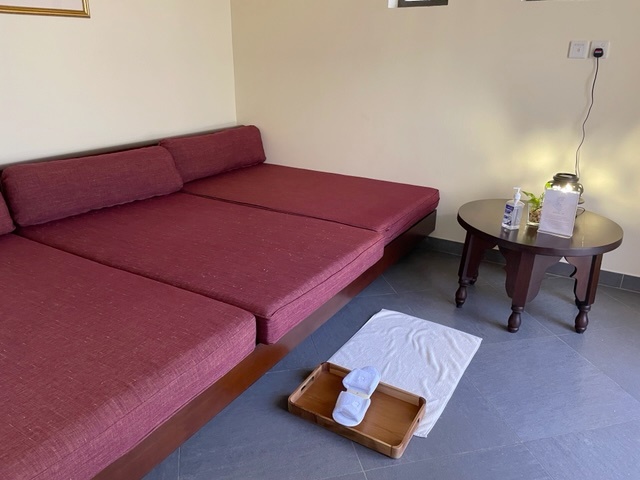 A very relaxing room
CHI, The Spa
CHI, The Spa is set inside some beautiful gardens, with pool fountains and trees spread around the area. When entering the spa, it immediately gives you a feeling of stress melting away. A mix of essential oils is in the air, with ceramic teacups and vases placed on the shelves. Sit down on the cozy blue chairs while waiting for your session.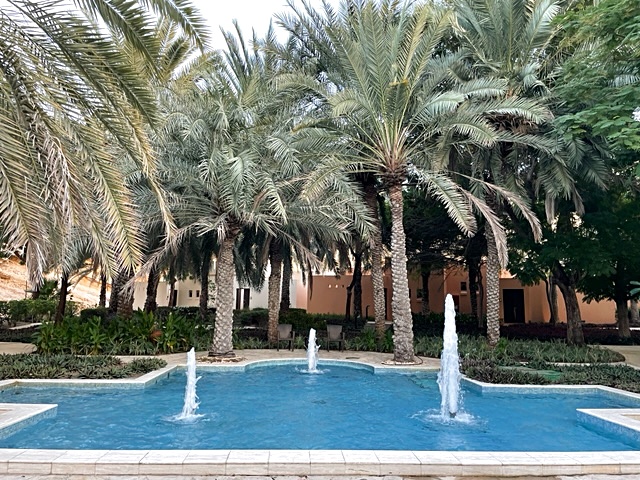 Pool fountains in the Spa garden
I was greeted by Kitty from Thailand, who has been working at the spa for six years. She took me to the Gompa room, where my 2 hours and 45 minutes relaxing retreat would take place.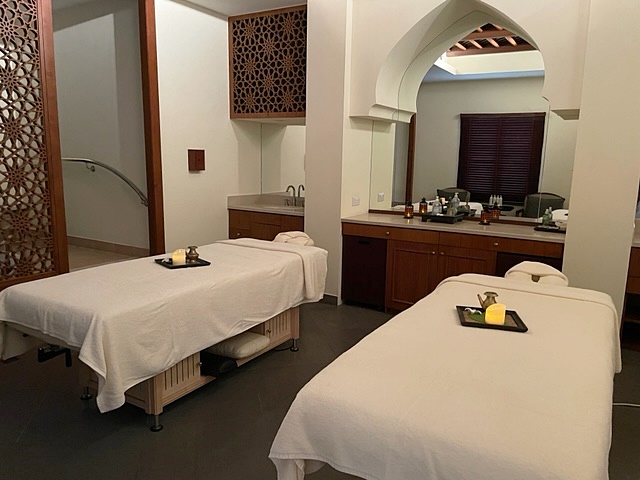 The Spa Room
Spa Treatments
First, it was time for the foot soak, followed by the salt and sugar body scrub with mandarin oil. My skin felt so fresh and soft after this treatment. I relaxed while I got the Asian blend massage, a mix of Thai, Chinese, Indonesian, and Malaysian techniques.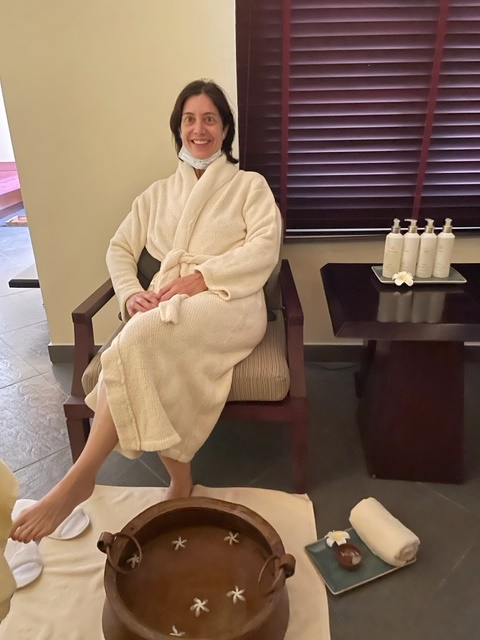 Treatment time!
Another treat was the deep foot massage, where I fell asleep and woke up with that confused feeling of wondering where I was. At this point, I was beyond relaxed.

The final treatment included a facial. In addition to the creams placed on my face, Kitty tapped her fingers along my face, releasing my tension. I didn't realize how much I needed to treat myself.

After my session, I had some jasmine tea in the reception area. It has been a long time since I felt so refreshed and relaxed. My knots were gone in my upper back; my skin was soft and smooth and smelled like mandarin from the oil. I was rejuvenated and so grateful to take the time to pamper myself finally.
One of the hotel pools
Restaurants
The rest of the hotel amenities are also fabulous. The Bait Al Bahr restaurant has tables with views of the sea. Sit back and relax while listening to the waves and looking up at the stars. The staff are very attentive, making sure you have everything you need. The menu ranges from a variety of fresh catch of the day, lobster ravioli, a sushi and sashimi platter, and beef tenderloin, to name a few. There is also a vegetarian and vegan menu.

I ordered the Philadelphia Roll and the Lobster Ravioli, which I highly recommend. I was hoping to have room for dessert, but this is an excuse to come back!

Another highlight is the breakfast buffet at Al Tanoor. It's hard to choose between Indian Dosa, Omani Maldouf, or Mrad-af, a type of thin triangle-shaped bread resembling paratha; pancakes, waffles, and more. There is such a variety, but make sure to save room for desserts and pastries. You will not leave hungry!
Luxury Spa Muscat
The Al Bandar side of the hotel currently open for guests to stay has three pools, including the lazy river that connects Al Bandar and Al Waha. The lazy river was so relaxing and enjoyable as you glided by noticing the trees and flowers placed on either side. With no crowds, the only sounds were coming from the light splash of the water.
The lazy river that connects Al Bandar and Al Waha
Whether you grab a lawn chair on the beach, the grass, or by the pool, the scenery is beautiful from all sides, with flowers, trees, and mountain views; you can't go wrong.
Grab a chair and watch the sunset!
Hotel Facilities
The hotel also has watersports, a health club, and mini-golf. They even have a big screen for movie nights outside. Citizens and resident guests can currently sign up for a golden circle membership and receive 20% off food and drinks.

Since it's almost Christmas, there are decorated trees outside, in the lobby, and near Al Tanoor restaurant. It is pretty festive and sets the mood for a holiday. They even have tree lighting, so plan for next year.
Standing by the beautiful Christmas tree
This hotel is also great to wander around and explore. There is a small art gallery, shops, and unique decor like the copper vase with gold leaves. There are also some remarkable paintings around the hotel.
The resort is perfect for families, friends, couples, and even solo travelers who want to relax and forget about everything. Come for the weekend, the day or even a week, and you surely will not be disappointed!

- Story and photos by Erin Coyle
Author Bio
I am a Travel Writers University member. Traveling with friends, solo and in group tours, I have explored Southeast Asia, Zealandia, Europe, the Middle East, and South Africa.
I am currently teaching English in a foundation program at a university in Sur, the Sultanate of Oman. Before this, I taught English at a university in Nanchang China, for five years. Check out my website erinshotpot or find me on Instagram @erinshotpot.

---
If you enjoyed this Spa review, check out Erin's story following her trip to the 5 Utah National Parks:
A trip report from the 5 Utah National Parks

---
---
---