Maritimes Nova Scotia
In the steps of my Acadian Ancestors, part 3 - Maritimes Nova Scotia

Our first order of business entering Nova Scotia is a Bourgeois tour in Beaubassin/Fort Lawrence where there is a plaque to our ancestor, Jacques (Jacob) Bourgeois' founder of the area.

Next, we head out to Hall's Harbour and since it is raining on our first day, I tap away on the laptop catching up on writing assignments while glancing out the window, looking over the rose bush at the misty sea, feeling like Hemingway typing at his typewriter.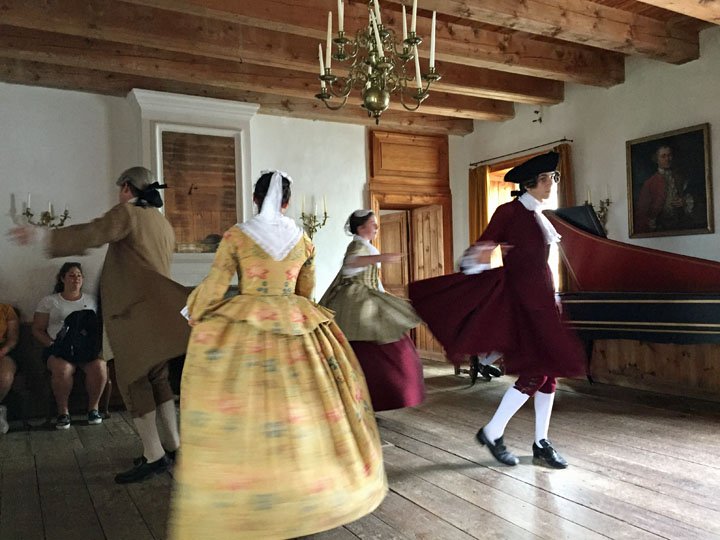 The clouds clear so we head out to nearby Kentville, a theatre hotbed area that includes the town of Wolfville, home to The Acadia University for Performing Arts and take in a play at the Centre Stage Theatre called "The Red Plaid Shirt." What a hoot! Well-acted, it has many one-liners that have us laughing so hard, tears roll down my cheeks. 
The following day, we continue in the steps of my ancestors and visit Annapolis Royal, known as Port Royal when it belonged to the Acadians prior to 1710.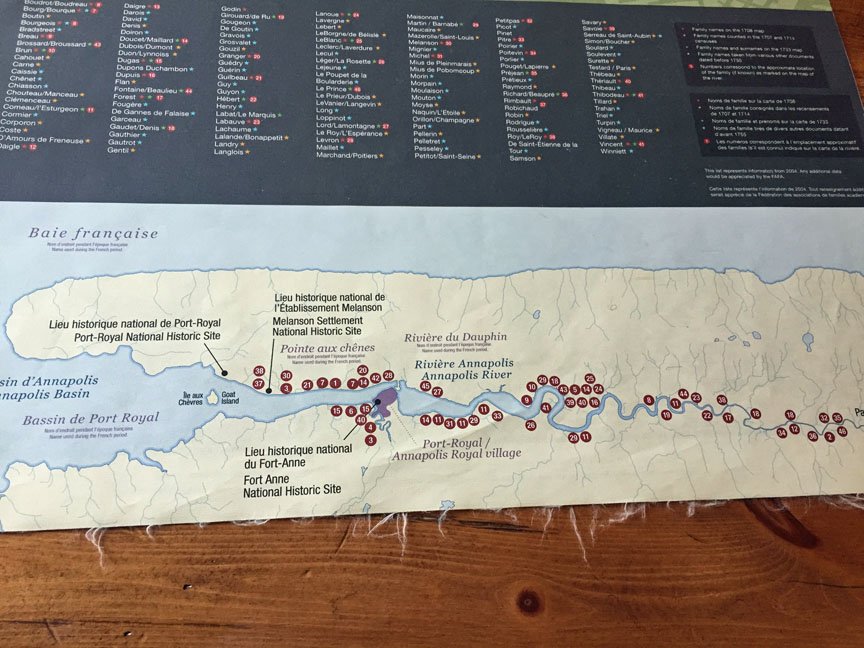 It is a good discovery day as I find a 1708 map at the Parks Canada office of properties once belonging to Acadian families that tells me the exact location of the first Bourgeois homestead situated by the Annapolis River. 
We find the property on our way back and it is a touching moment. What a tragedy this deportation of Acadians, recognized as a genocide today. Forever a dispersed people, some perished with their vessel at sea and others made their way back to Canada eventually, resettling mostly in New Brunswick or Quebec.
Maritimes Nova Scotia

Equally moving is the film we watch the following day while visiting the Grand Pré National Historic Site which depicts the expulsion. Among the materials one can view while visiting the historic site is Queen Elizabeth II's 2005 proclamation declaring July 28th, as a Day of Remembrance.
Since the clouds clear on our last night at Hall's Harbour, we see the sunset in all its glory over the ocean, making for picture perfect moments. 
The next morning, we leave the Bay of Fundy for a three-night stay at St Esprit Lake on Cape Breton Island.
The first day on the Island, we head out to the Fortress of Fort Louisburg, a stronghold during the early 18th century that belonged to the French before the English conquered and destroyed it. The 25 million dollar reconstruction of the fort was a federal government project started in 1961.

The next day, we hike a nearby trail called "The Waterfall Trail" which, after trekking through a rainforest-like area for about 40 minutes, we reach a cascading waterfall.

On our last morning on Cape Breton Island, the St Esprit Lake is still so we take out the kayaks early letting them drift in the stillness, mid-lake. It is a last chance to glance at the wilderness surrounding us.

After the tranquil pause, deep in the Cape Breton woods, we are ready for our next adventure and look forward to a night on the town as we arrive in the six-university town that is Halifax!
It is dinner on the patio at Durty Nelly's an Irish pub, this Saturday night.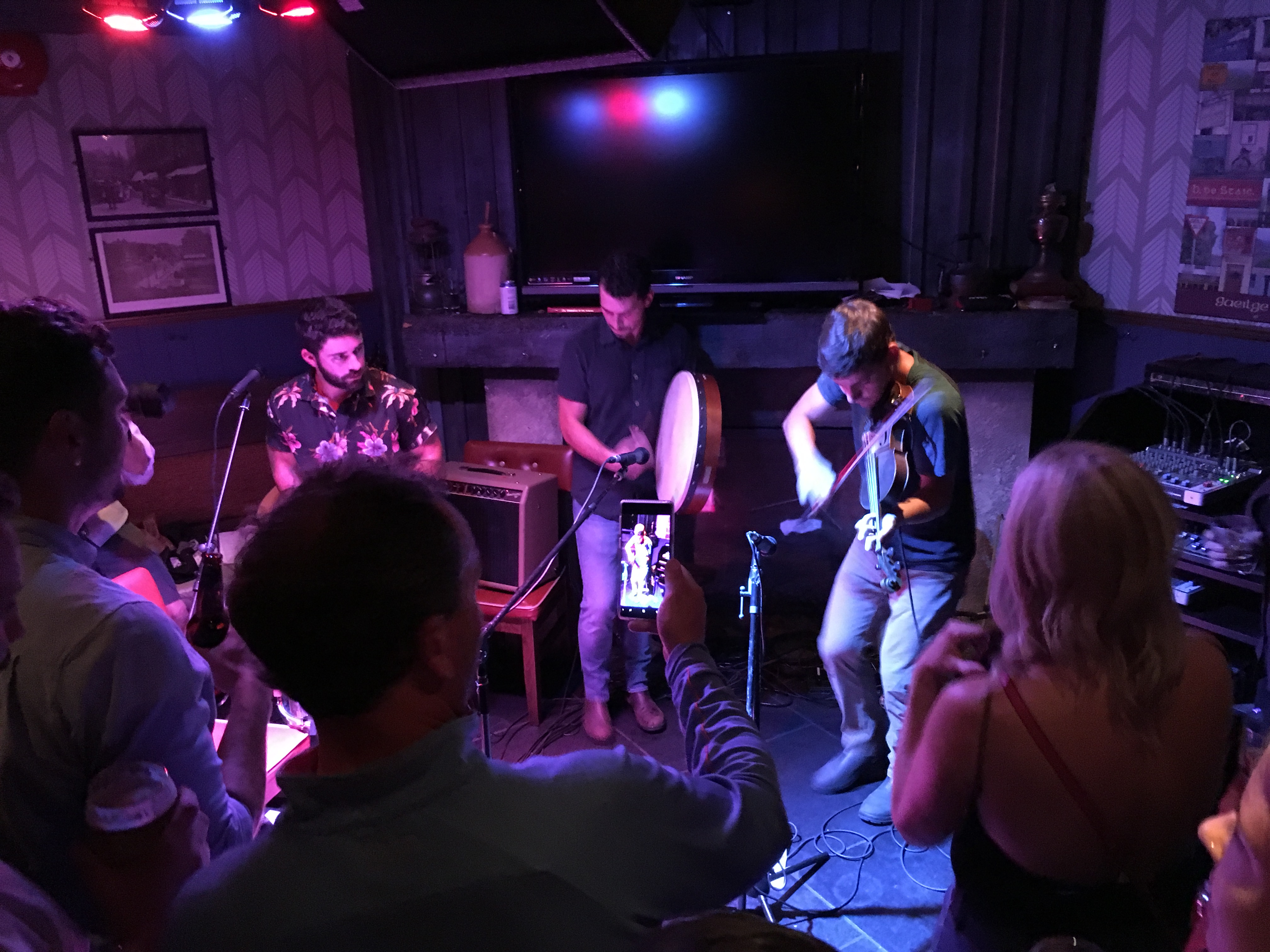 After dinner, we move inside to hear the live Celtic music. What a lively night and we stay riveted to our seats until the early morning.
For a change of pace on Sunday afternoon, we visit Pier 21 that brings back memories for Nelle, a child of Dutch immigrant parents who settled in Canada post WWII. The museum visit has me reflecting at my own deep Canadian roots.
Our last evening is dinner at a waterfront eatery then a stroll along the Halifax waterfront. Haligonians can boast they possess, at 4 kilometers long, one of the world's longest boardwalks.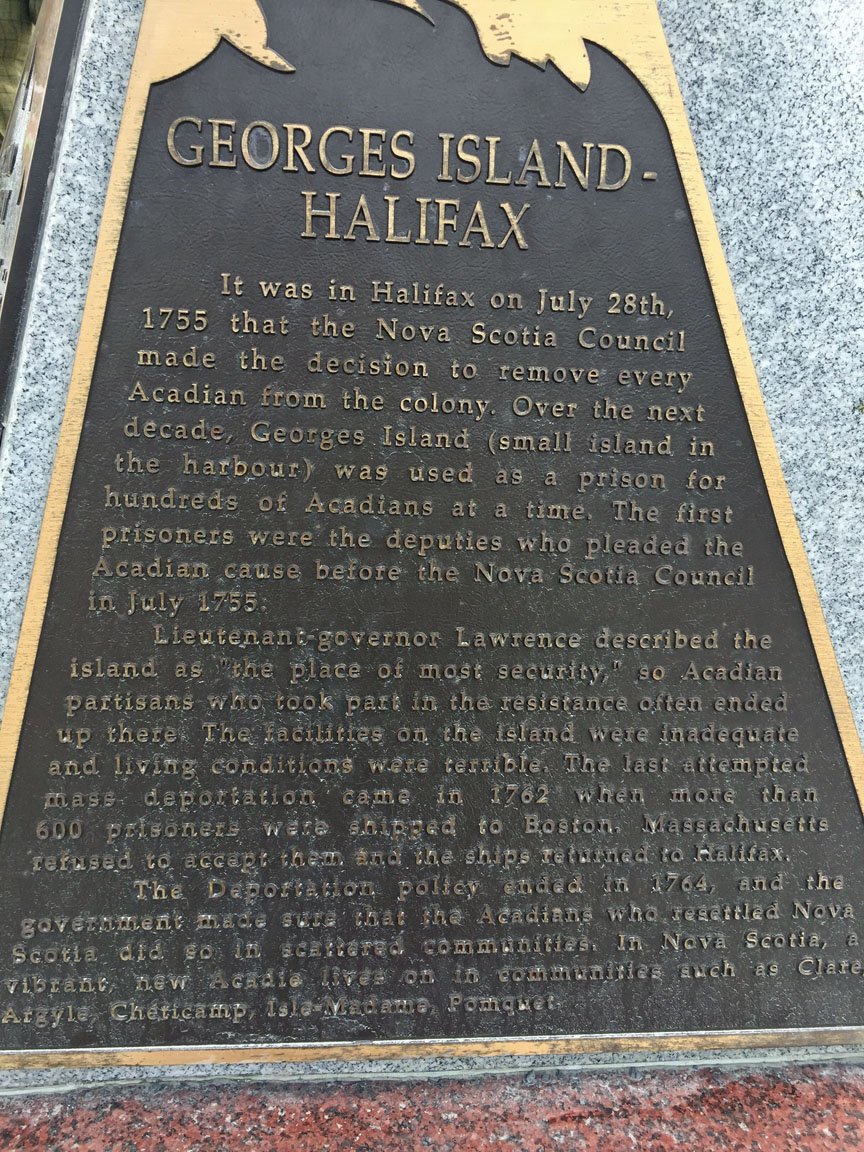 The last morning on Maritime soil, we go our separate ways and I wander back to the waterfront where one can see George Island. A commemorative plaque on the boardwalk attests to the fact that up to 2000 people were captive here at various times during the Acadian expulsion years occurring from 1755 -1764.

Maritimes Nova Scotia
This last stop, looking out at George Island is a fitting way to end this adventure, exploring the Maritimes as an Acadian descendant. 
I feel like part of Nova Scotia belongs to me as it once belonged to my ancestors who colonized and prospered here. I will be back, I think to myself…
Our first lodging in the Tall Ships province, situated by the sea is an early 1800s fisherman's shack, converted to a rustic tiny house with all the modern amenities including stainless steel appliances and a hot tub on the lower front deck.
The yellow cottage adjacent to our little abode once belonged to well-known Nova Scotia painter, John Neville. Born in 1952 here in Hall's Harbour, the famous local artist used the little dwelling as his workshop while living in the cottage. 

Our next temporary home is a cabin at St Esprit Wilderness Holiday on Cape Breton Island. Our Bavarian born host Liane Vetter, is a perfectionist who has thought of everything to make your stay comfortable.

The common area hot tub situated high up overlooking the lake with encompassing woods is a unique experience. The lighted stone steps late in the evening adds to the enchantment and leads us to a wooden deck with the tub at its center.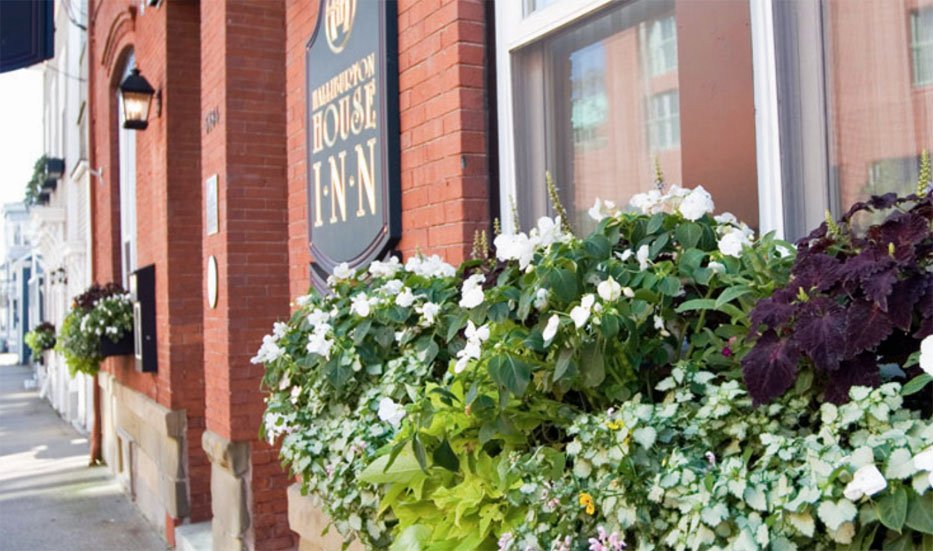 While in Halifax, we stay at the Halliburton Inn, originally three separate townhouses dating back to the 1900s whose main house was originally owned by Sir Brenton Halliburton, Nova Scotia's eighth Chief Justice.
The downtown inn is a short walk to the waterfront with its kilometers long boardwalk and in close proximity to many eateries and other designated heritage buildings including a former vaudeville house, The Neptune Theatre, whose show tickets are included in one of The Halliburton's hotel packages on offer.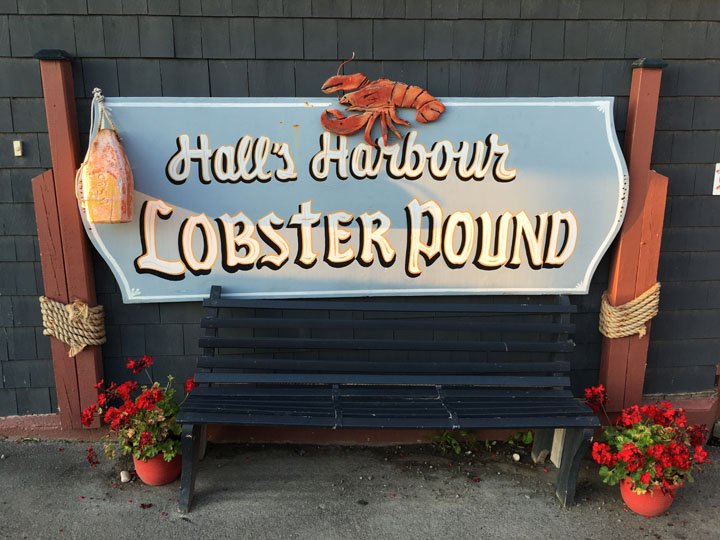 Before heading out for our next excursion, we put in an order for lobster at the Hall's Harbour Lobster Pound. 
On our return, we pick it up at the cookhouse and eat it right at our deck table as I try to forget how it got on my plate.

Our first night in Halifax is a Saturday and we decide it is our last opportunity to take in live music at my spouse, Nelle's namesake Durty Nelly's. 
This place really puts the "live" in music and this old town on a Saturday night has the liveliest night scene.
I like my Irish pubs and so much the better if it happens to be on a seaside wharf as is  the case with Stayner's Wharf. 
To our dismay, the service is spotty and the live music more subdued than our Saturday night outing, however, we enjoy our creature comfort food once it arrives to the table washing it down with an ale.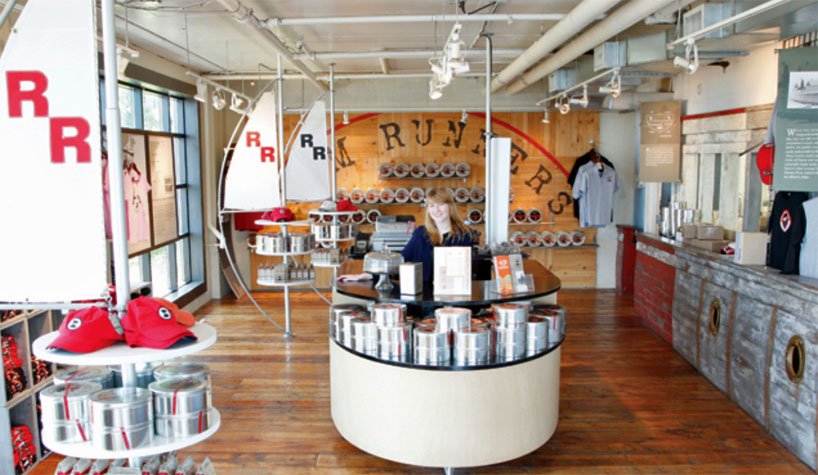 On the waterfront, Bishop's Landing offers shops such as Rum Runners Rum Cake Factory featuring a rum cake recipe from a rum runner's wife.
The shopping/dining hub has some of the best dining on the waterfront including The Bicycle Thief with its relaxing, ocean facing patio and a bakery called Piece of Cake Fine Bakery and Café which specialize in Asian style whipped cream cakes. 

Armande Martine
Armande Martine is a freelance writer with three adult children, married to Nelle Oosterom since 2016. She spends part of her travels writing about her experiences.
Armande has been promoting people, places, ideas and organizations since 2014 and can be found at AM Communications - Promotion Plus on Facebook, Twitter, Instagram and LinkedIn.
CLICK HERE TO READ PART 1 of Armande's travels in the Steps of her Acadian Ancestors 
CLICK HERE TO READ PART 2 of Armande's travels in the Steps of her Acadian Ancestors

---
---