In Schliersee Bavaria Germany

A visit to the small mountain town of Schliersee Bavaria, Germany

I was turning 50 when we decided to take the trip to the mountain area of Schliersee, Bavaria, Germany.
We didn't know what we were going to do there. We just knew we could get a great price for a space large enough for seven people, and that it was only a day trip away from Vienna, Austria, where I wanted to spend my 50th birthday.
We are always looking for fun, adventure, places to go, things to do, and generally, with seven of us, we need to make it an affordable adventure.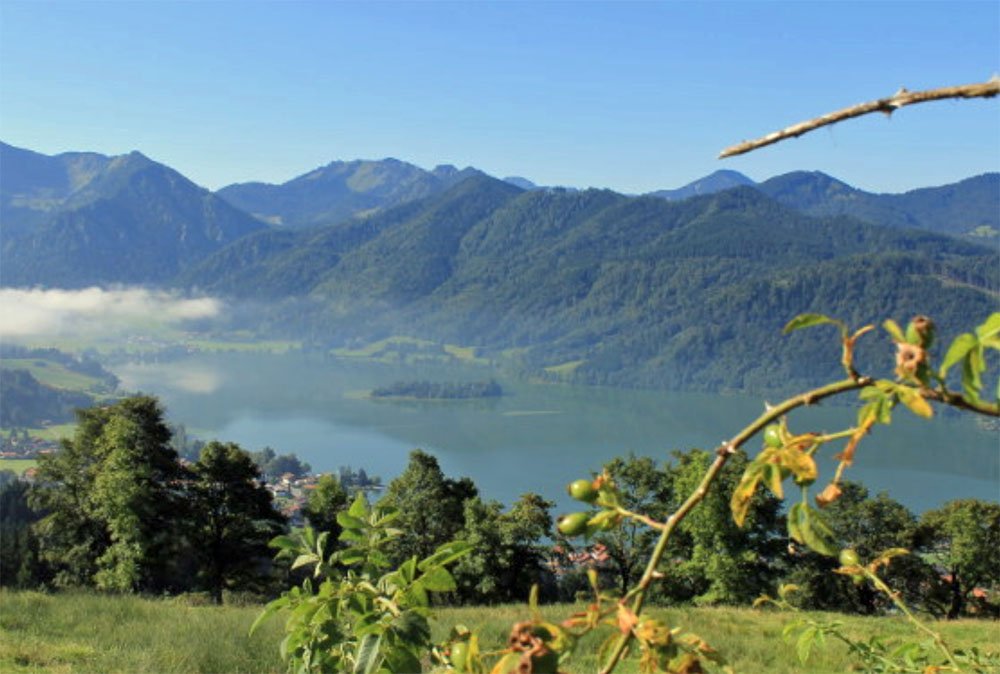 Schliersee
In our search we discovered Schliersee, a small town that was founded in the year 779 by five monks from Ireland and Scotland. They built a monastery in the Bavarian wilderness and named their monastic cell, "Slyrse."
The town that grew up around the church and monastery later became Schliersee, pronounced 'schleer - say'.

Joe and I were traveling from Washington, D.C. with our three granddaughters, Karmyn, Kati and Krysta, and our daughter, Robyn. We flew into Munich in Bavaria and drove down to Schliersee.
Our other daughter, Kitty, was flying in from San Francisco to Frankfurt and taking the train south to meet us the next day.
It was already afternoon when we arrived at the hotel, and we wouldn't have Kitty until morning, so we spent our time figuring out what we were going to do in Schliersee and relaxing as we planned our stay.
We explored the hotel and settled in for a traditional meal at the on-site restaurant, after which we went to a local grocer and procured snacks, drinks, and breakfast foods. We picked up Kitty the next morning and spent the day in Munich.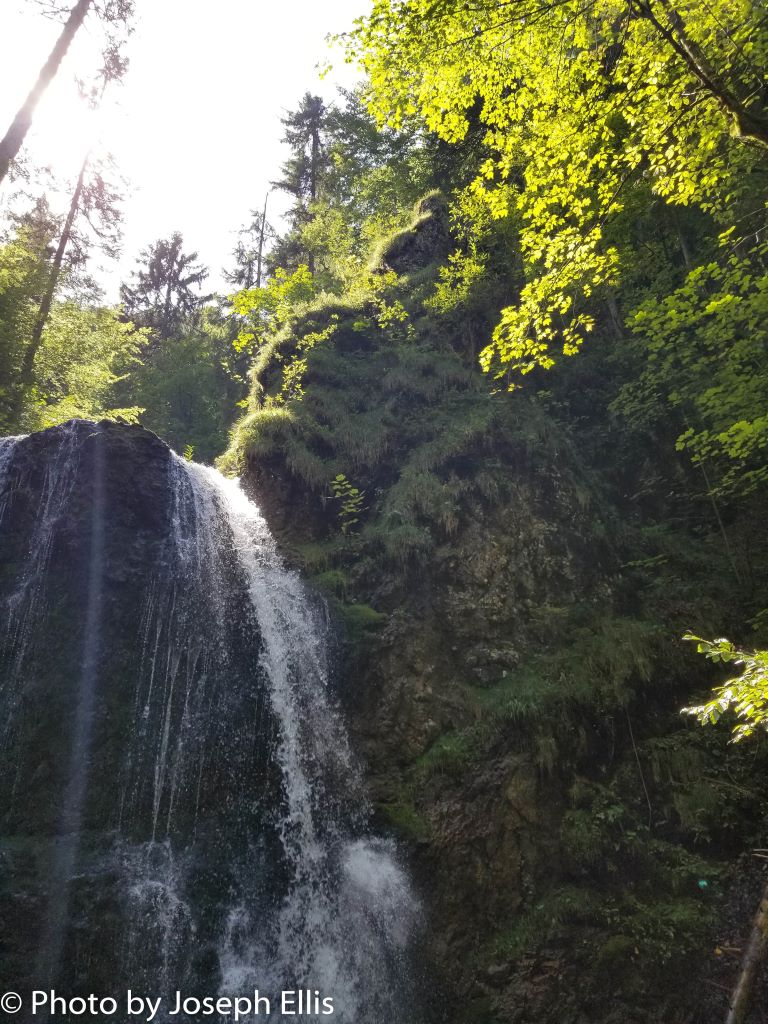 Bavaria's Josepsthaler Wasserfall
The following morning, after a good night's sleep, our first stop was the Josepsthaler Wasserfall. ('Joseph's valley waterfall')

A gorgeous sunny day, the weather was nice, in the mid-seventies with a breeze. We hiked the easy ten minutes through the shade of trees and the gentle babble of the flowing creek. The opportunity to enjoy a hike in the woods was a relief from our usually too hot D.C. homelife.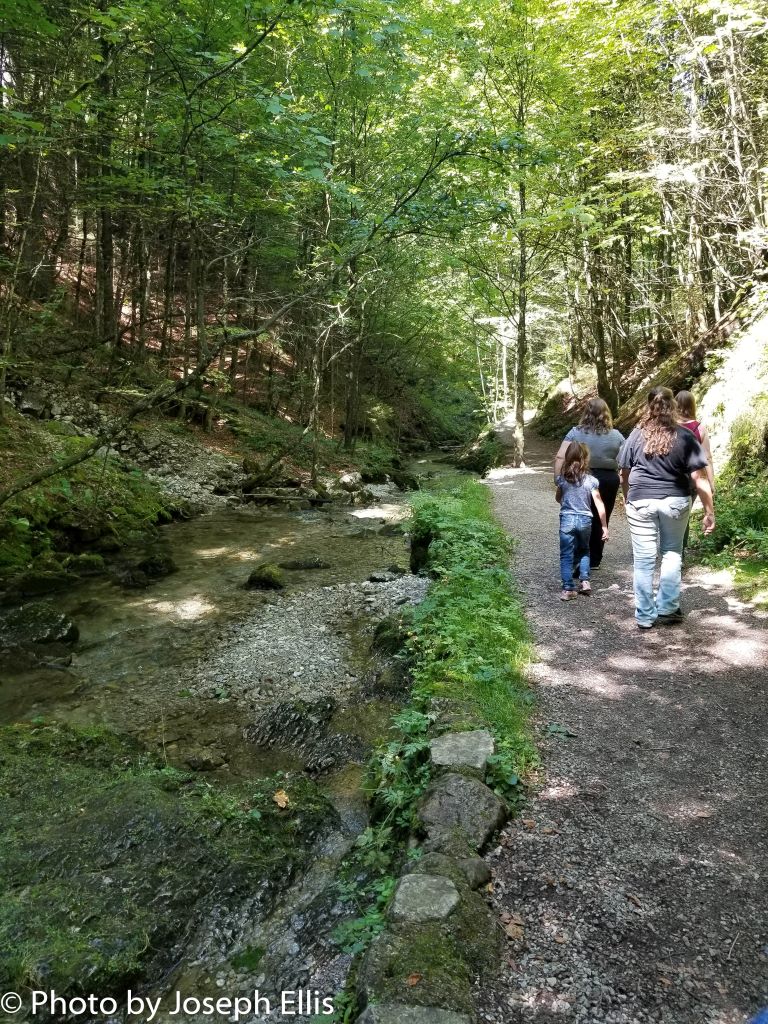 The hike is perfect for little people, with just a slight incline, a few branches, and loose rocks to navigate, and just as nice for the older set, easy and cool, with plenty of shade and serenity.
The pretty waterfall was well worth the short hike, and we played by the serene riverside.
Schliersee Bavaria Germany

As we enjoyed the waterfall, we discussed taking the Schliersbergalm cable car to the top of the mountain for what we understood would be a stunning view.
On our way to find the cable car we promptly got lost and drove our rented minivan up the side of a mountain. Occasionally, there were hikers with poles who looked at us in fascination.
Kitty and Robyn teased their father that this might not be a road but a hiking trail. We think they were right, but Joe is not one to admit defeat easily.
The mountainside began to get steeper and steeper, and the wheels of the van were sliding and could not catch a grip.
I was white-knuckled, gripping the armrest of the van, when Joe finally said, "There's no way we can continue to go up, the van won't go any further."
Backing down slowly, he was able to turn the van around, and we worked our way down the mountain as hikers continued to gawk.
Once we hit the bottom of the mountain, we reconnoitered and realized where we made the wrong turn.
Schliersee Bavaria Germany
Bavaria's Lantenhamer Destillerie
But we decided to go first to the Lantenhammer Destillerie, to calm our rapidly beating hearts. We were able to sample many of the whiskies and liqueurs, and even purchased some to bring home, small one-ounce bottles just to try.
Lantenhammer Destillerie, Bavaria, Germany
We also purchased Slyrs' first 12-year whisky. Laced with the flavors of vanilla, caramel and honey, a touch of cinnamon, pear and apricots this 12-year whisky is a delight. We also brought home the Slyrs 51, which has a taste and smell of winter by the fire.
Our favorite was the Bavarian cream, with melt-in-your-mouth flavors of whisky and chocolate.
You can find the distillery at Urtlbachstraße 1a, +49 8026 92480, e-mail info@lantenhammer.de, the hours are M-F 9:00-18:00, Sa 9:00-13:00. This distillery produces some of the finest liqueurs and brandies in Bavaria.
Upon leaving Lantenhammer we proceeded to Slyrs, itself.
Schliersee Bavaria Germany
Slyrs distillery
On our self-guided tour of the Slyrs distillery we read all about Slyrs, which was founded by Florian Stetter, a master distiller whose family had begun Lantenhammer in 1928.
Florian left on an educational trip to Scotland and learned the Scottish distilling process. He saw firsthand how his home of Bavaria is a lot like the hills of Scotland, which led to the founding of Slyrs, pronounced "Shleers," as in "Schliersee."
We also learned more about the process of making whisky the Scottish-Bavarian way.
They source all their ingredients locally, from the spring water that comes from a protected forest in the Schliersee Alps, to their gently ripened barley from northern Bavaria.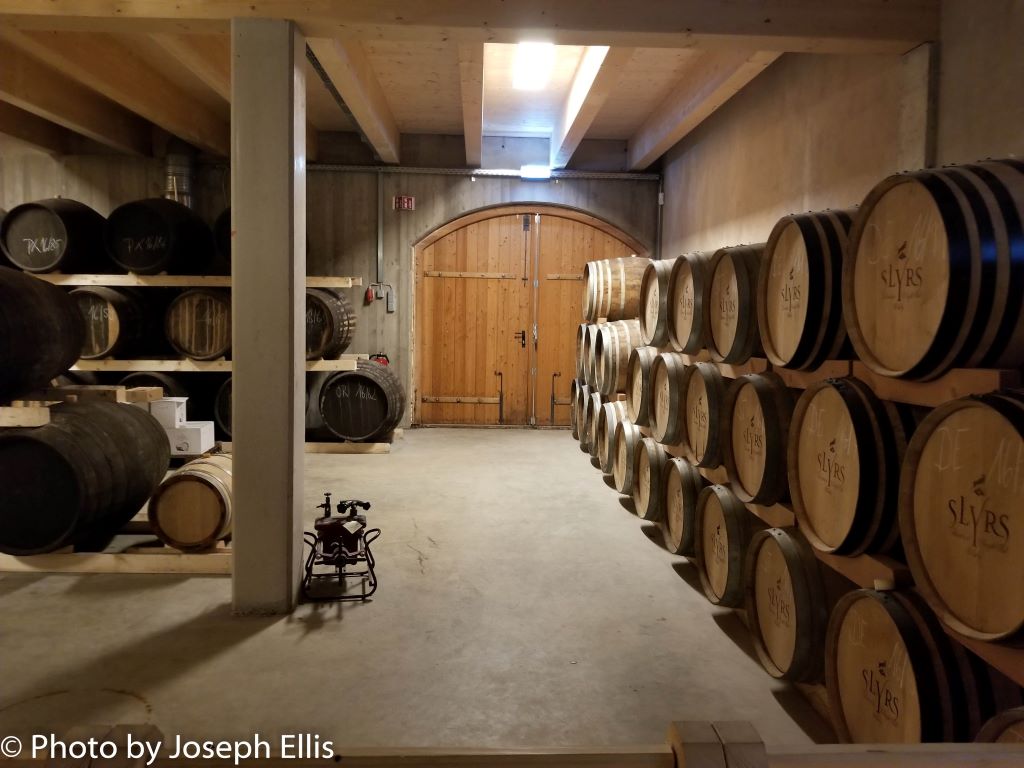 Slyrs distillery, Bavaria, Germany
I believe the casks are the only part of the process that is sourced from elsewhere. They use American white oak casks that have housed sherry, wine and rum in their prior iterations.
Nothing goes to waste, either. The distillery provides local farmers with the byproduct of the distillation process for local cattle.
We strolled around the casks breathing in that heady whisky scent. I had no idea during the distilling process you could take one turn to produce beer and go another way for whisky.
After we left Slyrs we found the parking lot to the Schliersbergalm cable car and walked to the entrance. Perfect timing, because the line was short.
Schliersee Bavaria Germany
Schliersbergalm cable car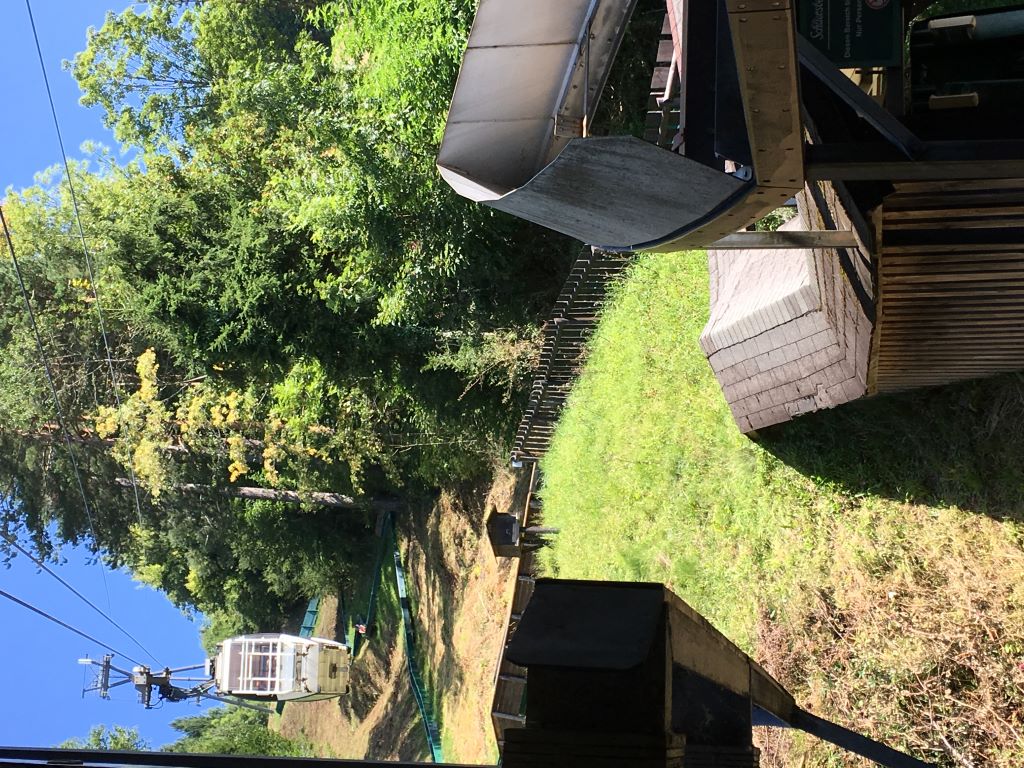 Schliersbergalm cable car, Bavaria, Germany
I'm afraid of heights, so I was a little nervous, as was Robyn. Each time the car went over a wheeled pylon there was a quick jerk and a clunky sound, and we would grab onto our seats, and then the cable car would begin the upward trek again.
Once at the top the stunning view of the Schliersee valley and the lake below took our breath away. Filled with joy at the serenity, with a feeling of peace and contentment from the majesty spread out below us, we lunched at the restaurant and then let the little girls play.
A lot of the activities had a charge, and there were long lines for the trampoline, swimming pool, and mini golf, but there were swings and a climbing apparatus that were free.
I think the most fun we have is giving the children time to just be in the moment.
The toboggan run
No stately cable car for us going down. Instead, we took the toboggan run. This is called a 'Roedelbahn' in german, and is basically a small wheeled trolley that speeds down a chute. You push a lever forwards to release the brakes and allow gravity to take over. You can pull the lever back to slow down.

Schliersbergalm Roedelbahn
We flew down the side of the mountain. With 1050 yards of track and sixty-three curves, the ride was the most terrifying fun I've ever experienced. Joe, Robyn, Kati and Karmyn were ahead of me, and Kitty and Krysta followed behind.
I didn't have enough arm strength to push the lever and lift the toboggan, I have too much ballast. Instead, I pulled my leg back and used my foot to push the lever forward, which gave me two speeds, full on or stop.
The toboggan whipped around the curves, I could not catch my breath, my heart was pounding, the mountain racing past me…or was I racing past it?
Everything was a blur. I let the lever up, and came to a halt in the worst possible spot, on a slightly flat area.
I tried to get going again, but was not successful before both Kitty and Krysta, and a young boy we did not know, on another toboggan, came up behind.
I let the boy grab my toboggan and continue his race down the side of the mountain. 
Kitty asked me, "Are you sure you will be okay"?
"Yes, I just need to catch my breath and push the toboggan closer to the next drop."
They continued their descent, and before anyone else could come up behind me I had moved the toboggan to the next downturn, sat down and was on my way. This time I kept a steady pressure with my foot for that scary fast speed, and I made it down right behind the girls.
Kitty was impressed with my foot ingenuity and may use that in the future to get more speed.  
Located at Schliersbergalm, the cable car address is Dekan-Maier-Weg 10, contact phone +49 8026 6723, e-mail Ingo@schliersbergalm.de. There is also a hotel and restaurant.
Our first full day in Schliersee was a rousing success. We looked forward to the rest of our stay as we layed down in bed that night listening to the whispers of the Bavarian valley. Now we dream about going back, maybe for a romantic trip, if our girls will let us go without them.
- Story by Cassandra Ellis, photos by Joseph Ellis.
Cassandra Ellis is a traveler, court reporter, and grandmother who currently resides in the Washington, D.C. metropolitan area after moving to the East Coast from Seattle, Washington. She has traveled extensively across the United States and around the world, for both business and pleasure, so she has experienced a variety of cultures from Asia, the UK, continental Europe, to the Isles of the Caribbean and many other locations.

Cassandra has just turned 52 and is seeing the world through new eyes, living her dreams of becoming a writer and enjoying all of life's opportunities alongside her husband, her best friend, Joseph Ellis, who is a traveler, videographer, and photographer.
He spends his days searching for just the right photo to take or just the right video to shoot. When he's not taking photos and video and traveling alongside his wife on their next big adventure, he works hard in his yard to create the garden of their dreams. Their daughter, Katryn Ellis Mata, lives in Santa Clara, California, and dreams of traveling around the world. She is 31 and currently works at Google as a contractor.
---
If you enjoyed this story, be sure to read Cassandra's feature, Chasing sunrise 1,048 stairs up Koko Crater, Oahu, Hawai'i
---
---