Split Croatia
Christine takes a trip to Europe, and Split Croatia.

What appeals to you?
Sitting seaside in a cafe sipping your favorite drink? Wandering through a 2,000 year old Roman Emperor's palace? Boarding a ferry to enjoy a delicious lunch on a beautiful nearby island? Taking a day ferry to Venice to see art and palazzos?

Split Croatia
My fellow adventuresses, you will enjoy all of this and more when you visit Split, Croatia. It is a beautiful country basking on the Adriatic Sea that entices one with Roman ruins, great food and cheaper prices than Italy.
After six weeks of nappy changes and interrupted sleep patterns, I decided to take a break from GSD: "Grandma Support Duty." I was in London this past Spring to help with my beautiful new grandson.
Absolutely delightful as he is, I discovered that constant cleaning, dishwashing, laundry, pushing a pram up a big hill to deliver my other grandson to his child-minder were all combining to make me feel like an exhausted drudge.
I needed a European break. Hmmm, where to go?
Split Croatia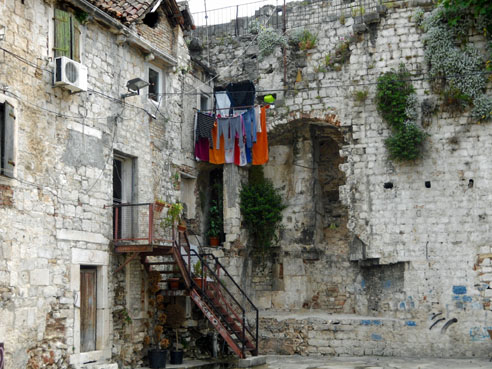 I chose Croatia, with easy flight access from London at very reasonable prices. There was also the allure of visiting new friends whom I had met when we all lived in Cuenca, Ecuador. They graciously offered to host me.
Schedules were coordinated and off I went on a week-long adventure to Split.
My friends, Brian and Kate, met me at the airport and that was the start of a delightful week of exploration, good food, interesting people and a lot of Roman history.
Of course I'd be remiss if I didn't mention Brian's talent for making mean Gin & Tonics….
Split Croatia
Whenever I visit a new city, I always make time for a stroll through local, open-air markets. The displays were plentiful and I was surprised at how many products were available. My personal litmus test is to see if I can find things like dill weed spice and coconut oil. And they were there!
Although part of the EU, Croatia uses their own currency just as the UK does. No worries, as ATMs are plentiful.
If you love history, you will enjoy the fact that much of the "old city" of Split is actually part of the Roman Emperor Diocletian's (244-312 A.D.) huge retirement palace and grounds. The remains are remarkably preserved and many cafes and hotels are part of the former palace.
I visited the Cathedral of St. Domnius and saw where the Emperor was entombed. Of course, after Rome fell, new rulers tossed poor old Diocletian out the window and destroyed his tomb. However, the cathedral they built on site is quite lovely to tour.
The HBO series Game of Thrones has made Croatia popular now as a tourist destination. So if you visit in the warm summer months, be prepared for some crowds and some higher prices.
My advice? Just do it and you'll fall in love with this gorgeous country and her people.
--story & photos by Christine A. Collins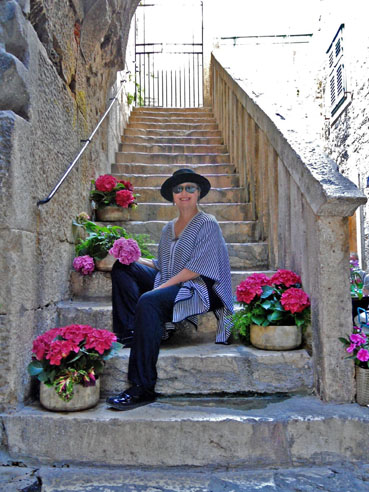 Christine A. Collins is an adventuress currently living in Lake Chapala, Mexico.
She is the author of A Golden Girl's Guide to Retiring in Cuenca.
READ Christine's story about ROWAN OAKS, the home of William Faulkner

---
---