To do in Boston
 Some of the things to do in Boston; Baseball, Burial Grounds, Brown Water & a Lobster Roll .

One of the things that stood out was the number of different languages ​​I heard. I've heard more languages ​​spoken in Boston than I've ever heard in New York. I know New York is a popular international tourist destination, but I discovered Boston is too, with plenty to do and learn.
I didn't know how popular a destination Boston was until I got there for three days in sweltering August 2018.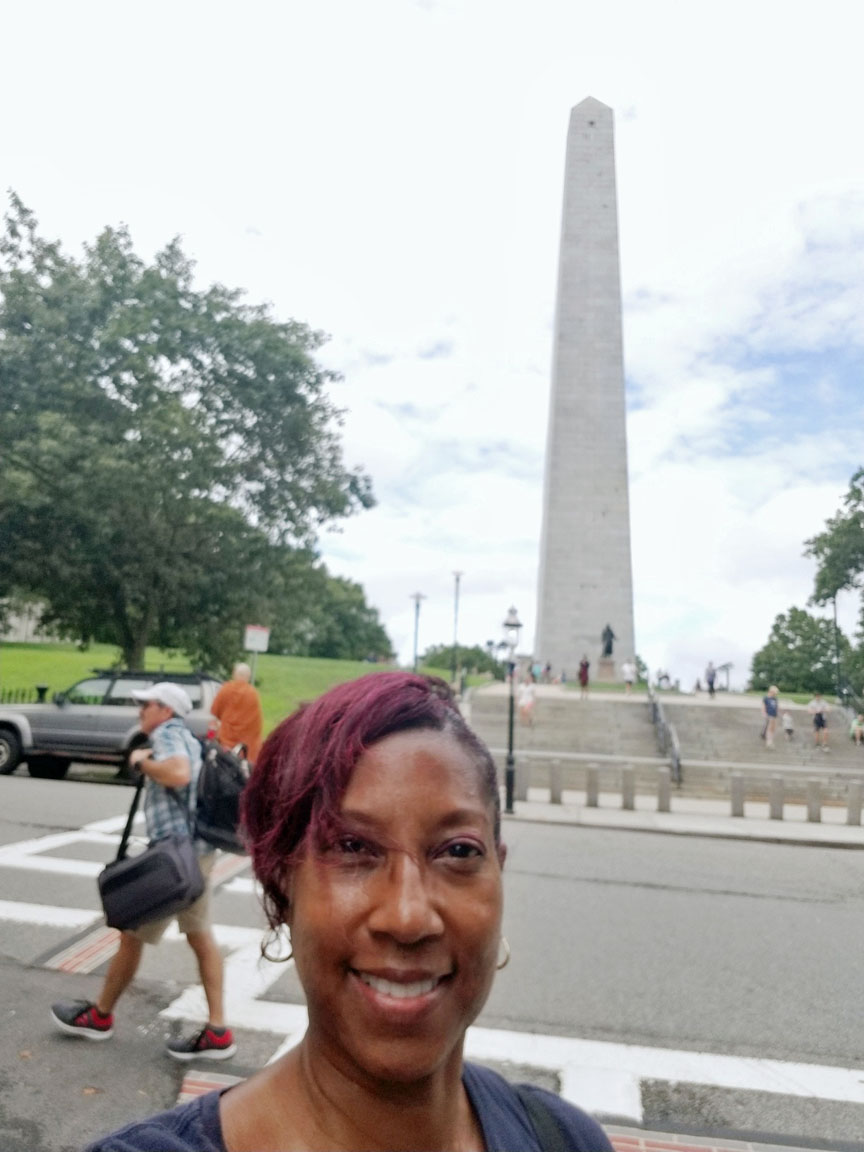 - Alesia in front of Boston's Bunker Hill Monument
To do in Boston -
A visit to Fenway Park
I felt like I was walking on hallowed ground as I got closer to the stage. I noticed the banners waving overhead and joined others in snapping photos of the historic stage.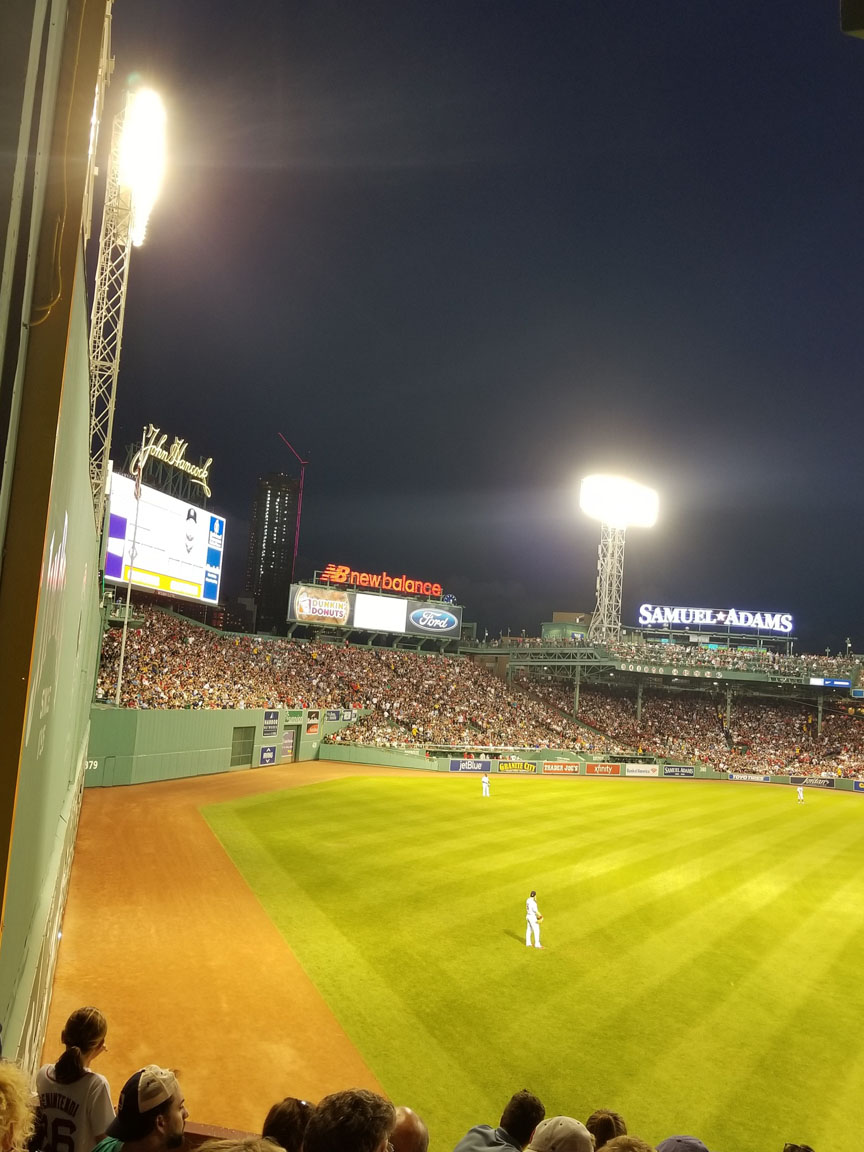 One of the highlights of my trip was seeing the Yankees and Red Sox compete at Fenway Park in the first game of a four-game series.
When I got inside, the first place I headed was the concession stand.
 I couldn't believe how decrepit the stage was. I knew it was an old stadium, the oldest in Major League Baseball at 107 years, but it doesn't look like  any  restoration has taken place in the concession stand areas. It took me back to the cavernous but plain Cleveland Municipal Stadium in the seventies.
I sat in a section in left field near the Green Monster, the 37-foot-high outfield wall that's bigger than any other in baseball stadiums.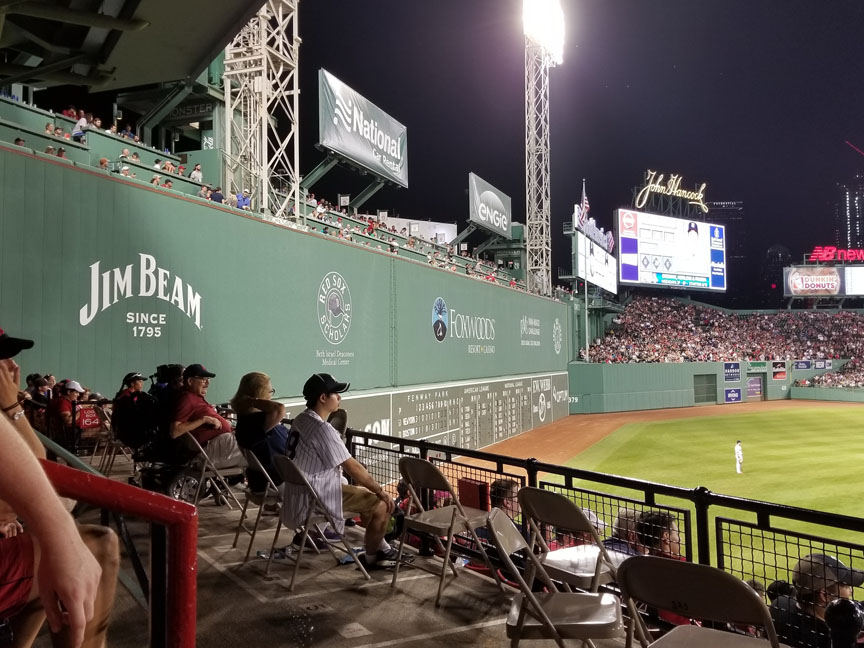 Even though I sat near a pole that blocked part of my view, I was thrilled to be so close to this famous wall I had only seen on TV. It was not just the players on the field competing but also the fans in the stands to see who could outdo one another with their cheers and jeers.
I sat with some Boston fans who cheered wildly every time Boston scored. In the end, the Red Sox and their fans won in Boston's 15-7 pounding of the Yankees.
Boston seems to pride itself on its old things. I read about a plague outside the Boston Common subway station that Boston has the oldest subway system in the United States (built in the late 1890s), and it looks like it. The system is an  old dirt road with tracks, and trains that look more like buses.
As I rode from the airport and to and from the game, I wondered how drivers felt working in this depressing tunnel every day. People complain about Washington, DC's subway, but after riding through Boston's, I think they'd appreciate DC's modern system.
To do in Boston -
The Freedom Trail tour
I took the Freedom Trail tour with a group of thirty-plus people from the hostel where I stayed. The man who led us to Boston Common, where the tour would begin, said he normally has twelve to sixteen people in his group.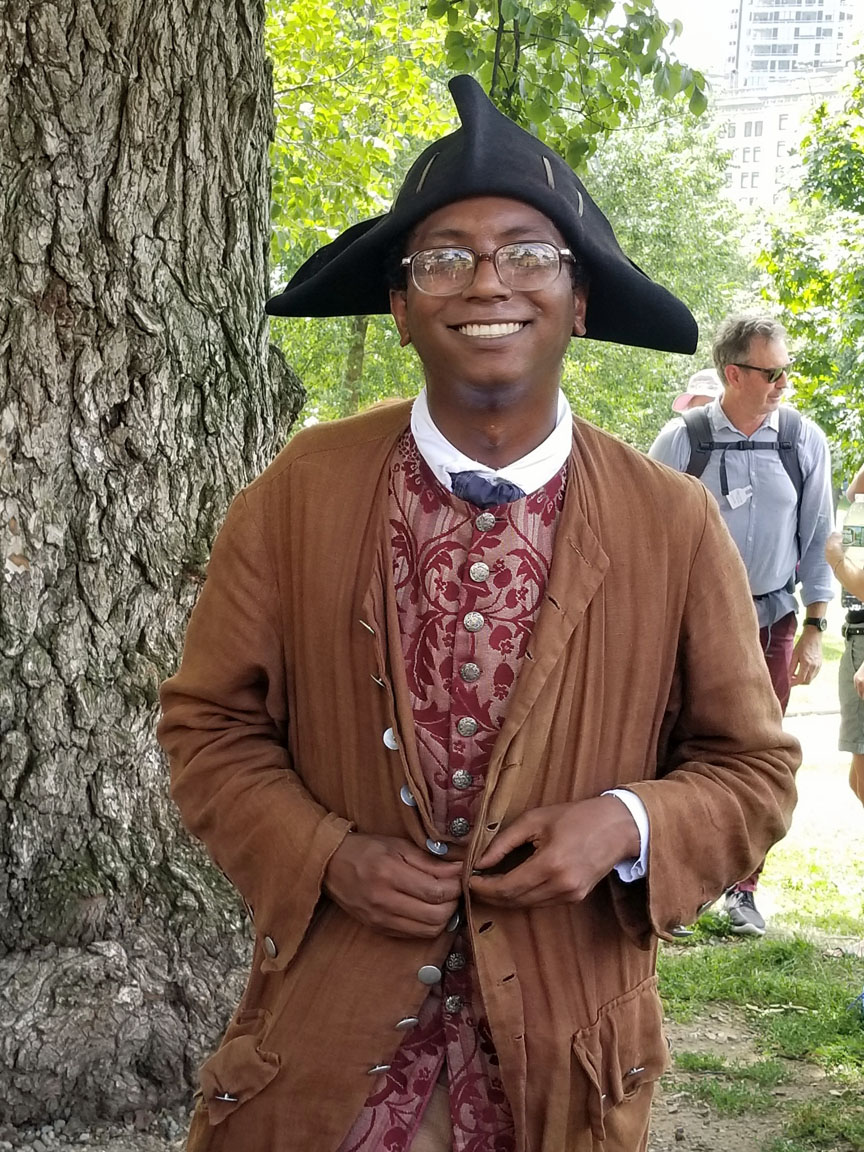 The official tour guide welcomed us by saying we could take pictures of him if we wanted.
He pointed to one side of his face, saying that was his good side and then pointed to the other side, saying that side was even better.
The guide pointed out the oldest hotel in Boston, the Omni, where John Wilkes Booth stayed two weeks before he assassinated Abraham Lincoln. Booth was in Boston to see his brother perform in a play.
To do in Boston -
Granary Burial Ground

We also toured one of Boston's burial grounds (so named because the word cemetery did not exist before the early 1600s) where the guide told us about a man named Frank who was John Hancock's personal assistant. As valuable as Frank was to Hancock, Hancock didn't think enough of Frank to give him a last name.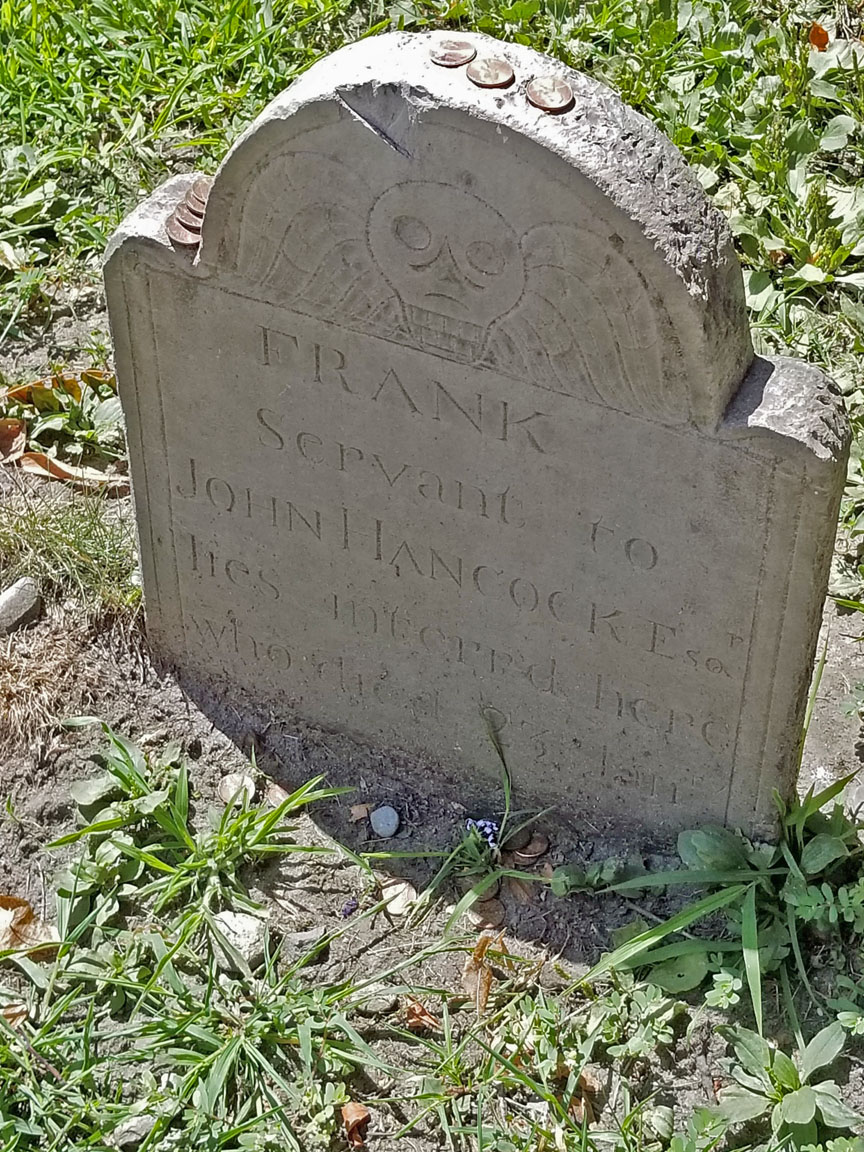 Frank's Headstone
 To do in Boston -
Frank's Headstone
In the field, pray for Frank as I watched Hancock's memorial looming over Frank's small headstone.

Not all the stories were serious. Some lighthearted facts concern the governor's mansion, which is one of only six in the country in which the governor does not reside.
Only two people can enter through the building's front doors - the president of the United States whenever he wants and the governor at the beginning and end of his or her term.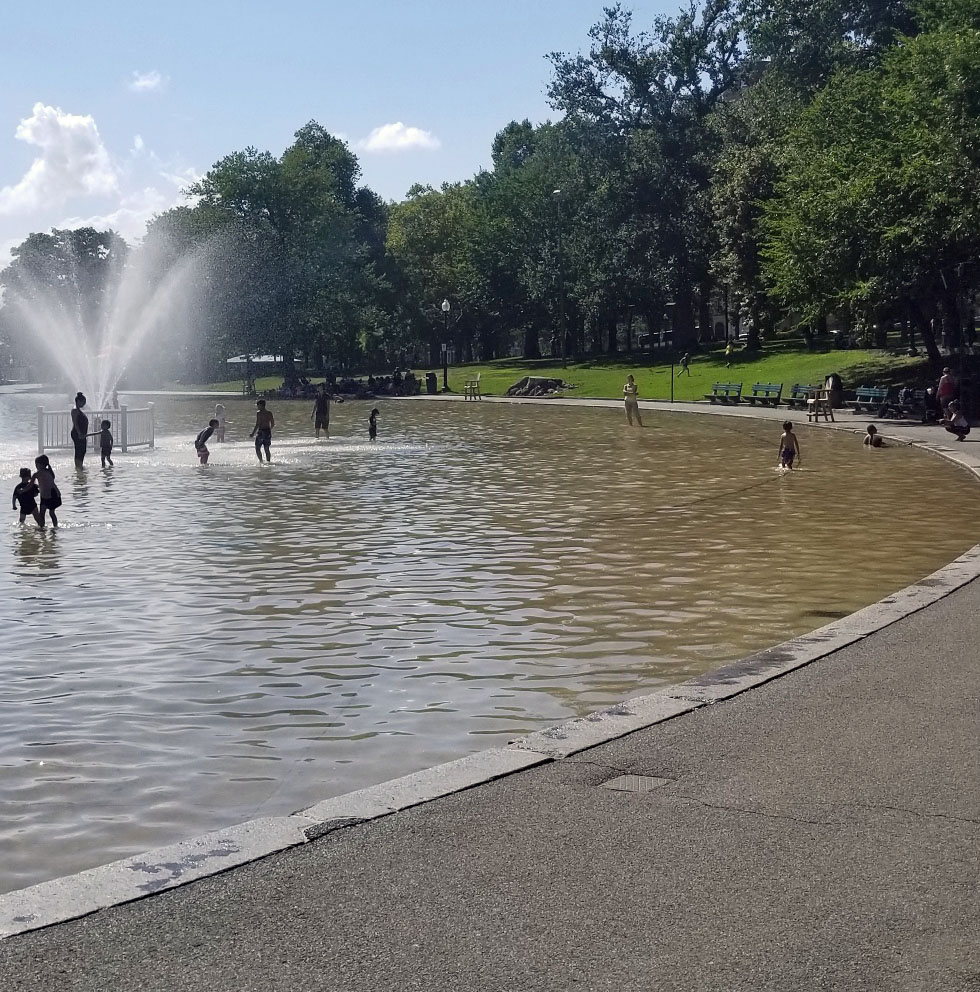 The Common
To do in Boston -
The Common

At one point the guide made a joke about Boston's brown water. When I returned to the Common the next day and saw children playing in the water section, I was surprised that the water was really brown. This was no joke after all.

I talked to a friendly Bostonian in the Common who introduced me to his wife, son, and sisters and their children who were visiting from their home country. Before introducing himself, I was trying to figure out what language they were speaking.
I would never have guessed they were from Cape Verde in Africa and were speaking a form of Portuguese Creole. The man said he has lived in Boston since he was three years old and that one of the reasons he loves Boston is that there is always something to do.
Joe's American Bar and Grill on Boston's waterfront
For me, one of those things to do was sample some of Boston's cuisine. I couldn't leave the city without trying a famous lobster roll.

The one I had at Joe's American Bar and Grill on Boston's waterfront was thick with lobster, which came stuffed inside a large piece of toasted bread.
This was only my second time having a lobster roll. The first was a few weeks before I took my trip, so I'd have an idea of ​​what a lobster roll tastes like. My lobster roll meal, which I ordered with fries and lemonade, satiated my hunger and curiosity.
My short trip was just enough to give me a taste of Boston with its famous history, legendary baseball team and stadium, and one of its signature foods.
I know three days almost anywhere is not enough to truly experience a destination, but Boston whetted my appetite enough for me to plan to return for a longer stay.
With so much to do and learn in Boston, it's not surprising that people from all over the world travel to it. I was happy to be among those travelers.
-   Alesia Barron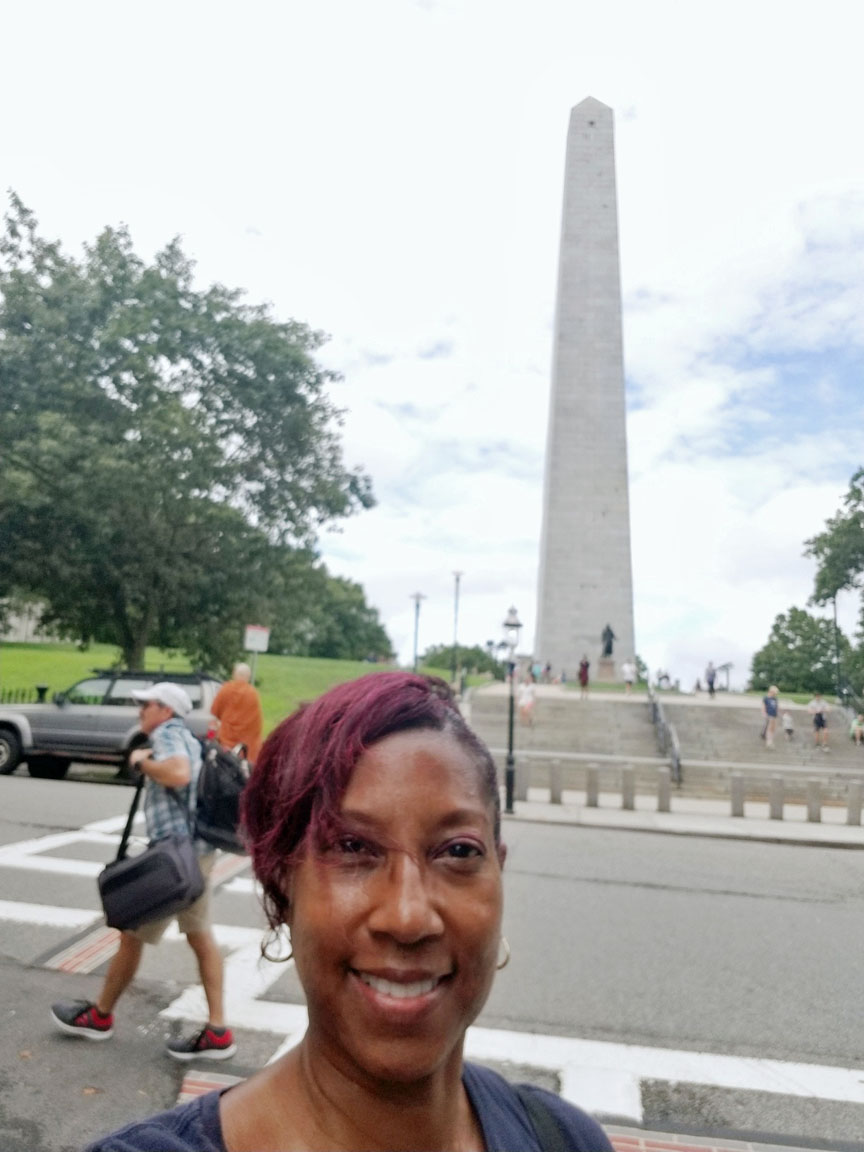 Alesia Barron lives in Landover, Maryland, and has become a crab cake lover since moving there 31 years ago from Cleveland, Ohio. However, she still has roots for her favorite team, the Cleveland Indians .
She teaches sixth grade English / reading and social studies and has taught for 22 years. Alesia wants to explore the United States, Latin America, and the Caribbean and share her travel experiences and others' cultures with readers.

CLICK HERE to read Alesia Barron's feature on the Gateway Arch Thrill Ride in St. Louis, Missouri.
---
---