Mauritius Island Misadventures
Discover how our Mauritius Island misadventures turned out!

A 2 week holiday on Mauritius Island seemed a great idea for my 53rd birthday at the beginning of February. It gets quite cool about that time of year in Southern Spain, and a break in the Southern Indian ocean sounded very attractive. But not everything worked out as planned - Which is part of what makes travel so interesting!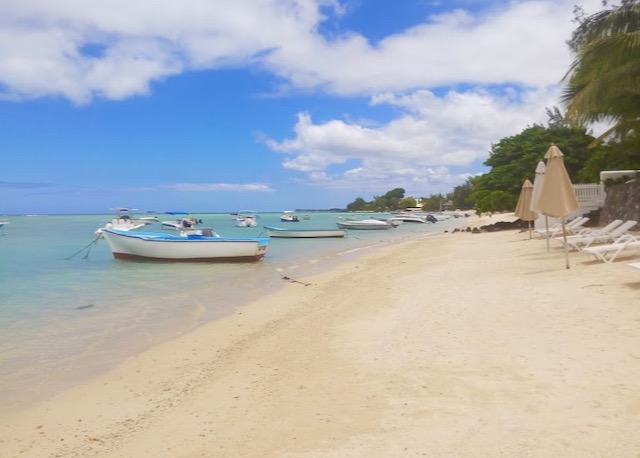 The beach at The Bay Gusthouse
As I found out later, my partner had planned several things for my birthday. First, at the end of January, we flew from Alicante in Spain to London, where we picked up a British Airways flight direct to Mauritius. This was almost 12 hours long, and we decided to pay a little extra for more legroom in the Economy cabin. So far, so good!

Mauritius Island
After landing on Mauritius island, we got a taxi to the West coast area of Black River. We had decided to avoid the 'touristy' Northern end of the island, and stay in an Air BnB at Black River, on the South West coast.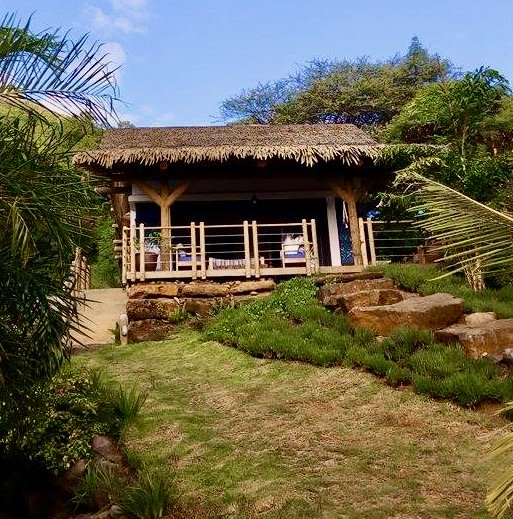 Our Air BnB accommodation - superb!
Our accommodation was a log cabin set up on a hill at the back of our hosts property, giving us great views out over the Indian Ocean and towards the headland of La Morne. Our host was exceptional, always seeming to be around when we needed something, but otherwise unobtrusive.
View of La Morne from our Air BnB
Being set up on a hill, backing on to trees and shrubs, we had quite a bit of wildlife around us, including tame birds, tree frogs and a large gecko that hunted on the outside of our bathroom window.

A gecko hunting outside the bathroom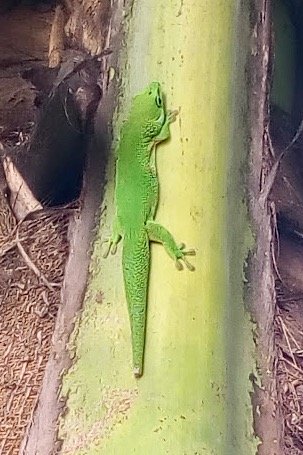 A gecko on a tree
Mauritius Island Misadventures
This is where 'the best laid plans of mice and men' started to unravel a little . . .

My partner had tried to order several things for my birthday, which was on a Sunday that year. But some things were difficult to find, and trying to order online from local Mauritius island businesses was also fraught with misunderstandings.

First, there was the silk dressing gown, ordered from overseas that was supposed to arrive before we left home for Mauritius island. It didn't make it.

Then there was the hunt for a Carrot cake - my favorite! - but difficult to find a baker that would make it and deliver. So our kind Air BnB host volunteered his wife. She'd never made one before, but offered to give it a go. It was duly delivered up to our cabin the day before my birthday, a little thinner than usual for a carrot cake, but tasting delicious!

A slice of carrot cake
Next were the flowers. A florist had been tracked down and an order placed, and they were actually delivered on the Sunday! Such a nice surprise!

Birthday flowers!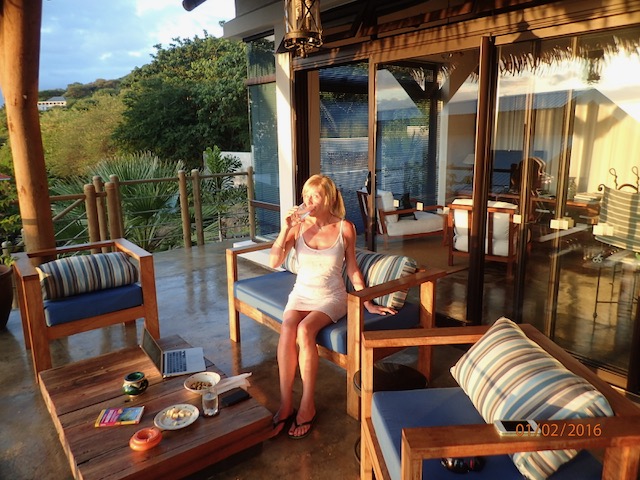 A birthday cocktail !
Then there was the sushi. I love sushi, and my partner wanted to order some for my birthday to have as a picnic. But the nearest sushi place was some miles away. However the online shop seemed easy enough to navigate, and they did home delivery - at a price. Ideal! They duly turned up on the Monday, 2 rather shifty looking men in a large 4-wheel drive, staring oddly at me before handing over a rather small box.
Once back in the cabin, we opened the box to discover - ONE piece of sushi. My partner thought he had ordered one box of 8 pieces. He wondered why it seemed to be so cheap! And the delivery charge ended up being 10x the cost of the sushi itself. And the funniest part was that we subsequently discovered a whole sushi section in the local supermarket, just 15 minutes walk away!
So far, that's a score of 3 out of 4 things going awry. What else could happen?


Mauritius Island Misadventures
Well, we decided on a nice bike ride after lunch on my birthday, to a beach that we had seen on Google Earth. It didn't look too far, and we had the loan of sturdy mountain bikes from our host. 

So we set out, and made our way along the main road, which wasn't very busy but also wasn't very wide, so that most cars passing us seemed to be very close. But we carried on in best Adventuress tradition! Half an hour later, we were still on the main road, but getting close to the turn off to take us to the Tamarina Golf and Spa Hotel, which fronts the beach we wanted to visit.
About 15 minutes later we found the turning, and left the main road. We were now on a very quiet road, but that's because it was unsealed - ie. no tarmac - it was a dirt road. Fortunately we were on the mountain bikes, which were perfect for the rough surface. But they were heavy. Very heavy.
Beach near the Tamarina Spa Hotel
Eventually we approached the rather grand-looking hotel. We felt rather out of place, with our dusty mountain bikes and sweaty clothes and faces. The gatekeeper, resplendent in full uniform and a large hat, came out to enquire if he could help us.

We replied that we were not guests, but we wondered if we might visit the bar for a short time. He seemed a little perplexed, and confirmed that we just wanted to visit the bar, as if it might be highly irregular. Desperate for a drink, I blurted out "Just for a beer?"  It sounded a little desperate!
"Of course you can!" he replied, and so after an hour of cycling in the afternoon heat, we finally locked the bikes to a convenient lamppost, and went through a side door to the bar.  It was extremely nice, all outdoor seating looking over the beach and the Indian Ocean. Everyone else seemed to be well-dressed, but we were so desperate for a beer that we didn't care anymore!

After 2 beers we walked down to the beach, and did a little beach combing for driftwood and sea glass. Wonderful!

And then we noticed something - the beach was extremely long, in a huge curve that went several miles south, towards where we were staying. On the maps, it had looked like the beach was divided into north and south sections by a river entering the sea.
But I could see no sign of the river. In the distance, just a dried-out channel. The Google Earth map photo must have been taken during the monsoon, when the river was in flood. We could have avoided the circuitous bike ride by simply walking down the beach!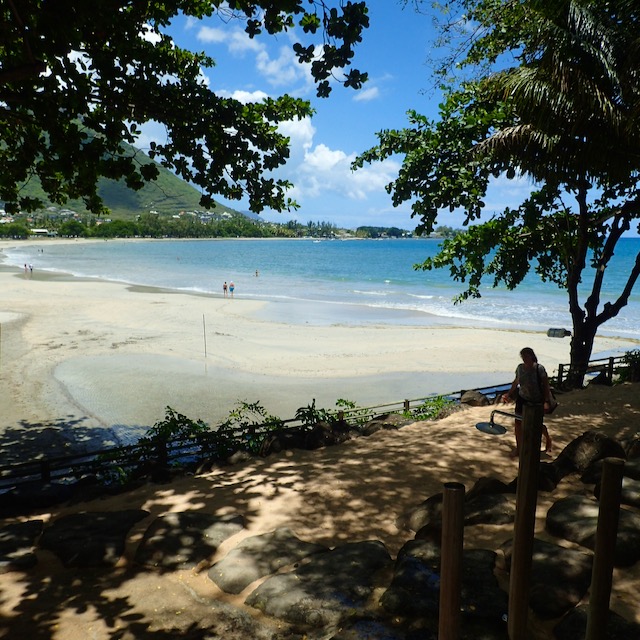 Beach at Tamarina Golf we could have walked across!
But walking with a small back pack is one thing; pushing a heavy bike over sand is another. So, reluctantly we realized that we had to take our bike back to the road and cycle all the way back! Another hour of cycling and we were home, ready to put our feet up with another beer. What a birthday!

---
The Bay Guesthouse and Bar
Next day, we tried a more local route, and discovered the wonderful Bay Guesthouse and Bar on La Preneuse beach. The bar spilled out onto the beach, and it was the most calm and relaxing setting, with moored boats bobbing about gently just feet away from the shore.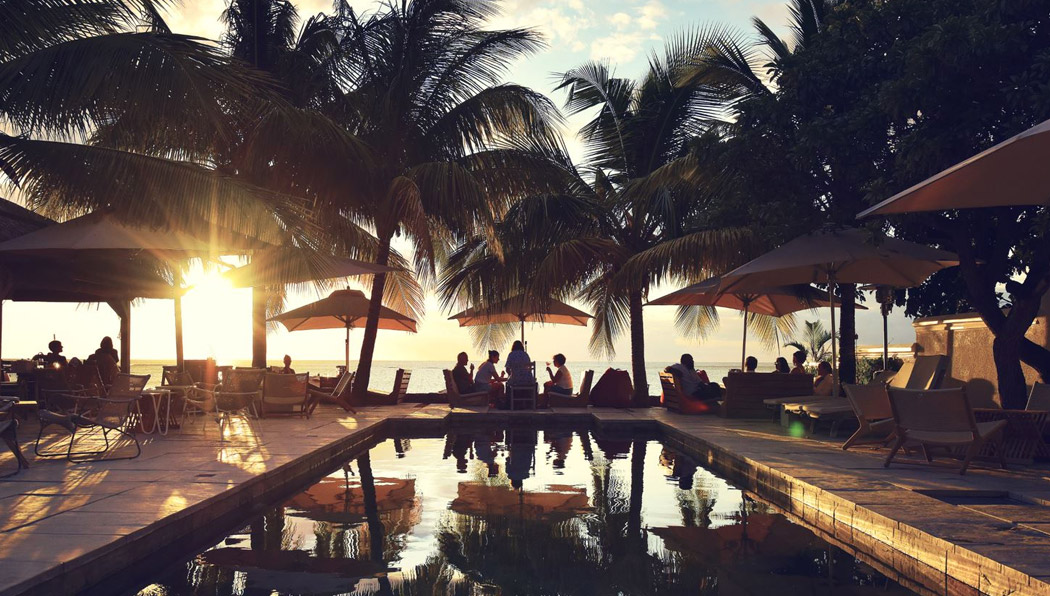 View of The Bay bar area
View from the bar!
We visited The Bay several times during our stay, and came to think of it as 'our local'.

Richard at The Bay
---
Black River National Park
We wanted to see some wildlife in the Black River National Park while we were on Mauritius island, and we hired a local guide, Mario, to show us around. He picked us up at the front gate of our community, and took us to the National Park.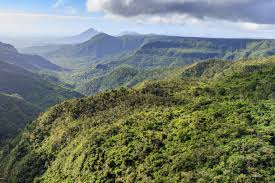 Photo by CEphoto, Uwe Aranas
We started out in mottled sunshine, with pleasant temperatures and humidity. As we made our way along the trails of the Park, however, clouds started to gather, and after an hour or so, it started to rain.
This was a rainforest, and it RAINED. We had some waterproof tops to wear, but the rain got down our necks and somehow even up our sleeves! We ended up slithering around through muddy slopes, trying not to fall, still in the hope of seeing something wild.
A Wet Rainforest Walk!
Unfortunately we saw no wildlife at all, except for a rather enormous slug. Mario was most apologetic, telling us that the monsoon had arrived a month early. We weren't sure whether to believe him or not, but then it rained for the next 2 days solid. Our Air BnB host subsequently confirmed that yes, the monsoon had arrived a month earlier than usual.
On the drive out of the park, we glimpsed a monkey for all of 3 seconds, running across the road. That was the sum total of our wildlife! Mario got us back to our cabin  - he had thoughtfully packed his car with several big towels for us to sit on during the drive.

Monsoon Jigsaw Puzzles
After drying off indoors, we peered out at the continuing rain, and decided to stay in! We found some jigsaw puzzles in a cupboard, and spent the next 2 days piecing them together slowly on the kitchen table, with brief trips to the supermarket when the rain eased off for a few minutes. 

Mauritius Island Misadventures
Pitaya - The Dragon Fruit
Pitaya - the Dragon Fruit (Photo from Wikimedia Commons)
It was on one of these quick dashes for shopping that we saw a strange-looking fruit, called a Dragon fruit. It was weird. We decided to buy one, and google how to eat it later. It turned out to be absolutely delicious, and we bought several more over the remainder of our stay.

CLICK HERE for a great wikihow.com resource on how to eat a dragon fruit and the different ways you can eat it!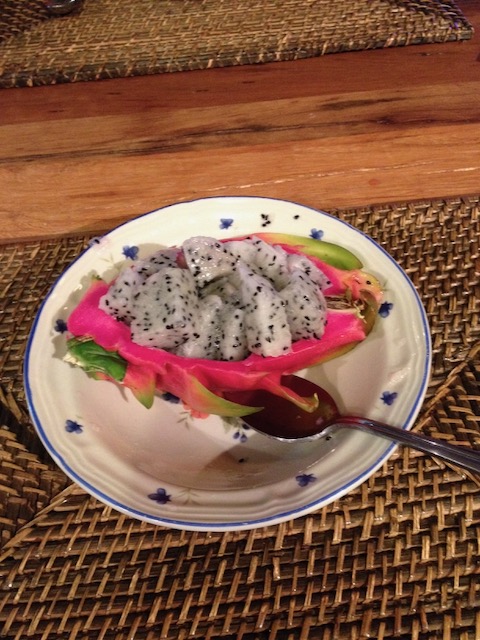 Dragon fruit - cut and put back in husk!
---
Once the rain stopped, we thought we might have another go at seeing the wildlife in the National Park, and now we knew how to get there. As we were were training for a marathon at the time, we didn't mind running the 5 miles to the Park, and the additional 3 miles around the park.

After all, we could walk some of it if things got too hot! So we set out, in full marathon training mode with water bottles and energy gels. We remembered the way to the Park entrance, only to find the gates locked. It was a National Holiday. Somewhat disappointed, we turned around and ran back home, taking a bit of a detour to add the distance required by our training plan.
Another misadventure!
Mauritius Island - Indian Food
Our Indian Food Adventure
We had seen some small posters attached to lamp posts, advertising an Indian restaurant takeaway service. Using Google maps, we worked out where the restaurant was located, and decided to go along there later to get an Indian dinner to take home - it was 15 minutes walk away. At 6pm we set out on foot to find the restaurant. When we got to the correct street number, we were confused.  We seemed to be standing outside a brick wall, next to a small house that looked like someone's home. 

We checked the address again, and on Google maps. There was no mistake, we were at the correct location, but there was no restaurant! At that point, we noticed through the open glass door of the 'house' that there was a small desk just inside.
It wasn't a restaurant, but maybe someone was home, and we could ask where to go? So we rang the bell and stepped inside. Immediately there was a waft of Indian spices. And then a thin gentleman shimmered into view as if by magic, and raised his eyebrows at us. I asked where we might find the Indian takeaway service, and he replied that we were standing in it! He pushed a grubby piece of paper at us, which turned out to be the menu.

We were a bit doubtful about ordering anything, but our misgivings were overcome by the amazing aromas coming from somewhere. We quickly picked a few things, made our order, and sat down on the little chairs with a glass of wine to wait.
After about 30 minutes the the gentleman silently reappeared with a paper bag full of the different things we had ordered. Walking home, the temptation to stop and nibble something was almost too much, but we resisted.
Once back at our log cabin, we opened everything, and what a feast! We were so surprised to get such great smelling and tasting Indian food from such a humble place. It was so good, we went back several times during our 2 week stay.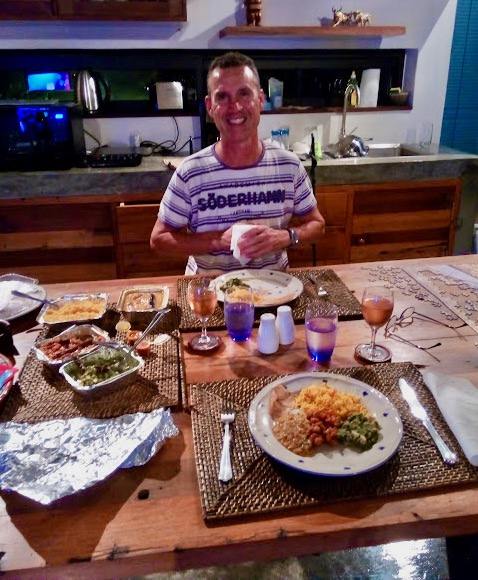 Our take-home Indian food
In the photo above, we are about to tuck into our Mauritius curry! The Monsoon Jigsaw puzzle is still on the kitchen table, at the right hand side of the image.

---
The Shanty Town
One thing we had not been expecting was a shanty town between our accommodation and the nearest supermarket. We had to walk past it every day and at first we were a little intimidated. The little collection of cardboard boxes, corrugated iron sheets, poles and blankets for walls looked like it might be a violent place.
But then one day we saw some brightly coloured balloons tied to one of the 'houses'. Outside the 'house' were a number of small children dressed in their Sunday best. It was a birthday party!

The kids were having great fun, running around and giggling - suddenly the shanty town became more normal, less threatening. We waved at them, and carried on walking past, feeling a tinge of guilt that we had misjudged them.

---
Drowning the Camera
One day, we decided to try some snorkeling off the beach by The Bay  bar. We cycled over there on the mountain bikes, and put our snorkel gear on. We locked up the bikes, and put the keys, some money, micro-fibre towels and dry shorts into a safety float (we use a 360 float), and headed out in the shallow water. It was very clear, and very shallow, but also very sandy with little coral close to the shore, with few fish to see. 

The main reef was about 200 meters offshore, and we slowly made our way in that direction. I pulled my waterproof Olympus camera around to turn it on, and to my surprise I saw the "water proof" hatch was flapping around, open - I had forgotten to seal up the camera before getting into the water! 
Of course, the salt water got into the camera immediately, and it was ruined. However I was able to retrieve the memory card afterwards, and so we still had all our photos.
Boat Trip
Our time on Mauritius island was almost up, and we booked a boat trip offshore. There was a possibility of sighting dolphins, but on the day we saw just the one. The crew cooked up a nice barbecue onboard, and we stopped off in a protected bay to cool off with a swim!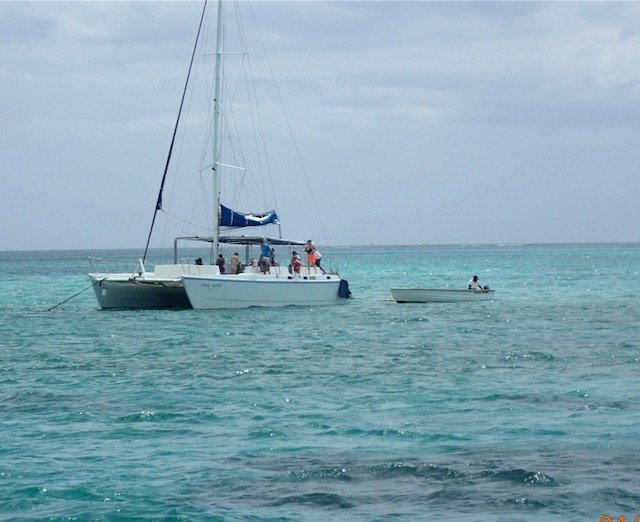 The boat trip offshore, Mauritius island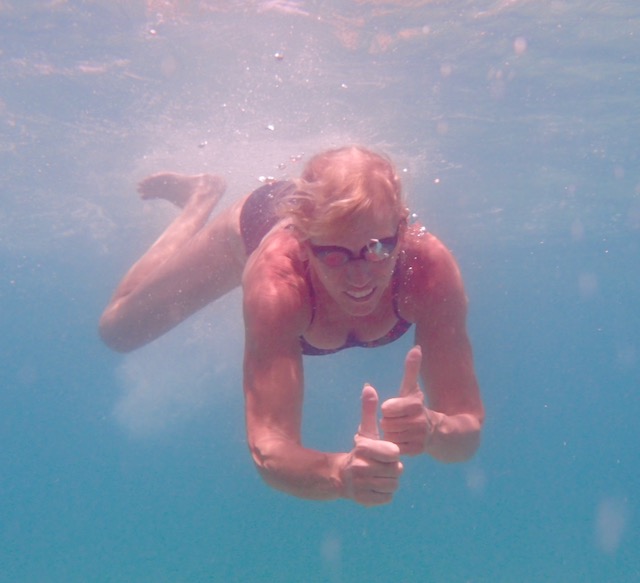 Mogsy swimming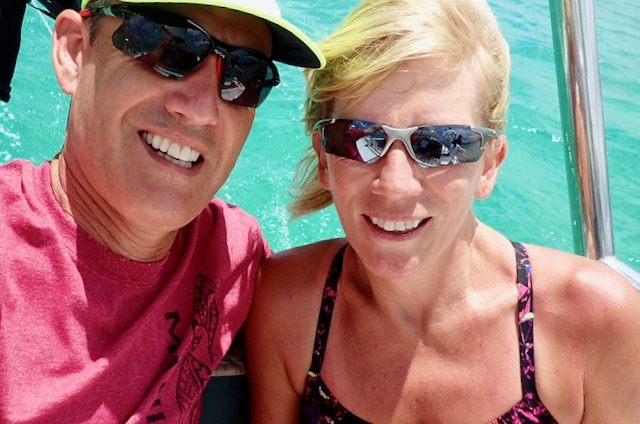 Mogsy with Richard on the boat
After 2 weeks on Mauritius island, we packed our bags and headed for the airport to fly home. This had been a fun trip, with some unexpected twists and turns! I'd recommend the West coast of Mauritius island, as somewhere quite different to the more tourist-oriented North coast.
Despite the misadventures, I was lucky enough to be thoroughly spoiled by my partner (who is now my fiancé!)
- Story and Photos by Mogsy Ford
Editor - adventuress-travel-magazine.com
If you enjoyed this story check out Mogsy's other adventures by clicking on the links below:
Mogsy's experiences deep in the Italian countryside at Castiglione dei Pepoli, to take part in a sporting event know as SwimRun!
Mogsy visits the beautiful coastal resort of Byron Bay, and runs up the path to the lighthouse at the most easterly point of Australia.
Mogsy undertakes a 4 week road trip with her 2 teenage daughters in New Zealand, North Island

---
---