New Zealand Adventures
North Island
Travels with my daughters - New Zealand Adventures North Island

Tales of traveling the entire length of New Zealand with 2 teenagers for a month!  Just 'me and my girls', and our New Zealand Adventures North Island.

We had a travel journal for the trip, with the title  '3 Blondes in New Zealand'!  My girls were 13 and 15 at the time and I decided it was time for an adventure.  This was in 2005 when I was in my 40's and a single parent.  Luckily at the time the girl's school saw the whole trip as educational and allowed them time out.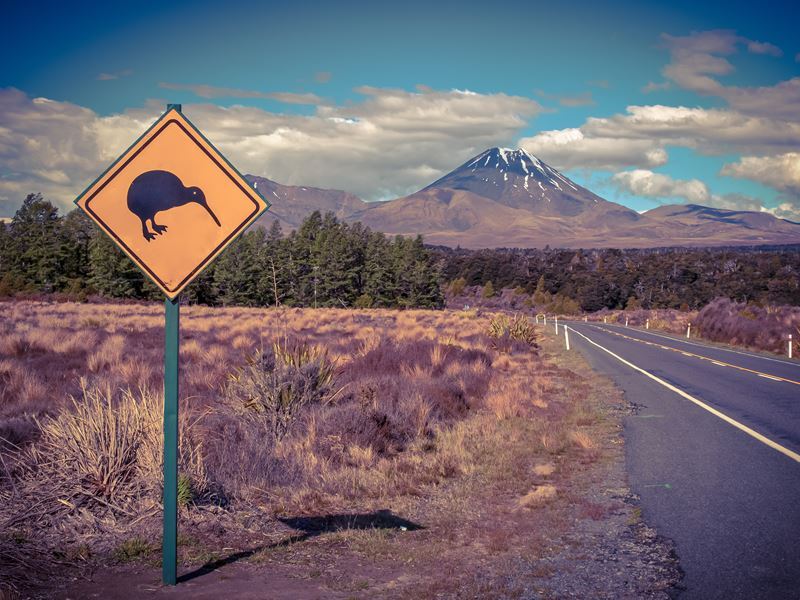 Time for a New Zealand Road Trip!
After re-mortgaging my house I bought 3 airline tickets and started planning!  I decided it should be a true adventure, so I only booked the first night's accommodation and planned a rough route to follow – then it would be a case of 'turn up somewhere and find somewhere to stay!'  I must admit now I'm older, in my 50's, I do plan my adventures a little bit more….
Here's the route we ended up following, starting off at Auckland in the North Island.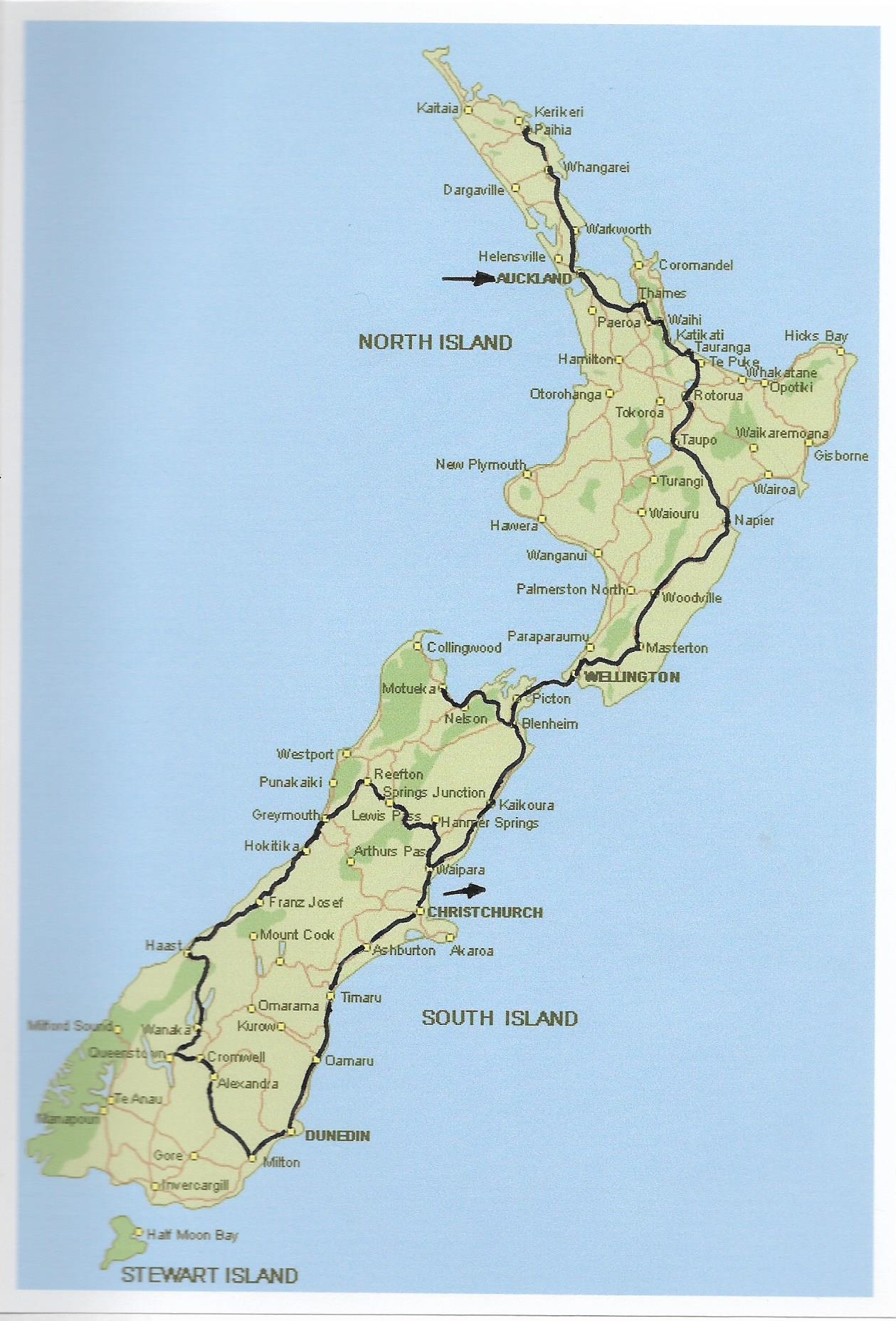 Our Route!
First Stop Auckland
Four flights, 54 hours later we arrived in Auckland via London Gatwick, Dubai, Singapore and Brisbane!  I'd decided after the long journey we needed a treat for the first night so had booked the Copthorne Hotel -  after this it would be hostels and motels.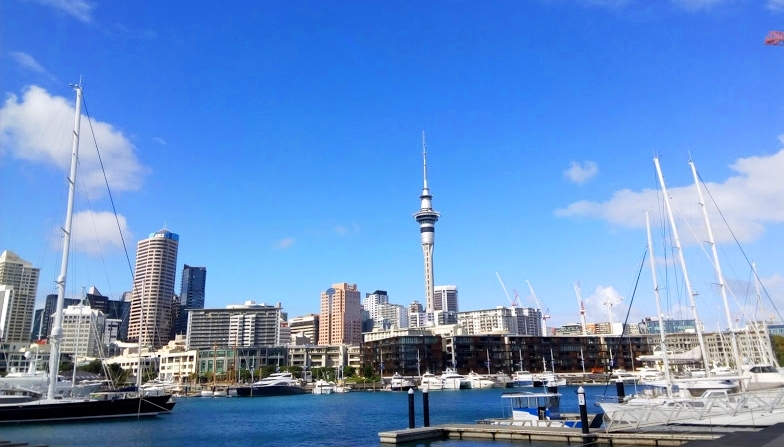 Auckland Harbour
After much needed sleep I picked up the hire car booked for the North Island part of the roadtrip.  In those days you could start driving at age 15 – it was a real shock to pull up at traffic lights, look across and see someone my daughter's age at the wheel!!  It's now 16 years – but still pretty young.
I discovered my NZ driving was no better than my UK driving, mistaking wipers for indicators and wheelspinning through residential areas!  I also discovered my daughter didn't know her left from her right, resulting in us seeing nearly the entire city from the car.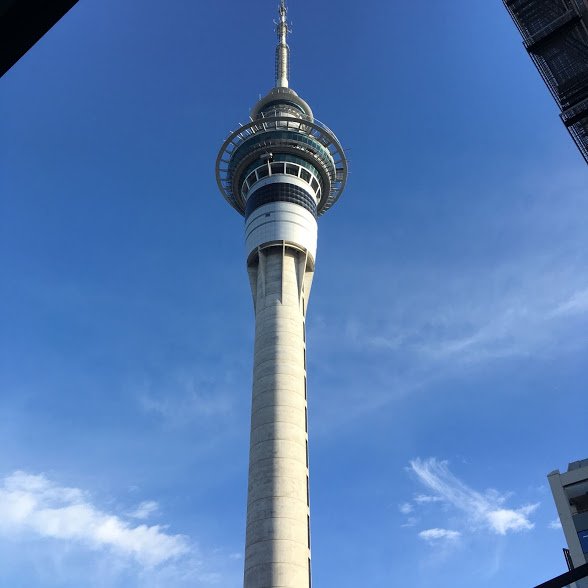 The Tower!
We did the trip up the Auckland Skytower - the view is amazing from the top and I braved the glass floor viewing point!
North to Bay of Islands
After a brief stay in Auckland, it was time to head north towards the Bay of Islands.  After 3 hours on the road, a food stop involved 3 blondes, 3 diet cokes and 3 cheese and ham toasties.  With my driving improving now we were on the open road and out of the city we arrived at Paihia and booked into the Bay Adventurer Hostel – the hostel is still there today;  I'm adding links to the places we stayed in if they're still around, but obviously I'm not sure how good they are now but worth checking out the websites if you are looking for budget accommodation in the area.
New Zealand Adventures
North Island
Sailing on Freewind
That evening in Paihia, we booked a sailing trip for the next day on a yacht through Freewind Sailing. The company is still going strong with Ron the Skipper, a real character who has many stories, sea-tales and experiences to share.
In the morning, we woke up to cloud, rain and wind. When we set out on the yacht, we felt like full-on sailing shipmates, but in safe hands, despite the yacht tilting over at 45 degrees to the sea due to the weather conditions!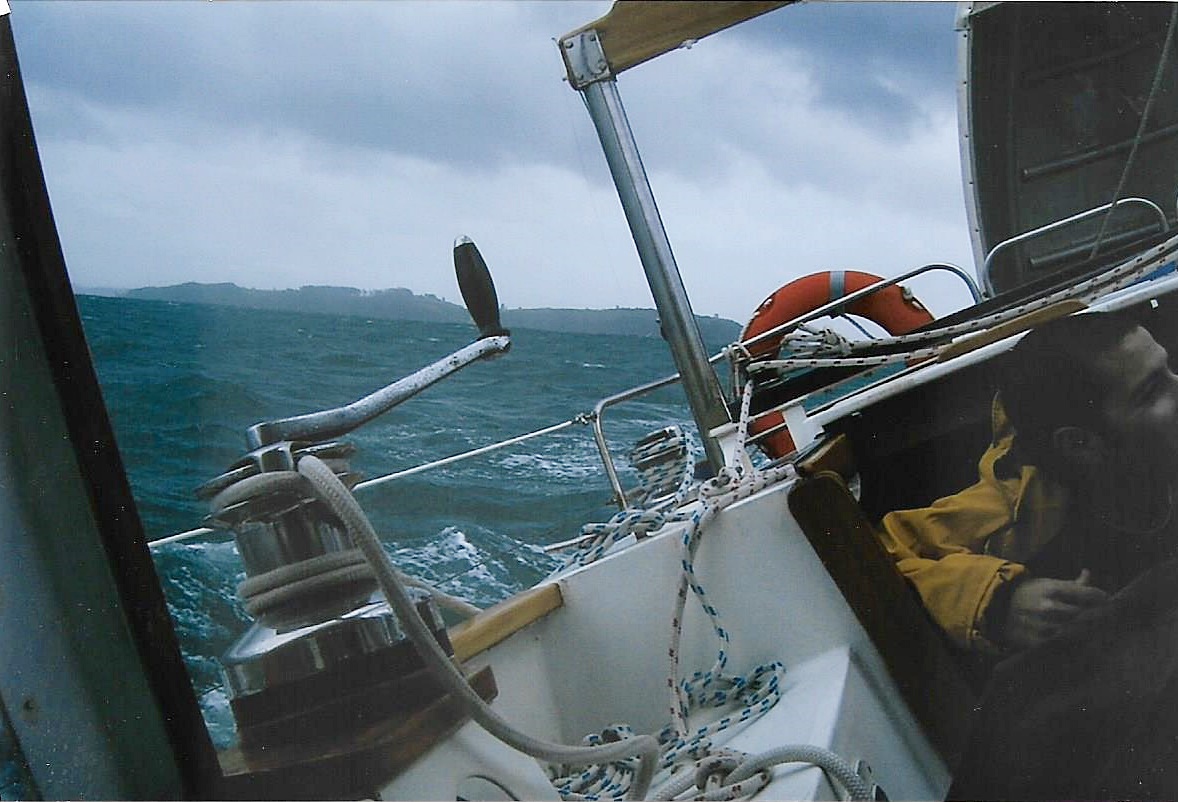 Wild Sailing at 45 degrees!!
It was pretty wild and windy, but great fun flying and sliding from one side of the yacht to the other, and trying to keep our balance.  Luckily none of us suffer from sea-sickness, unlike one of the other passengers....ooh no!
During the day the weather improved, and we arrived at a gorgeous sandy bay. We went ashore in a small tender, and took kayaks to go paddling. Since those days I have done a lot of kayaking, but at this time we were all novices. At one point my youngest handed me her paddle  (not sure why!), and I drifted off with it, not sure what to do. Fortunately her sister came to the rescue! 
3 blondes in kayaks ... 
We went back to the yacht, and the return sail trip was not as wild. At one point we went through the middle of a yacht race which was very cool.

I highly recommend this sailing and kayak trip if you visit Paihia, experience the thrill of sailing and enjoy great food and Kiwi hospitality aboard.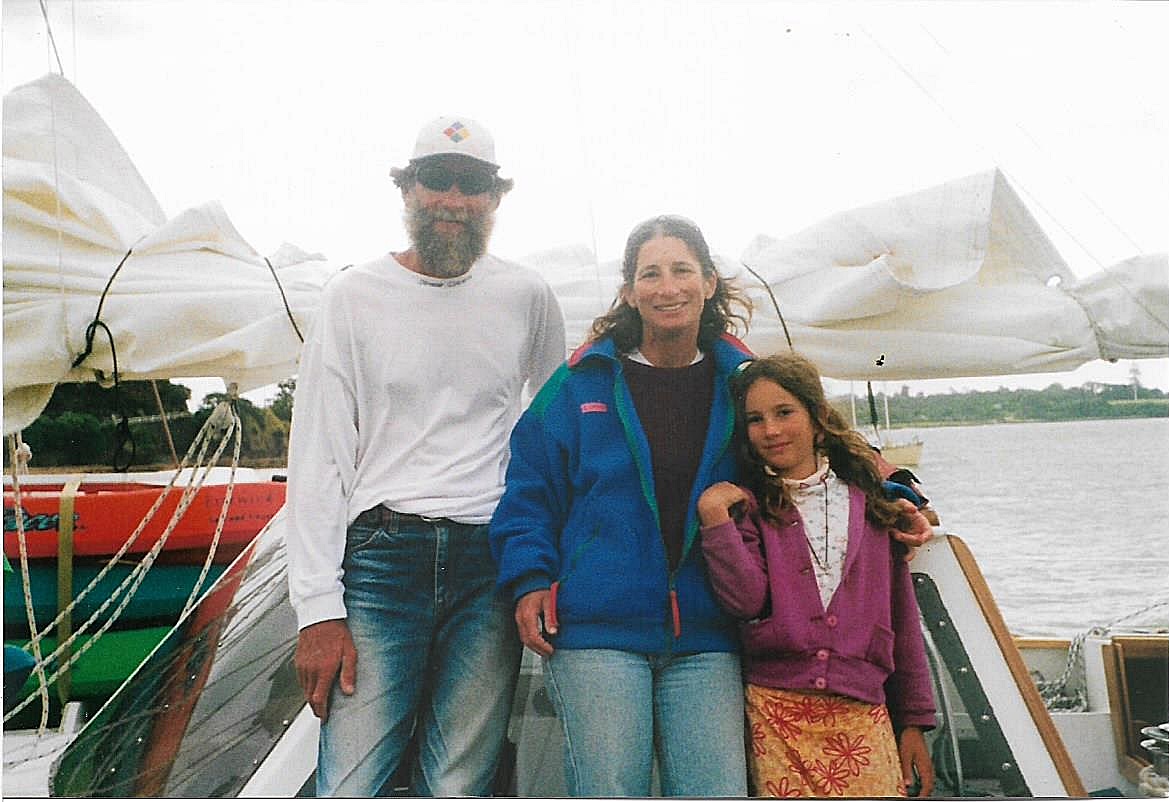 Freewind Sailing - the crew in 2005!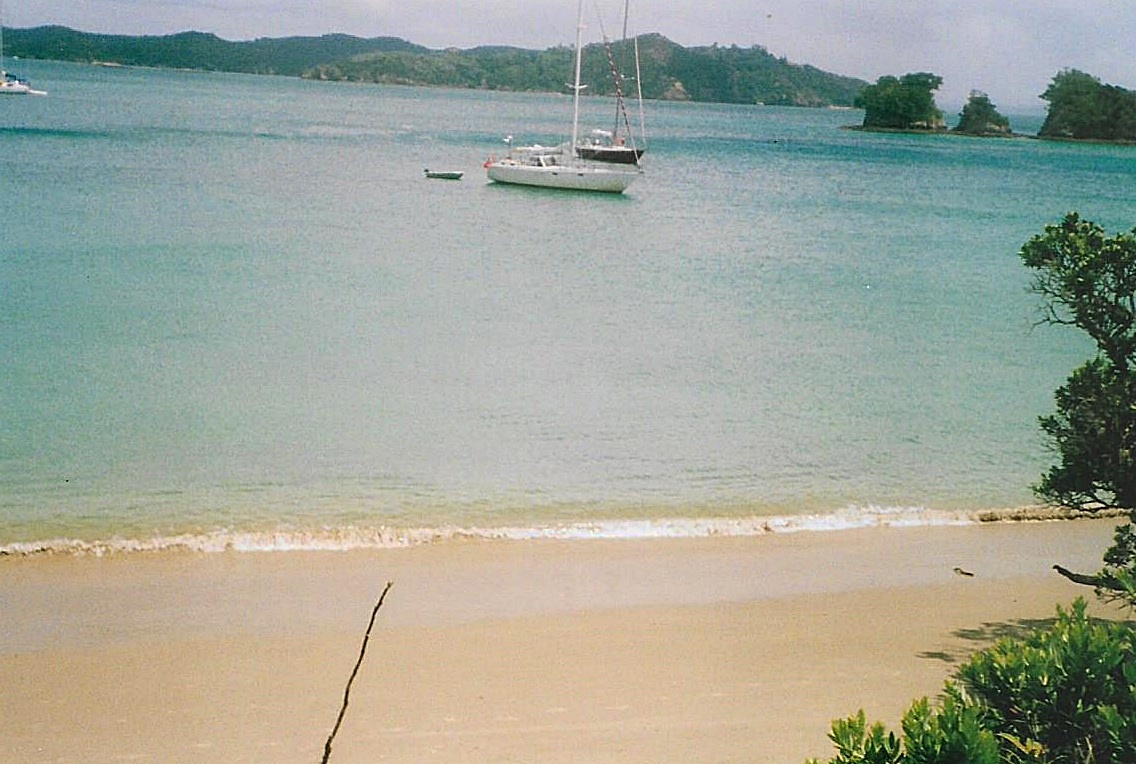 Beach we kayaked to from the Freewind
Heading Back from Paihia

After our adventures in Paihia, it was time to turn back south from the Bay of Islands towards Auckland, and explore! Heading south we stopped at the Kawiti Glow Worm Caves followed by a proper bush walk that felt like we were walking through a full on jungle!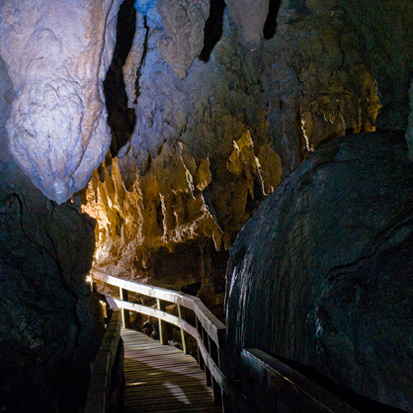 Inside the glow worm caves
Time to move on and search for the famous toilets – the Hundertwasser toilets in Kawakawa, made from reclaimed materials and a mix of pillars, tiles and decorative features.  We later found out these are the most photographed toilets in New Zealand!  They are mentioned in all the tourist books and my youngest was super keen to see them.  We found them to be bright and very quirky and actually worth a visit!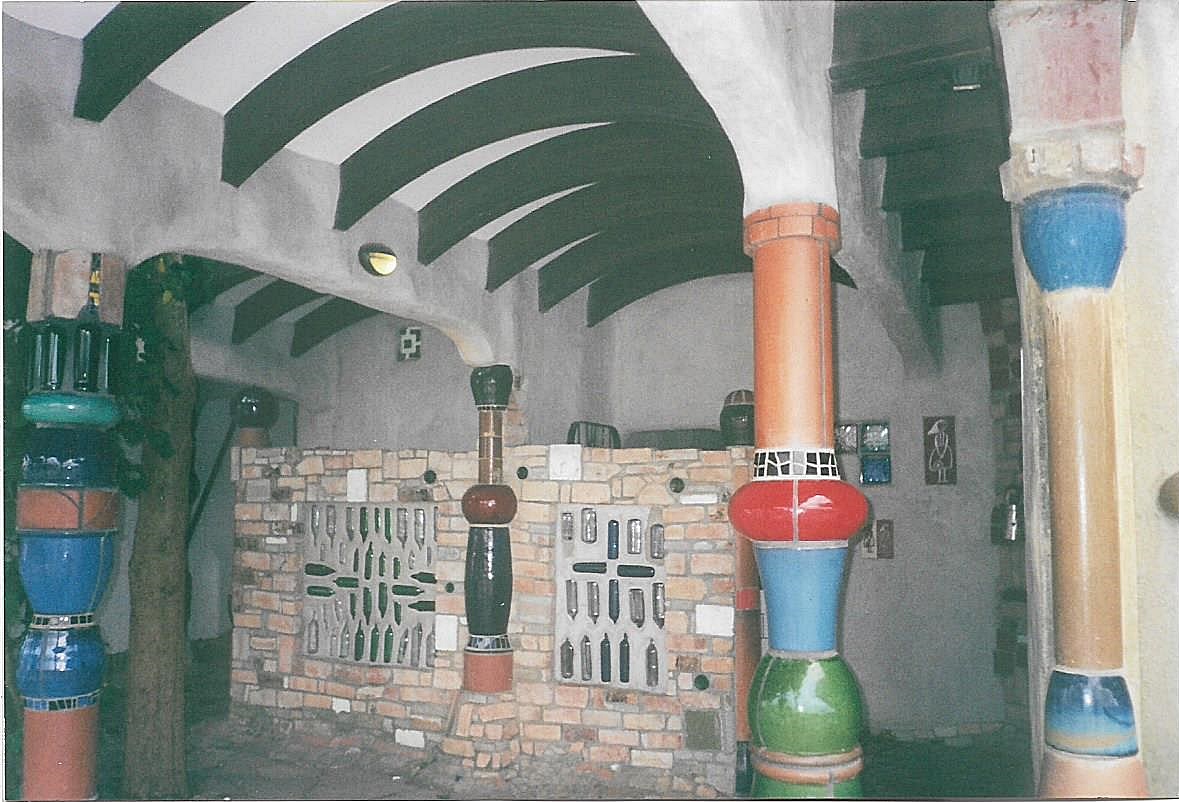 Kawakawa Famous Toilets!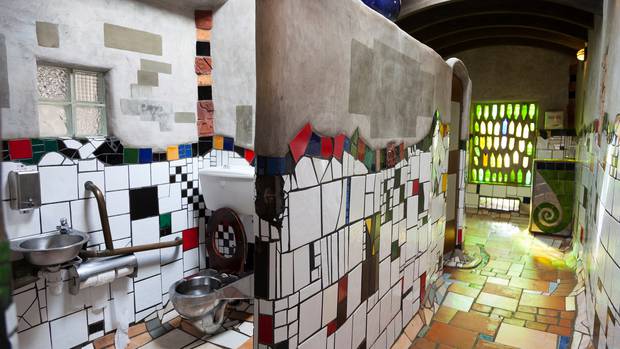 New Zealand Adventures
North Island

Whangarai Falls
Moving on to Whangarai, The Falls are very beautiful and well worth a visit - we did a circular walk that showed different views of the Falls.  We did manage to get lost in Whangarai whilst leaving, or trying to leave, that area.  This roadtrip was beginning to get a bit of a 'lost in NZ' theme ..... We were still struggling with navigation!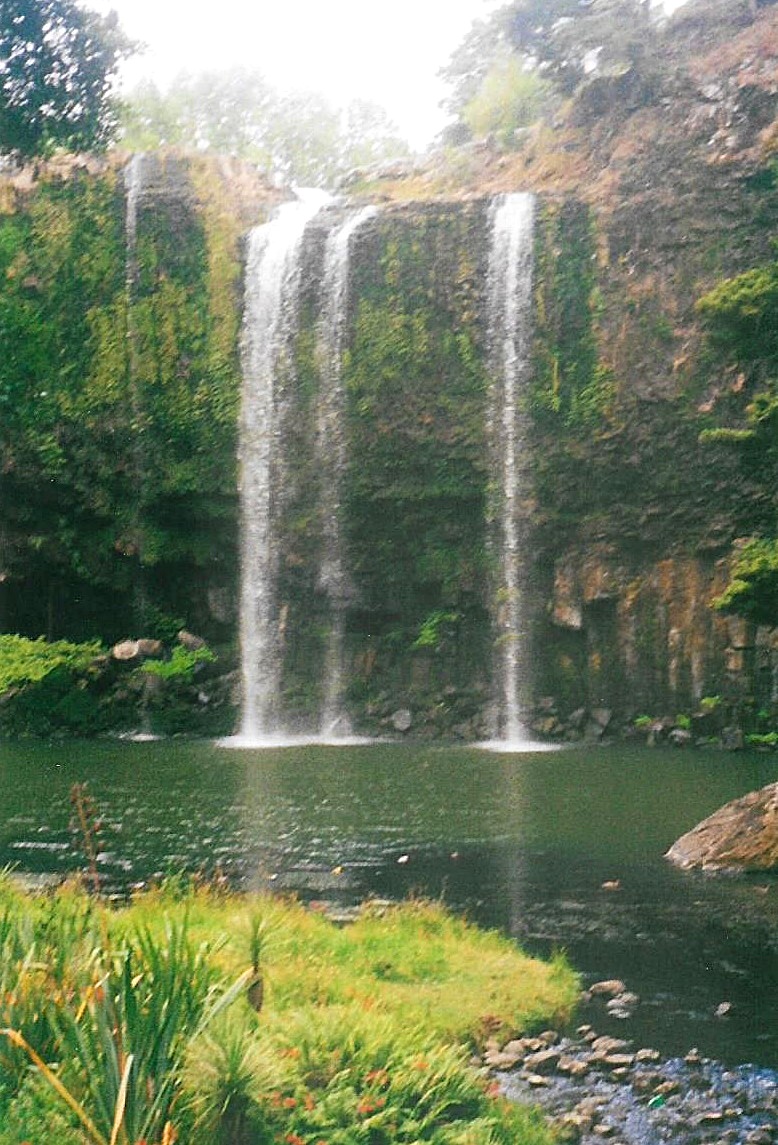 Whangarei Falls
Some of my photos are originals from 2005, so they have been scanned and may be slightly 'fuzzy', but I wanted to share original pictures!
New Zealand Adventures
North Island
Boy Racers in Thames
Driving south from Whangarai, we arrived at Auckland again, but no time to stop - we had to press on! Having negociated the busy road through Auckland again, we headed east and the road took us to a town called Thames - we drove through it in about 10 seconds, and thought - 'Was that it?' - and then realised that time was getting on, and we would have to stay here overnight.  Luckily we found a very nice colonial style B&B with a room available - Brunton House - this later became known to us as 'the posh B&B in dodgy Thames'!
Our night out in Thames was scary to say the least ... there weren't many people about, or places to eat, but we found a restaurant called the 'Goldmine' and the meal was good. However it was interrupted every few minutes by either a police car or a boy racer screeching past! We then had to find our way home in the dark and hope we didn't encounter any trouble .... it was a relief to get back to our B&B safely, lock the door, and collapse into a queen size bed -  a real treat!
The B&B was lovely, the landlady was lovely, the meal was lovely - shame about Thames!!!  This was of course many years ago and it has probably changed, so if any readers are from Thames I do apologize.
New Zealand Adventures
North Island
Time to Climb a Mountain
It is said that during your lifetime (and especially if you are an adventuress) you should climb a mountain – here was our chance!!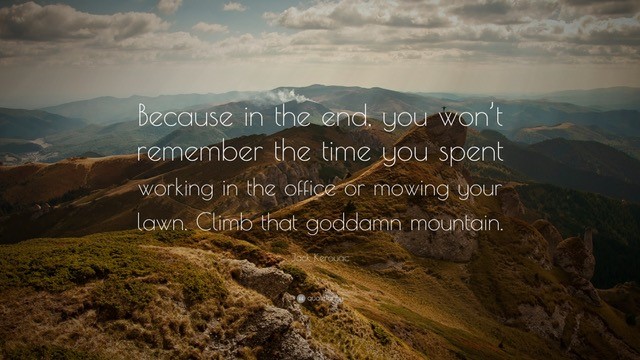 Climb that mountain!
Set on a peninsula, Mount Maunganui is a laid-back suburb known for the extinct Mount Maunganui volcano, a sacred Maori site with ocean-view hiking trails. Long, sandy Main Beach is popular for its surf breaks, while Pilot Bay Beach has calm waters for paddle boarding.  Brunch spots, global restaurants, and boutiques fill the town centre.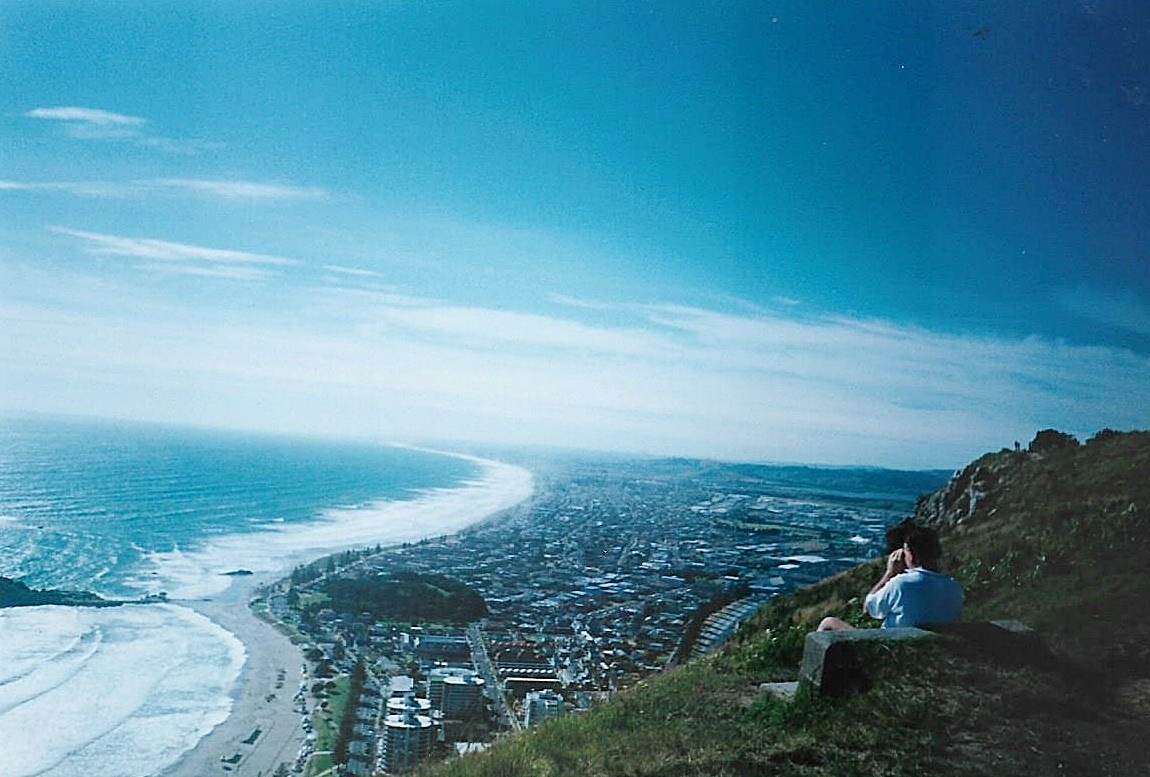 The town from the top of the mount
En route to Mt Maunganui we had passed through a place called Bethlehem - this proved very appropriate as when we got to Maunganui it was a bank holiday, there was a major surf competition going on, and there was 'no room at the inn' - whatsoever!!  All hostels and motels were fully booked, and the only place available was a 5* apartment in the Anchorage Apartments,  at a ridiculous price. However, we decided the town and surfing looked very cool, and in a rash moment, I booked it!
After a fun time on the beach with the surfers, a meal at the sailing club (which was surprisingly cheap and delicious) and a night in the amazing accommodation that would be the best of our entire trip, it was time to climb the mountain the following morning!  Oh Wow!  The views were amazing - well worth the climb - even though we had to convince my youngest daughter to get to the top!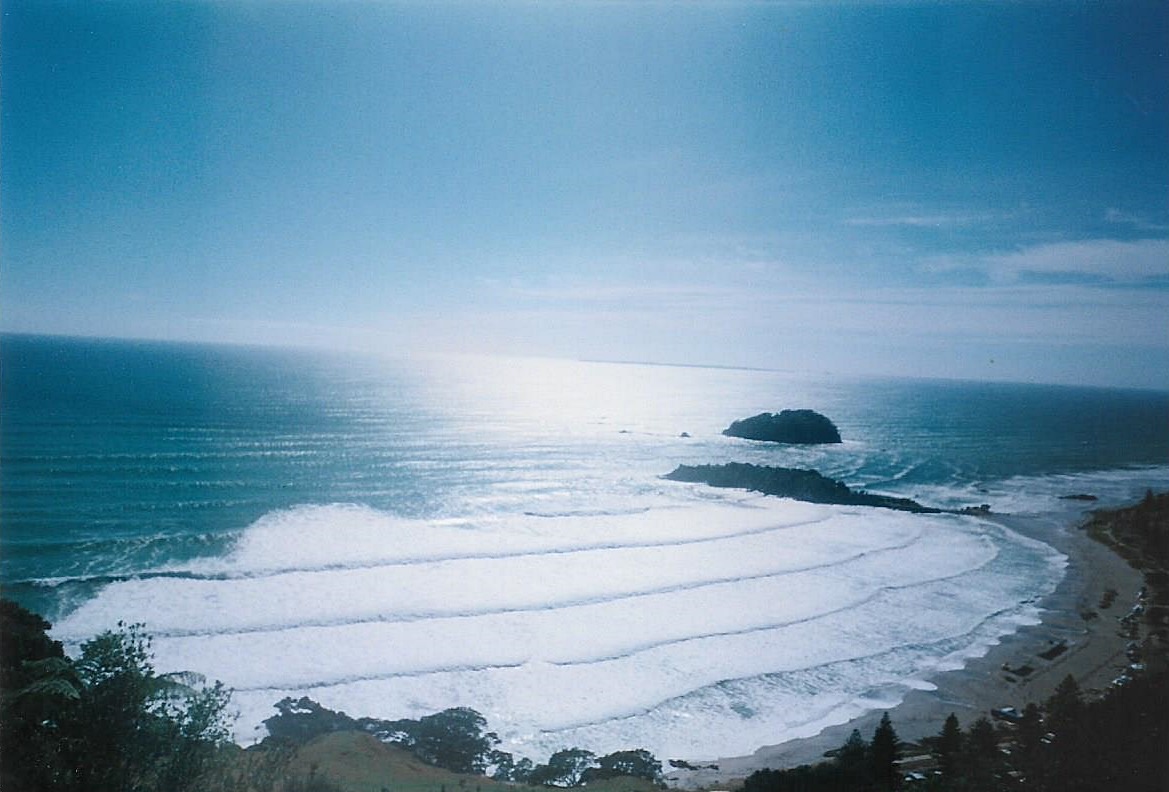 Amazing View from the top of the Mount
New Zealand Adventures
North Island

A Smelly Moment in Rotorua!
Arriving in Rotorua we managed to get a basic bunk-bedded room at the Kiwi Paka youth hostel, and headed out to the Wai-o-Tapu thermal wonderland that Rotorua is famous for!  The Wonderland is a spectacular showcase of New Zealand's most colorful and unique geothermal elements sculpted by thousands of years of geothermal activity.  The area is associated with volcanic activity dating back about 160,000 years and is strictly protected.
There are many pools, craters, and geysers to see, including the Lady Knox Geyser that can reach heights of 10-20 metres.  Be prepared for the bad smell of hydrogen sulfide in the area though, which does carry over into parts of the whole town!!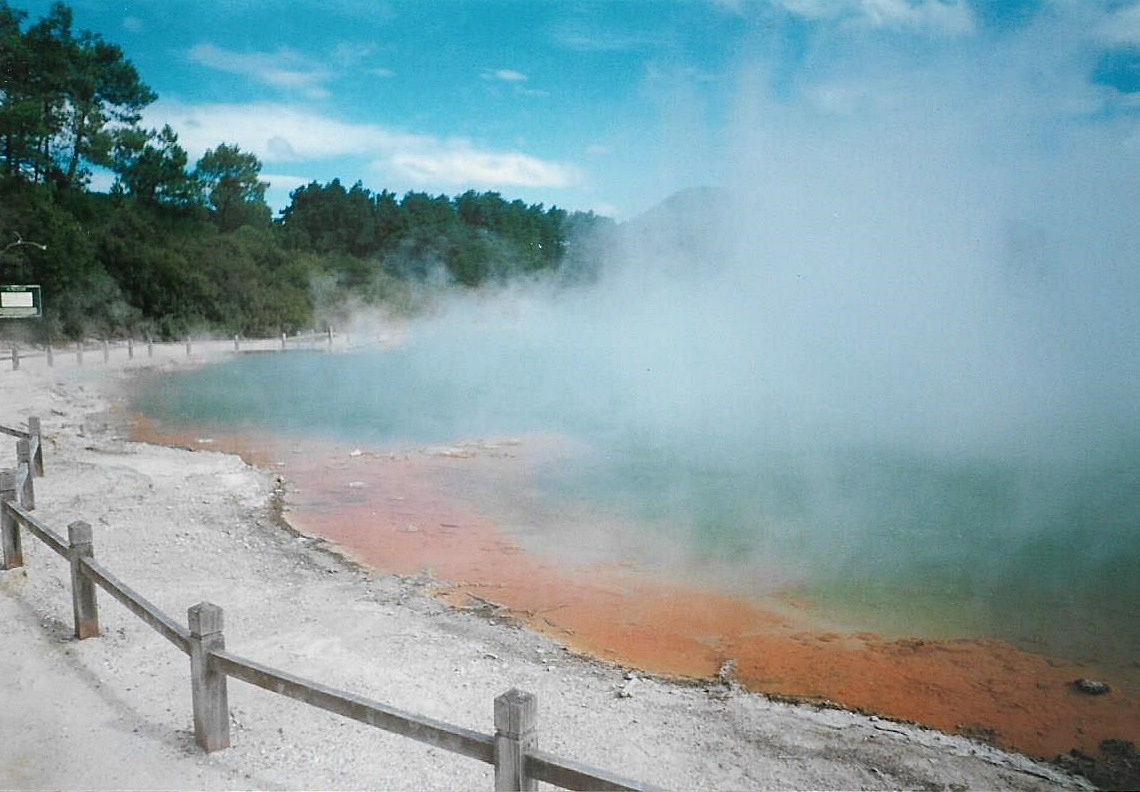 Walking amongst the steam!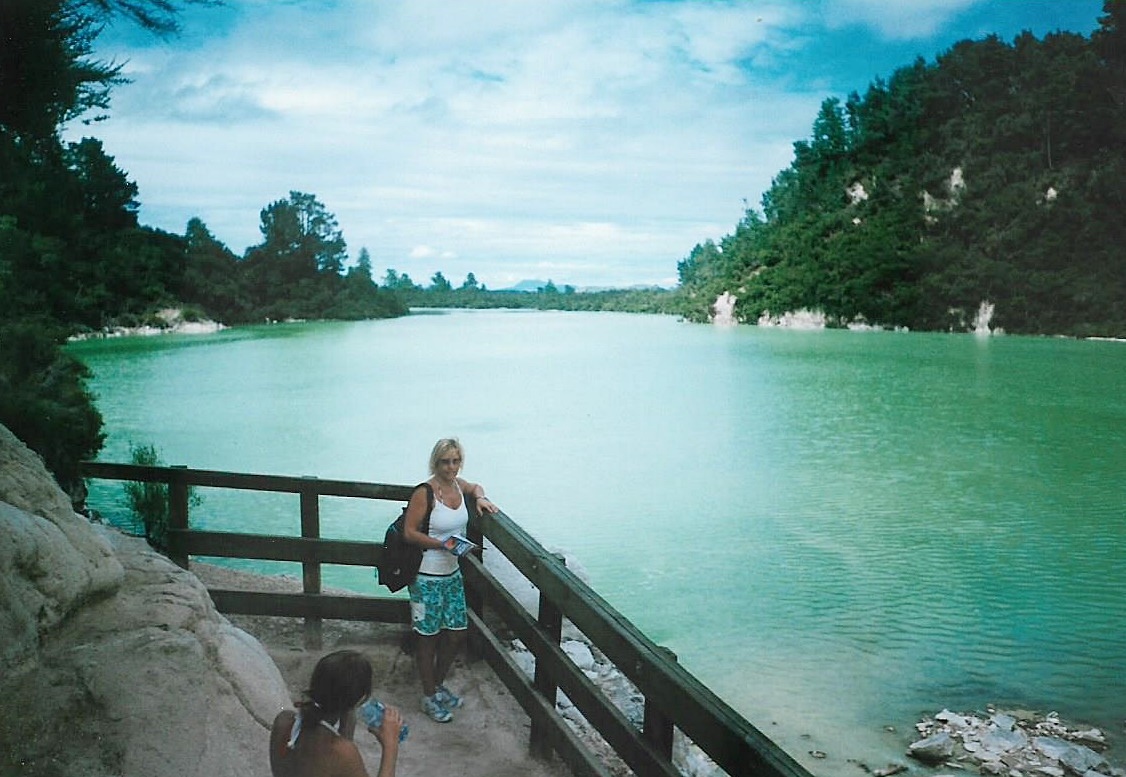 Standing by the thermal pools
Despite the stink of rotten eggs, we all decided it was very interesting and the girls thought 'super cool'.  My eldest made the mistake of treading in a pool, and the bad smell lingered all day .. eugh!!  Lots of photos and notes were taken for the geography teacher to read back home!
One of the highlights of our Rotorua stay was the evening excursion to the Tamaki Maori Village – we chose the night tour and dinner.  It was great to get a better understanding of the Maori culture.  Each 'station' in the reconstructed village in the woods explained a different Maori activity with fun demonstrations. This was followed by a traditional dinner and dancing - a great evening I'd highly recommend if you are in the area.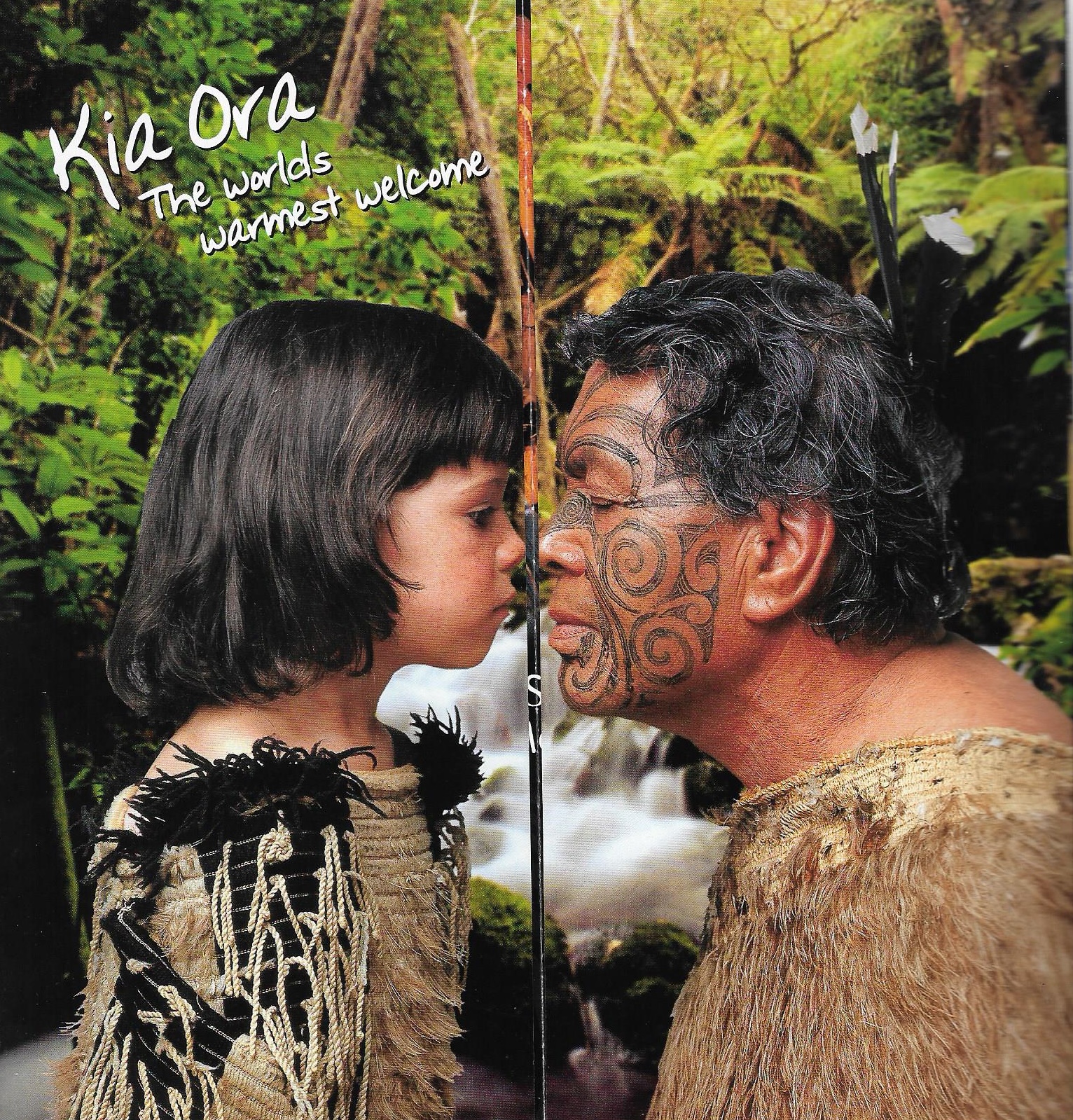 On leaving the hostel I somehow reversed the hire car into a rock!!  Stupid place to put a rock .... :)  Our cheap night at the hostel may not be so cheap - but fortunately when we handed the car back later, my insurance covered it.  Note to all future adventuresses, make sure you have adequate insurance if hiring a car!
New Zealand Adventures
North Island
Huka Falls and Huka Jet
En route to the next planned stop, Lake Taupo, we stopped to take a look at the spectacular Huka Falls and decided to have a go on the Huka Jet Boat - it looked great fun, and it was!  We got soaked and the girls in the back were screaming as much as me....
Back on the road and off to the Lake for an even more exciting adventure!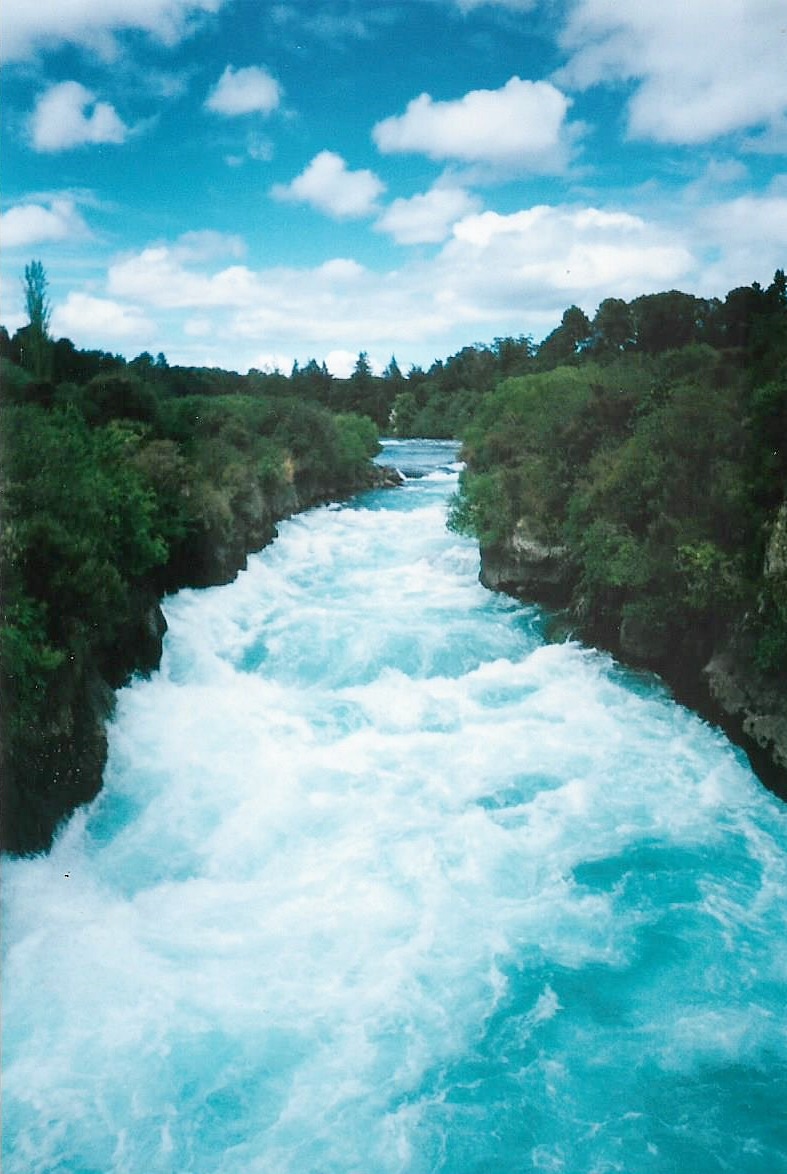 Huka Falls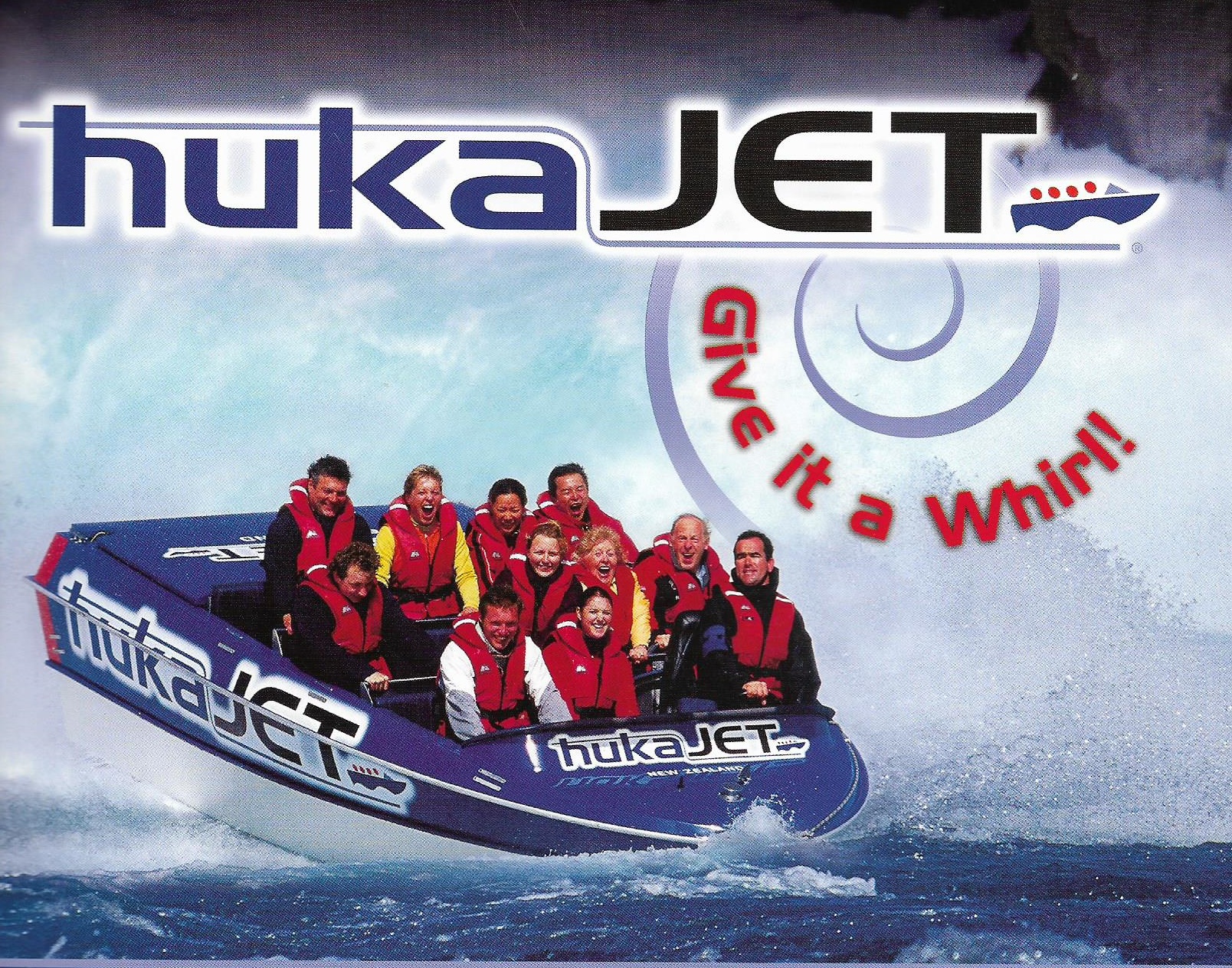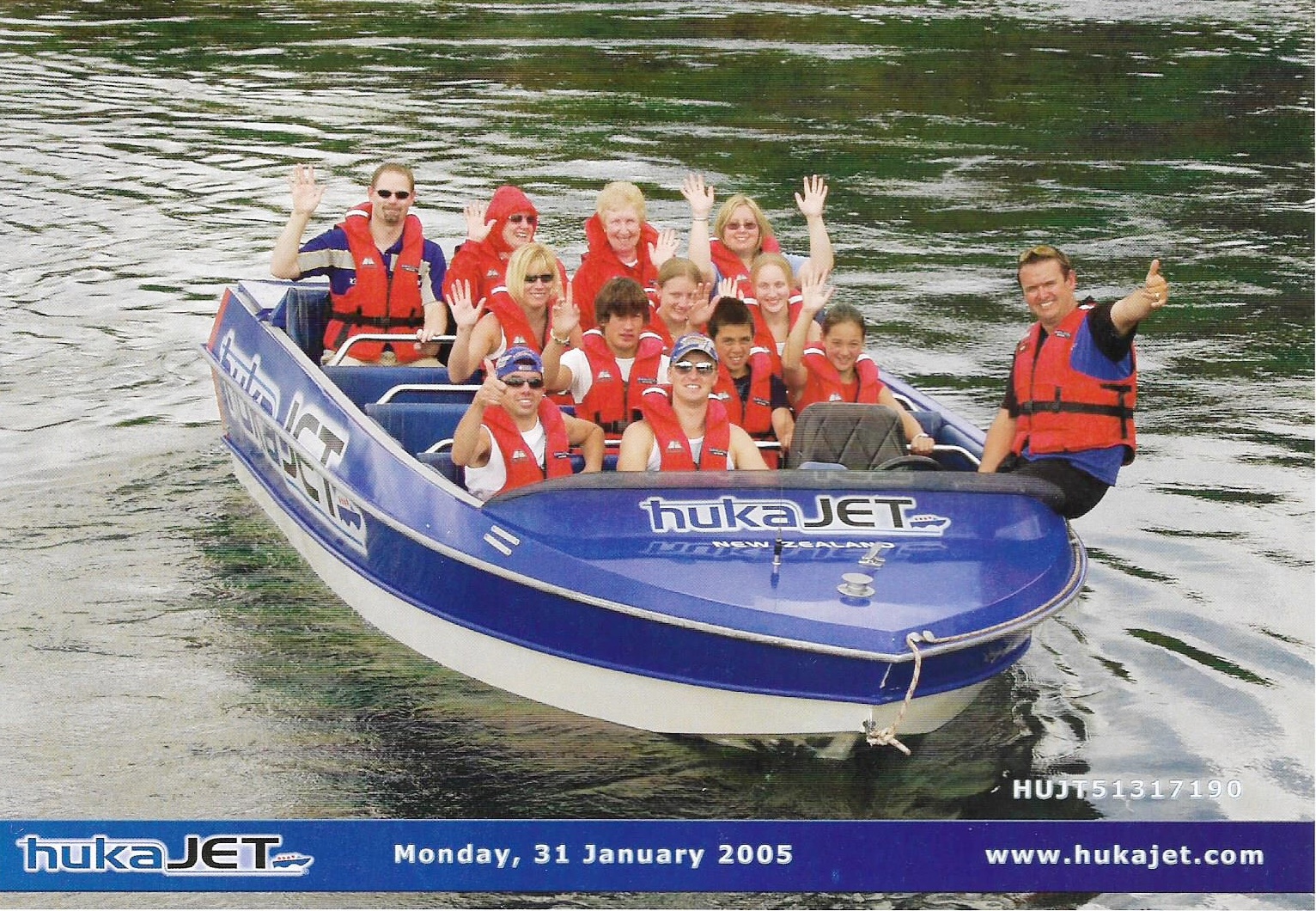 Great fun on the Huka Falls Jet Boat
The Big Jump!
Sky-Diving 12,000ft over Lake Taupo
"The Big Jump!"
So my 42nd birthday was the next day – over dinner I asked the girls shall we go horse-riding, or sky diving – having seen a leaflet at the desk by the door?  You can guess the reply!  So after a couple of glasses of wine I went to the desk and booked it for the morning, before I could change my mind – eek!
Next morning, we arrived at the aerodrome nice and early, with our hearts in our mouths. . .  We had a pre-jump briefing and watched a video of some guys jumping earlier – not sure if that was good or not but there was no going back now!
I didn't have to sign a consent form or anything for the girls, I'm sure these days there would be mega regulations and forms involved!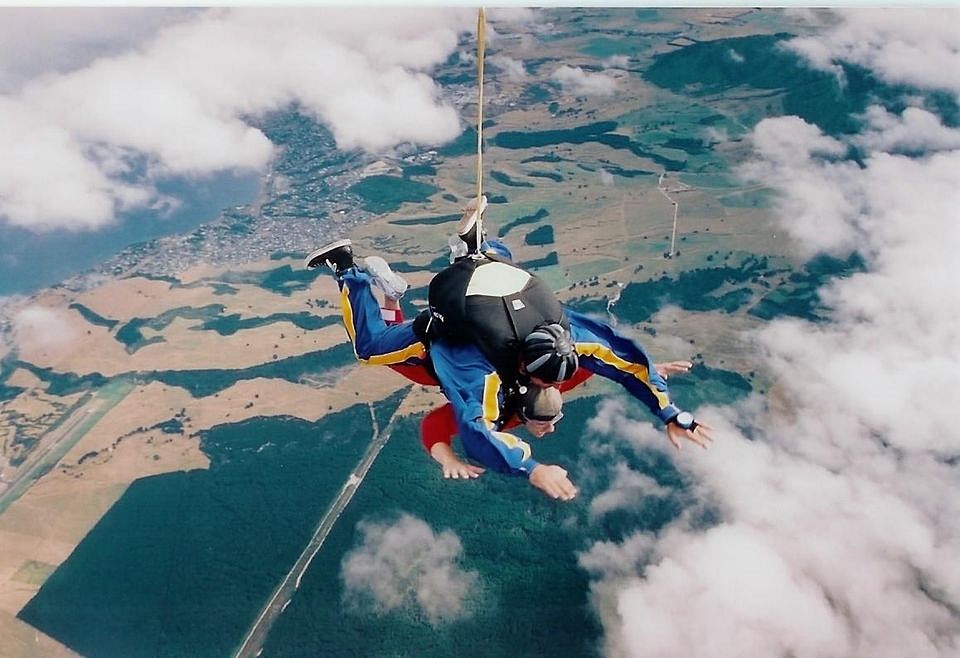 Free-falling!
So, as the sky dive in itself was an amazing adventure, I have decided to write a story about the event, so check back to find out about 'The Big Jump' - the link will be here soon!
Napier
Needless to say, we all survived and headed south east towards Napier, a coastal city set amongst the famous wine-producing region of Hawke's Bay.  Following the 1931 earthquate, Napier was rebuilt and is known for its art deco buildings.
Unfortunately the drive took a bit longer than we thought and the weather changed and the heavens opened!!  So we didn't get to the beach or to have a proper look around Napier, but we did spend my birthday evening in a cute Inn called Tennyson Motor Inn with fabulous hosts, Brian and Gloria!
They were truly lovely people and made a special dinner and cake for me - the girls headed to bed and Brian, Gloria and myself carried on chatting into the night with a few of the local wines.  I fell into bed exhausted - I have never forgotten my 42nd birthday - definitely one to remember!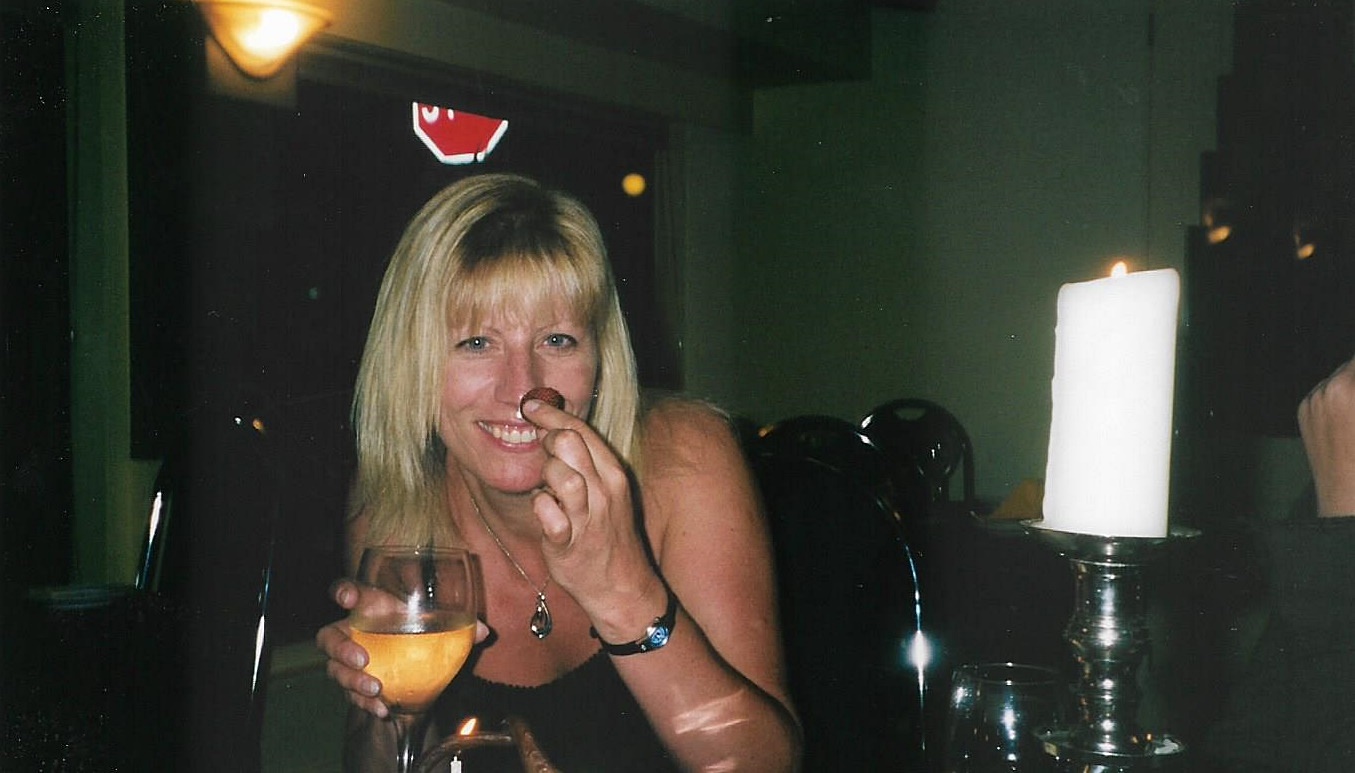 Eating a strawberry from my birthday cake!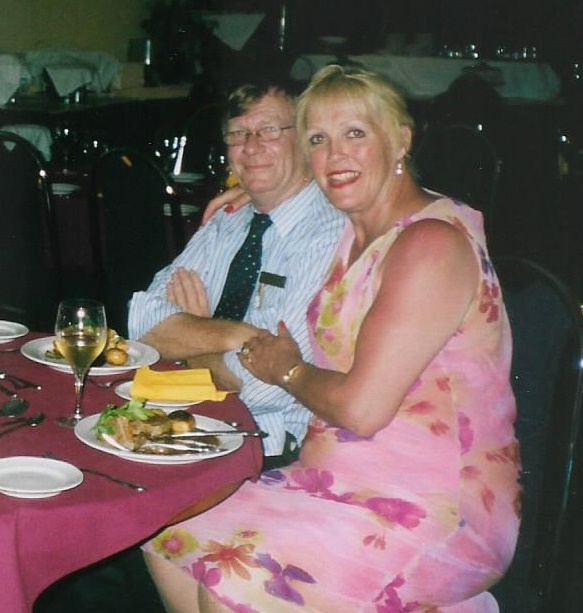 Our lovely hosts Brian and Gloria
Wellington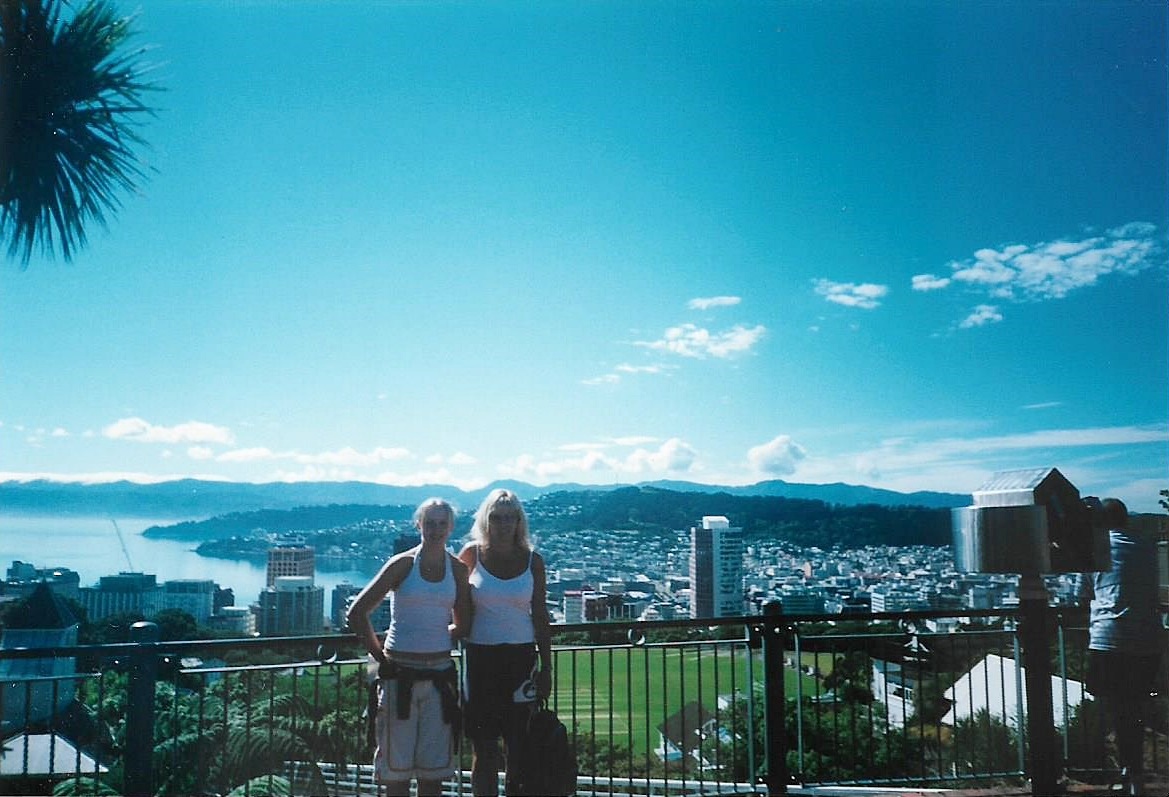 views over Wellington city after the Cable Car ride up
The following morning it was still raining so we decided to head off to Wellington a day early as the forecast was better there!  En route we found a short cut on the map through Hutt valley and headed up the road - big mistake....the road got narrower and higher and higher with a sheer drop at the side!! 

I was forever being hooted at by other motorists for being too near their side of the road but I was desparately trying to stay away from the drop!  Eventually we reached the top and had a stop in a lovely restaurant overlooking the hills.
We had also driven through the wine region south of Napier.  I made a mental note to return for a wine tasting session in this area some day in the future.  Being on a road trip with a 13 and 15 year old wasn't quite the time!
Approaching Wellington the weather dramatically changed to glorious sunshine and we found a great motel with a huge central room - the Apollo Lodge - it is still there today.  The city was buzzing and we treated ourselves to a lovely curry after the long day's drive.
Have you ever found you keep bumping into the same people on a long trip? We met a couple on the Maori night and saw them again at the thermal wonderland in Rotorua - now they were staying at the same motel in Wellington!!
My TV Appearance!
We spent another day in Wellington - it was really hot, in fact too hot to even look around the shops in the centre!  But while attempting a little shopping trip we saw crowds of people gathering and taking photos - what was going on? 

Making our way to the front of the crowd we saw the All Blacks team and all the other teams in the Rugby Sevens tournament on a walk-about parade!  I snapped away and later on I found myself making a star appearance on the TV news - taking my photos at the front of the crowd!!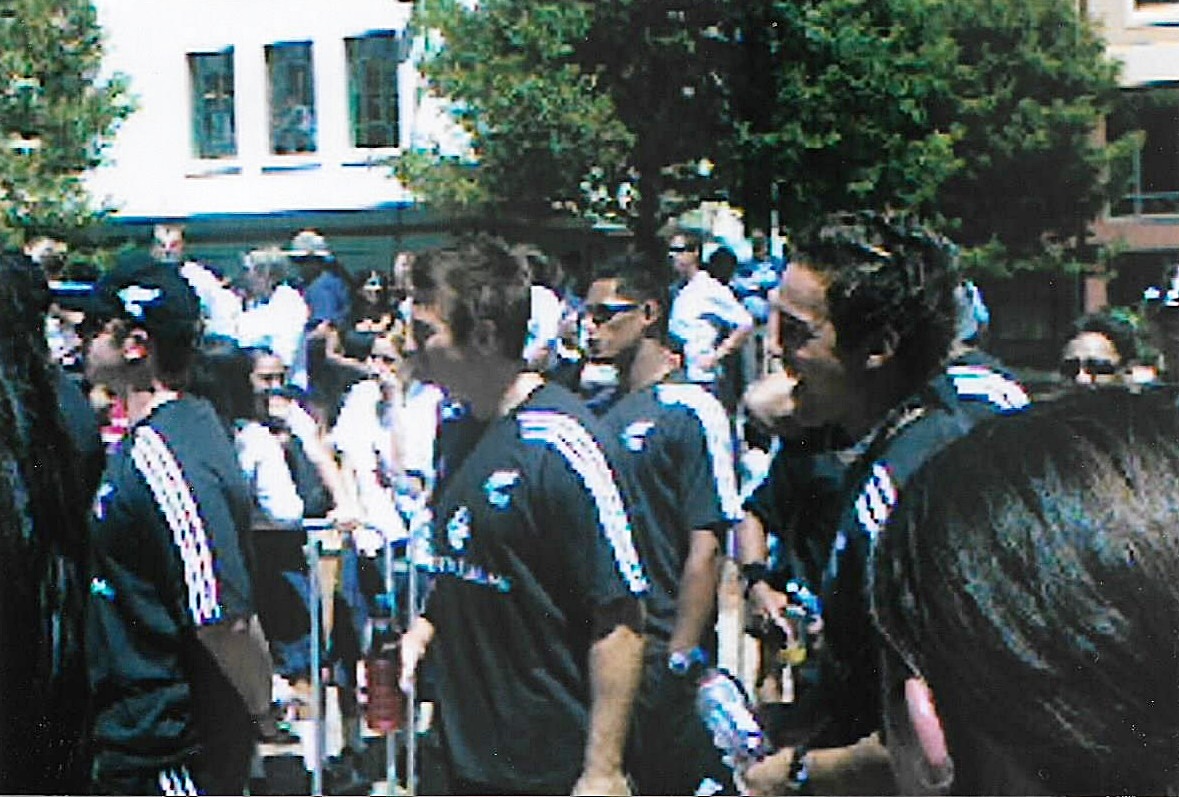 All Blacks Rugby Sevens on tour in Wellington
A 'must-do' in Wellington if you have time is a trip up the cable car to the top of the city and then a walk back down through the beautiful Wellington Botanic Gardens, one of the oldest botanic gardens in New Zealand.  I particularly enjoyed the spectacular rose garden with 106 beds of wonderful colors.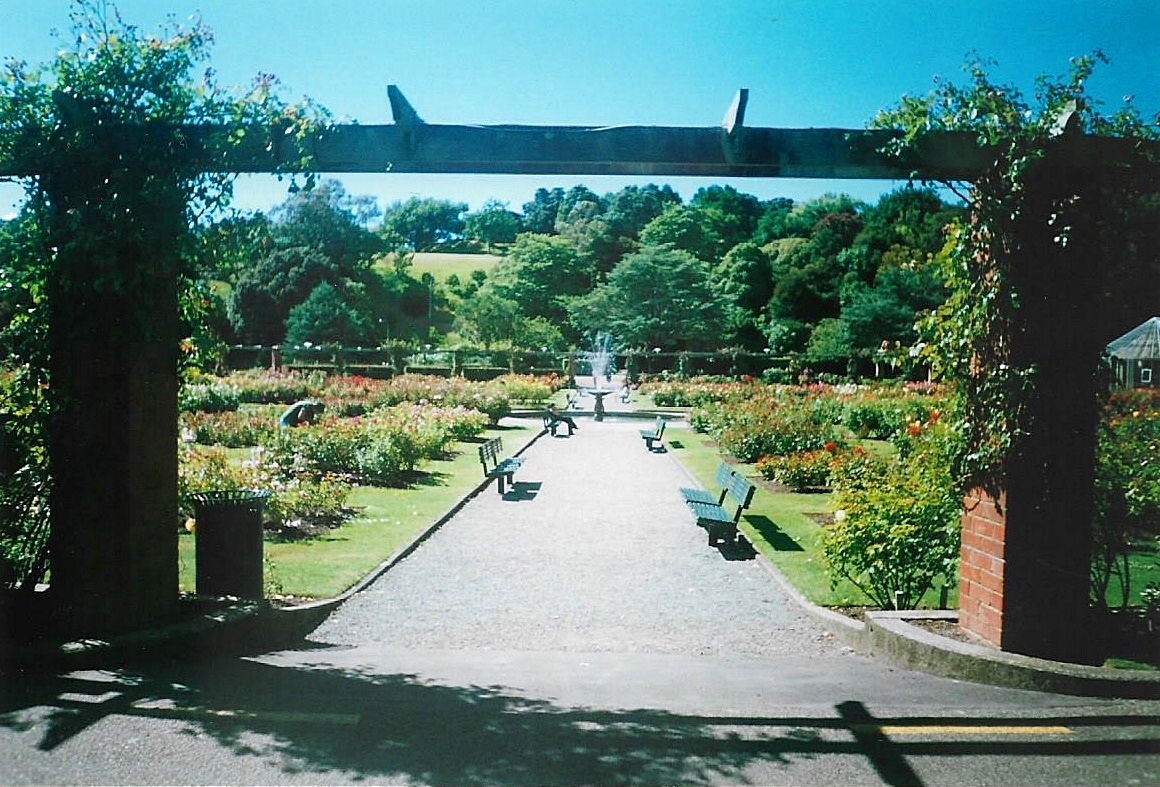 The beautiful Rose Garden in the Wellington Botanic Gardens
South Island here we come!
And so the North Island part of our road trip had come to an end.  It was time to hand in the hire car and head off on the Interislander ferry to see what the South Island had to offer.  What adventures would be in store there?!
Don't forget to bookmark Adventuress Travel Magazine and come back soon to find out!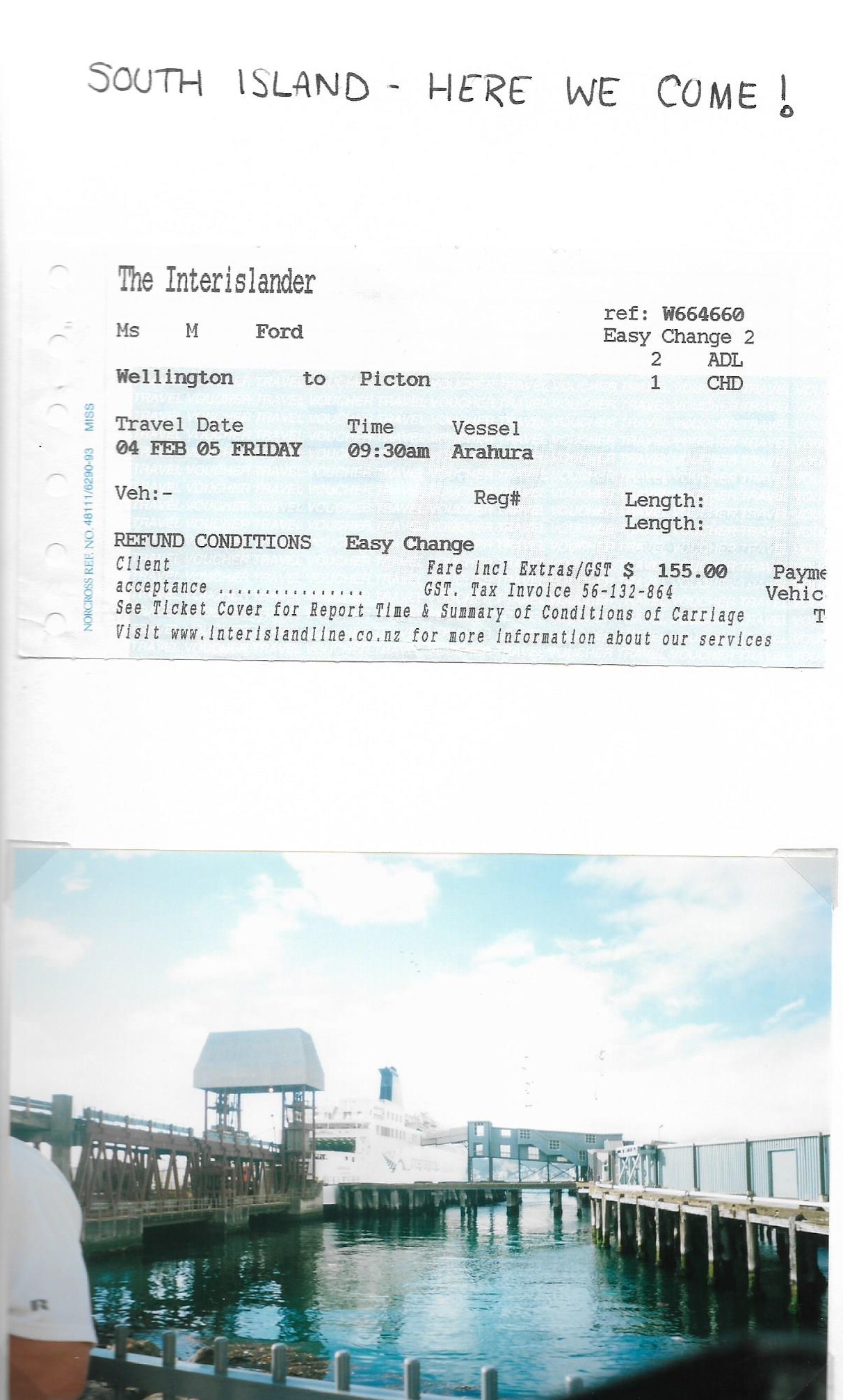 The Interislander Ferry and our ticket to the South!
To be continued……

-  Story and photos by Mogsy Ford, Editor, Adventuress Travel Magazine
If you enjoyed this story check out Mogsy's other adventures by clicking on the links below:
Mogsy's experiences deep in the Italian countryside at Castiglione dei Pepoli, to take part in a sporting event know as SwimRun!
Mogsy visits the beautiful coastal resort of Byron Bay, and runs up the path to the lighthouse at the most easterly point of Australia.

Editor Mogsy's Mauritius Misadventures as a few things don't go quite according to plan on a Birthday trip to the Indian Ocean!
---
---