An Italian Adventure
A long weekend in the heart of the Italian countryside became an Italian adventure!

A trip to Italy to take part in a sporting event turned out to be more exciting and interesting than I had anticipated. I was there to take part in a swimrun race at Lake Brasimone, which is roughly halfway between Bologna to the north and Florence to the south, deep in the italian countryside.  I was staying in Castiglione dei Pepoli, a small medieval village set in the Bolognese Apennines.
The beautiful lakes!
I flew into Bologna airport, and rented a car. My car rental booking had been 'upgraded' which meant a bigger and more modern model than I was expecting. My own car at the time was an older set of wheels, with air conditioning and electric windows the only modern 'luxuries'.

When I got to my hire vehicle, I was a little overwhelmed by all the buttons and the touch-screen control panel. After a few minutes with the quick-start guide I felt I was ready to have a go at driving out of the multi-story parking lot.

And that's when I noticed a problem. I could not see how to move the driver's seat forwards. It had been left totally pushed back by the cleaning crew, and was waaay too far back for me to reach anything! I looked for a button or a handle under the seat, left, right and center. I checked for a fancy seat button on the door controls, dashboard, and center console. Nothing.

An Italian Adventure
In the end I had to overcome my embarrassment and tech-phobia, and go back to the rental office to ask for help. The kind lady there came back to the car with me, and jumped into the driver's seat. And there was the little handle to move the seat, right in plain sight at the side of the seat cushion. And it was red.

I gratefully escaped the airport car park, and followed the signs pointing South. Once out on the open road, I was able to enjoy the beautiful country side. I was heading for a very small town called Castiglione dei Pepoli, more like a large village, in the area close to Lake Brasimone.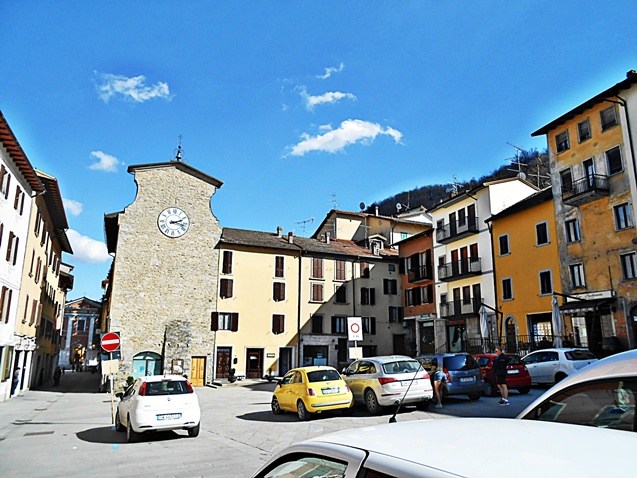 arriving in the village!
Although my fancy hire car had a sat nav screen, I couldn't figure it out, and used my smart phone instead. Arriving in Castiglione dei Pepoli, I was greeted by a pleasant village with charming streets, and a number of bars and restaurants.

The Odd Hotel
The small hotel we were in seemed to be run by 3 generations of the same family. There were 2 elderly grandparents who seemed to wander around silently, doing odd jobs. Then there was a middle-aged couple who did most of the reception and restaurant work, and finally there were a couple of teenagers who waited on tables and cleaned.

We spoke hardly any italian, but it didn't seem to matter much as all of them kept themselves to themselves. They were friendly enough, but in an odd way. We put it down to living deep in the countryside.  We did learn how to say wine without bubbles! Due vino bianco senza bollas!!

On a short walk into the village we found a very traditional winery!  Had one small glass due to the event coming up....or maybe 2!!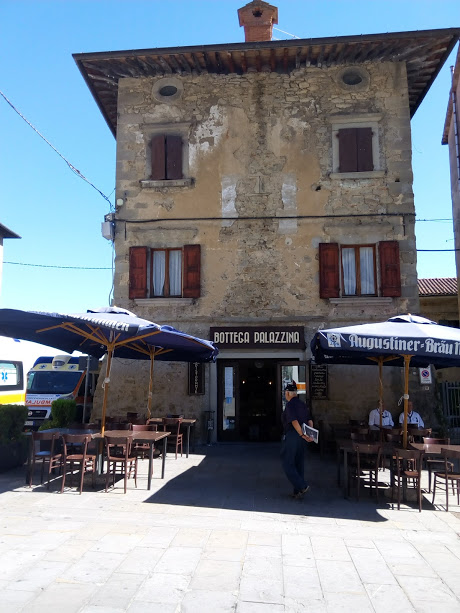 An Italian Adventure
Next day, we had time to explore the small town, and discovered the main square surrounded by ancient buildings.

In the center we also found the Clock Tower and the so-called Palazzina , an old building complement that resists the passing of the centuries. Other points of interest include the Torretta , the last bastion of the defensive strategies of medieval nobles, and the Old Church of Romanesque origins: the latter was rebuilt with the help of the population in the 17th century and is surrounded by a beautiful park.

There's a lookout point in the centre of the village where we stopped to take some photos.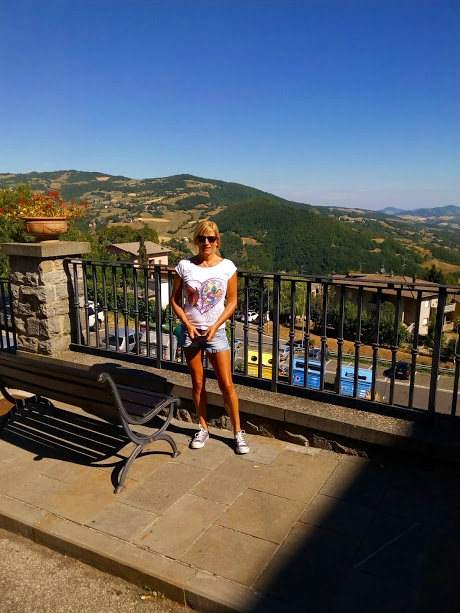 Amazing view from the lookout point!
A little curiosity: in Castiglione dei Pepoli it is possible to visit a South African Cemetery , built during the war to bury foreign soldiers.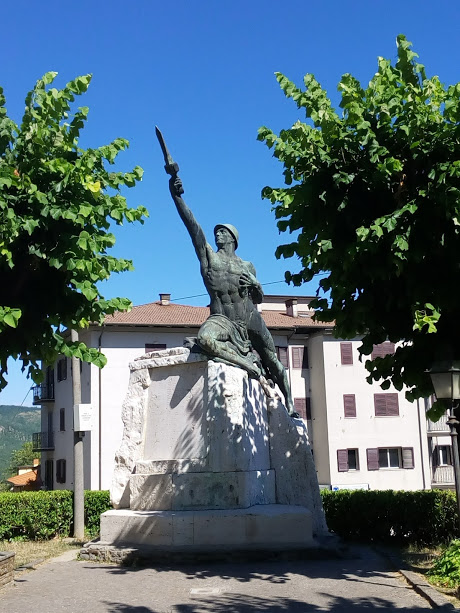 Pre-race Photo and Beautiful Lakes!
We had to go and pick our numbers and race pack up and as in our usual tradition we took a selfie - as selfies before a race always look better than those after!!!
the pre race pic!!!
We also wanted to survey the race course that we would be tackling the next day, so we slowly drove around the 3 local lakes, Brasimone, Santamaria and Suviana Lakes, stopping every 15 minutes to take photos and check the race map. The countryside was spectacularly beautiful.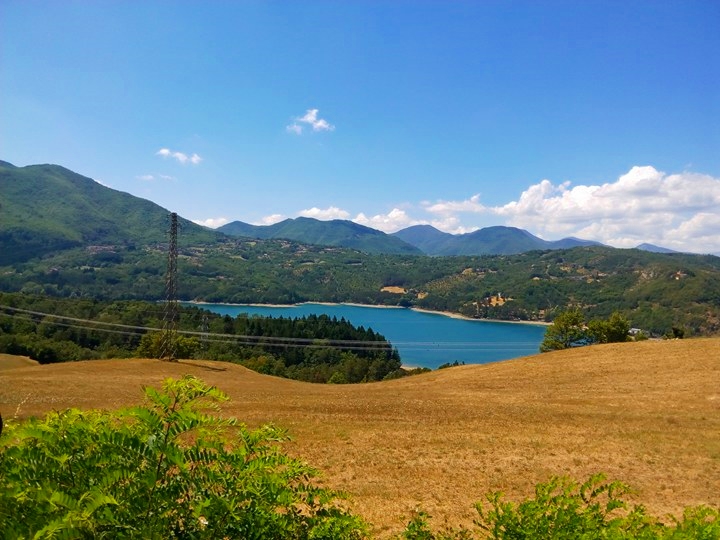 One of the lakes we would be swimming across!
the lakes - stunning!
That weekend there was also an Italian vintage car rally going on in the village which was interesting to see! Very cool cars and fun to watch! We watched the cars zipping along the street, returning to base after a long day out. They were all very small, so I guess it was only for a particular type of car.
The evening before the race we decided to load up on pasta, and went down to the hotel's small restaurant to check it out. We couldn't see any menus or price lists anywhere, but went inside and sat down at a table in the corner.

The teenage waiter came over and asked what we would like. We asked if he had a menu, and he shook his head. "No menu", he said.
"Ahh, then what's available?" we enquired.
"What would you like?" he answered.
"What do you have?"
"What do you like?"

I could see this conversation going around in circles.

I asked for pasta, which seemed to be available, and then we entered into a new conversation about what sauce we wanted. Sensing this could descend into another round of bargaining, I asked for a simple tomato sauce with some olives.  The waiter beamed - "Pronto"!

After triumphantly completing our dinner, we decided to have a relatively early night ahead of our major sporting challenge the next day. Unfortunately our plans were thwarted by a Saturday-night wedding party of some sort, and we were kept awake by loud music until about 2.00am. We eventually fell asleep, only for the alarm to go off at 7.00am, after just 5 hours of sleep.

An Italian Adventure
Next morning, we were up early, had our breakfast, and drove the 20 minutes to the SwimRun event at Lake Brasimone / Suviana. We had to swim and run, alternating, around and across the lakes, for a total distance of 18 miles. It took us 5 1/2 hours, and was exhausting, to say the least! But we were happy with our time, and finished well ahead of several much younger teams.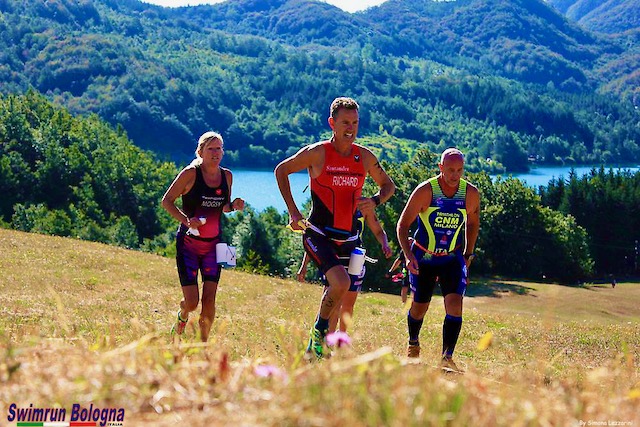 Just after the start - running uphill!
Racing through the forest!
When we finally finished, we were given medals by a race official after we crossed the line. As a joke, I said "oh, did we win?', to which the man replied, with a very straight face - "no, you get a medal for finishing". Maybe my humor doesn't work in Italy.

At the finish line
The race organization was superb, and at the finish area there were several types of pasta, cakes, water, fruit juice and even beer. After the 5 1/2 hours of swimming and running, we were ready for all of it, and chatted to other competitors for about half an hour while we recovered. By around 4pm it was time to get changed into dry clothes, and drive back to the hotel.

Huge bowls of pasta that we really needed!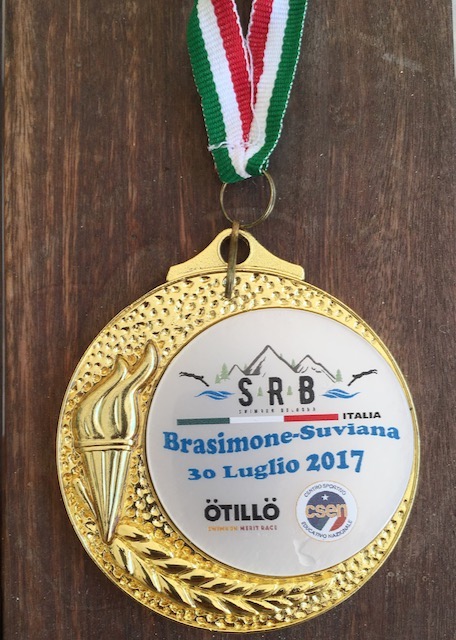 The race medal for finishing
Our race shirt commemorative
An Italian Adventure
Just 20 minutes later we were back in Castiglione dei Pepoli, feeling full of pasta but also feeling tired and drained. We dragged our bags from the car along the main street into hotel reception, but we felt too weak to even get up the stairs to our room, so we went into the hotels' street-front salon to collapse in a big chair and relax with a drink.

I left my partner stretched out at a table with all our race gear, and went into the bar to order 2 glasses of wine. The bar was empty. Behind the counter was the family grandmother, mournfully cleaning glasses. In my best italian, I asked for 2 wines. She nodded thoughtfully, put down the glass she was holding, and peered around behind the bar.

After 30 seconds (which felt like 5 minutes) later, she produced 2 empty wine glasses, and placed them with exaggerated care on the bar counter. My legs were starting to protest at standing up, and I wondered how long this process might take. Grandma had started peering around the bar again, presumably for the wine bottle. Suddenly she bent down and disappeared behind the bar.

To my consternation, she suddenly bobbed into view again with a white bowl, and plonked it victoriously onto the counter next to the 2 empty wine glasses. The bowl was empty too. As I stared hopelessly, she disappeared again, and I started to despair of getting our drinks anytime soon. Next, Grandma reappeared with a bag of potato chips, and started to wrestle with the bag.

After another minute, she had managed to open it, and carefully shook some chips (crisps) into the bowl. The 2 wine glasses were still disturbingly empty. I knew my partner back in the salon would be wondering what on earth could be taking so long.
And then a miracle happened.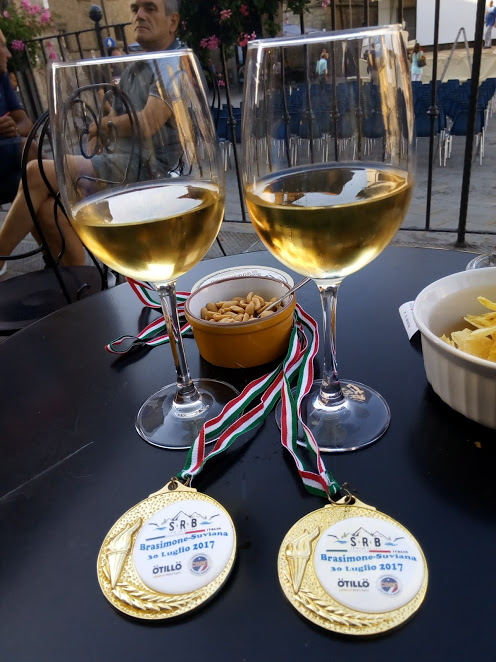 We finally got our wine!!!
The family daughter shimmered briskly into view, asked Grandma what was happening, and told me she would bring the drinks out to us in a few seconds. When I walked back into the salon empty-handed, my partner's eyes almost popped out of his head - "Where's the wine?" he exclaimed!
Fortunately the family daughter was as good as her word, and she was virtually on my heels with 2 large glasses of wine and the bowl of potato chips. We stretched out our tired legs, and sipped our wine as we watched the world go slowly by on the street in the afternoon sun.

Next day, it was headlong into the hire car for the drive back to the airport, and the end our Italian adventure at the lakes Brasimone, Suviana and the charming town of Castiglione dei Pepoli.

-  Story and Photos by Mogsy Ford, Editor, Adventuress Travel Magazine
If you enjoyed this story check out Mogsy's other adventures by clicking on the links below:
Mogsy visits the beautiful coastal resort of Byron Bay, and runs up the path to the lighthouse at the most easterly point of Australia.

Mogsy undertakes a 4 week road trip with her 2 teenage daughters in New Zealand, North Island
Editor Mogsy's Mauritius Misadventures as a few things don't go quite according to plan on a Birthday trip to the Indian Ocean!
---
---