Lomi Lomi Hapuna Spa Hawaii
Joeann writes about her Lomi Lomi Hapuna Spa Hawaii experience
I'm in Hawaii and have heard of "Lomi Lomi", the traditional Hawaiian style massage, but never experienced it. So, I am very excited to have the opportunity to find out all about it firsthand at the gorgeous Hapuna Spa by Mandara. Ahhhhh…..the feeling of relaxation from a spa visit! Is there any more wonderful way to spend an hour than enjoying a tension-releasing massage?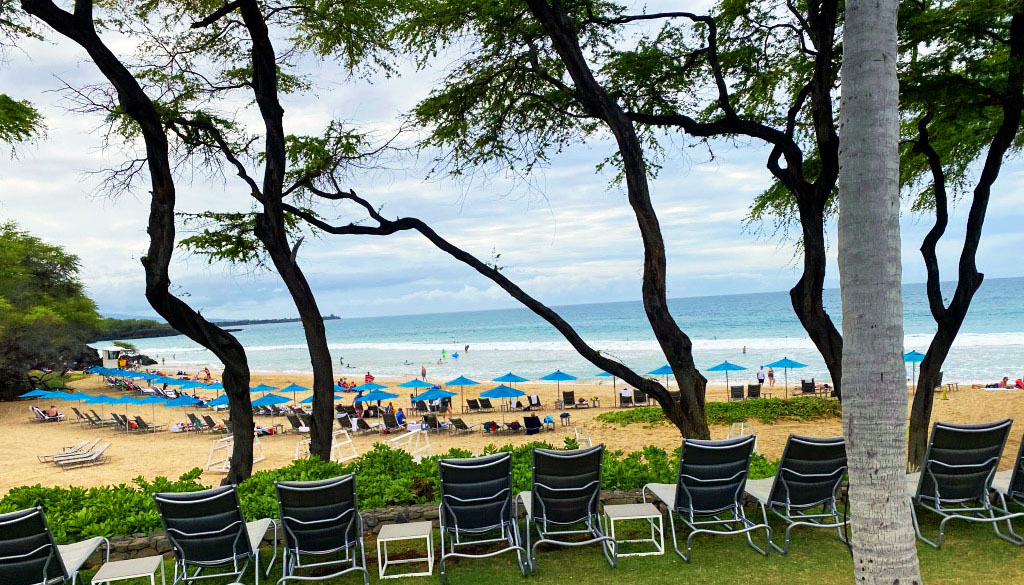 Westin Hapuna Beach Hotel, Kohala Coast, Hawai'i
The Westin Hapuna Beach Resort sits on a stretch of pristine white sand, a rarity on the Big Island.

Truly a slice of paradise, and even more so after $46 million was spent on renovations in 2018. The Spa was part of the renovation. Upon reopening, the international spa company, Mandara, began providing world-class services here with treatments paired to the island traditions.
The Hapuna Spa menu offers, not just Lomi Lomi massage, but other indulgent body treatments. Sound Wave Therapy, Myofascial Release, or Hands and Feet Acupressure may be your idea of bliss.

Lomi Lomi Hapuna Spa Hawaii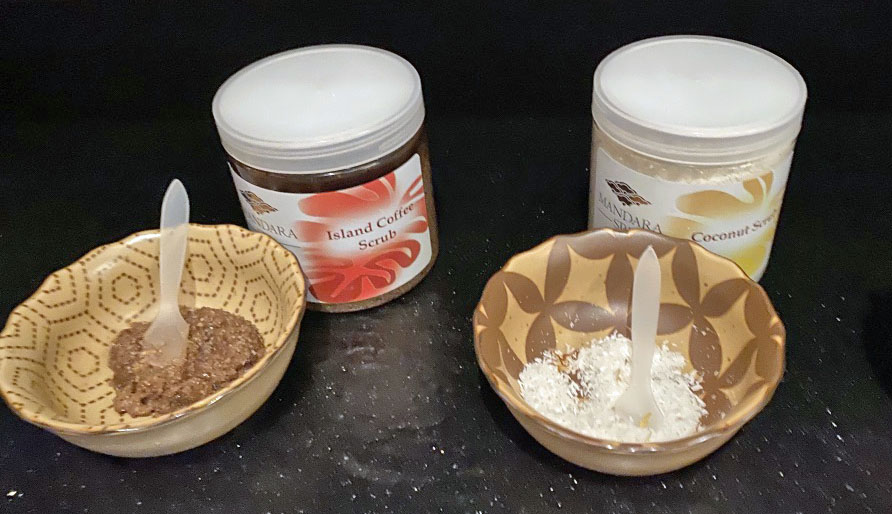 Island Essence Rubs
The scrubs are a popular choice, combined with a Lomi Lomi massage or as a stand-alone treatment.
Island Essence products are incorporated into the scrubs, gently exfoliating the skin with the Hawaiian healing salts, leaving you moisturized with the macadamia nut oil and other essential oils.
The most popular scrub is the Tropical Body Glow which uses Hawaiian Alae'a (Red Clay) salts, organic sunflower oil, Hawaiian Macadamia Nut oil and other essential oils.
Other Tropical scrubs include Island Coffee, Chocolate Macadamia Nut or Coconut. Though it sounds a bit like a dessert menu, trust me these are more than just yummy.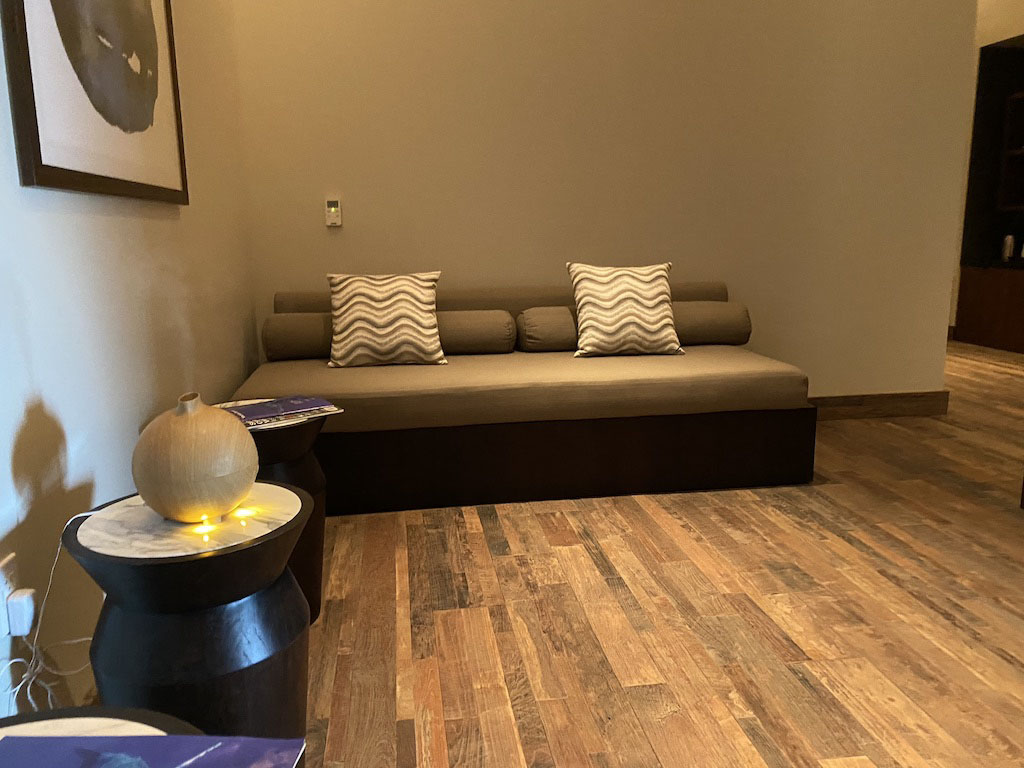 Hapuna Spa, Hawai'I, Lomi Lomi massage
Lomi Lomi Hapuna Spa Hawaii
They've invited me to have a 50-minute Lomi Lomi massage.

Lomi Lomi loosely translates to 'rub rub' in Hawaiian. I know, it's a tough job, but somebody has to do it, right?
Lomi Lomi massage aims to treat the body and mind as one whole being, believing that memories are not just stored in the brain and mind, but also in every cell of the human body.
Long, continuous strokes are designed to help the body let go of its old patterns and behaviors, which may have caused stress and strains resulting in muscle tension. The therapist uses their fingers, thumbs, palms, arms and elbows to work gently yet deeply with broad, flowing strokes.

Lomi Lomi Hapuna Spa Hawaii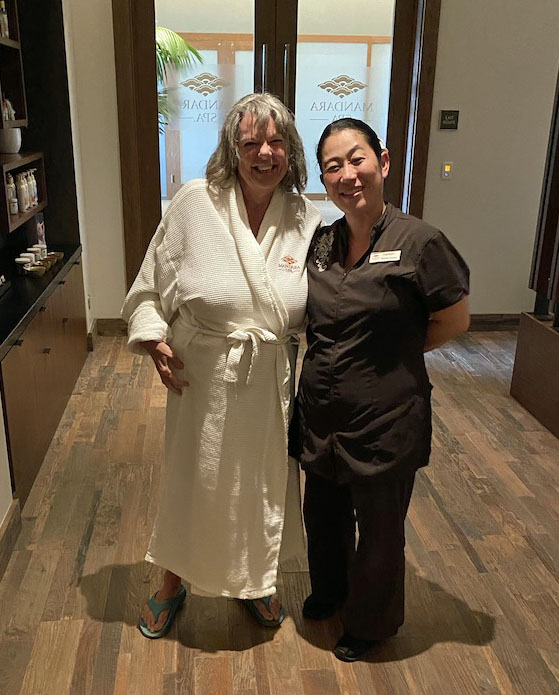 Lomi Lomi massage, Hapuna Spa, Hawai'i
Joeann and massage therapist, Tomoyo

Izzy, the spa manager, has welcomed me and shown me to the dressing room, where a robe, slippers and locker await me. I change into the cushy robe and then relax in the tranquil lounge room. Soothing music and the sound of trickling water from a small fountain encourage my stress to wane.
Island Essence Lotions
My therapist, Tomoyo introduces herself and shows me the four oils available, encouraging me sniff each one.
Developed from essences of the Hawaiian Islands by Island Essence in Maui, the oils incorporate ingredients that are natural, organic, and locally sourced whenever available.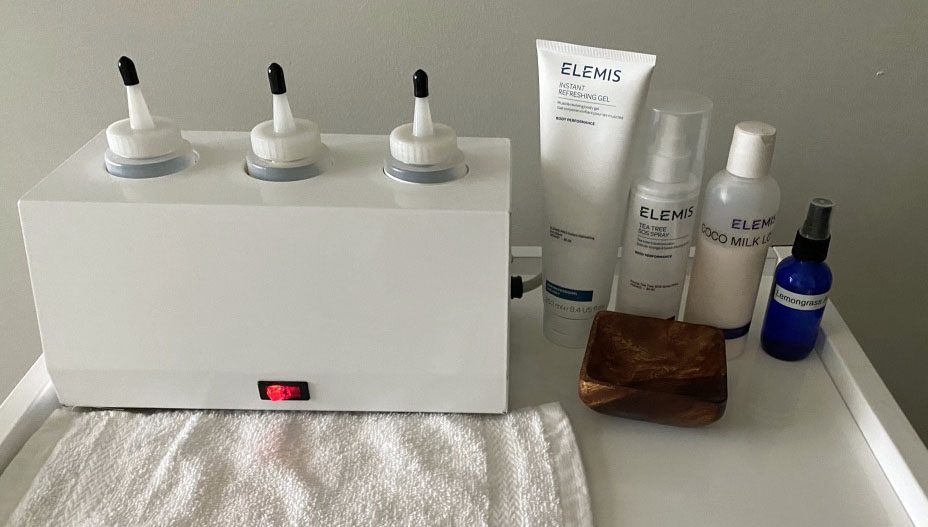 Hapuna Spa Oils
My choices were;
ENLIVEN-Sweet Orange Oil to promote strength, longevity and vitality.
REPLENISH-Lime Oil for warming and energy.
EMBRACE- Rosewood essence to restore balance to the mind, body and spirit.
RELEASE- Lavender Oil to calm and soothe.
I was here to relax, so I chose the lavender. Wouldn't it be fun to come three more times and test each one?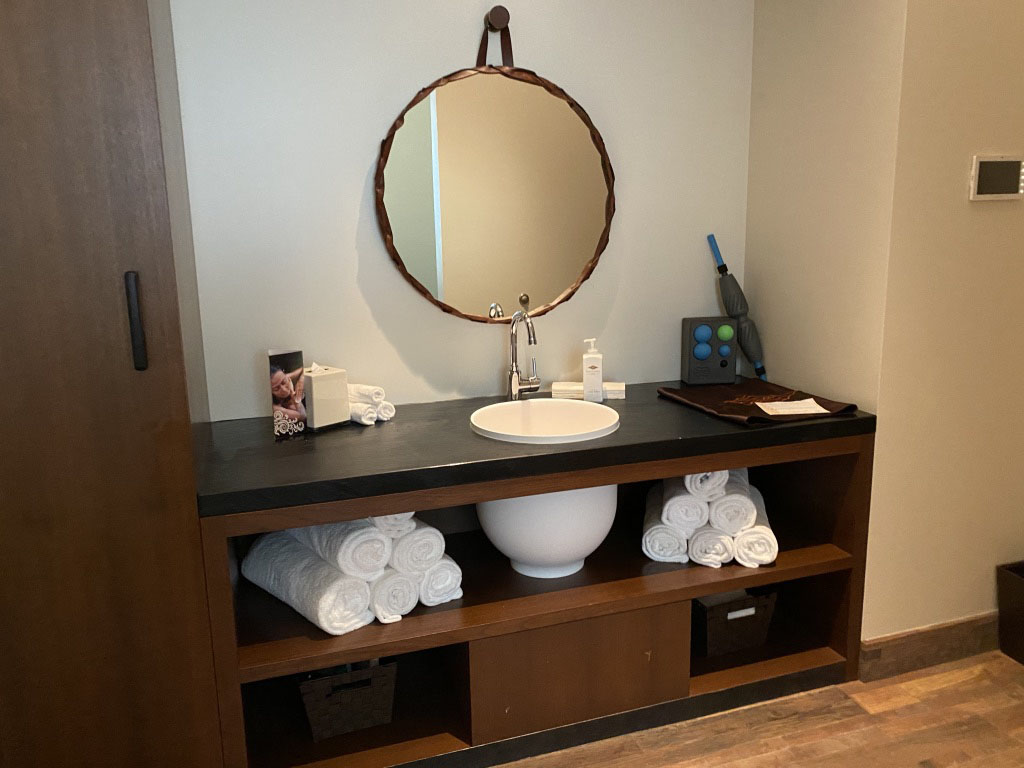 Hapuna Spa Treatment Room
Tomoyo led me to a treatment room that overlooked the beach and the ocean.
Soft music played in the background as I relaxed onto the gently-heated bed.
Tomoyo started my Lomi Lomi massage by wrapping hot cloths around my feet. I closed my eyes and took some nice deep breathes as my back, legs and arms were slathered with a generous application warm lavender oil.
The next hour was blissful

A Lomi Lomi massage differs from more traditional massage treatments by using a series of rolling movements to deliver a full body massage. I had indicated that while I had no physical concerns that were pressing, I mentioned that my upper back is usually tight and constricted. The first half of the massage focused on this area with wonderfully relaxing results.
I like deep tissue massage and I was a little wary that Lomi Lomi would be too superficial. But that wasn't the case at all. Gentle and strong co-existed in a wonderful combination as Tomoyo used her forearms to release pressure points.

My entire body was pampered and calmed. A feeling of serenity and peacefulness enveloped me. When hot cloths were placed on my feet again, signaling the end of the treatment, I didn't want to leave.

Blissfully relaxed, I took advantage of Hapuna's paradise setting and just sat on the beach for a while enjoying the warm, luxurious calm and soaking in the afterglow. The Lomi Lomi massage had worked its magic and I will do this again.
STORY & PHOTOS by Joeann Fossland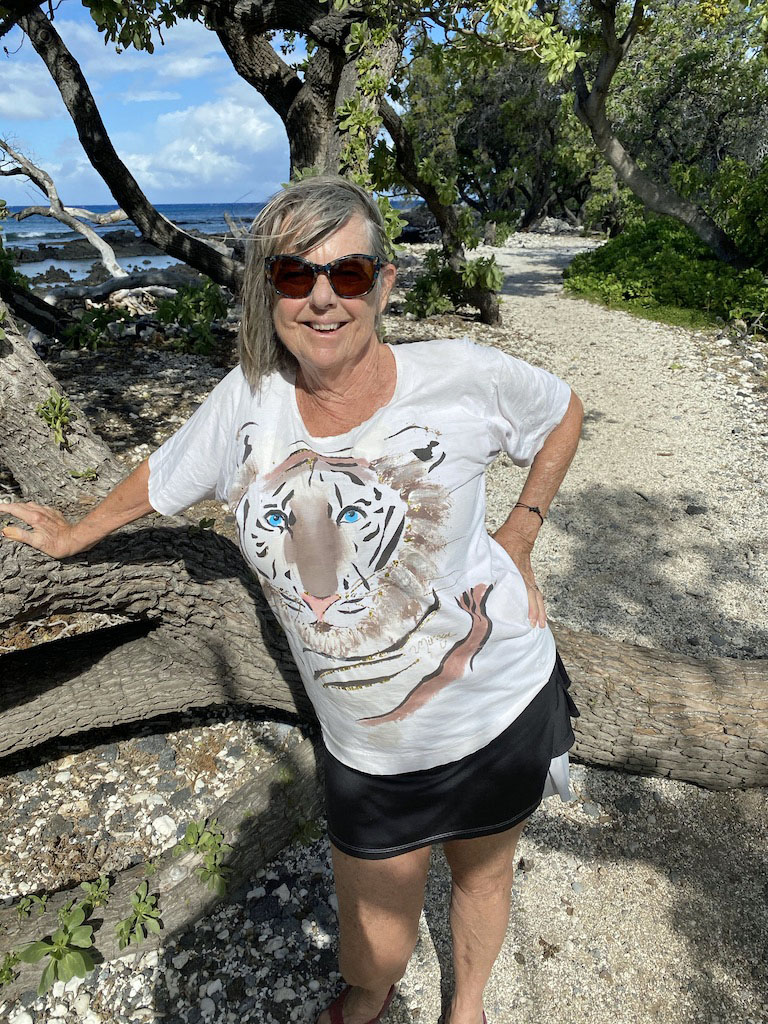 "If you're not enjoying yourself, you're doing it wrong" is Joeann Fossland's motto. She was bitten by the travel bug in the 70s and spent a year traveling the country with two small children in a blue and purple converted school bus with peace symbols on the front! Since then, she has lived in a tipi at 8500 feet with no running water or electricity for 18 months, explored 4 continents, 26 countries and dozens of beaches and islands. 
In her first career, she was an award-winning writer and speaker in the real estate industry for 35 years. These days, seduced by her love of travel, she has re-invented herself. Joeann loves to share travel insights and adventures to inspire like-minded baby boomers to make their dreams come true.
A member of ITWPA, she has published hundreds of articles, and her stories have been featured in 4 books, including Conversations for Success and Chocolate for A Woman's Heart. 
Carolyn V. Hamilton, former editor.
If you enjoyed this story, be sure to read Joeann's other features:

Joeann's Budget Friendly Guide to Hawaii's Big Island
An Oasis in The Desert of Death Valley
---
---