Sara Luxury Camp Jordan
Erin Coyle experiences a stay at Sara Luxury Camp Jordan, and a trip to Wadi Rum.

Jordan has many things to offer, including ancient cities, the desert, the beach in the south, and floating in the Dead Sea. Staying at a tented camp at the Sara Luxury Camp in Wadi Rum and a trip inside this desert paradise is one experience that should be on your list during your stay.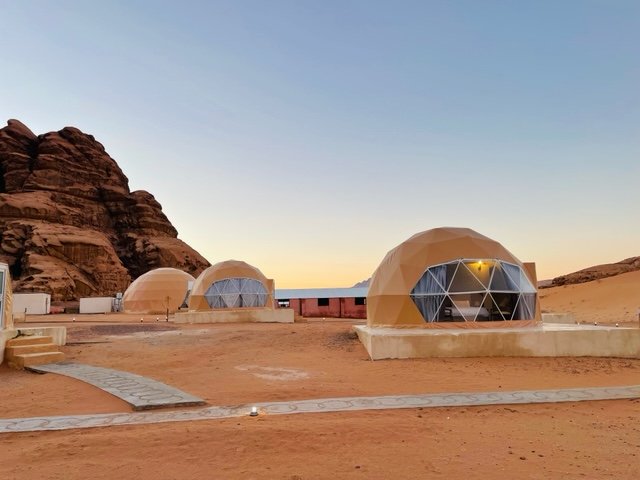 Sara Luxury Camp in a desert paradise
Luxury Camp Jordan
I kept calling the camp a bubble hotel because the rooms looked like bubbles. Sturdy and thick tent material makes up the exterior of these circular tents. The rooms have heaters and hot water and a private bathroom and shower. It was probably the best sleep I had on my trip. They even have a traditional Jordanian coat to wear, Farrah, to keep you warm. Abdullah and Mamon Alzwaidah own the camp. Abdullah says he wants guests to experience the desert while feeling comfortable.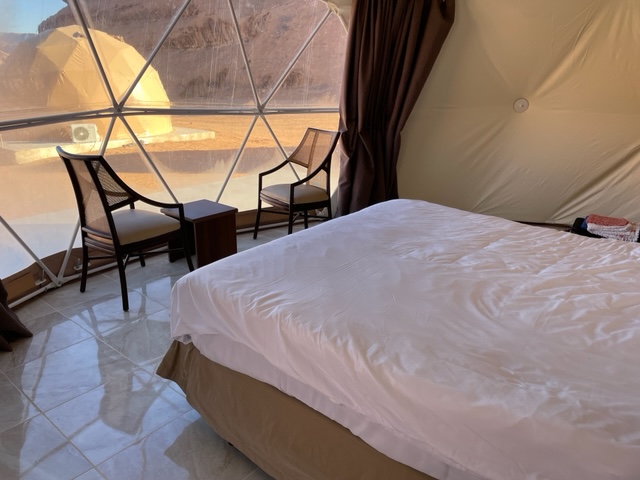 Inside the room!
A comfortable night's sleep was had!
Not only is it comfortable, but imagine opening the curtain with views of the mountains in front of you. Watch the sunrise as it shows a golden reddish tone on the mountain. The bathrooms also have hairdryers and toiletries. I didn't expect these rooms to have showers, much less provide shampoo and body wash.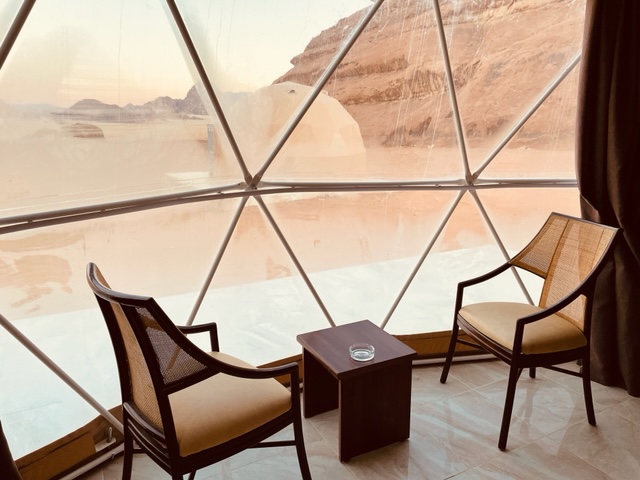 Window seats in your room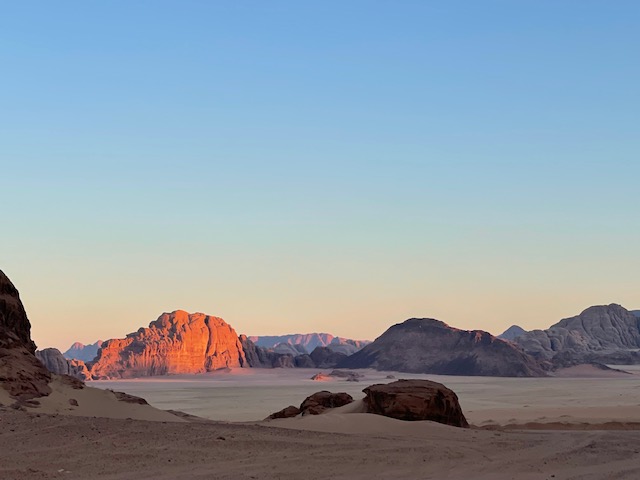 Stunning views of the sunrise!
Because this was a last-minute trip, I had not researched staying at these types of camps. A friend had sent me a picture of them, and I knew I wanted to have this experience. And another bonus is the fact that Abdullah and Mamon make you feel at home. They make you feel welcome, and it is a great place to relax and tune everything out. I can see why they have received a 9.7 out of 10 from the traveller review awards on booking.com.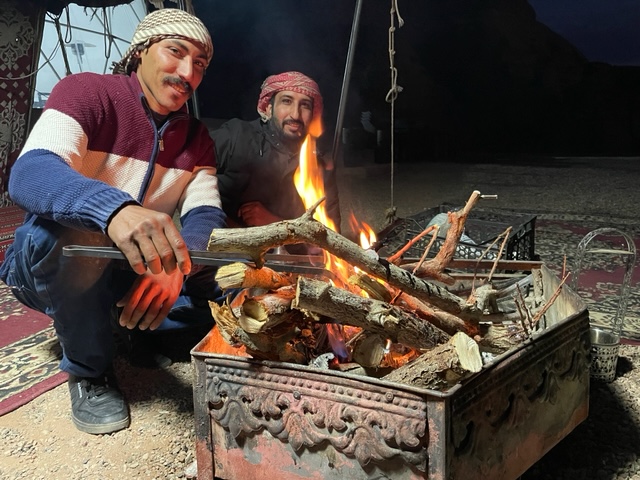 Your hosts, Ahmed and Mamon, by the fire
Sara Luxury Camp Jordan

Sara Luxury also offers guides through the desert, camel rides, a hot air balloon ride, and even sand sledding where you hold onto a rope at the back of a truck while it pulls you through the sand.
You can warm up in a bedouin-style tent when arriving at night. Keep warm by the fire while drinking tea or coffee. If you ask them, some guides may play some music and dance. It is an excellent way to spend your time before and after dinner talking to locals and other travellers while relaxing.

Dining at Sara Luxury Camp
Dinner varies, but Chef Esmail prepared chicken cooked on the ground for two hours with roasted vegetables.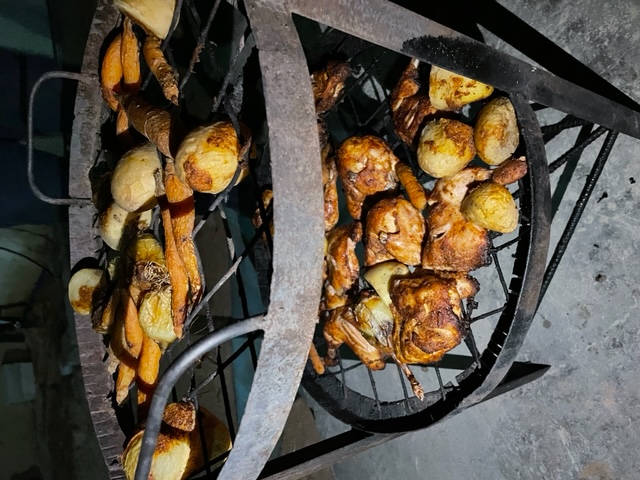 The fabulous dinner at the Sara Luxury Camp!
Before bringing the food inside, we watched them dig the pot out of the dirt so we could see the meal.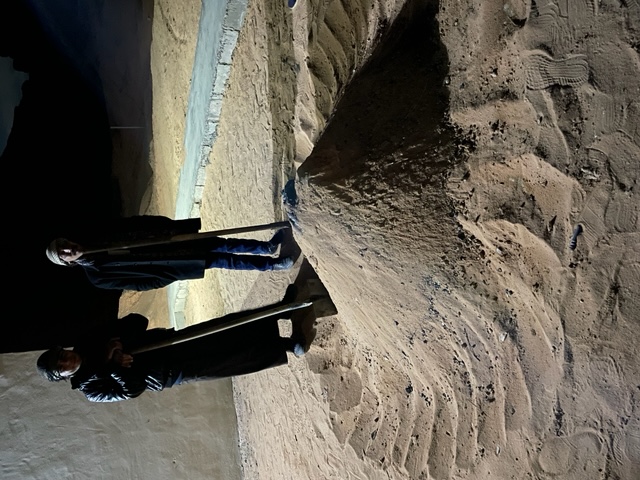 Digging the pot for dinner!
Once inside, dinner also included salad, fish, and meat. The chicken was very flavorful and tender. The breakfast buffet includes eggs, hummus, cheese, pita, and omelettes on request. 

Our Chef Esmail preparing breakfast
Since September, this camp has been open, and Abdullah says they plan to build more rooms. Right now, there are ten available. It fills up quickly, so book in advance. 

The dining area, also shaped like a bubble, is spacious and has a heater to keep warm during the winter. In January, the temperature gets quite cold and can be two degrees Celsius or less. But the rooms are comfortable with the heaters. Before booking your stay, it can also snow in January, so keep this in mind.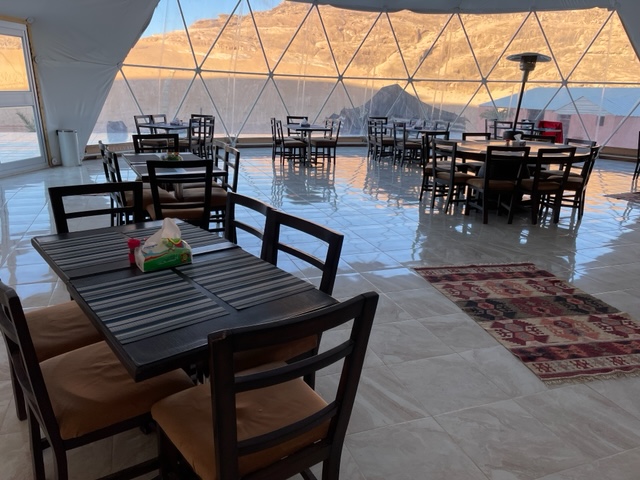 Restaurant in the Sara Luxury Camp
Wadi Rum Tour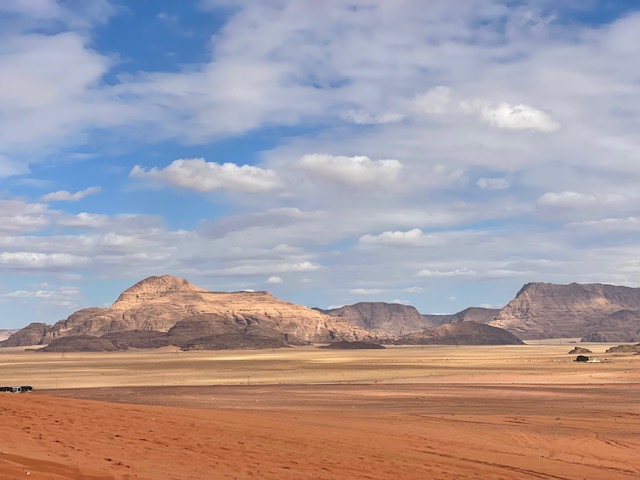 Wadi Rum landscape
Since they offer Wadi Rum tours, I recommend booking this through the camp. There's something magical about the desert. It lets you forget everything and clear your mind while enjoying views of jagged rock formations and small mountains while wondering how plants can still grow here. 
Amazing Rock Formations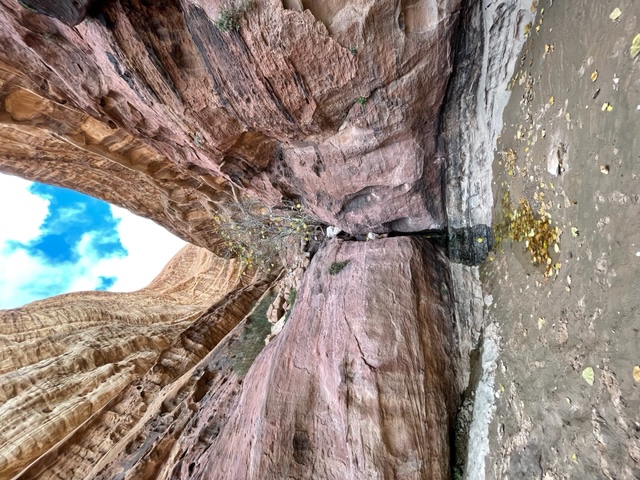 Amazing Rock Formations at Wadi Rum
Where 'The Martian' was filmed!
It's about three hours south of Amman, and visiting this desert is possible at any time of the year. At one of the first stops, three peaks in hues of red slate will be in the background. This spot is where the movie "The Martian" was filmed. Sit at the back of the guide's truck or inside, and be sure to have your camera ready. The desert is massive, so your guide will take you through to a few of the good spots. Rock formations with holes and uneven stones stand out in the desert. From brown to red sand, it's simply breathtaking. 
Another stop for tea was once a rest stop over 3,000 years ago when people travelled between areas. At this stop, there are camels that you can ride. Or go inside the tent for some tea by the fire. Many tents also have scarves, frankincense, and other small items to buy. 
The drive around the desert takes around four to five hours. Make sure to climb up to take a picture of the arch.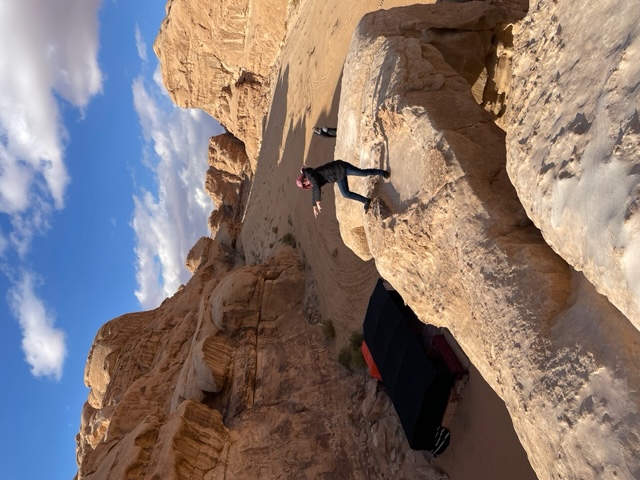 On the Arch at Wadi Rum!
Mufaq from Sara Luxury Camp was my guide. While waiting for sunset, he prepared a fire so we could stay warm and have some tea. It was a perfect way to end the trip.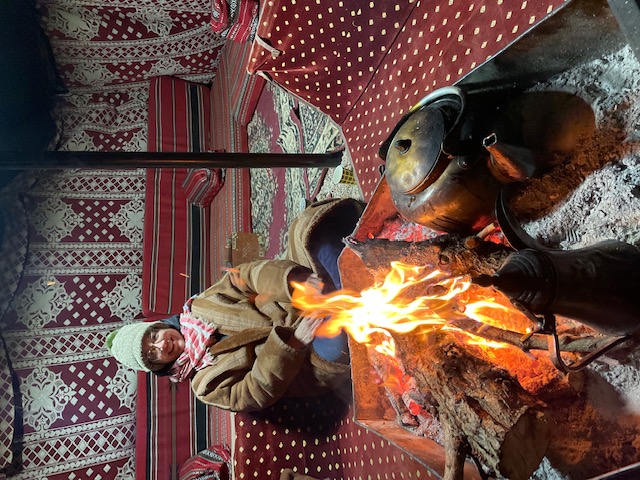 Staying warm by the fire
Go to saraluxurycamp.com or booking.com for more information. Bring warm clothes, such as a winter coat, hat, gloves, and warm shoes, if planning to visit in January or February. 
- Story and photos by Erin Coyle
Author Bio
I am a Travel Writers University member. Traveling with friends, solo and in group tours, I have explored Southeast Asia, Zealandia, Europe, the Middle East, and South Africa.
I am currently teaching English in a foundation program at a university in Sur, the Sultanate of Oman. Before this, I taught English at a university in Nanchang China, for five years. Check out my website erinshotpot or find me on Instagram @erinshotpot.
If you enjoyed this story, click on the links below to read Erin's other articles in the magazine:
A Visit to the Spa at Shangri-La Barr Al Jissah Resort Muscat
A trip report from the 5 Utah National Parks
---
---