Obereisenheim
Franconia Germany

In Obereisenheim Franconia Germany, we discover the heart of Bavaria.

The Roman historian Tacitus (55-120CE) wrote: "who would leave Asia, Africa, or Italy to visit Germany, with its unlovely scenery, its bitter climate, its general dreariness to the sense and eye, unless it were his home?"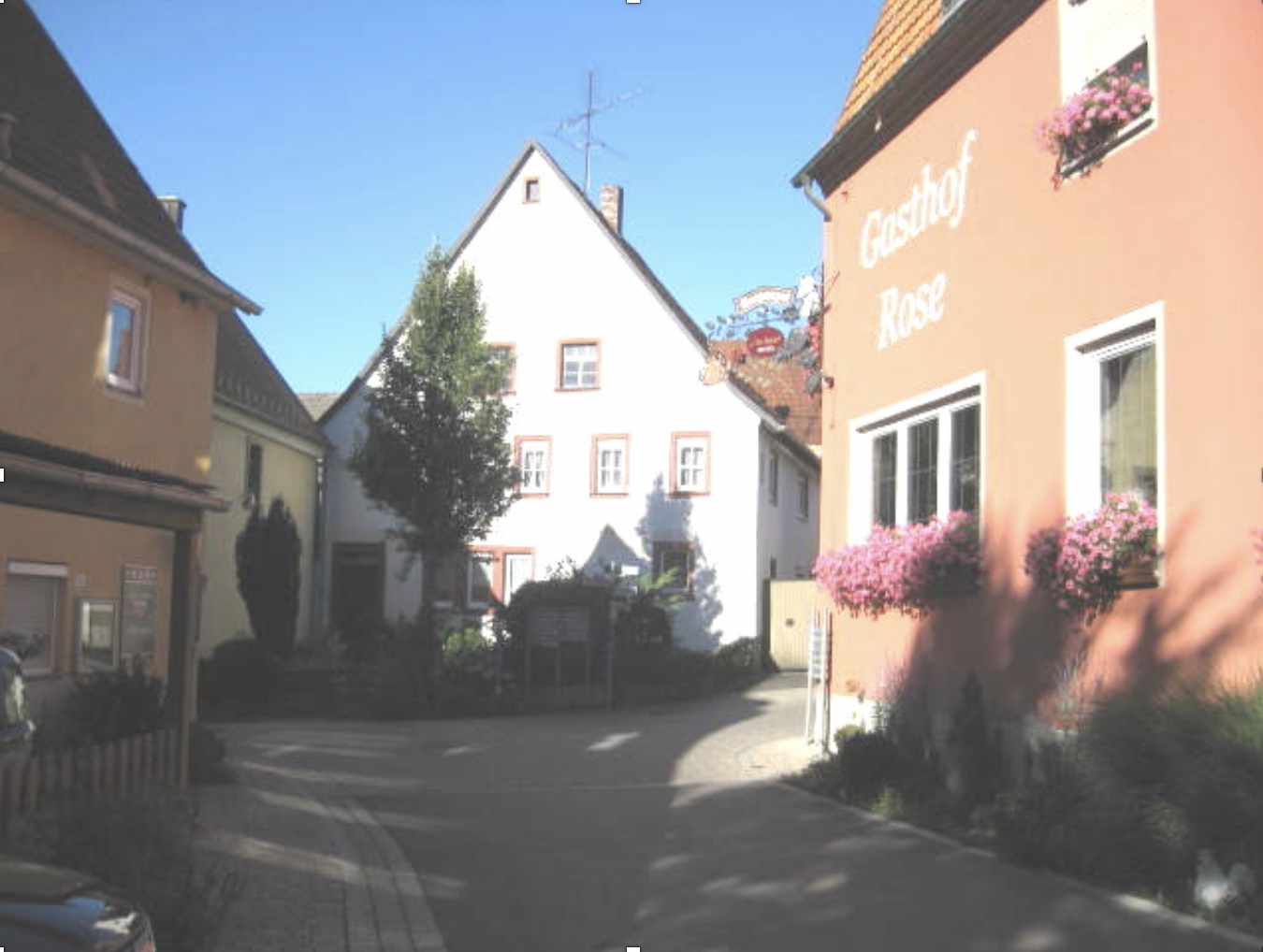 Streets of Obereisenheim, in the Franconian countryside of Germany
He would have a far better opinion today if he was riding in the car with my friend and I as we left Nuernberg for the Franconian countryside. Nuernberg actually sits at the center of 'Mittel Franken' - in the heart of Franconia, and pretty much in the middle of Bavaria.

Obereisenheim Franconia Germany
Franconia ('Franken' in German) got its name from the Franks in a roundabout sort of way. The designation "Franks", like the names given to many tribes and tribal groupings outside the Roman Empire, were given by the Romans. The names were neither ethnic nor linguistic designations.
Tacitus names many "tribes" beyond the Roman frontier in Germany, but does not mention Franks, although the people later identified by Gregory of Tours (539-594 CE) in his History of the Franks, most likely already lived in Germany.
Gregory quotes an earlier writer, Suplicius Alexander who wrote, "At that time the Franks invaded the Roman province of Germania (today northern Belgium) under their leaders Genobaud, Marcomer, and Sunno."
Tacitus goes on to write that Germans were grouped by war leader, not by blood ties. So when Genobaud and company invaded Germania and later Gaul, other bands joined them for the booty and glory. The Gallo-Romans called them all "Franks", regardless of where they came from.
When later king Clovis consolidated his rule, Gaul became "Francia." The area east of the Rhine which he controlled became by extension "East Francia." Today there is a distinct culture and dialect called Fränkish, but that doesn't mean this area was the original home of a people called Franks.
This history reminds me of the Spanish conquistadors who arrived in Yucatan. They asked the Maya natives what this land was called. The natives stepped forward and presented necklaces as peace offerings. They didn't understand Spanish so they replied U Yuc-atan, "these are the necklaces of our wives." The Spanish wrote "Yucatan" and so it remains today.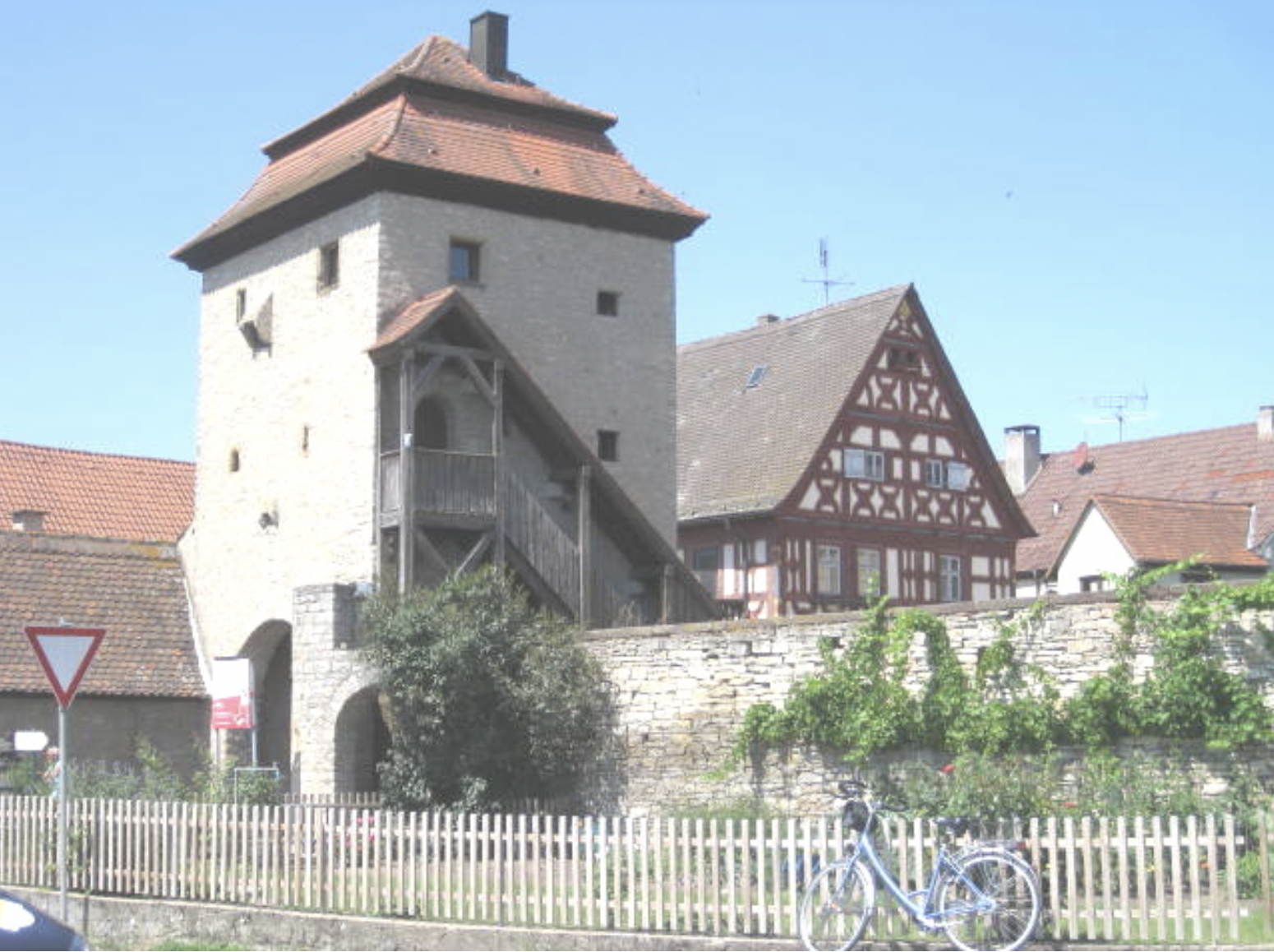 Franconia  (Franken) is, in effect, the watershed of the Main River which comprises the northern half of Bavaria. The land is rolling hills and lazy rivers, dotted here and there with quaint little villages.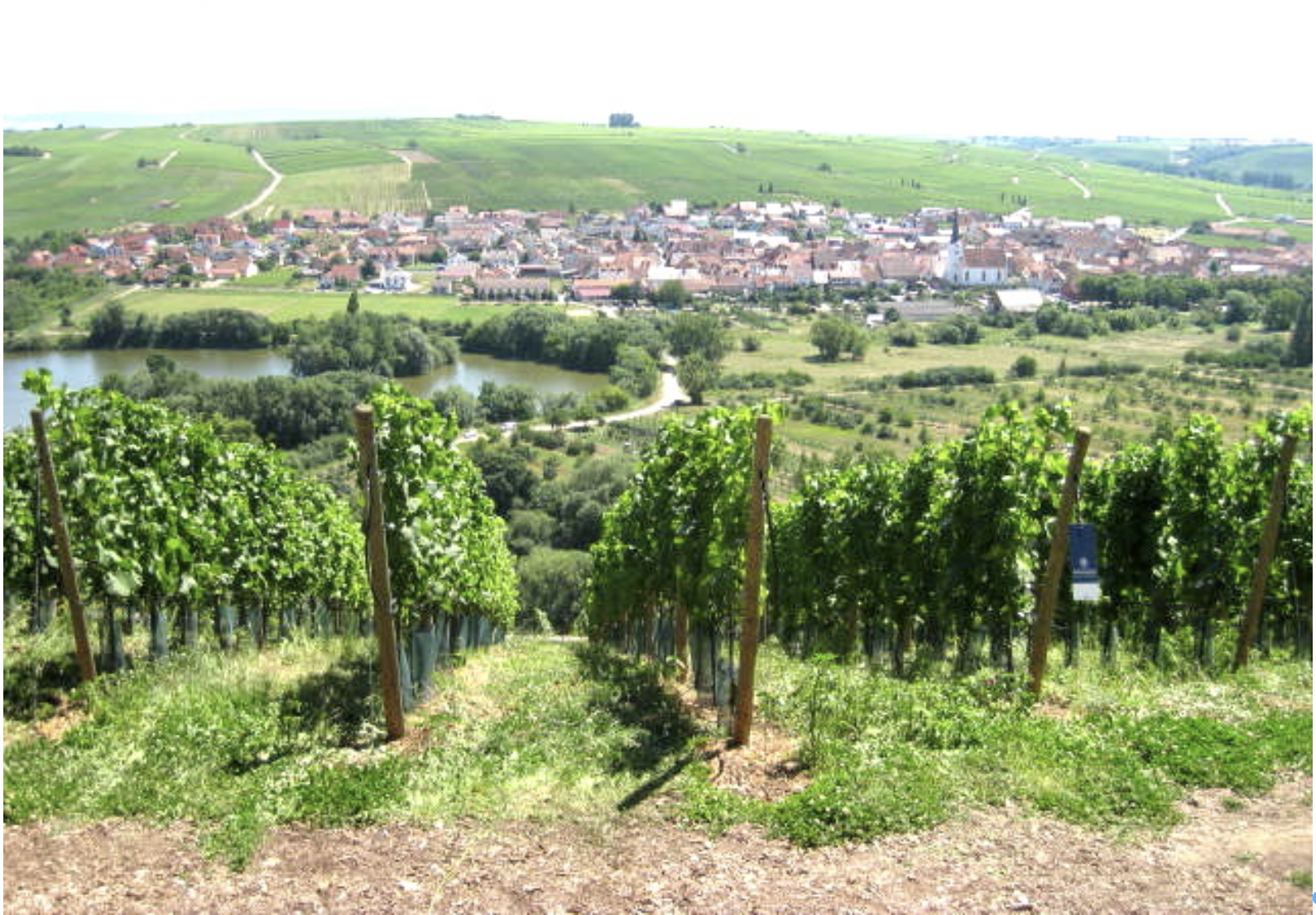 Obereisenheim Franconia Germany

This is wine country and the hills are totally given over to orderly rows ofvineyards like many domes of green neatly combed.
Our first stop was Sommerach, a little village on the river surrounded by vineyards. Although small, this place has at least twenty weinstube, or tasting rooms. We passed through the tower gate and set to work.
First stop was a restaurant with curbside tables. We enjoyed our wine while the antique auto parade passed by.
The Winzer-Familie Winery in Obereisenheim, Germany
Across the street was tasting room which featured wines from all over Franconia. We did serious work there and then purchased supplies for later.
Eventually it was time for lunch, and we stopped at a place on a hill overlooking the valley. It used to be a church property but now it is a restaurant.
Two adventuresses enjoy a glass of wine in Obereisenheim, Germany
A more idyllic setting I could not imagine. Sloping down below us were rows of vineyards stretching to the river and up the other side with a village hugging the bank. We sat on the patio, enjoying our lunch and wine, and chatted with the Germans next to us.
Each of these villages has ten or more winemakers, all crafting their wines at home in their own particular styles. The vineyards cover whole hills and each winemaker has a section.
I'm not sure who does the actual farming. Every village hosts a series of wine festivals throughout the year and people bicycle from festival to festival sampling each other's wines.
Next stop was my friend's home in Kolitzheim.

She and her husband have a solid German house and garden and they own a large field next to it which they rent out to a farmer. I also met her in-laws in the house next door.
We went to an Italian restaurant that evening but I was not hungry after the late lunch and could not even finish the huge salad.
We finally got to Obereisenheim and our hotel. Gasthof Rose. I took a room on the top floor and enjoyed the best sleep so far on this trip.
In the cool of the morning I explored the village of Obereisenheim on my own and thoroughly enjoyed it. Some houses on the hill are modern but most are crowded together like they were in the Middle Ages, meaning streets are an afterthought.
Back at the hotel I met my friend for breakfast. No coffee and Danish here! This was a huge breakfast that would even satisfy a Hobbit. There were breads and cheeses, meats and eggs, fruit and cereals.
It was still mid-morning but we obviously needed more wine. We found a winemaker who opened for us and we liked his wine so much we bought several bottles.
Then we took a ferry across the Main River and returned to Kolitzheim to pick up a few things and drive to Laubach and our Englischhausen program.
Obereisenheim Franconia Germany

Laubach is a small town in Hesse, north of Franconia.

Our resort was a half mile outside of town in farm country. There are little sheds propped up in the fields where hunters sit and wait for deer which come out of the forest to nibble crops.
This area is known as Vogelsberg, an ancient volcanic region. During the Middle Ages when Germany was a loose collection of some 300 jurisdictions within the Holy Roman Empire, the count of Laubach ruled this small area.
His "castle" is more like a large compound with a barn for collecting his share of the farmers' crops, a hospital and housing for the homeless, and a library that boasted one of the original copies of Gutenberg's Bible.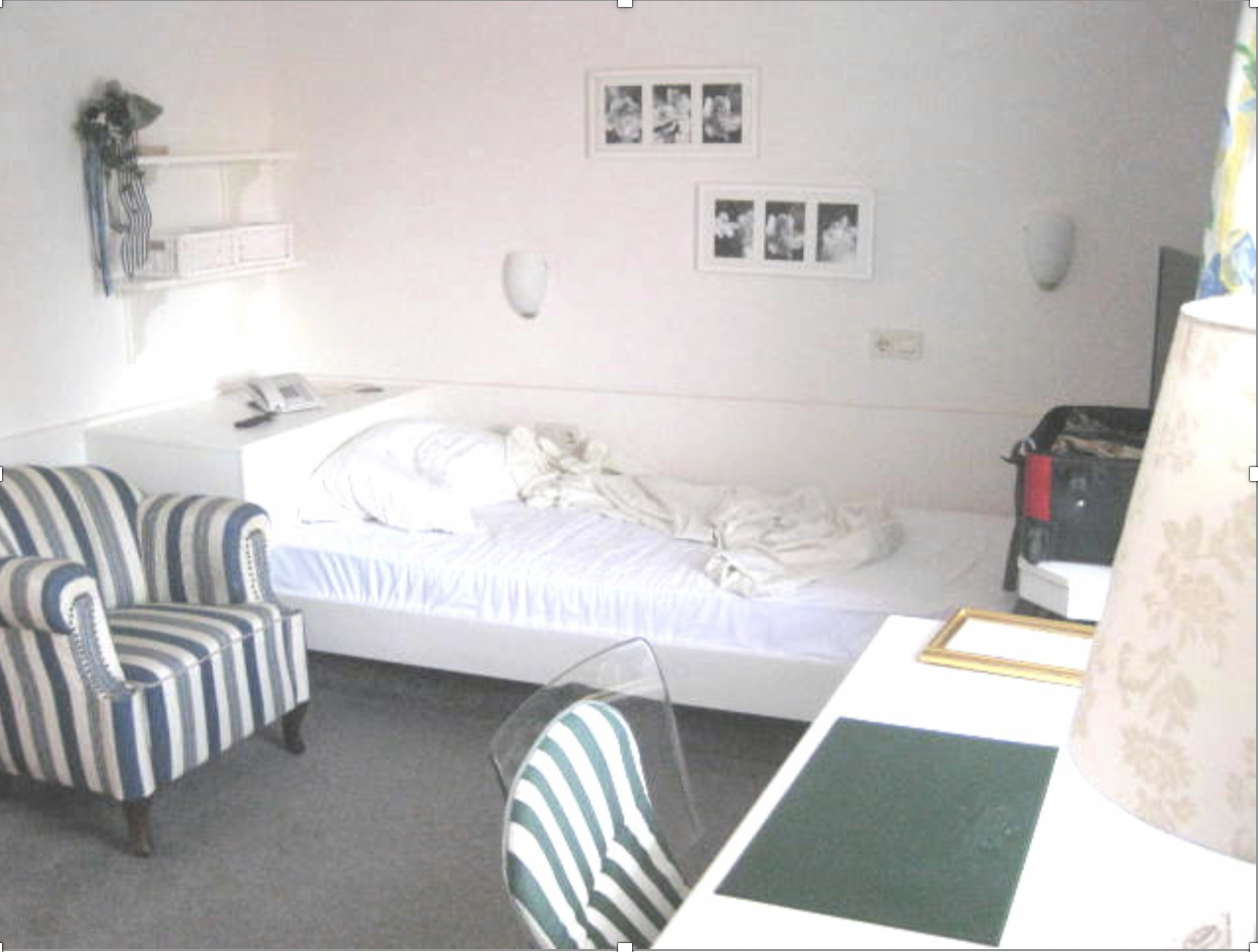 I was assigned a nice room with a big south facing deck, where I could string a clothesline and dry my laundry. We always have very nice accommodations at Waldhaus, the name of this resort.
We had fifteen German students and thirteen of us Anglos, so we had lots of work to do during the week. Besides one-on-ones, two-on-twos, conference calls, and mealtimes, the students had to prepare presentations.
Usually it is about their workplace. We also do a bit of theater which was a lot of fun. We Anglos can volunteer to offer presentations, too, and I always do a wine tasting. I'll have to change my act and do something different in the future, but the wine tasting is always popular.
At the end of the week we each got certificates and went our separate ways. Most of us rode the bus back to Frankfurt and I got my room in the Bristol Hotel. It's not a fancy hotel, but it's close to the train station and serves a great breakfast.
Next day I flew back to Seattle, but my brain is still full of the memories and fun and adventures I enjoyed in Germany.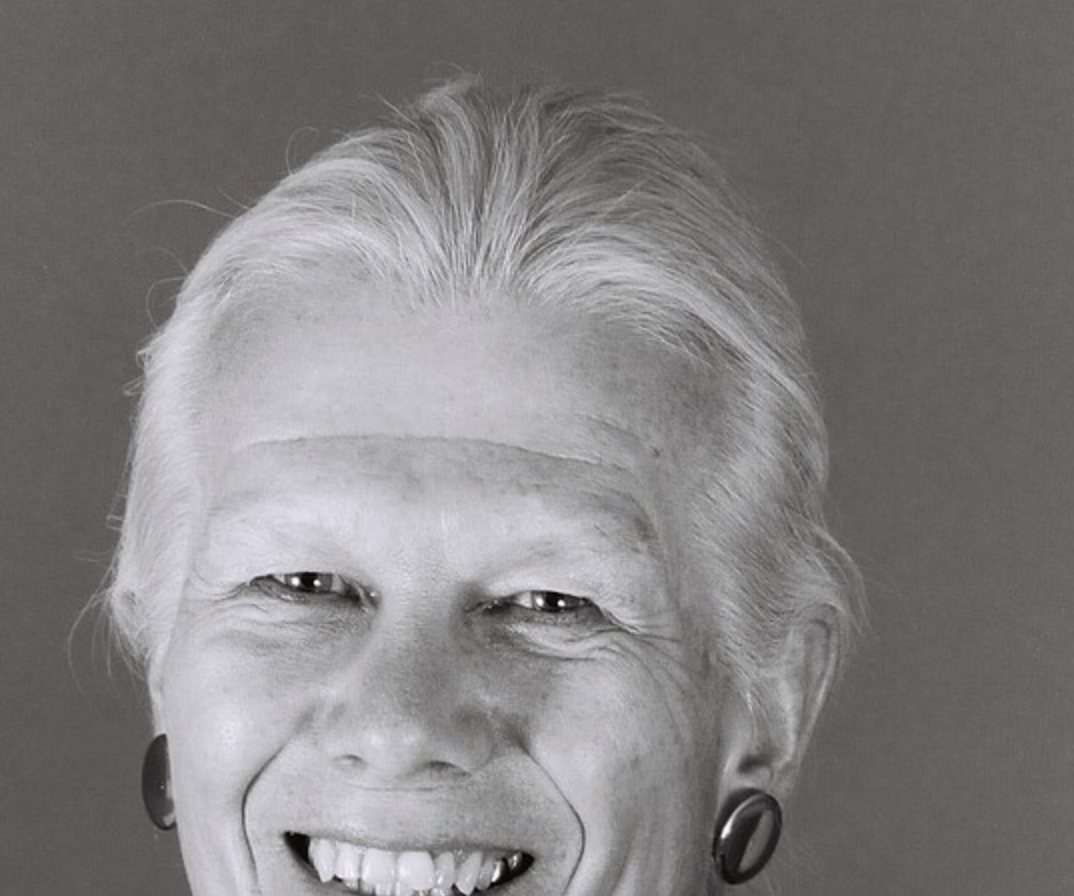 Janice Van Cleve is a Seattle-based writer who has traveled the world. She is the author of Incidents of Travel in Mesoamerica, The Kings of Copan: In their own words, and The Jumanji Passport, vols. 1 & 2.  Janice is also an archeologist and guest lecturer on tours.

As soon as she returned from Germany, she bought a bottle of Mueller Thurgau.
If you enjoyed this story, be sure to CLICK THE FOLLOWING TITLES to read Janice's other adventures:
Honduras: the Lure of Copan Ruinas
Janice follows the trail of Joan of Arc, ending in Rouen, France.

Janice explores Paris' Île de la Cité

Janice's first day exploring the old city of Nuremberg, Germany.
---
---