Purse Vigilante
in Istanbul

The story of how I became a purse vigilante in Istanbul

It was our first evening in Istanbul. My husband, sister, brother-in-law and I had just had an exhausting overnight flight. These four Canadians were looking forward to an early dinner and a good night's sleep.
The next morning, we were scheduled to fly to the gorgeous beaches of Bodrum in southern Turkey.   
My brother-in-law selected a restaurant near the walls of Istanbul's Topkapi Palace and the Blue Mosque.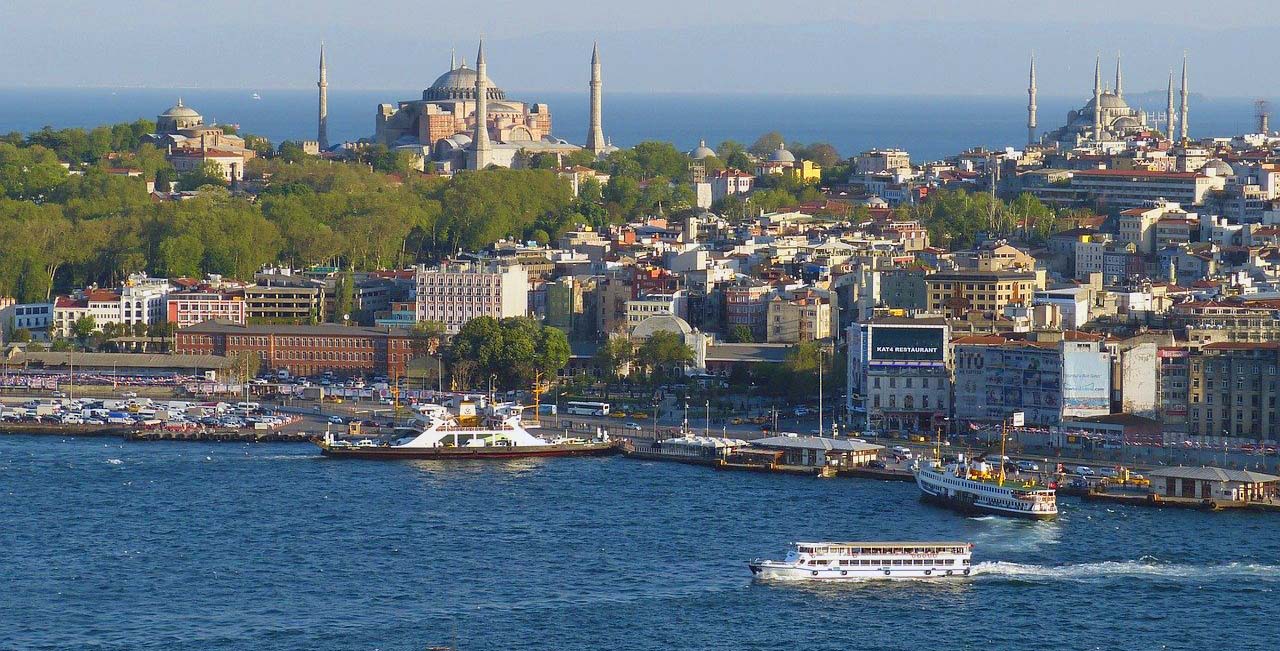 Istanbul, Turkey
I dug into my highly-anticipated meal: the most succulent chicken kabob and rice.
Totally immersed in savouring the spices Istanbul is famous for, I leaned back in my chair, and it dawned on me that I could no longer feel the leather strap of my purse hanging on the back of my chair.
A slow hot wave of despair washed over me. I turned around and confirmed my worst suspicion. It was gone.
I stood up and started looking around.
"What are you doing?" my sister asked.
"My purse!" I said. "Where is it?"
I lifted the table cloth and looked on the floor and enlisted everyone at the table to join the search. I tried to cling to hope and push away the sick feeling of panic.
The waiter came over to see what the problem was.
"My purse is gone!" I said.
Customers started looking over. We were making a scene. At this point the entire Istanbul restaurant was staring.
"We have a camera at the cash," the waiter said.

That wasn't a good sign. Purse and wallet snatchings must happen here a lot. This was a prime tourist area.
My brother-in-law got up to go to the cash to look at the camera footage. Quite a few of the customers also got up and began gathering around to watch the footage as well. Expectant, interested, as if about to watch a soccer match.
I didn't get up to look. I couldn't even speak. I had a sick feeling of dread in the pit of my stomach.
My husband reached across the table and held my hand as I started to cry.
My brother-in-law returned with the verdict.
"It was a woman. The woman directly behind you who took it. She got it on the third try. When you leaned over to eat your food."
I had somehow assumed it was a man who took my purse, but no—another woman did this to me. A woman, who knows that we carry our entire lives in our purse. That felt like even more of an affront than a man taking it. Where's the sisterhood?
But why should a woman in Istanbul who is presumably so poor and desperate that she steals purses care or feel any consideration about a privileged, designer-purse-toting North American tourist like me? 

Purse Vigilante in Istanbul
We decided to walk to the Istanbul local police station.
I felt a twinge of guilt. Our first night in exotic Istanbul, and rather than going for a beautiful dessert of rice pudding in red clay, we were checking garbage cans in the dark for my purse and trekking to file a police report.
On the way to the station, we passed our beautiful boutique hotel which was warmly lit and inviting-looking. How I just wanted to go in for a late-night cup of chamomile tea in the lobby and then sit propped up in bed all cozy, reading my new book, Calming Your Anxious Mind.
Instead, we stopped into the hotel quickly and told the concierge what happened.
At the police station, my brother-in-law relayed our story in Turkish to a bored police officer. I could see clearly that this was just another regular Friday night in Istanbul for him. He opened a drawer and started sifting through ID: passports, driver's licenses, subway passes. I didn't see my navy blue Canadian passport among them.
When bad stuff happens, we feel so alone, as if the universe is picking on us. But that drawer in a police station in Istanbul, full of lost and stolen ID, was a reminder that I wasn't the first person to have a purse and ID stolen, nor would I be the last. 
"Give it a few days," the officer said. "Sometimes the passport or the purse will turn up."
"We're supposed to fly to Bodrum tomorrow," my brother-in-law said.
"She can't fly without a passport," the officer responded. "Rent a car. It's an 8-hour drive."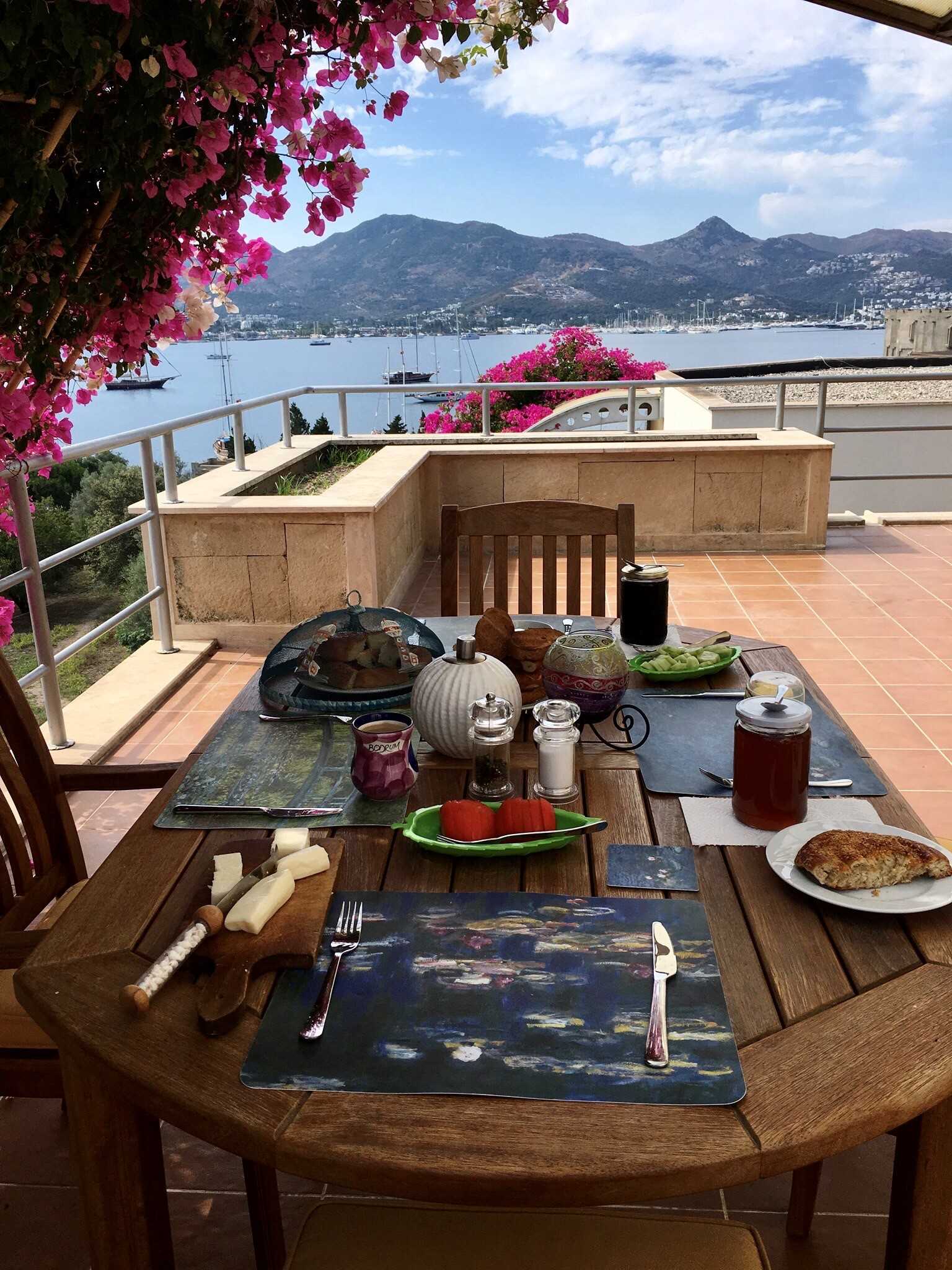 Breakfast on the balcony near Bodrum, Turkey
Purse Vigilante in Istanbul
The next day I woke up in Istanbul feeling shell-shocked about what happened. 

But after morning coffee and a breakfast of hard-boiled eggs, olives, feta, and fresh bread in the hotel lobby, things began to look up a bit in the light of day.
My brother-in-law pulled up to the hotel in the rental car just as we were finishing breakfast. The hotel staff waved good bye to us and wished us better luck on the next leg of our trip. I took my place in the backseat feeling like the problem child. All I hoped was that we could salvage the trip and that last night's incident wasn't going to ruin it. 

As we settled in for our long drive, my mind started wandering. Who was the lady who stole my purse? Was she desperate to feed herself and her family? Is that why she did it? Where was my purse now? Where was my passport?
Now that she had it, I wanted her to enjoy my designer purse and matching wallet as much as I had. I wanted her to use the money wisely. Three hundred US dollars would go a long way in Turkey.
A delicious rooftop dinner with family and friends in Bodrum.
When we stopped at a restaurant for lunch, the first thing I noticed was a group of ladies sitting eating at a table with five of their purses hung on the back of chairs. And, to make matters worse, they were seated next to the entrance.
"Look." I exclaimed to my family as I sipped the most delicious lentil soup with paprika sprinkled on top and pointed to the ladies. "We all do it!"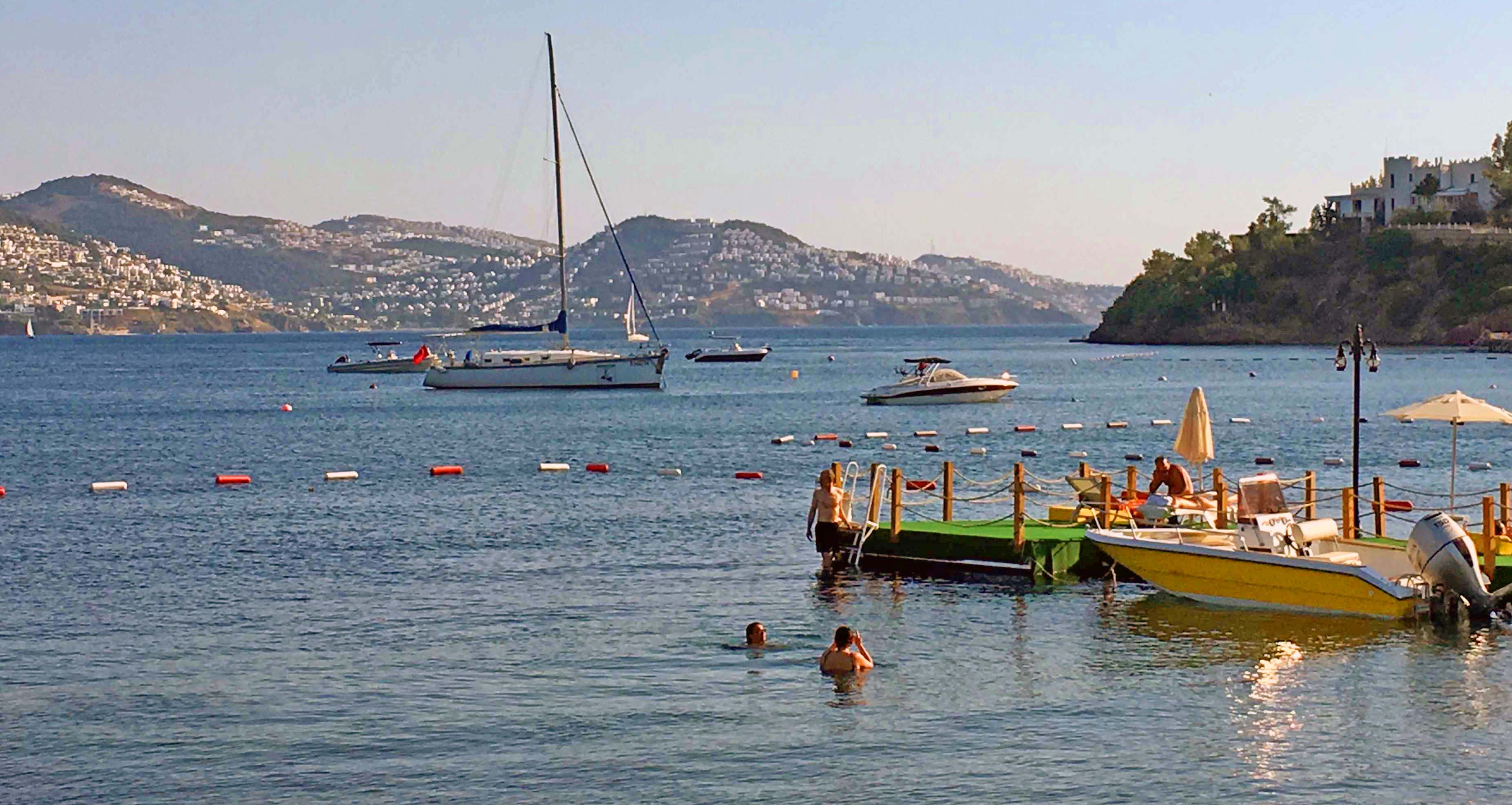 Yalikavak Beach, Bodrum, Turkey
We arrived in Bodrum and began our beach vacation. 

I began to notice over the next few days, that while I still missed my purse, not having it was also liberating in a way.
When I carried my large, oversized purse, I ended up carrying not only my own stuff, but everybody else's too. Without a purse, I felt lighter.
"This is what being a guy must be like." I mused to myself. They don't lug a bunch of stuff around. I DO see some benefits to being purseless. Purse free.
Judith Morrison at Yalikavak Beach, Bodrum, Turkey
By the end of our first week in Bodrum, though, I slowly began accumulating stuff again:  reading glasses, meds, make-up, money, towelettes, tissues, beach reading material.
"I need the exact same purse, exact same color, and exact same wallet," I said.
"You don't want to do something completely different?" my sister asked.
"No, I want the exact same purse," I said. "Then it will be like it almost never happened."
Once back home in Canada, we went into the same store where I had bought my original purse and asked for the exact same one.
"This is it," the saleslady said. "This is the same model as the one you had stolen. It has a zipper which is an upgrade and a matching longer and sleeker wallet, which is an upgrade, but this is the one!"
"The new zipper will protect it," I thought, opening and closing it and admiring the wonderful hardware.
"Perfect!" I exhaled.
It was more than perfect. It was my purse, but with upgrades and it was fresh inside…no lipstick stains and tissue bits, and no sticky mints at the bottom!
"I love this purse! Love it."
It was my purse but fresh and clean without the years of stains and baggage.
"This will help me move on," I said. "This is a fresh start."
My sister and I were both thrilled at the purchase and went skipping out of the store to get a celebratory drink.
"We need to remind ourselves that it's just a purse," my sister said.
"True," I said, sipping my crantini.
Having my new purse on my shoulder felt fantastic. 
And the bad memory was beginning to recede.
As the days went on, things felt right again, with my old faithful, day-to-day purse beside me.
Then, as I acquired my new permanent passport and handed in my temporary one, and got new bank cards, retainer, and lipstick, it helped me to put it behind me. I was able to put the experience in perspective and, now that I'm back home in Canada, when I think of Turkey I mostly think about the lovely people who worked at the hotel in Istanbul, the blue water, delicious food, The Blue Mosque, Hagia Sofia, and Topkapi Palace.
My sister with her purse hanging from the back of her chair on the way home in Turkey: What not to do!
And thanks to this experience I've become a purse protector superhero of sorts. Whenever I see women with their purses on the back of their chairs, I interrupt their conversation and say something. I tell them my tale of caution. Fighting crime one purse at a time. I became a purse vigilante in Istanbul !

—story and photos by Judith Morrison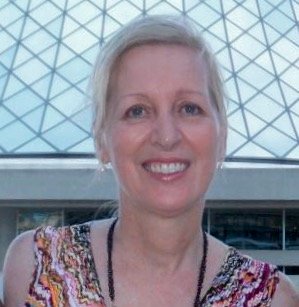 Judith Ann Morrison, Calgary, Alberta
Judith Morrison is a freelance writer living in Calgary, Alberta. Judith enjoys traveling, journal writing, and walking on the many trails and nature paths near her home in Calgary, Alberta. To read more of her published personal essays and interviews, please visit www.judithmorrisonwriter.wordpress.com.
I would like a special thank you to go out to my Turkey travel partners: my husband, sister, and brother-in-law. Without their help and support, the situation that I describe in my story would have been much more difficult.
If you enjoyed this story, be sure to read....
Adrift in a air balloon over Central Turkey

Impressions of Turkey – 3 decades later
---
---