Exploring Istanbul
"Exploring Istanbul with an Archeologist - Janice Van Cleve"
Seventeen hours with a 30 minute mad dash to make connections at JFK airport in New York is by any measure, a long time.  That is how long it took to fly from Seattle to Istanbul.  It was May of 2001 which explains why I was able to score a row of seats on the airplane all to myself. 
I was able to stretch out and sleep a bit as far as Sicily.  Nowadays with overcrowded airplanes, that doesn't happen anymore  I remember doing deep knee bends passing over Calabria, Italy.  My knees don't do that anymore, either.
---
Write for us!
If you have an interesting travel tale, please tell us about it. We'd love to hear about your travels and experiences. Please send your story (or simply an enquiry) to us at our contact page. Thank you!
---
Istanbul was already over 1000 years old when Roman Emperor Constantine chose to move his capital there in 324 CE.  It was another 1000 years the capital of the Byzantine empire.  The Fourth Crusade sacked the city in 1204 and the Turks finally captured it in 1463. 
The British failed to capture it during World War I in the disastrous Gallipoli invasion and the Turkish Army rebels failed to hold it in their coup attempt this summer.  Istanbul is a city of history.  I was thrilled on our bus ride into the city when we passed through the old Roman walls which still run from the Sea of Marmara to the Golden Horn.
This was a Smithsonian Tour which means first class accommodations, expert guides, and a traveling professor to help explain what we were seeing along the way.  We scored a little boutique hotel just outside the walls of the Topkapi Palace, former home of the Ottoman sultans.  My roommate and I dumped our stuff into our room and set out to explore the city.

Exploring Istanbul - The City
This is not the city in which to be a building contractor.  Say you were trying to remodel a bathroom.  Instead of buying all the fixtures at one store, you would have to travel all over the city.  All the shops on one street sell nothing but toilets. 
You would have to go to another street where all the shops sell basins.  Shower curtains?  Copper tubing?  You get the idea.  Of course navigating the old streets is hard enough but parking is impossible.  Fortunately Istanbul has an old but reliable streetcar system.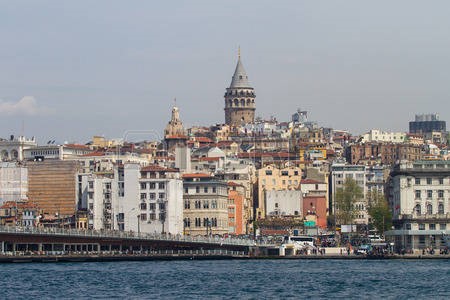 We crossed the bridge to the Galata side of the Golden Horn.  I was struck by all the street vendors selling roasted corn on the cob.  I would have expected that in Mexico City but not here. 
The famous Galata tower looms over this side of the harbor.  Built by the Genoese in 1348, it was used by the Ottoman sultans as an observation tower to spot fires.  Today it houses a very nice restaurant and the view from the parapet on top is magnificent.
Exploring Istanbul - The Grand Bazaar
Next we visited the Grand Bazaar.  This is a huge structure of pillars and domes, beautifully decorated in the center of the old city.  Of course it is very difficult to appreciate the fine architecture, jammed as it is with over 3000 market stalls stuffed full of colorful fabrics, spices, jewelry, lamps, produce, and clothing.  It would be easy to get lost in here but it is so beautiful that it might be days before you'd mind.  The vendors are all very friendly without being pushy.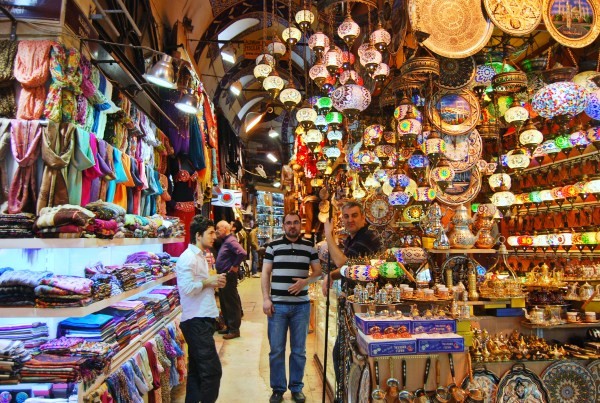 We toured the remains of the old Roman Hippodrome where chariot racing teams created such fan loyalty in Byzantine days that they became practically the beginnings of political parties.  The tour group visited the Hagia Sophia (Holy Wisdom) and then went to lunch. 
I've been on tours before and I knew how chaotic  that would be – a crowded restaurant, frustrated waiters, an overburdened kitchen, people changing their minds about what to order, and the messy ordeal of figuring out who pays for what.  I was having none of it.  Instead, I returned to the Hagia Sophia to appreciate it at my own leisure.

Emperor Justinian commissioned construction of the Hagia Sophia in 532 CE and it enclosed the largest space of any building for a thousand years.  The Ottomans turned it into a mosque and today it is a tourist attraction.  [This year, 2020, Turkish President Erdogan ordered it turned back into a mosque.] 
The stonework itself is magnificent to behold.  Marbles, porphyries, and granites polished to perfection offer a feast for the eyes.  Such a huge structure inevitably has galleries and crypts and wonders in out of the way corners and I was not disappointed by any of them.
Wondrous as the Hagia Sophia is, my favorite was the Basilica Cistern.  This is the underground water reservoir which used to serve the Roman and later Ottoman palace.   Imagine a huge underground chamber whose ceiling is held up by a forest of 336 marble columns, each 30 feet high and spaced 16 feet apart. 
Many of the columns are unique because Emperor Justinian stole them from Pagan temples all over his empire.  Some of the columns from the Temple of Artemis of Ephesus, one of the seven wonders of the ancient world, no doubt ended up in here.  Two columns rest on carved heads of Medusa which the Christians installed upside down in contempt.

The place is dark, dimly lit by strategically placed lights.  A foot or two of water covers the floor and the air is damp and still.  Elevated wooden walkways permit passage for tourists.  It is a somber, quiet, meditative place. 
It reminded me so much of Kazadum, the dwarf kingdom of Balin from the Lord Of The Rings.  Then I heard the music emanating from hidden speakers.  It was Vivaldi's Four Seasons.  It just doesn't get better than this!

Topkapi Palace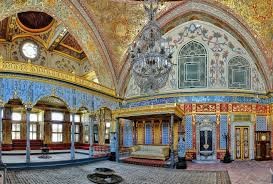 Topkapi Palace was the home of the Ottoman sultans, built atop the earlier Roman and Byzantine palaces.  It is a huge place, surrounded by high walls and entered through a massive turreted gate. 

Inside however it exudes an atmosphere of serene calm, comfort, and beauty.  Unlike the posturing palaces of Europe, the sultans resided in a grand "living room" with gardens, harem, and lots of cushions.  It is no accident that the word divan for couch, comes from the Turkish.
The harem is constructed as a most elaborate inner world, a gilded cage for the sultan's wives and heirs.  The plastered domed ceilings are inset with colored glass which create disco lighting in the small rooms. 
A number of walls are intricately decorated in tiled patterns and the ceilings are delicately painted in fine detailed mosaics.  It is a world totally apart from the one we all live in.  Around the grounds are museums displaying Ottoman memorabilia, weapons, uniforms, etc.

Exploring Istanbul
The Internet Café
I really can't experience something until I capture it in words.  I guess that is a writer's curse.  It does provide me with an extra adventure in the cities I visit because I have to seek out internet cafes in foreign places.  The one I discovered in Istanbul not far from our hotel remains one of my favorites.

 It is in a basement with window wells opening just below the sidewalk.  Inside  is a large room with dark high backed wooden booths arranged along the walls like one would expect in an old medieval inn. Turkish tapestries hang on the walls and Turkish cigarette smoke hung even lower.  Two men, the proprietor and his friend, idled the afternoon away playing chess at the front table.  I purchased a strong Turkish coffee and sat to work.

Thus it was that I came to appreciate Bill Gates all over again.  He standardized the appearance of the menus on the Windows based computers.  Without knowing a word of Turkish, I knew that the second column on the tool bar topped by the word yaziyi, had to be "edit". 

Therefore the drop down menu had to be – in order – cut, copy, paste, and paste special.  I clicked on them and sure enough, they were as expected.  Of course I had to work around some of the keys that were different from ones at home, but they did not slow me down much.
Istanbul is  huge city and getting bigger.  I hope that as it grows, it doesn't lose the exotic mystery that makes it so special.

-- Photos & Story by Janice Van Cleve
---
Janice Van Cleve is a writer and archeologist.  A list of her books and one of her research projects may be viewed at http://mayas.doodlekit.com
Janice's books include The Jumanji Passport Volumes 1 & 2
If you enjoyed this story, be sure to check out Janice's other adventures around the world by clicking on the titles below:
Janice follows the trail of Joan of Arc ending in Rouen, France
Janice explores the Ile de la Cité
Exploring the city of Nuremberg, Germany
Honduras: The Lure of Copan Ruinas
Janice explores Obereisenheim in the Franconian countryside of Germany
---
---