Kayaking Tomales Bay
A windy day kayaking Tomales Bay, California

The staff at Tomales Bay's Blue Waters Kayaking did not feel that the winds would increase and well, the white caps were not too big - were they? 
And what do you do when there is a wind and wave advisory at Point Reyes on the California coast and you have a kayak trip planned? Who determines what's safe when winds are 20 to 30 miles per hour?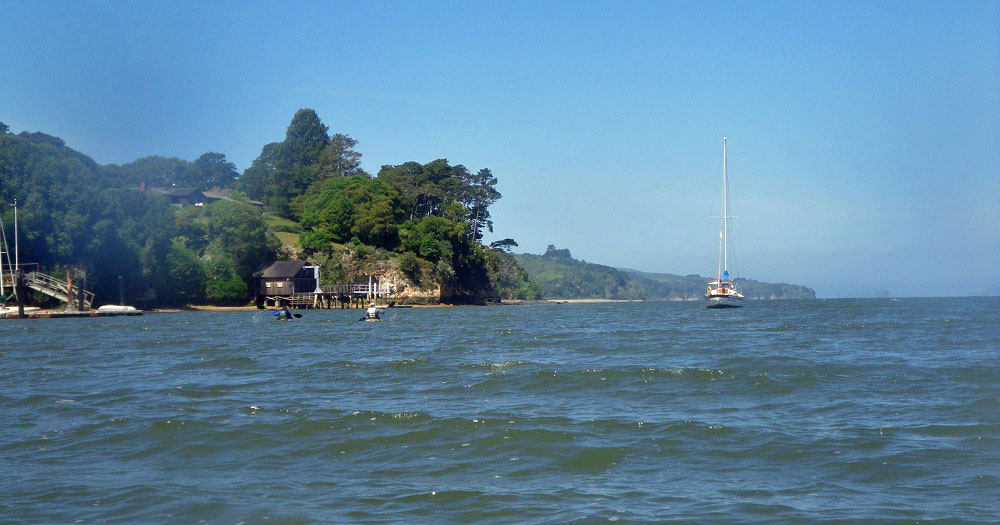 The kayaks were loaded with camping gear by the time my camping friend Connie returned with the permit from Big Bear Center. She had booked a campsite online, but they still require that you pick up the paper permit from their office in order to camp on Marshall Beach at Tomales Bay.
Permit in hand, we stood on the shore and contemplated the waves. We agreed that if we got out in the waves and it was too difficult, we would return and not feel defeated.
Kayaking Tomales Bay
Dressed in wetsuits and splash coats, we grabbed our kayaks to give it a try. A staff member held the front end of my kayak as I gingerly sat down and situated myself in the seat, paddle in hand. He pulled me out into the water then returned to retrieve Connie. 
Heading alongside the dock, we maneuvered ourselves out into Tomales Bay, keeping careful watch on the waves. It was imperative to point the kayaks directly into the waves to avoid getting side-swiped and flipped over with all of our gear.

Everything was in dry bags, but we had no interest in going for a swim. Attempting to flip a kayak upright in rough waters, fishing for and getting all gear back inside, as well as hefting my own body back into the kayak seemed like a daunting task I did not wish to undertake. Connie agreed.

After clearing the dock, we made a sharp left and headed down toward the west end of the bay where we hoped to find Marshall Beach. A group of high school girls and their two leaders soon followed.
Kayaking Tomales Bay
Marshall beach was located two miles west of the Blue Waters Kayaking Shop. We dug our paddles deep into the water to move forward. Going with the current should have helped, but the high winds continued to try to push us backward. There was no resting. If we stopped paddling even for just a moment, we lost ground. 
According to the staff, Marshall Beach was only a two-hour paddle from the shop.
The intense sun caused sweat to mix with seawater as we continued to take stroke after stroke. Map in hand, it was difficult to get our bearings while we tried to keep moving forward. Each cove we passed did not hold the landmarks we so desperately looked for.

Kayaking, Tomales Bay, California
After two hours of vigorous paddling, we stopped on a quiet shore for a break. The high school girls passed us and stopped for lunch on a beach further down. After eating a quick premade wrap we brought for lunch, we ventured back into the waves.

The going was tough. After 3 hours of paddling we finally began passing recognizable landmarks. A piece of land jutted out into the bay in front of us, clearly marked on our map.
Marshall Beach was just around the bend. We pushed on hard, aching with every stroke. Connie fell behind, but was still within earshot. Turning the bend, I confronted "the washing machine."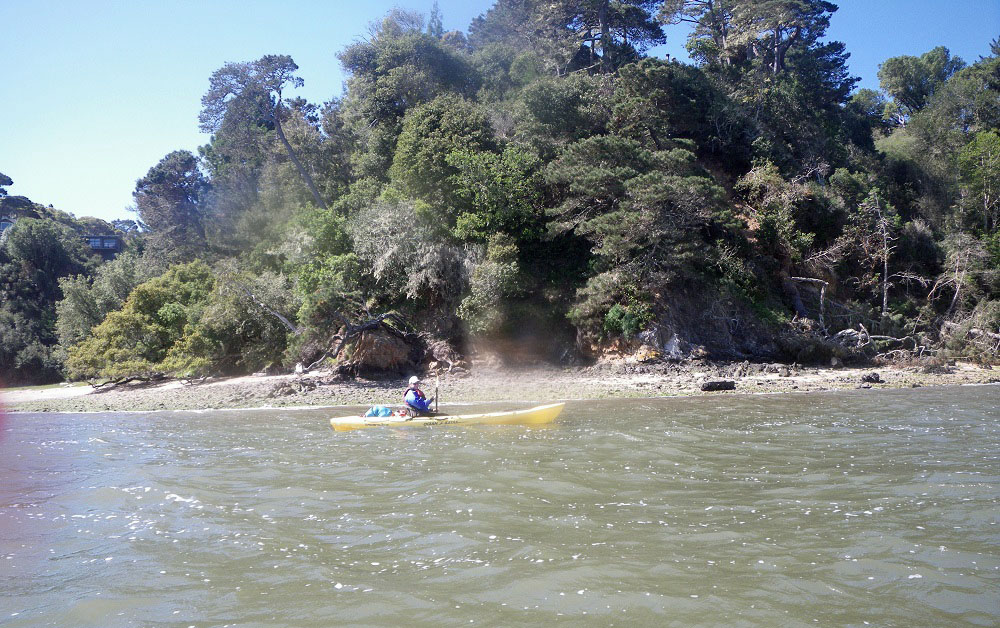 Kayaking, Tomales Bay, California
The white-capped waves tossed and turned in every direction. I tried to keep my kayak forging forward into the waves, but it was difficult to keep from spinning sideways, which could prove disastrous in the end.

The sandy beach where we planned to camp was in sight. I paddled hard, occasionally looking back to make sure Connie was still afloat. It seemed like hours passed fighting churning waves, but finally I broke free and dashed for the beach.
Sore but grateful, I watched Connie struggle against the waves. Fifteen minutes later she arrived safely, and we worked together to set up camp. Once the tents were up and the gear was stored, we sat down on the beach and each enjoyed caramel apple suckers.
Thirty minutes later we watched the girls and their leaders struggle through the washing machine. They landed further down the beach, and we heard the complaints regarding the perils of their travels.

Camping & Kayaking at Tomales Bay, California
As the day went on, the wind died down and the waves calmed. We cooked pasta with red sauce for dinner and relaxed knowing we had earned the privilege of sleeping on the sandy paradise at Marshall Beach.
As the sun went down, a chill entered the air. We retreated  to our individual tents for the night and mentally prepped ourselves for the return trip the next morning. 

Kayaking Tomales Bay
The sun rose in the sky and glistened on the still waters of tranquil Tomales Bay. We heated coffee and drank from our lightweight titanium cups. Reconstituted beans, avocado, and tortillas made for a tasty breakfast of burritos.

Sunrise
We packed our tents and gear and tugged and pulled our way into our damp wetsuits. The women leading the girls' group approached us and asked if their spirited noise had kept us up in the night. We said "No."
They responded with grace and admiration, stating that the girls commented on how the ladies (Connie and I) had kicked butt against the waves. They were very impressed at how quickly we arrived at the beach and how far we stayed ahead of them.
These were empowering words. It's rare for two women, ages fifty-two and fifty-three, to impress eight high school girls. A real feat, proving that you are never too old for exciting adventures.
The paddle back was easy, and gloves helped ease the pain from blisters earned the previous day. The return trip to Blue Waters Kayaking took one hour and 45 minutes, which was less than half the time it took to get out to the beach.
The staff helped us pull our kayaks back up onto the beach. We chatted with them for a while, unpacked our gear, and loaded the car. 
On that bright, sunny day we felt a true sense of accomplishment.
My longtime friend Connie and I car camp with our families, backpack, and sometimes have the blessing of staying in luxury accommodations.
This time we sought out something new, and the kayak/camp trip fit the bill. If you are looking for a new kind of adventure, give kayak/camping a try.

--story and photos by Tracy Beard
Tracy Beard is a freelance writer specializing in travel, non-profits, alternative medicine, and direct response copywriting. As the founder and past president of an international children's non-profit, Tracy traveled extensively, empathized with people in need, learned the importance of good health, and raised funds writing exceptional direct response copy.
Her thirteen years of experience writing in various genres has added to her expertise. She is a member of AWAI (American Writers and Artists Inc.) and ITWPA (International Travel Writers and Photographers Alliance).

If you liked this story, read other adventures with Tracy Beard:
Ski Patrol 'Ski Along' at Powderhorn, Colorado
Sailing on a Windy Day in Sardinia
Going Downhill in the Island of Crete's Samariá Gorge
Canyoning near Lucca, Italy—Hanging from cliffs…Why not?
Bicycle Touring in Rome—84 Degrees and Sunny
---
---